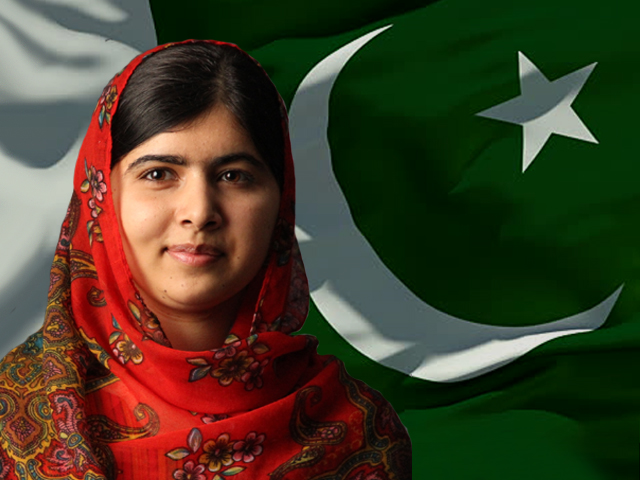 ---
Has Prime Minister Malala Yousafzai done what her predecessor Nawaz Sharif could not?
A new age of socio-economic development has started and Pakistan is rising as a role model for the entire Muslim world
---
It is said that in darkness, there's light, and in every challenge, an opportunity. And who knows it better than us who once made the headline as "Pakistan: The Most Dangerous?" in a provocative cover story of Newsweek a decade ago. The same news magazine has now called Pakistan "A Country with Hope and a Future" in its recent issue citing that the country has much to offer as a potential model for Islamic renaissance and praised the leadership of its newly elected Prime Minister, Malala Yousafzai, who, according to its editorial "has been repairing the sinking ship with correct tools".

From bullets to ballot, the journey of the world's youngest Nobel laureate is inspiring. In her first address to the nation, she didn't stumble, and courageously addressed critical issues. Now, after the completion of the first 100 days in the government, progress in the right direction is visible.

She, instead of defending the mistakes of the past, accepted that the state had failed to play its role efficiently. However, she resolved to undo these wrongs. She boldly addressed the menace of extremism and terrorism. She also regretted the unfortunate history of injustice towards the religious minorities in the country, as well as the misuse of certain laws against them. Moreover, she explained how Islamabad would get its foreign policy on track, and vowed education, economy and writ of the state as her foremost priorities.

She, while quoting the doctrine of coexistence or no existence, explained how global isolation is fatal for any nation, and resolved to build a peaceful, friendly and long-term relationship with the international community. She invited the neighbouring countries to work together for the welfare of the masses, instead of getting struck in war hysteria, lack of trust and blame game. The future of South Asia, as she rightly said, must offer peace and prosperity for generations to come, instead of growing under the nuclear shadow of insecurity and fear. The world has welcomed her insightful words and rightly so.

We are now witnessing some positive signs as Pakistan and India are willing to resume their talks to resolve their disputes. In parallel, the Pakistan Cricket Board (PCB) and the Board of Control for Cricket in India (BCCI) are negotiating to schedule a cricket series with the Afghanistan Cricket Board. Moreover, artists from both countries are again going to work together in a right move to separate arts from political disputes.

The prime minister, already known as the voice of 60 million girls who are deprived of education globally, now has the golden opportunity to fix the problems of education in the country. She clearly stated in her first address that Pakistan was already lagging behind in achieving its Millennium Development Goals in education, and drastic measures were needed.

To keep her word, the government has now introduced the National Education Policy (NEP). A new curriculum is announced for the next academic year that would aim to encourage critical thinking, reasoning and pluralism. Funds for building new institutes and public universities are ensured, as well as existing institutes are intended to improve in their quality. A nationwide drive for literacy campaign, awareness for girls' education and a training session for the teaching staff is also going to start in the coming weeks. State television is instructed to work on a new channel to promote science and education. Government has shown resolve to bring uniformity in their medium of education as well, and has invited all the stakeholders to devise a holistic policy. The negotiations with Wafaqul Madaris are also in progress.

Moreover, the government is working on the Right to Education Act to provide school stipends to poor families and to introduce reserved seats for children from needy families in private schools on the government's expense. Also, an operation against ghost schools is launched across the country.

The government also intends to increase the share of education and healthcare in GDP by two to three times in the coming budget. Also, it is resolved to adequately manage population growth. Improving hygienic conditions and medical facilities in government hospitals is another challenge accepted by the government in order to improve appalling health indicators.

Addressing one of the most critical issues of the country, the prime minister has recently reiterated the need of a counter narrative to defeat religious extremism and terrorism. In her speech at The Seerat Conference last week, she philosophised extremism as a state of mind that ultimately leads to terrorism. She added that military operations alone are insufficient unless root causes are addressed. There is a need for moderate interpretation of religion coupled with socio-economic development. As a thoughtful reminder, she reflected how Europe found the light to get out of the Dark Ages. She also cited the Golden Age of Islam when Muslims were the torchbearers of knowledge and wisdom, and compared it with the present decline featured by lack of reasoning, intolerance, sectarianism and ignorance. She urged the world community to play its role in resolving key political and territorial disputes that flame extremism and terrorism. Pakistan has also called an emergency meeting of the Organisation of Islamic Cooperation (OIC) to address modern day challenges faced by Muslim countries.

The prime minister has taken strong exception to the injustices toward religious minorities and other oppressed segments of the society. Referring to the address of Pakistan's founder to the Constituent Assembly on August 11, 1947, the prime minister apologised for the injustice towards the country's minorities and ensured safety and equal rights so that the term "minorities" becomes irrelevant and ceases to exist.

On the other hand, the government has shown zero tolerance towards those violating the National Action Plan (NAP). Law enforcement agencies have cracked down on the banned and underground extremist and militant organisations, as well as submitted their report to the prime minister to put more organisations and individuals on the check list. Hate speech is strictly prohibited and strong penalties are enforced. Also, clerics are instructed to submit the recordings of their sermons to the government. Moreover, the Council of Islamic Ideology (CII) has been issued a warning regarding their regular anti-women pronouncements and retrogressive statements that has not only caused confusion in the nation but also brought global embarrassment for the country and our faith.

Considering the grave challenge of water and energy crises, the government has announced to work on emergency footing, and aimed to reduce energy production from oil and using renewable energy sources, as well as building new dams. The Water and Energy Bill is expected to be presented in the parliament soon for detailed policy.

Highlighting the economic potential of the region, the prime minister has invited neighbouring countries for an Economic Union in South Asia, so that the region may emerge as the greatest economic power of the world. This has been a historic opportunity, so let's hope this moment does not slip from our hands.

In her recent interview, the prime minister hinted towards the Agriculture Reform Bill – where the current feudal system is aimed to be abolished, agricultural land to be distributed among small farmers, along with offering them easy loans, as well as agricultural income to be taxed. It would not only generate tax revenue, but also bring economic prosperity for the agriculture labour force.

The prime minister has also announced her vision for accountability and check on corruption. She said that citizens would obtain information about the use of public funds, and that the bank accounts and assets details of elected politicians and their families would be made available to public. Also, fast track courts would be established to process corruption charges.

Taking notice of the mistreatment towards the transgender community, the prime minister has directed law enforcement authorities to take strict action against the culprits, and has announced reserved seats for the transgender community in the parliament as well.

Many more areas and issues need to be addressed, but what the government has done so far in its first 100 days has revived a new hope in the country. People are feeling safer, investors have regained their confidence and economic indices are improving. Our nation has rejected the dark forces and shown faith in our newly elected Prime Minister Malala Yousafzai, the youngest Nobel laureate whom the entire world respects, listens to and believes in.

Pakistan is no longer making negative headlines in international newspapers or told to follow the mantra of "do more". Instead, a new age of enlightenment and socio-economic development has started in the country, relationships with neighbouring countries have improved, and Pakistan is emerging as a role model for the entire Muslim world.


This was a hypothetical piece of writing. It was, in fact, not about Malala Yousafzai, but about the state making right choices and taking the right steps in order to prosper.
Chest thumping ultra-patriotism, hatred for other nations, embracing conspiracy theories, howling mobs, fiery preachers, and ostrich syndrome are not going to take this country towards peace and progress. Instead, what could take us forward is accepting uncomfortable facts, fixing the issues, and following the philosophy of coexistence and harmony. We need a strong economy, a modern and well devised curriculum, investment on education and healthcare, and a true democracy that will ensure civil liberties, gender equality, and cease to discriminate between citizens of different faith.
There are no saviours, and such a change cannot be imposed. It has to come only through awareness, the ballot, and electoral transition. It is now up to us to learn from the past and make the right choices. And if we don't, then our future would be no less turbulent and miserable than our present.