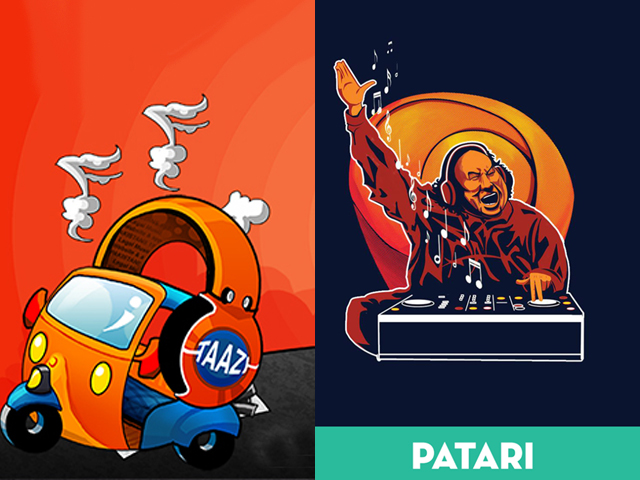 ---
Why can't we have Pakistani bands, DJs, and solo artists with massive fan bases in our own country?
Since Pakistani artists lack local platforms to show off their talent, they look for opportunities across the border.
---
Pakistan is home to a large population. It is harbouring so many talented musicians, some who we may never hear of, and Coke Studio hits. Then why is our music-loving population either humming Bollywood hits or songs from the Billboard Top 40 chart?

This is because there is a lack of opportunities and exposure for local artists. Pakistan only has a handful of record labels that are famous for not promoting "unknown artists" and for taking away all creative control from the performer. One prime example of this is the now discontinued Fire Records that at one point managed every mainstream Pakistani artist with any notable fame. They were responsible for the release of the album "Now in Technicolor" by the band 'Mauj'. In an interview in 2009, band member Omran Shafique talked about the frustration in dealing with a label that wouldn't even inform the band of the status regarding the release. The situation was so grim that the band managed to release the album internationally through iTunes and Amazon, but their fellow countrymen still had no access to it.

India, our neighbour and one with an abundance of talented musicians, is killing local artists because of the country's Bollywood dominated music scene. Independent artists who are either unknown or cannot produce item numbers get side-lined, diminishing any opportunity they might get. Due to this, most of the vocalists in India are bundled with playback singers, rendering talented musicians either obsolete or part of touring bands for Bollywood productions. Not only does this stifle their creativity, it changes their persona, and their talent ends up being accredited to the movie rather than the individual himself.

Since Pakistani artists lack local platforms to show off their talent, they look for opportunities across the border. So many Pakistani musicians have found fame and appreciation in India and emerging talents are now finding a way across the border to make it big. This very trend frightens me, because if we do not change this mind-set, it will be the end of Pakistani music as we know it.

Why can't we have Pakistani bands, DJs, and solo artists with massive fan bases in our own country? Why can't these artists play sold out shows in Pakistan in large arenas and gain international fame? There have been local artists from smaller countries who have done so and it's not impossible for us either. The Sufi rock band Junoon was formed in 1990 and it was one of the most popular and successful bands in all of South Asia. Q Magazine famously termed them as "one of the biggest bands in the world". The New York Times called them "the U2 of Pakistan", and they sold 30 million copies of their music worldwide.

So before it all goes further downhill, we need to do our part to promote our local music talent. It needs to be played in our malls, stores, cafés and restaurants. It needs to be blazing on all our radio stations. It has been done before and it can happen again, but we, the people, need to play our part. With such lack of exposure for local musicians, we need to hunt down their music, and luckily for us, some great websites and apps have been launched to makes this easier now than it has ever been.

Taazi was launched last year by a team of programmers and musicians under the direction of famous musician, Haroon. This is said to be Pakistan's first legal music app and website where local music is available for download and artists are paid 70% of the revenue. This was a major achievement in Pakistan's digital music history. The ability for artists to monetise their music and have it legally obtained is a huge step for musicians to sustain themselves and expose their talent.

Patari is a music streaming website and app which now has a collection of more than 80,000 songs. Within three months of its launch, Patari was able to pay royalties to its artists, which is another landmark achievement and massive step for Pakistani music.

A recent platform that aims to promote Pakistani music is the YouTube channel 'Iced Chai'. Launched last month, Iced Chai allows unsigned artists to submit music via email/Facebook/SoundCloud and then features the track on their channel over images by local photographers. This will benefit both, the unsigned artist and the independent photographer, as their work gets seen across the ever expanding universe of YouTube. Another plus point of this venture is that instead of having to search for new music, Iced Chai uploads a new track every week. However, without our support, this initiative will also not be able to prosper.

https://www.youtube.com/c/IcedChaiMusic

The dream of every Pakistani artist is to be able to monetise and share their work so they can sustain themselves and produce new content. Living in the age of digital information, with a population closing in on 200 million, the potential of our music industry is limitless but we are nowhere near where we could and should be. With the benefits of social media and the digitised time we live in, local independent artists can gain more popularity. As there is a will, there is a way; YouTube recently started a partner program in Pakistan which will help musicians monetise their YouTube content. But until there is an adequate amount of interest generated (from the public and the media industry), it will never reach the bounds it is aimed for.

Share this post with friends and family. Spend time on Taazi, stream music every day from Patari and subscribe to Iced Chai and listen to the tracks released every week. Let's urge our radio channels, malls and cafés to play music off these initiatives instead of the Billboard Top 40 or the new Bollywood dance tracks. This is a vital moment and all of us have a part to play. Let's not disappoint the brilliant minds behind these projects and let's not let ourselves down. Let's not turn every talented musician into a playback singer and get closer to the dream of having world famous artists that are home-grown and can tour within and beyond our borders.