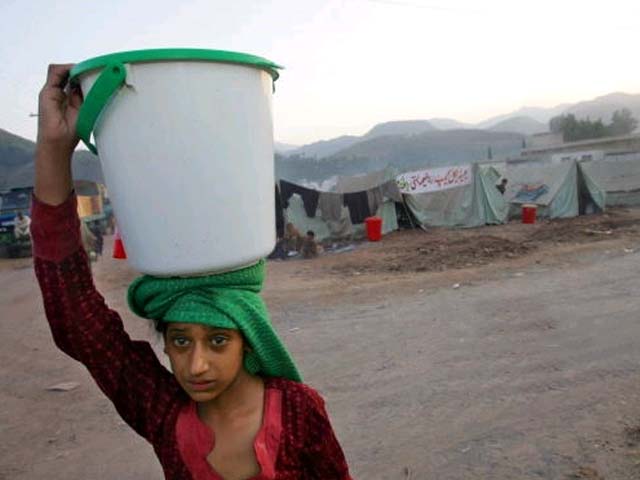 ---
Water shortage: How long will Balochistan have to suffer?
India has built around 4,000 dams, whereas in Pakistan, the construction of dams remains a highly political problem.
---
It would not be an exaggeration to say that Balochistan is the most fragile province in Pakistan. Its fragility is further exacerbated by multiple conflicts – sectarian militancy, ethnic fault lines, violence, extremism, corruption and lack of development which widely plague the province. Though the root causes of turmoil in Balochistan are complex, after reflecting on my visit to the province, I have narrowed the factors down to three underlying causes: corruption, mis-governance and neglect.

The most serious crisis Balochistan is facing at the moment is a water shortage of a catastrophic level. The province is situated in an arid zone that experiences lower levels of rainfall. On one hand, the lack of rain has directly contributed to its water woes, but on the other, due to the government's faulty planning, the province has failed to preserve enough rainwater. In the surrounding territories of Kalat city, women and children walk eight to 10 kilometers on average carrying buckets and jars on their heads in search for water.

"Since you were coming, I had sent my son to fetch some water three hours ago so I could serve you something to drink," my host remarked.

The only source of water for the people of Kalat is rainfall. But due to faulty planning and the politicisation of the water issue, the province has failed to increase its water storage capacity through the creation of enough dams. As a result, when it rains, people store water in open areas which are accessible to both humans and animals alike. Highlighting their plight, the people of the area mentioned that the number of diseases prevalent in the area has increased due to unsafe drinking water. It is rather ironic that in a province confronted with acute water shortage, the last dam was created 30 years ago. In 2007, Pakistan Poverty Alleviation Fund (PPAF) under the Drought Mitigation and Preparedness Program (DMPP) initiated Rs60 million in projects to construct small dams but the project was soon marred by corruption.

The water scarcity is an existential threat to Balochistan because the province is predominantly an agricultural driven economy. Water woes have contributed to food insecurity and diminished agricultural productivity because the irrigated farmlands are not receiving enough water. At the same time, it also affects the livestock since nearly 90% of the water in Balochistan is used to grow food. For instance, take the example of apples. More than 80% of Pakistan's total apple production comes from the province of Balochistan. However, given the water shortage, the production of varieties of apples has declined. One fruit farmer highlighted,

"Since the land is not getting the required water, the apples produced are smaller in size."

If sufficient water is made available for irrigation, the agricultural productivity could be doubled.

Moreover, it is clear that aside from Balochistan, the country as a whole is scarce in its water resources. It is estimated that more than 35% of Pakistan's population does not have access to safe drinking water and the availability continues to plummet below 1,000 cubic meters per capita against the global risk threshold of 1,700 cubic meters per person. Equally dreadful is the fact that Pakistan's water storage capacity stands at a meagre 30 days against the globally recommended 1,000 days for the South Asia region. If the situation continues like this, it is predicted that by 2025, the entire country will be devoid of water.

Comprehensively dealing with this crisis entails a number of policy interventions. First and foremost, transparency in the management of water resources is imperative. When it comes to areas like Balochistan, which are situated in the arid zone, an effective way to manage lower levels of rainfall is to increase the water storage capacity. For instance, India has built around 4,000 dams, whereas compared to Pakistan, the construction of dams remains a highly political problem. Similarly, other measures could include the application of efficient use of water techniques in the agricultural sector, awareness drives and coping with climate change. But all this rests on the fundamental element that is political will. However, if we don't act now, energy-starved Pakistan will soon have to deal with another resource crisis – a complete scarcity of water.

This post was co-authored by: