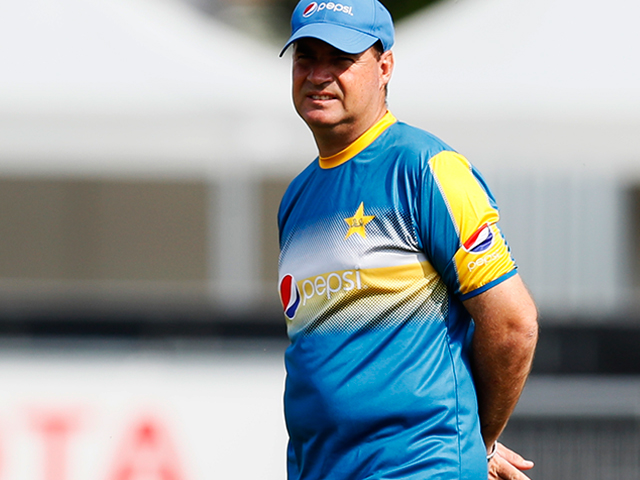 ---
If it ain't broke, don't fix it!
It is not far-fetched to now imagine a team in disarray, similar to the one Misbah took over back in 2010.
---
The alarm bells were not ringing in the desert heat; they were, in fact, ringing aloud in the immediate aftermath of the Pakistan team's recent achievement; drawing the Test series 2-2 in England. On the back of a resounding victory at the Oval, Mickey Arthur stated that the plan that won Pakistan that Test was, in fact, a plan that Pakistan would adopt moving forward and is seen as the long term solution for the batting line-up.

But did it really win us with that Test?

After much deliberation, when Arthur was appointed, it was seen as a step in the right direction to modernise our cricket. Having won his last four Test series in charge, one cannot imagine our Test form to be the reason Waqar Younis was sacked. It was, in fact, the limited overs form where Pakistan was seen to be caught in the middle ages of cricket, while others had mastered the art of the modern game.

So, as the World T20 proved to be the straw that broke the camel's back, in came Arthur who was handed the unenviable task of improving Pakistan's limited overs fortune and bringing our game up to par with the rest of the world. As acknowledged by the incoming coach itself, the Test team was doing well and, in departure from the norm in the subcontinent, was the apple of the nation's eye with the One Day team; the ugly, adopted brother that not many associated with.

As his arrival was so close to the England tour, it is fair to say that the coach had to make do with what was at his disposal. But the fourth Test at the Oval is where we caught a glimpse of Arthur's vision for the team as the poor form of Mohammad Hafeez saw him dropped for Iftikhar Ahmed to satisfy Pakistan's need for a fifth bowling option. While at the time, it was thought to be a temporary move due to out of form openers and to provide respite for the Pakistani bowlers with Iftikhar's off spin, Pakistan coasted to victory and the team think tank believed they had a blue print moving forward.




Soon after the Test and prior to the West Indies series, it was made clear that the move became as much about promoting Asad Shafiq, thought to be the team's best batsman, to the all-important number three position and that meant promoting Azhar Ali to the opening position, despite being well settled at number three for his six years in Test cricket. On the face of it, it was not hard to understand the coach's stance. Pakistan had just won at the Oval with Shafiq batting up the order and his technique and style drew comparisons to Sachin Tendulkar from Arthur.

But a closer inspection would reveal how deeply flawed and premature this move was. Shafiq, who also had played the entirety of his career at one position (number six) and held the record for most number of centuries for that position formed a key part of the Pakistan batting line up for the last six years and in particular during the team's unbeaten streak over the past two years.




Pakistan owes as much of its success during 2014-2016 to Yasir Shah as it does to its numbers three, four, five and six. Azhar Ali, Younus Khan, Misbahul Haq and Shafiq had played together, in that order, for nearly the entirety of the previous six years and it was a formula that had been remarkably successful. Not only did promoting Shafiq disturb that order, but it also upset the chemistry of our batting line-up. While the Misbah-Younus batting duo will go down in folklore, just behind it in the list of highest partnerships during 2014-2016 is Azhar and Younus and a little further behind that is Pakistan's next best partnership between the two Karachiites, Shafiq and Sarfraz Ahmed at an average of 57. A change in the batting order, created distance between these batting positions as Azhar and Younus now have an extra batsman between them, while Shafiq and Sarfraz had four batsman between them and hence upset  two of our most effective tandems.

Shifting Shafiq to number three in itself was not a horrendous idea, but it felt extremely rushed and superficial.  While publicly, Shafiq may have talked about number three being his natural position, he had played all six years of his international cricket at number six and the jump simply seemed to steep.




Even Joe Root's climb from number six to number three has been gradual despite being an opener in his pre-England days. Another fallacy of this shift can be illustrated using England as an example. While Root's form has not altered, England's batting line-up has become far more vulnerable with him up the order as seen in the recent Pakistan, Bangladesh and India series'. There is simply no depth to their batting line-up after Cook and Root.

With Misbah and Younus not around for much longer, a batting lineup with Azhar at two and Shafiq at three would have meant two inexperienced new comers in the important positions of four and five and would have left Pakistan's batting lineup similarly vulnerable. At best this idea can be considered short term.




However, after a shaky series, for Shafiq and Pakistan culminated in an embarrassing loss against the West Indies, Pakistan was left with a makeshift opener playing out of position, one of their best batsmen out of form and now confused about his best position with comparisons to Tendulkar providing scant consolation.

But Shafiq's was not the only failed experiment. At least that was understandable on the surface; the inclusion of Mohammad Nawaz in the Test setup was and is downright baffling. The buzzword after the summer for Pakistan became fifth bowler, for all successful sides contained a fifth bowling option which Pakistan have struggled with since Muhammad Hafeez's suspension from bowling. But that entirely misses the point that an all-rounder must excel in at least one aspect.




Ben Stokes, the one who made his debut in the 2013 Ashes, may not have been the bowler he is today but he was able to get into the team as a batsman who scored a hundred in his second Test at Perth. While Nawaz may be a valuable option in ODIs currently, he is nowhere near the required level for Test cricket as the West Indies series showed. His batting, even for a number seven was poor, and his bowling ineffective.  In fact, he was picked, according to the chief selector, on the basis that his domestic average showed that he can bat which itself is perplexing as the chief selector should be able to rely on more than a Cricinfo stats page when selecting a squad.




Despite all this, Nawaz finds himself on the tour to New Zealand and Australia, as what exactly, that is not clear, while the second best spinner in the country stays home. In the event Yasir suffers an injury, will Nawaz play? Or would you not prefer to play your second best spinner? Fifth bowling options only work if you have the players to make it work. Ben Stokes, Chris Woakes, Corey Anderson can provide that luxury because they are good enough. Nawaz unfortunately cannot. And South Africa just showed that a team can be successful without requiring a fifth bowler down under.  Moreover, if Nawaz has shown potential, would he not be suited better playing first class cricket, instead of rusting on the bench in Australia?

But the case of Nawaz is one facet of an underlying theme. The selection of Sharjeel Khan is a sign of more One Day talent infiltrating the Test squad. Perhaps Arthur's insistence on players being able to contribute in two out of three departments (batting, bowling, and fielding) has waned over time, but the selection of a batsman who does not average 30 in his preferred format despite an innings of 150+ against Ireland, is amusing.




The slow fourth innings has predictably seen the 'lambi-hit' brigade come out in full force in Pakistan lambasting the exclusion of Sharjeel. Comparisons to David Warner, Jason Roy etc. are thrown flippantly, but forgotten is the point that the above mentioned players established themselves in the shorter formats, proving themselves to be capable of playing extended innings and displaying responsibility. In fact, not only has Sharjeel not gone beyond 61 against a Test playing nation, he also averaged 17 in two Tests against England.

Having said that, Arthur recently mentioned in his interview that Sharjeel's defence is not up to scratch and needs improvement. This would be understandable had the coach not been around the player, but he has been working with Sharjeel for almost five months consecutively. And the obvious shortcomings of a player should either:

1. Not be news after five months or,

2. Not be accommodated in a tough tour against Australia.

We infused our superior team with talent from the inferior team based on an extremely flawed opposition in the West Indies and our Test team is poorer for it.

Not only is the short term outlook for the team grim with a drop to number four in the rankings and a hungry Australian team to come, the long term stability has been damaged. It seemed that Misbah had conjured a stable environment around the Test team which would be able to absorb not only his own departure, but that of Younus Khan as well.  That being said, it is not far-fetched to now imagine a team in disarray similar to the one Misbah took over back in 2010.




We can lay the blame for the New Zealand whitewash at the weather, the lack of preparation, the batsmen fiddling outside their off stump, but that would be a short-sighted view. The problems go back to the last Test against England and the move up the order that set the wheels in motion and can even be linked to the fifth bowling option and loss to West Indies. All of which makes the Oval Test even more fascinating.

Yes Asad Shafiq scored a century, but 'batting at three' was a myth. Not only did he bat four, due to Yasir Shah being night watchman, was dropped twice on his way to a hundred which still left the middle order brutally exposed after Misbah and Iftikhar's early dismissals. The promotion did not win Pakistan that Test; it was Younus Khan's extra-ordinary double century that masked the flaws in Pakistan's long term plans.




None of this suggests that Arthur has failed as a coach; it is far too soon to say. But for now, an old adage comes to mind.

"If it ain't broke don't fix it, that's the trouble with government. Fixing things that aren't broken and not fixing things that are broken."

Bert Lance may have said it for the government, but it could easily be adapted to Arthur's approach to the Pakistan Test and ODI team.