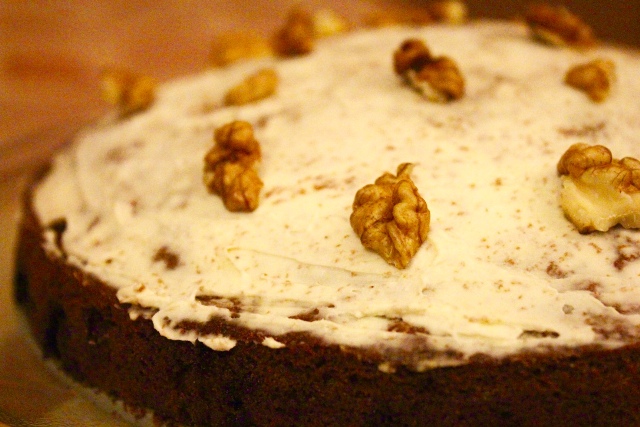 ---
This winter, cuddle under the blanket with a warm slice of this carrot cake
This is one of those types of cake that you'll be tempted to eat for breakfast, lunch and dinner.
---
The temperatures are falling. It is getting colder by the day – the perfect weather to enjoy several mugs of coffee, cuddled under a cosy throw blanket by the window while enjoying a good book.

For me winters would be incomplete without carrot cake.

I am all for cooking healthy food, but some of the best desserts combine a bit from both worlds. Now, I'm not claiming that carrot cake is healthy. But it can't be bad with all those good ingredients in it, right? The great thing about this cake (apart from it being extremely delicious) is how easy it is to make. There's absolutely no way it would flop.

You can bake it in whatever shape you want and it works great as muffins and cupcakes as well. This is one of those types of cake that you'll be tempted to eat for breakfast, lunch and dinner. It's so moist and enjoyable! You'll definitely want to savour each and every last bite.

Ingredients:

Cake:

Plain flour – 1 cup

Baking soda – 1 tsp

Caster sugar – ½ cup

Soft brown sugar – ½ cup

Ground cinnamon – 1 tsp

Ground nutmeg – ½ tsp

A pinch of salt

2 eggs

Vegetable (or canola) oil – ¾ cup

Grated carrots – 1 ½ cup

Walnuts and raisins (optional)

Cream Cheese Frosting:

Softened unsalted butter – 4 tbsps

Cream cheese – 4 ounces

Icing sugar – 2 ½ cups

Milk – 2-4 tsps

Vanilla extract – ½ tsp




Method

1. Preheat the oven to 350⁰F (180⁰C).

2. In a large mixing bowl add and stir the dry ingredients (flour, baking soda, sugars, cinnamon, nutmeg and salt).




3. In a separate bowl, whisk the eggs and oil.




4. Combine the dry and the wet ingredients. Add the carrots and nuts (optional). Stir until combined.




5. Pour the cake batter into a tin and place in a preheated oven.

6. Bake for about one hour or until a toothpick, when inserted in the centre of the cake, comes out clean.




7. In a separate bowl, add the butter and cream cheese and beat until smooth.

8. Add half the icing sugar and beat well.

9. Add two teaspoons of milk. Mix well, then add the rest of the icing sugar.

10. Continue to beat the frosting until it is light and fluffy and reaches a spreadable consistency. If it is too stiff, add more milk, half a teaspoon at a time, until you reach the desired texture.

11. Once the cake has cooled, top it off with the cream cheese frosting and you are good to go!


All photos: Arhama Siddiqa
Facebook Conversations
COMMENTS (4)
Comments are moderated and generally will be posted if they are on-topic and not abusive.
For more information, please see our Comments FAQ