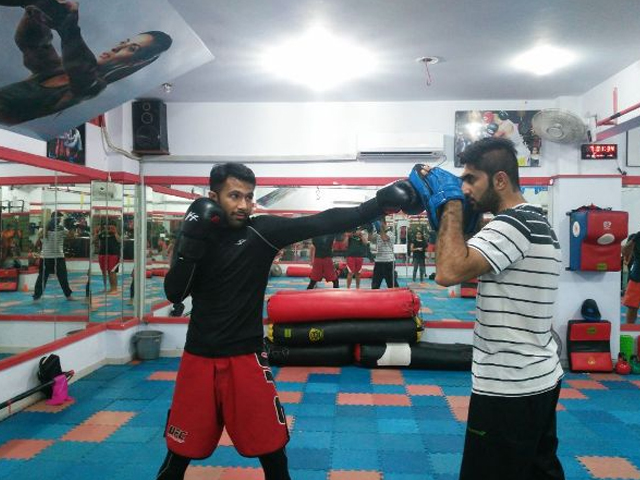 ---
The importance of learning mixed martial arts
For someone who felt defeated every time he would try to move a muscle, I now feel fit, strong and content with myself
---
I was never into sports. To be honest, I hated it because I sucked at it. In football, I couldn't run even if my life depended on it. I tried cricket; I couldn't even hold a bat or throw a ball. The thing I hated the most about sports day? Being forced to participate at all.

I was literally given ultimatums by my classmates to act sick or injured so I wouldn't be the reason they'd lose the relay race. They still lost though – which made me feel good because they deserved it for bullying me into dropping out in the first place.

But, not being good at sports (or at any physical activity for that matter) did lower my self-esteem and made me very unhappy with myself.

This led me to find comfort in food and video games (which I loved). My favourite games were Tekken and Street Fighter because I was good at them. However, settling into this lifestyle made me a very unhealthy person who was borderline obese. I realised – or, truth be told, it was made clear to me that, if I did not start losing weight, I would become diabetic and contract a plethora of obesity related problems.

It was then that I was taken to a gym and boy, did I hate it. I hated doing crunches, I hated lifting weights. It made me feel weak and useless and I hated feeling weak and useless. But through thick and thin I stuck with it and eventually did lose some weight. But I still wasn't happy. To be honest, I was bored because lifting weights and doing a one-body-part-a-day routine was pretty dull. The routine did change every now and then but it just wasn't enough.

It was around this time that I learned about Mixed Martial Arts (MMA) and started watching the Ultimate Fighting Championship (UFC). It was love at first sight! These people were characters from Tekken and Street Fighter, except they were real people – real fighters. I was hooked – obsessed even. I couldn't believe it was real. Since then I would watch every documentary and movie I could find about fighting, watch all sorts of self-defence videos on YouTube because the act of fighting/defending yourself was so interesting to me. Around the time the movie Warrior had come out. and obviously I had to watch it, it was about MMA, how could I not?

The main character of the movie gets a chance to fight a tournament for a lot of money. I remember hating the movie. To me, something like that happening in Pakistan would be impossible. And, even if it did, I thought to myself – I would totally win. But I knew I would never get the opportunity to compete in this country. I remember these thoughts floating in my head while smoking a cigarette. I realised that even if there was a tournament I would never even be considered because my smoking had ruined my stamina and my lifestyle made me unhealthy in general.

It was then that I decided that instead of waiting for the opportunity, I should create it. That was the last cigarette I ever had. I changed my lifestyle. I quit smoking and immediately went online to find workouts specifically for fighting.

I then started looking for a gym and the right trainers. It took me months but I found someone who was willing. I started training with them in a park. Eventually, they led me to the gym I currently train at called K7.

I have been with them for four years and haven't been happier. It was a complete change from going to a normal gym. I was finally learning to do something I never thought I would ever do. I was learning how to fight and loving every minute of it. I can clearly say kickboxing changed my life for the better. I would do my best to come early to class and be as consistent as physically possible.




For someone who felt defeated every time he would try to move a muscle, I now feel fit, strong and content with myself.

What I loved most about learning MMA is leading the martial arts lifestyle: to be better than who you were before and striving to improve yourself every day – aiming towards perfection yet always having a goal to look forward to because no one can ever truly be perfect. I've been doing this for four years and do not see myself stopping any time soon. It's incredibly empowering to know that I'm capable of defending myself if need be and if there is a confrontation or a stressful situation I am able to handle myself quite well.

Knowing how strong I've become has ironically made me feel calmer and less likely to resort to anger because I now feel safe in my own skin.

I've also been blessed with the opportunity to teach which I do every chance I get – not because I want to be cool and show off but because I take pride in teaching someone an invaluable skill that, frankly, is also a lot of fun – just like someone did with me at one time.