---
Biscoot and chai, anyone?
These biscuits date back to when Dutch explorers touched the subcontinent's shores back in the 16th century.
---
While browsing through the aisles at the local store, I came across a new kind of biscuit – LU's Nan Khatai. 

I was immediately transported down memory lane, to numerous childhood bakery trips for the much savoured, freshly baked version. While growing up, we have all relished khasta (crispy) nan khatais. And I am sure many of us still do.

How did it end up in this part of the world?

'Nan khatai' comes from the Persian word 'Nan' (bread) and 'Khatai' ('Catai' or 'Cathay', the older name for China), translating as 'Bread of Cathay'.

According to the 'Hobson-Jobson Dictionary of Colloquial Anglo-Indian Words' (yes it exists) these biscuits date back to when Dutch explorers touched the subcontinent's shores back in the 16th century. Two of them set up a bakery, which they later handed over to a trusted employee when they left.

Now the locals would not eat the bakery's bread because it included sura (sap from the Palm tree, or toddy), which was used, as yeast in those times. As a result, the left over bread would become dry and crispy and sold to the poor at discounted prices. This inexpensive dried out crispy bread became a hit with the locals. The bakery seized on the idea of turning the bread into cookie-sized titbits sans sura, and thus Nan Khatai was born.

Enough with the history lesson, let's begin!

Ingredients:

Flour – 1 cup

Baisan (Gram Flour) – 4 tbsp

Baking soda – ¾  tsp

Baking Powder – ½ tsp

Ghee – 1 cup

Ground sugar – ½ cup

Cardamom powder – 1 ½ tsp

Egg yolk to brush

Method: (literally four steps)

1. Mix in all the ingredients except the egg yolk.




2. With your hands form medium-sized cookies balls and place them on a baking tray.

3. Brush each cookie with egg yolk. You can place an almond or chopped up pistachios in the centre if you want.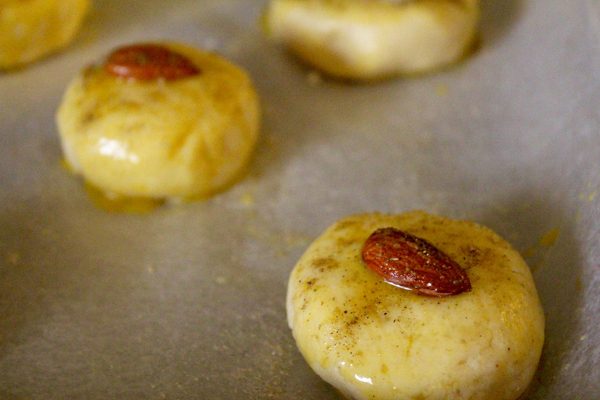 4. Bake for 12 to 15 minutes at 180 degrees.




Unlike other cookies, nan khatais will not brown up and when taken out of the oven they will still be soft and gooey. Nothing to worry about. Simply allow them to sit for 5 to 10 minutes on the counter and they will harden up.




When completely cooled down, you can store them in an airtight container for at least a week.

You are all set to have your evening 'biscoot' and chai!


All photos: Arhama Siddiqa