---
The original king cake - the pound cake
Go out in the garden with a cup of tea, a nice book, a slice of warm cake and enjoy!
---
 "Beta! Mehmanon kai liye bakery sai plain cake lao!"

(Grab a plain cake from the bakery for the guests.)

Who hasn't heard this line? In fact we have grown up hearing this!

Plain cakes or pound cakes, span over generations. They were made by our ammis (mothers), our nannis (grandmothers), and our par-nannis (great-grandmothers). The name 'pound' was given to this cake because the original recipes contained one pound of butter, one pound of sugar, one pound of eggs, and one pound of flour.




Sometimes while baking cakes, you just want something plain and simple with no added frills and fuss. Especially now that winter is coming and something warm will be required with the evening cuppa. So when you just need a quick whip up, this is a good recipe to use!

This is not diet food. There is no way to make this pound cake healthier without sacrificing taste or texture or amazingness. I pondered over it for a while, but then realised, I'm making pound cake for heaven's sake.

So let's begin.

Ingredients:

Eggs – 3

Sugar – ½ cup

Baking powder – 2 tsp

Butter – 125 grams

Lemon essence – a few drops

Yellow food colour – a few drops

Flour cup plus – 2 tbsp

Milk – 2 tbsp




Method:

1. Beat the butter and sugar till it is creamy.

2. Add lemon essence and food colour and beat.

3. Add eggs one by one while beating.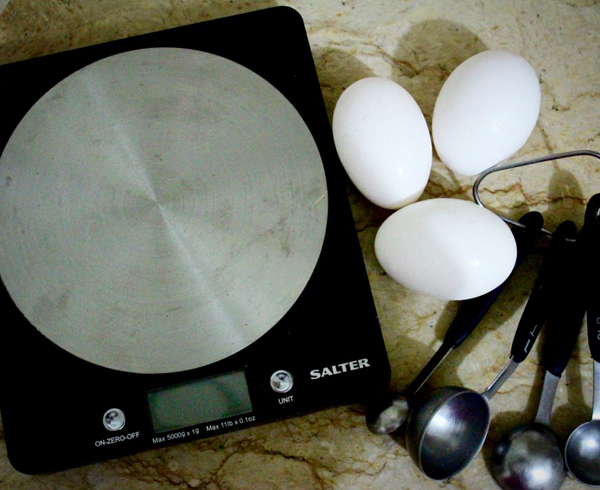 4. Add in flour and baking powder and fold slowly.




5. Add in the milk and fold with light hands.

6. Bake it for 20 to 25 minutes or insert a toothpick. If it comes out clean, the cake is done.




You can add raisins, chocolate chips, currants or just have it plain off course. I added currants. A dusting of powdered sugar or whipped cream also works.




The pound cake can be covered and stored for several days at room temperature, and for one week when refrigerated. Though, trust me there won't be any scrapes left when this comes out of the oven all warm and fresh.




So go out in the garden with a cup of tea, a nice book, a slice of warm cake and enjoy!

All photos: Arhama Siddiqa
Facebook Conversations
COMMENTS (4)
Comments are moderated and generally will be posted if they are on-topic and not abusive.
For more information, please see our Comments FAQ