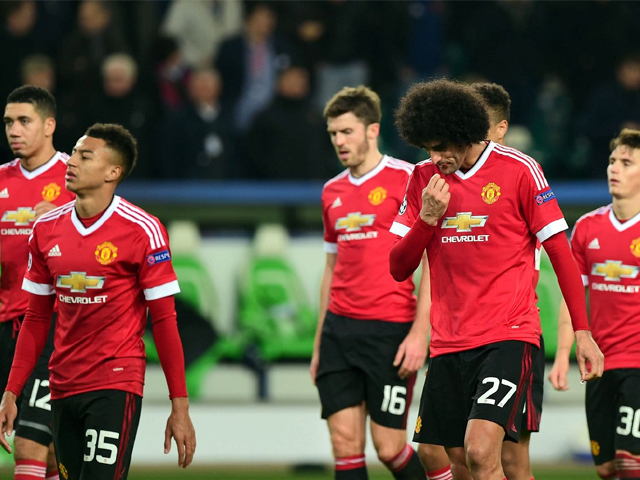 ---
What's going wrong with José Mourinho's United?
One would think, it can't get worse than this for United, can it? We got our answer in the game against Watford.
---
Manchester United – a team consisting of extra-ordinary individuals but performing below the ordinary level of expectations. After the disastrous derby day defeat, no one thought things with someone like José Mourinho at the helm could go this wrong.


But bloody hell, (Fergie-style) we have been wronged.

Mourinho got it horribly wrong in the first half of Manchester Derby. He really underestimated City, and above all, Pep Guardiola's strength. Although United's performance in the second half at Old Trafford was much better, things haven't changed much since then.

United had a chance to forget all that by making a statement in their first European group game of the season.

Well guess what?

That didn't turn out too well either, instead they received a crushing defeat at the hands of Feyenoord.




If Mourinho wasn't in hot water before, he definitely was after this defeat. A state of panic settled in on Mourinho's heart. One would think, it can't get worse than this, can it?

But we got our answer in the game against Watford. Boy oh boy, Mourinho's men certainly don't learn from their mistakes.




There are a number of factors that have contributed to United's catastrophic start to the season.

Where do I begin?

School boy errors

The only consistency I have witnessed in the Red Devils games so far this season, is their ability to make life difficult for themselves. They repeat the same mistakes every match day. From sloppy passing to no pressing, they have been making pretty basic errors. It seems as if their midfield doesn't exist and there is absolutely no guard.




United players, defenders in particular, have shown a great deal of reluctance when it comes to pressing down on the opponents. The wing-backs aren't doing enough. Luke Shaw's inability to close down players before they receive passes in open spaces is just one example. Then there are the silly and reckless tackles of Marouane Fellaini. You just can't afford to give away possession that often and that cheaply.

Players' positioning

Daley Blind was seriously exposed against City. It's been over two seasons now that he has been playing as a centre-back (CB) and he still hasn't fully adopted the CB role. To be honest, you can't really blame him. Barcelona's Javier Mascherano is another relatable example here. Just like Blind, he isn't a natural CB and just like the Dutchman, he is the culprit in defensive mismanagement.




It isn't easy to shy away from the man-marking controversy, specially when they result in your team conceding goals. Valencia might have delivered some relatively strong performances very early in the season, but it doesn't change the fact that he is not a proper right-back. Mourinho prefers him for his attacking ability, which actually faded long time ago.

Hardly two out of 10 crosses by Valencia reach the penalty area. And those that avoid hitting defending legs don't reach his teammates. Mourinho must put his trust in Matteo  Darmian or Timothy Fosu-Mensah.

Wayne Rooney

The biggest question mark remains on United's captain, Rooney. Does he deserve a place on the team? Is he still good enough?

The answer to both these questions is yes, but in a complicated way. Rooney still deserves a place on the United team, but perhaps not a guaranteed one.

Who says he needs to start every week? That is actually hurting the team's morale. Although it will be extremely harsh to entirely blame Rooney for United's poor run of games, but he is amongst the main culprits.




I believe Rooney is good enough to proudly wear the Manchester United shirt. To doubt his ability is to doubt his intentions and his commitment to the club. And that is out of question.

The only problem here is where does one place Rooney?

Debates of playing him as a central-attacking-midfielder or a striker has not only lowered the player's morale, but has also damaged his ability to showcase his true self. The solution to this problem lies in changing the formation.

The Formation

The 4-2-3-1 formation is certainly not helping United during these dark times.

Let's talk about Rooney for instance. I believe if United switch to the old-age and ever-green 4-4-2 formation and use Rooney as a striker alongside Zlatan Ibrahimovic, it could help both the team, and the player. But fixing Rooney's position behind the lone striker in the 4-2-3-1 formation, Mourinho is limiting the team's capabilities.




The same goes for the 4-3-3 formation. Playing three proper strikers up-front along with a three man midfield could do the trick for United. Paul Pogba's pairing with Fellaini hasn't worked out yet and United could be running out of time.

It is about time United bring in Michael Carrick and Ander Herrera or Morgan Schneiderlin to the team. Mourinho must switch his formation or play the best available players at their appropriate positions to turn things around.

Rest assured, we are in for a thrilling response.
Facebook Conversations
COMMENTS (2)
Comments are moderated and generally will be posted if they are on-topic and not abusive.
For more information, please see our Comments FAQ