---
For better or worse, Janaan is a step in the right direction
We still seem to be glued to the plot-writing and camera techniques associated with serialised TV shows.
---
The Macmillan Dictionary defines a romantic-comedy as,
"A funny movie, play or television program about a love story that ends happily."

 Janaan is just that, but it's not funny in the ordinary sense of the word.

The film, directed by Azfar Jafri and co-produced by Reham Khan, is a latter-day ode to Pakhtun identity and heritage. It is a story about Meena, played by Armeena Khan, who returns from Canada to attend her cousin's wedding in Swat, but falls in love with her adopted cousin.


On paper, it sounds appreciable to the Pakistani viewer, and for the most part, the outcome on the screen is adequately gratifying. The stunning introductory shots of the beautiful Swat Valley juxtaposed by the protagonist's contemporary lifestyle in Vancouver, effectively illustrates the modern Pakistani expatriate.

We follow her journey as she lands in Islamabad and mistakes the male lead – played by Bilal Ashraf – for airport staff (apparently, he used to be fat and social media doesn't exist in Canada). What follows next is a tedious set of dialogue about Meena's homecoming by her extended family, distinguished by traditional sweets, small talk, and familial updates.

Regardless of these characters' relatability, a casual lack of depth and sustained emotion are the cause of their diminishing memorability – we like watching them, but we know we won't be recalling them any time soon.




The target audience for this movie are middle-class, educated and enlightened viewers who enjoy jokes about power outages and security issues in Pakistan – along with light-hearted love triangles between cousins.

The producers take the aforementioned for granted, as proved by respective deficiency of Urdu subtitles and an addition of English translations for Pashto conversations. This is quite potent since the jam-packed theatre where I watched the movie, was indeed a reflection of this creative decision. In fact, recurring humour with Meena's Canadian roommates about terror in Pakistan, albeit an obvious cliché, was well-received by the crowd with whom I shared my viewing experience.




For better or worse, Janaan is a step in the right direction for the Pakistani film industry, but two steps back in terms of the sheer profundity of filmmaking. We still seem to be glued to the plot-writing and camera techniques associated with serialised TV shows.

The screenplay, penned by Osman Khalid Butt, drags on for the most part, especially in the second half which arbitrarily relies on flashbacks as filler for soundtrack. The writing fails the lead cast, who are sketched out as superficial, funny – but not too funny personalities. Even the stand-out performance of the supportive lead by Ali Rehman Khan is hindered by the lack of gravitas in penmanship, yet his performance arguably remained the most memorable facet of this film.

The cinematography is grandiose and striking in the first half, yet reverts to the close-up, non-flattering camera visuals commonly fettered with an Urdu drama post-intermission.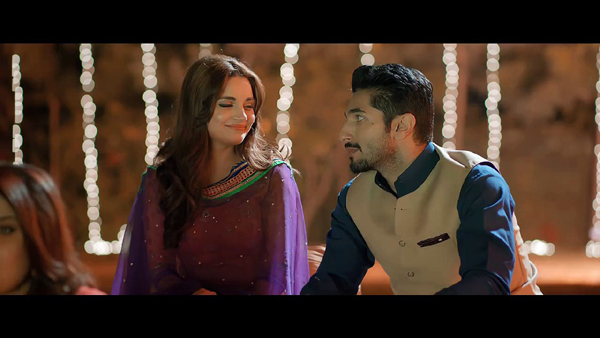 Shallow writing and undignified camera-work aside, perhaps the greatest fault in Janaan lies in the handling of the cardinal issues it raises for the sake of plot progression and comic relief. The insouciant use of pederasty in Pakhtun culture as a device to create movement in plot is ignorant and hollow. Such salient matters must either be succinctly covered when mentioned, or else become the cause of triviality.




Despite my critique, however, as an Eid release, Janaan is a profitable venture worth watching with family. I believe it is a successful demonstration to put Pakhtun culture and moreover, Pakistani films on the map for the long haul.
Facebook Conversations
COMMENTS (11)
Comments are moderated and generally will be posted if they are on-topic and not abusive.
For more information, please see our Comments FAQ