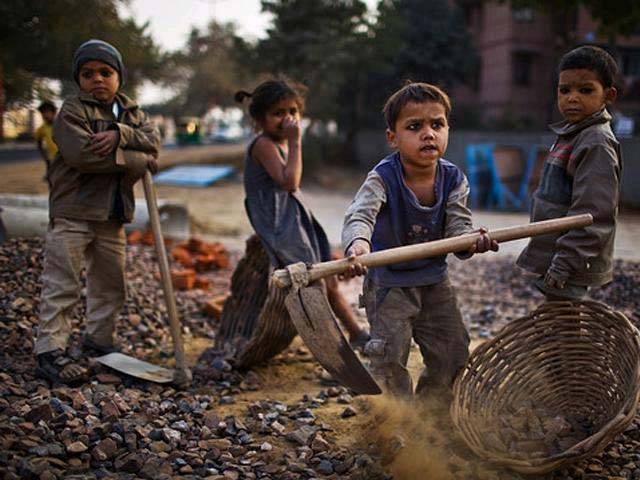 ---
Are we selling our children's youth to factories?
Not only does child labour involve hazardous working conditions for those involved, it also keeps them from education.
---
"When my mother died I was very young,

And my father sold me while yet my tongue

Could scarcely cry 'weep! 'weep! 'weep! 'weep!"

William Blake (The Chimney Sweeper)

On Monday the Provincial assembly of Punjab passed the Punjab Prohibition of Child Labour at Brick Kilns bill. The bill aims to prohibit children younger than 14 years of age from working in brick kilns and penalises violations with both fines and incarceration.

Considering the enormity of the child labour problem in Pakistan, any such bill is a welcome development. It is hard to be optimistic however, considering the repeated failure to implement past legislations. These include:

-The West Pakistan Shops and Establishments Ordinance 1969

-The Employment of Children Act 1991

-The Bonded Labour System Abolition Act 1992

-The Punjab Compulsory Education Act 1994

-K-P Prohibition of Employment of Children Bill 2015

It is too early to assess the impact of the 2015 K-P bill but as far as the other bills are concerned they are not worth the paper they were written on. As the prevalence of child labour continues to fall across the world, it has increased steadily in Pakistan. According to the Global Slavery Index which collects data from 161 governments across the world, Pakistan ranks third in prevalence of child labour after Haiti and Mauritania.

The wilful neglect towards documenting child labour is apparent from the fact that it has been 20 years since there was a nationwide statistical survey to determine the extent of the problem.  According to this survey conducted by the Federal Bureau of Statistics, there were 3.3 million children between the ages of five and 14 actively engaged in labour as of 1996.

According to a survey by the International Labour Organisation (ILO) in 2012, the number of children working was 12.5 million. Other estimates include 10 million (UNICEF) and 15 million (SPARC-Society for Protection of the Right of the Child, Pakistan).

Whichever one of these estimates one chooses to consider most accurate, what is apparent is that the number of child workers has roughly quadrupled over the past two decades. This makes obvious that none of the prior legislations have been implemented even minimally.

Child labour is an unacceptable facet of Pakistani society. Not only does it involve frequent cruelty and hazardous working conditions for the children involved, it also keeps them from what should be their most basic right: education. This is not a matter of pushing non-applicable western values onto Pakistani society; it is doing what is self-evidently right and what every moral yardstick we subscribe to demands: kindness to children.

Yes, there is widespread destitution in the country that often forces parents to send their children to work in brick kilns, suffocating carpet loom sheds and sweltering rice paddies. But the answer is not to use poverty as a justification to ignore the presence of child labour. The only just and humane solution is to combine social uplift and enforcement of child labour legislation to take children out of the unconscionable ordeals they are neither mentally nor physically meant to endure.

In 2014, the following measures were instituted (on paper at least) by the Government to reduce child labour and eliminate its worst forms:

-Provincial Labour Inspectors

-Provincial and Regional Police

-District Vigilance Committees

-Child Protection Officers

-Child Protection Courts

A report by the Bureau of International Labour Affairs of the United States Department of Labour concludes that no change in the prevalence of child labour, including its worst forms materialised as a result of these measures and that law enforcement agencies took no discernible actions to implement any action against child labour violations.

Ultimately, as is the case with most societal ills in Pakistan, it is a vested interest that stands in the way of ending child labour. One wonders how many owners of these brick kilns, carpet looms and rice fields either sit in our national and provincial assemblies or have close ties with legislators. Bills such as the one passed by the Punjab Assembly this Monday will amount to nothing as long as we lack a law enforcement system independent and competent enough to implement the statutes of the legislation.

Let us not cease to raise our voices against child labour and to hold accountable the legislators that continue to fail every test of leadership, including protecting our children that they are entrusted with.
Facebook Conversations
COMMENTS (1)
Comments are moderated and generally will be posted if they are on-topic and not abusive.
For more information, please see our Comments FAQ