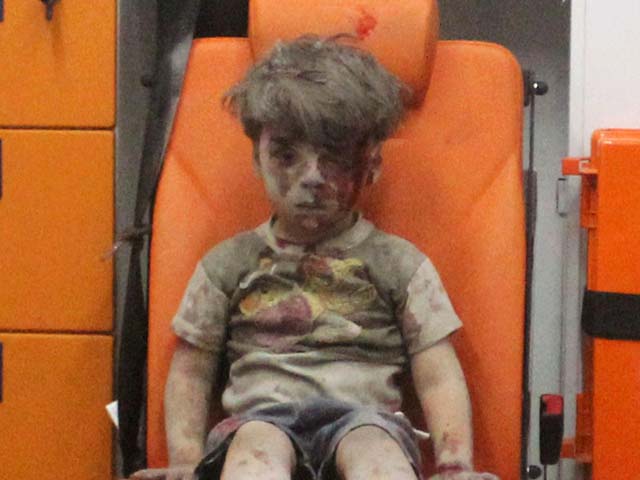 ---
Omran thought it was just a game...
Why did they cut our game short? Maybe that's what Omran thought as he sat on the orange seat in that ambulance.
---
Perhaps they were playing the Street Sniper game. It was all the rage among the kids in Aleppo. Or they could have been playing the Hand Grenade Saga. He must have understood the game in bits and pieces, following his older siblings around the house. Maybe he hid under the sink or behind the door on the terrace. He must have covered his ears, anticipating the sound that his brother made while imitating a bomb blast. But the sound that came next.....was not the fake sound.

It was so real, it shattered all windows on impact. Somewhere inside the house, he hid behind the door waiting for his brother to throw a bomb. Instead, the house crumbled around him. He must have anticipated the sound of a mock bomb blast that his brother usually made, but this deafening sound must have petrified the five-year-old and then someone must have broken in to rescue him from the pile of ash and bone. Perhaps it was this bewilderment that reflected in his stony eyes when Omran Daqneesh was rescued.


We don't know what his family may have been doing before their house was hit. Thus Omran's expressions and his shocked demeanour perplexed the world. What I mention above is mere speculation based on the recent cases of suffering children in Aleppo. However, what caught global attention were his puzzled eyes as if someone had woken him from a deep slumber and suddenly placed him under an uncomfortably bright spotlight.

It was not pain. Neither was it fear. It was bewilderment. Why did they cut our game short? Maybe that is what Omran thought as he sat scratching his head on the orange seat in that ambulance. He rubbed his face to find his fingers bloody. He had never bled before in any of these games. Omran was told about a week ago that his brother succumbed to the injuries and died. He wondered how someone could die from a game. Why was this happening? As he sat there scratching his head, wiping blood from his face and looking around at everyone in pure confusion, the world snapped his photographs.

It has become the norm to capture someone's misery and post it on social media so that we can satisfy our insecure selves. Omran does not care whether he trends on Twitter or gets maximum shares on Facebook. He does not care for the analysts who sit in comfy chairs in air-conditioned studios, sipping coffee and debating who is messing up Syria the most. He is least bothered by the conflicting reports on who was behind these air strikes. He just sits there in that orange chair while the world gives him attention, for a minute and then moves on to the next horror. While his very existence mocks the fabric of human kind. He sits there in misery, his face reflecting our indifference. He sits there, a living breathing satire on our nonchalance.

But we will move on, like we always have.

This perhaps is the most brutal trait of human beings, the ability to numb the pain and move on. While this helps in times of extreme pain, it is also our biggest dilemma. The attention span of our sensitivity gets thinner with each generation. Thus we will forget Omran soon as we forgot Aylan Kurdi and several others who have suffered. Then there are those among us who are sceptical to the point of sheer brutality and are of the opinion that these images have been faked as propaganda to oust Bashar al Assad.

Even if we were to believe their stance, are we also supposed to believe with absolute naivety that no innocent children have died in Syria? Omran or Ali or Aylan are just names but the children behind these names are actual human beings that were brought into this world by loving parents who had cherished them and nurtured them every day. If these conspiracy mongers had any inkling of how much a mother sacrifices to bring a child into this world, they would not be this cavalier towards this tragedy.

It is high time we abandon the blame game and accept that whoever is suffering in Syria, is indeed a human being and he or she deserves to be saved. Let us take the first step to try and save them, for that we have to humanise them first!
Facebook Conversations
COMMENTS (4)
Comments are moderated and generally will be posted if they are on-topic and not abusive.
For more information, please see our Comments FAQ