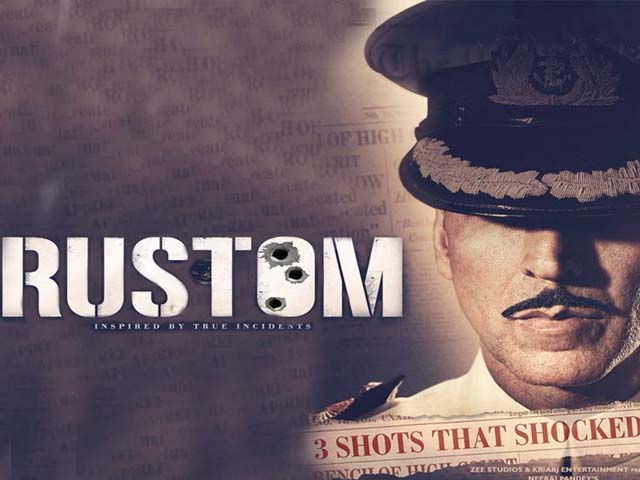 ---
Does Rustom pronounce Akshay Kumar guilty for disappointing his fans?
Even with such an experienced cast, there is still something missing in the movie.
---
Akshay Kumar is the definition of a multifaceted Bollywood star; not because he gives repeated box office hits, but because he never hesitates to pair up with new directors and their teams. This requires aptitude and confidence – traits that very few superstars possess. This is Akshay Kumar's third release in 2016 (after Airlift and Housefull 3) and it's completely disparate from his previous endeavours.

Will he be able to pull a hat trick this year?

Rustom is Dharmendra Suresh Desai's second film (the first was 1920 London, which was released a few months back). Was Akshay able to pull off the show under Desai's direction? Let's explore what Rustom has to show to its audience.





Rustom is based on a real life event that occurred in 1959, which ended the jury system in the state. Rustom Pavri, played by Akshay Kumar, is an honoured naval officer who returns home unexpectedly from his mission. He decides not to tell his beloved wife, Cynthia Pavri (Ileana D'Cruz) in order to surprise her. He gets the shock of his life when he finds out about Cynthia having an affair with Vikram Makhija (Arjan Bajwa). In a fit of rage, Rustom kills Vikram and then surrenders himself to the police.

When Preety Makhija (Esha Gupta) finds out about her brother's murder, she hires the best lawyer she knows of, Lakshman Khangani, (Sachin Khedekar) to fight the case against Rustom. What happens next, in and out of the courtrooms, is what Rustom is all about.




Rustom is one of Akshay Kumar's more mature performances. His acting is precise, to the point, and very calculated. He carries the entire movie on his able shoulders. It's great seeing Sachin Khedekar playing pivotal roles again – what's more is that he nails his performance in every frame. Pawan Malhotra's role as a dutiful police officer is another ace performance in Rustom. He is an underrated actor, but extremely dependable. The same goes for Kumud Mishra.




Coming towards acting, Esha Gupta and Ileana D'Cruz both need to work on their performances. I felt they did not do justice to their respective roles. Arjan Bajwa's acting is mediocre, whereas the child hawker, Naman Jain, deserves special mention for a solid performance. This child actor keeps getting better and better with every movie.

There are some great scenes in Rustom. One of my favourties was when Pawan Malhotra plays chess with Akshay in prison. It was brilliantly executed with a whimsical touch. The courtroom scenes are very well written, the director managed to add a realistic touch to them, making sure they were not over the top. Where music is concerned, Rustom's soundtrack is decent and not packed with unnecessary/dramatic numbers, as most of the movie comprises of background music.





However, even with such an experienced cast, there is still something missing in the movie. At best, Rustom is a decent watch, albeit not the best one.


Facebook Conversations
COMMENTS
Comments are moderated and generally will be posted if they are on-topic and not abusive.
For more information, please see our Comments FAQ