---
The dread that comes with Rio 2016
Lets hope, unlike Munich Massacre and Atlanta Bombing, this year Olympics are held without any untoward incident.
---
Are you worried that the Olympics 2016 is a potential prime target for terrorists? Well, the security authorities of Rio 2016 admit that the fear of terrorism during the event is more serious due to the recent series of attacks around the world.
Their apprehensions were further boosted because of a tweet by a French jihadist, Maxime Hauchard, who picked Brazil as the "next target," after the coordinated terror attacks on Paris last November.


Besides, last week, the Brazilian police arrested 10 militants who were attempting to contact a weapons supplier in neighbouring Paraguay to get AK 47 assault rifles. This development has also raised security concerns, rightfully so.




The Olympic Games are going to start from August 5, 2016, with the opening ceremony taking place at the Maracanã stadium. It will conclude on the 21st of the same month.

Keeping in mind the traditions in Brazil, one can't help but be optimistic. This year the Olympics will be held without any untoward incident, unlike the Munich Massacre in 1972 and Atlanta Bombing in 1996.

Brazil, so far, has faced only a handful of terrorist threats in comparison to other countries – partly because of its geographical location, and for its longstanding neutrality and multiculturalism in international affairs. Therefore, most of Rio 2016 security fears should have been centred on low-level assaults and muggings rather than terrorism.




However, Luiz Alberto Sallaberry, the counter-terrorism director of the Brazilian Intelligence Agency, has said recent incidents in other countries have heightened their fears. This came after devastating terrorist attacks in Paris, Brussels, Istanbul, Jakarta, Tunisia and various others. These attacks are almost always carried out by IS or associate groups. There has also been a rise in the number of Brazilian nationals suspected of sympathising with IS militants over the past few months. An organisation called Ansar al Khilafah Brazil has threatened to carry out attacks during the games and this was the first time someone from South America explained a supposed alliance with ISIS.




Two years ago, Brazil successfully hosted the FIFA World Cup, which had a much wider television audience and brought in great tourism. The Brazilian government pledged to invest $900 million for hiring security forces, making the tournament "one of the most protected sports events in history."  Brazil specially trained 53,000 public safety professionals for the 2014 FIFA World Cup which were deployed by the state governments at each game venue. They were trained in three departments; experts, multipliers (who would help transmit information to other professionals) and operators. So they surely have previous experience and the required infrastructure to ensure enough security for Rio 2016.




One of the most special security measures the Brazilian government undertook for the event security was the implementation of facial recognition software. The Brazilian police proposed to use futuristic Robocop-style glasses fitted with facial recognition equipment to identify and root out troublemakers at the 2014 World Cup. It is a small camera fitted to the glasses, designed to capture 400 facial images per second, which are then sent to a central computer database, storing up to 13 million faces.




In 2016, for a safe and secure Olympics, Brazil has taken further extraordinary measures in order to counter any terror threat during the games, including intelligence-sharing with foreign security forces and greater training.

Last week, the federal government said it was releasing an extra $24 million, especially to beef up security ahead of the Olympics. Around 80,000 officers will be deployed during the event, plus separate security teams will be brought in by participating National Olympic Committees. This compares with a force of around 42,000 officers deployed during the London 2012 Olympics.




Counter-terrorism experts from Interpol are deployed as well, in order to assist with security measures during the Rio Olympic and Paralympic Games. Based in the International Police Cooperation Centre, these experts not only have instant and direct access to Interpol's full array of database, but can also exchange urgent messages and vital police data from all 190 member countries such as fingerprints, images and wanted-persons notices.

Such mega sports events undoubtedly demand strict and extra ordinary security these days – which is why managing safety arrangements for nearly 11000 athletes, half a million tourists, and overall six million ticket holders, Brazil probably has the largest international police cooperation event in its history.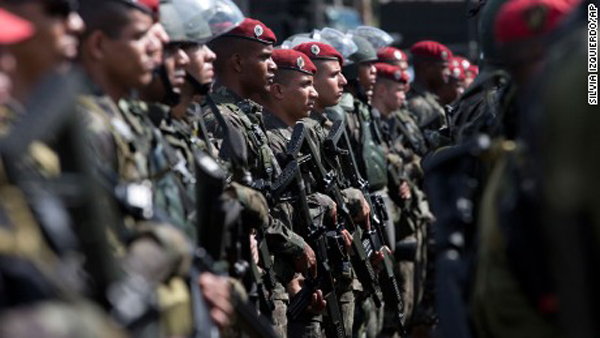 Yet, there is big question mark looming over the estimated or targeted audience of half a million tourists and six million ticket-buyers. On-going trends show a depleting trend in the sales of tickets for the Olympics due to security related reasons. The Beijing Olympics 2008 was held with reportedly one million unsold tickets, while in London 2012, there was also a big issue of empty seats reported during competitions.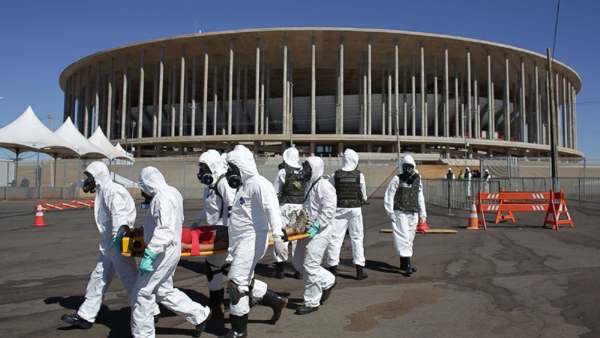 Greater security often causes greater inconvenience, but experts fear that apart from terror threats, the Zika virus and serious water pollution are also vital concerns in Brazil. Therefore, their expected target of international tourists in August is unlikely to be met.

Soldiers patrol the Rio de Janeiro International Airport as athletes and visitors arrive ahead of the 2016 Summer Olympics in Rio de Janeiro. Because of Rio's reputation for criminality, elite police units are more battle-tested than their counterparts in major US cities.

On the other hand the mayor of Rio de Janeiro, Eduardo Paes has already said,

"..the security forces will demand from us more blocked roads, more inconvenience. . . (but)  the Olympics is a mega-event, and we have alerted the population that these security measures will (must) occur."


Above all, there is another probable reason for low turn-out. Brazil is in the midst of its worst recession in 25 years, and with the economy predicted to shrink by 3.5% this year, locals cannot afford to spend on tickets while their minds are fixated on their financial future.
Facebook Conversations
COMMENTS
Comments are moderated and generally will be posted if they are on-topic and not abusive.
For more information, please see our Comments FAQ