 ---
24 hours in crime filled Karachi
In the last 24 hours, there have been 5 muggings, one shop lifting incident and two bodies found in parts of Karachi.
---
In 2015, when it started, the Rangers' operation was eagerly welcomed by the citizens of Karachi. Even though this decision undermined the authority of existing law enforcement agencies including the police, it brought with it a promise of safety and security for Karachiites; and we were starved for protection.

A few months into the operation, and our faith in this beautiful, resilient city of ours was renewed. Karachi had had enough, and the operation was going to finally cleanse the city of all the filth that continued to eat at its heart and soul. Many started dreaming of walking to their neighbourhood parks again without the fear of mugging, while others started thinking of the relaxed drives they could take without being on complete guard at every traffic signal. The sky started looking a little bit brighter. And then something happened.

Since the past few weeks, social media has been exploding with complaints of street crime in Karachi. Despite the ongoing operation, street crimes have witnessed an increase. So the question on everyone's minds is; what went wrong and what is going on now?

There were several different initiatives put into place including one to install CCTV cameras in various places in the city. Yet, police stations, including DHA authorities, seem to be overwhelmed by the number of complaints being registered against theft and robbery. And despite the complaints, when we turn to our televisions and read news stories, we are told that the operation has been successful, that the police is on its toes, that Rangers' personnel have been deployed everywhere, a WhatsApp hotline has been provided to reach them, a text-message number has been provided to report crime and that major arrests are being made every day.

Yet, the videos and statuses on Facebook and Twitter are still coming in; some of them are of shopkeepers being mugged, some of people being mugged outside big office buildings, car hold-ups, and reports of house-robberies.

Despite this, we are being told that safety and security has been restored in Karachi. To measure just how true this claim is, we decided, with the help of social media, to document 24 hours of the day in Karachi to see how many crimes are reported online.

[/fbvideo]

[/fbvideo]

[/fbvideo]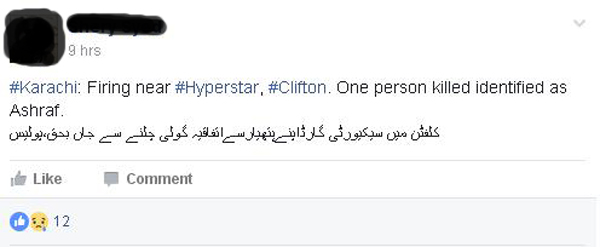 [/fbvideo]

In the last 24 hours, social media reported that five muggings were captured on CCTV footage, one shop lifting incident was reported, and two bodies were found. These were just those incidents reported on social media today - it does not include any complaints made to the authorities. And the day has not even ended yet.

All of this begs the question, will we, Karachiites, ever experience one day in this city without witnessing some form of street crime?