---
Portugal's victory in Euro 2016 proved that the whole is greater than the one!
Portugal's victory is a bigger feat as they did it away from home and partially without their captain
---
The final of the European Championships took place in Paris, France, with Ronaldo's Portugal against a resolute French team that had thumped Iceland in the quarter finals and edged past Germany in the semis. France were the absolute favourites to win the cup; indeed, it hadn't been expected that Portugal would even reach the final.

History was on Didier Deschamp's side as Portugal had never beaten France in a major tournament and had only beaten France five times in 24 meetings, with a massive defeats-total of 19 games. However, the Portuguese were slightly more rested than the hosts, and would have the edge if it came to extra time.

Earlier on, it looked like it would be a sad night for the visitors as their captain Cristiano Ronaldo went off in the first half due to a rash challenge from Dimitri Payet, which dimmed the occasion considerably.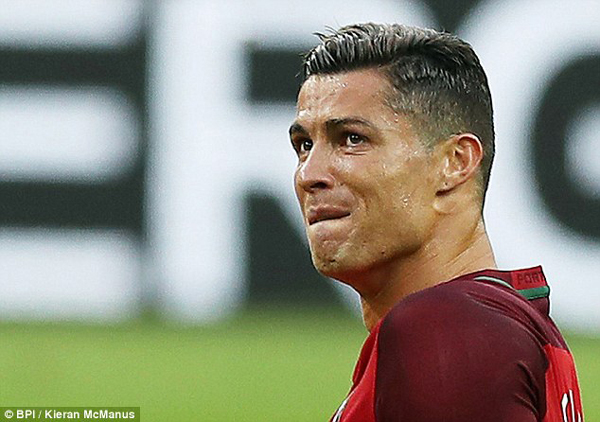 It was a powerful moment, as the tears of one of the best players in the world fell on the Parisian pitch. Cristiano found himself being stretchered off, his team mates watching in despair and disbelief.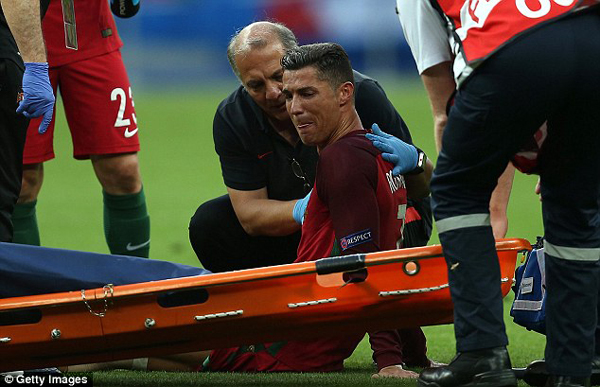 Strangely, France, having dominated for the first 30 minutes, lost their rhythm after Ronaldo went off. The unity of Portugal showed through as they defended with all their might, surviving some early scares in the form of Antoine Griezmann and Moussa Sissoko. Portuguese goalkeeper Rui Patricio was also in excellent form, saving some long range shots.




Portugal had had an extra day of rest than the hosts and this showed as the game went on 0-0 to extra time. Fatigue was visible and the French midfield seemed to have lost their will to push forward.  Portuguese captain Nani rallied his team around him as it seemed the match would go on to penalties. With an injured Cristiano on the side-lines acting as assistant manager, Portugal struck the passes together with relative ease.




A heart-stopping moment for Portugal occurred when French substitute Gignac struck the goalpost. Portugal were on the edge of the cliff with a bit of luck on their side. Soon afterwards Portuguese left back and Raphael stood over a wrongly given free kick. He muttered a prayer, hoped that this was his moment, and struck the goalpost with a thunderous free kick. Both sides had come as close as they could without hitting the net.




Ronaldo, with his leg in bandages, stood alongside his manager and shouted instructions and moral support to the Portuguese players. The tension was visible on his face. He was limping and it was obviously causing him pain to walk but he seemed to ignore it, looking dedicated to the cause.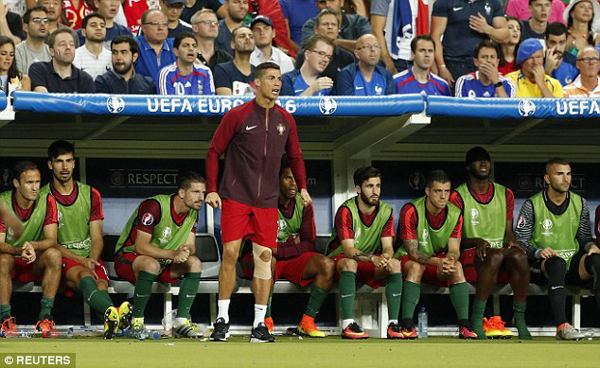 Midfielder Eder collected the ball and galloped infield to take a shot. From 25 yards out, few could believe that he could beat the giant of a keeper, Hugo Lloris; however, his low drive did just that.

Portugal went on to win their first major international trophy, and this was an even bigger feat as they did it away from home and partially without their captain, as he was injured. The French side had to swallow another defeat in front of their home fans.

Portugal hadn't outplayed the French. They had used the right tactics at the right times, not panicking when their star forward left the pitch.  Playing on the counter attack was a bold move by their manager, Fernando Santos, and it was this that led to the opening goal.




He trusted in his young midfield, Fernando Santos, and Sanches, and the pair was sound defensively and looked dangerous on the attack. However, it's undeniable that Portugal could not have won without their solid goalkeeper, Rui Patricio, who produced some amazing saves against French. In the final, Portugal proved that the whole is greater than the one.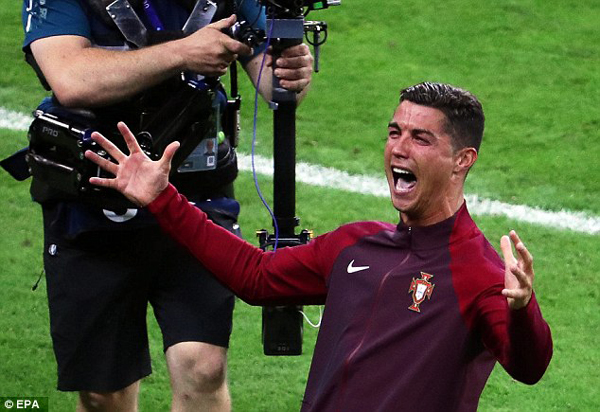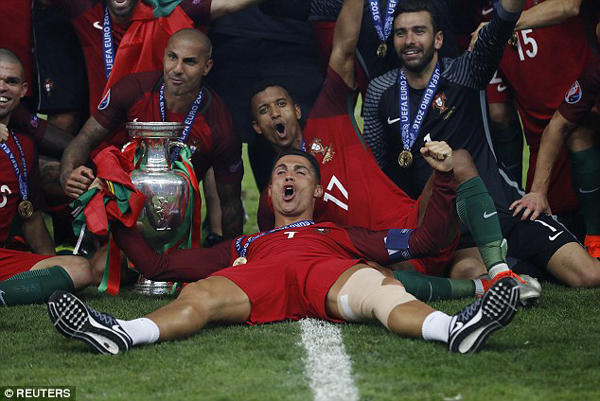 As a football fan watching this final, I have to add that the inner strength of Portugal was amazing. When their captain went off with the tears falling off and sobs racking his body, the inner urge to give up, to lose hope would have been colossal. However, they did not panic; they stuck together and more they stayed disciplined, especially towards France's Dimitri Payet, whose tackle resulted in the injury. Not a single player was sent off and this was commendable. Furthermore, as they were playing in France's own backyard, the hostility from the French fans was also present. A strong team kept their heads and their wits, believed and eventually triumphed.


Even though Portugal hadn't lost a single match in the tournament, they hadn't been favourites, due to the unattractive brand of football they played. They never looked like winning, though they always managed it in the end. As their manager used to say after matches, 'it wasn't always pretty but they got the job done'.
Facebook Conversations
COMMENTS
Comments are moderated and generally will be posted if they are on-topic and not abusive.
For more information, please see our Comments FAQ