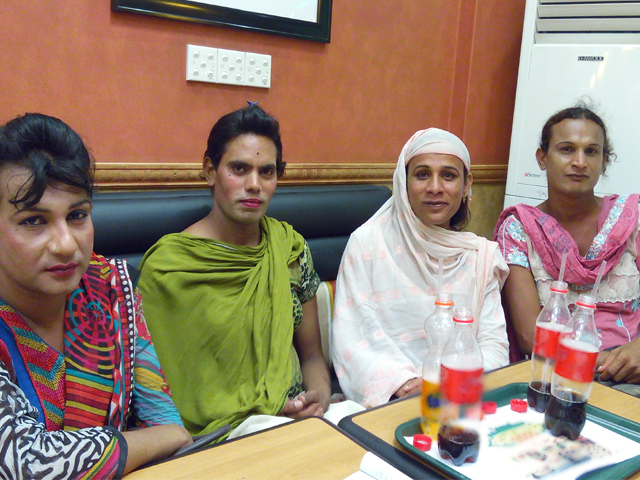 ---
Eid in the life of a transgender in Pakistan
Listening to their life story left a dry lump of emotion in my throat that made it difficult for me to breathe.
---
Wasn't this Eid a happy one, like all of our other Eids? All of us joined our families in sharing joy and the festivities of the occasion, visited our loved ones, exchanged gifts and shared laughter and lark. As I happily celebrated the first day, my mind drifted to the ones away from home – towards those individuals who are living abroad; yearning to reunite with their loved ones, battling homesickness with the hope that they'll be celebrating the next Eid with their families.

It made me sad to think about how one would feel being far away from home. But I consoled myself by thinking that at least they had something to look forward to in the future – a possibility of meeting their families again.

My mind wandered further and I thought about those who are completely unwelcome in their own homes, no matter what occasion it may be – of happiness or of grief. As much as they long to see their folks, their mere physical existence is an obstruction in receiving any form of affection – simply because Mother Nature played a role.

Have you ever imagined what if would feel like if your mere presence repulsed your parents? Made them sick with disgust and shame? Ever wondered how it would feel to be unwanted?

Yes, I am talking about the transgender community that is very much a part of the society we prevail in. They are not an abnormal species like they are made out to be. They are just as human as any one of us and, yet, they are deprived of the love and respect they deserve. They are abandoned by their own families just because they were born a certain way with a different set of physical features – something that wasn't their fault, but yet we, as a society, build taboos around their existence.

As I realised the horrors of the wounds we have seared on their souls, I became very curious to know what they did on occasions when everyone else was content in their own lives; sharing love and warmth with their kin.

This Eid I spoke to four transgender persons to know how they spent the day. A conversation with Sapna, Zeba, Maria and Shazia shook me out of all the securities I am so nicely cocooned in and hit me with the harsh reality that, really speaking, any of us could have been one of them.

Sapna, Zeba, Maria and Shazia live in Akthar Colony – a slum behind the posh area of Defence, Phase two with their Guru Jee.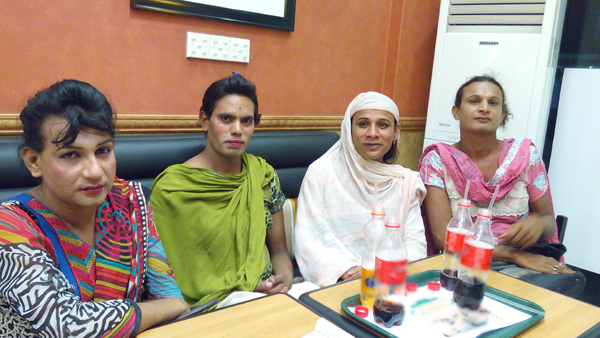 Guru Jee, whose name is Haji Sahib, is an elderly transgender person who has been a guardian ever since these four were left on her door. She brought them up, took care of them in sickness and health, tended to their needs and provided for them in any capacity that she could. Even now that she is old and fragile, she is still there for them – more than their own mothers have ever been.

Maria was 10-years-old when her family dropped her off to Guru Jee. With two sons and a daughter, her parents did not want the burden of a fourth child who was 'abnormal'. Guru Jee embraced young Maria and offered her contact number to the family in case they wanted to check up on their child. But they never looked back. Not even once did they call back to ask if Maria was doing okay.

"My father worked for the Pakistan Air Force. I was the youngest of all. He could have kept me but he was ashamed, he gave me away," narrated Maria.


Shazia was the jolliest of all. She came to Karachi some 17 odd years ago and has been living with Guru Jee since then. Her six brothers and four sisters live in Faisalabad. One of her brothers used to come visit her initially but eventually stopped. She appeared to be the support system of her three friends and was thankful to God despite the circumstances.

"If God made me this way then so be it. It would have been great if my parents kept in touch but they didn't need me. I know God is there to protect me. If He brought me into this world, He will take care of all my needs. And then I have Guru Jee and these sisters of mine. Life is great," she said graciously, batting her eyes at me, showing off her blue eyeliner.

Zeba's family lives in Faisalabad. They are eight siblings altogether. Three of her brothers and two sisters are happily married and settled in their homes leading a normal life. Zeba was 13-years-old when her mother would send her to perform in the melas (carnivals) of Lahore. Her father passed away a long time ago. As a child she was constantly taunted and cursed for being who she is. One day she left her place with no intentions of returning. But fate had something else in store for her. She gave in when her mother fell sick and her siblings came looking for Zeba upon her ailing mother's wish. They finally found her in Rawalpindi. Zeba came home – only to be disgraced and sent back again.

"My mother was severely ill. She joined her hands before me and begged me to stay and never abandon her. But after some time she asked me to leave because she felt my presence would bring dishonour," lamented Zeba.

A few years later, her mother sent her younger brother and sister to her because she couldn't afford to keep them. Now they live in the same neighbourhood but not in the same house. And yet Zeba pays their rent and utility expenses.

"I can't live with them because, you know, I am not like a normal man or woman," explained Zeba matter-of-factly.

Every two months Zeba sends some money to her mother. She can't visit her because she is too far away. But the much sadder part is that she can't even spend time with her siblings who live right across the street from her.




Sapna was quite shy and reserved. Despite my persistence, she didn't speak about her family at all. Her friends mentioned that her father died, and she has three brothers and three sisters but she never speaks about them. I tried to ask more but all she said was one thing with tear-streaked eyes,

"Guru Jee is my mother and Maria, Zeba and Shazia are my sisters. I have no other family to talk about."

Each of them was abandoned by their families over two decades ago. They are still struggling to make peace with their situation. They do not have their families, but they have each other to lean on.

On chand raat (eve of Eid) they all get together in the veranda of their house where a neighbour comes to apply henna on their hands.

"I won't mention her name but she's a nice girl and she's our friend. She is skilled with henna tattoos and does not charge us anything for her art work," mentioned Shazia gleefully.

On the day of Eid, they wake up early in the morning for the Eid prayers. They shower, dress into men's shalwar kameez and head out to the mosque where they say their prayers with the men.

"We are looked down upon everywhere but one of the little moments of happiness in our lives is that we are treated as equals in the house of Allah," said Zeba with a sad smile.

She further mentioned that after a certain age, members of the transgender community refrain from dressing like women and start to wear men's shalwar kameez for the remainder of their lives. And if they perform hajj they do not dress up like women again. It is considered disrespectful.




After the prayers, they come home and prepare food and desserts for the day. They often make kheer and seviyaan. Then they all help each other get dressed and put makeup on. They sometimes go out to see if someone could give them money. Otherwise they usually stay home and call other transgender friends over.

"We work seven days a week and have no days off. So sometimes we skip work on Eid and try to enjoy the day with friends," said Maria.

In the night, their entire group of transgender friends – which include some living in other areas – come over and they play music and dance to the beats, share stories and often talk about their families.

Sapna, Shazia, Zeba and Maria have never had a happy Eid. Some Eids are sad and some a little less sad. But emptiness is always there; a void that cannot be filled.

It is hard to imagine what they feel. For me honestly, listening to their life story left a dry lump of emotion in my throat that made it difficult for me to breathe. There are quite a few things I learned. First, instead of moaning about what we could have had, we all should be thankful for what we have. Secondly and most importantly, I understand that we can't talk their families into embracing them but, as an educated society, we are responsible for their well-being. Just remember, any one of us could have been one of them.

All photos: Sajja Shah