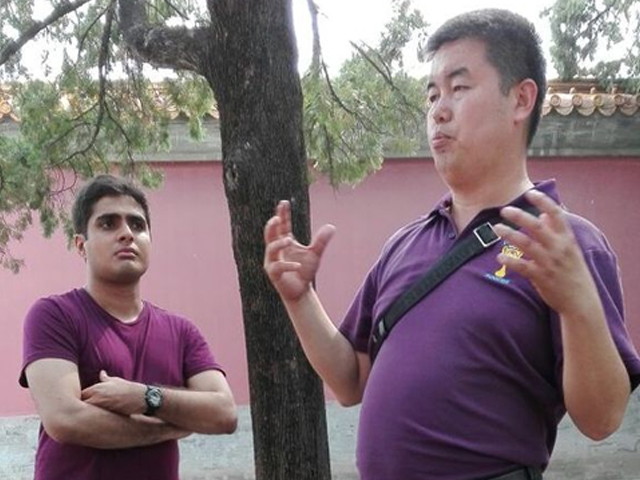 ---
My love affair with language (barriers) in Beijing
I soon realised that my ignorance to the language would deprive me of a mélange of possibilities to explore the city.
---
Beijing is a heady place for a tourist who can't speak Mandarin. This was the uncontrived truth that surfaced during long conversations with friends and extensive Google searches on what to expect from the metropolis. I had been warned that the city's sights, sounds, smells and flavours would not appeal to me unless the pull of a common language could bind me to them.

As my trepidation grew into sheer terror, I contemplated the possibility of learning a few words in Mandarin to placate my fears and fit into my new orbit. Before I had boarded the six-hour flight from Karachi to China's capital, I felt the onrush of anxiety. The stigma and humiliation of being an outsider, of not understanding the native language, was gnawing at the corner of my heart. My new destination seemed threatening even though I had not been assailed by the press of the city's crowds and noises – not yet.

I knew my apprehensions were premature and impractical. That's why I decided not to think about the trip too much and left it all to fate. Beijing, I told myself, would be my tryst with destiny. If a language barrier was going to hold me back, I would have to bear the consequences.

The moment my plane angled onto the tarmac and taxied to a stop at Beijing Capital International Airport, my fears gradually began to ebb. Within minutes of my arrival in the city, the communication barrier steadily lost ground. It was replaced by an impassioned plea for tolerance in a country that was foreign, frightening but quite close to my own.

Beijing was pulsing with raw energy and was alive with possibilities. In its clichéd patterns of metropolitan life, I found a striking resemblance with life back home. Towering buildings, traffic gridlocks and the sounds of vehicles hurtling past busy, boisterous streets drew me into an inner circle. I felt instantly at ease with my new surroundings.

In my first few hours in the city, I didn't need to know a word of Mandarin to explore the by-lanes and backstreets of Beijing. There were only a few signboards and hoardings emblazoned with English alphabets. However, the prospect of not knowing what was written on them appeared a lot more appealing to me at the time. Ignorance was my elixir – my only opportunity to find bliss in an unfamiliar setting.

I soon realised that my ignorance to the language would deprive me of a mélange of possibilities to explore the city.

As my first day drew to a close, I picked up on a few words that featured during daily interactions between Chinese people. Eventually, I found myself saying 'shishi' (thank you) to the concierge at the hotel and the woman who owned the utility store across the street.

But the wall between me and the people of Beijing had not been broken. Its opacity increased as the days went by. The dimensions of this war were defined and deconstructed during frequent trips to McDonald's.

Every night, as the city prepared to sleep, my colleagues and I found ourselves battling a strange craving for fast food. We would venture out to the McDonald's outlet across the street to satiate our appetite. However, the process of placing an order was always long, tedious and overwhelming. More often than not, the outcome of these interactions was never what we had anticipated.

On the first night, my friend and I pointed at a box of nuggets on the menu card and made a victory sign with our fingers to indicate that we wanted to order two. Ten minutes later, the woman on the counter handed us one box of nuggets, abruptly took a crisp 10 Yuan note from my friend's hand and began speaking to another customer.

"Excuse me," my friend said. "You've given us only one box of nuggets. We asked for two."

The woman at the counter did not fathom what we were trying to say. After a long, frustrating conversation interspersed with sign language and raised voices, she informed us that each box contained five nuggets and she had given us 10 in one box.

In retrospect, this wasn't a difficult exchange and I felt triumphant at having overcome the need for a common language. I was glad that the woman at the counter was patient and persevered until we understood what she was saying. However, the following day, another experience at the fast food establishment made me yearn for someone who could speak some semblance of English.

On our second night in Beijing, we returned to McDonald's once again but weren't as lucky as we had been the night before. There was another woman at the counter and she was unwilling to cooperate with us, let alone find a way to ensure we were able to comprehend what she was saying.

"I'd like this," I said, pointing to the menu card. "I'd like it with fries and coke."

She wrung her finger and mumbled something in Mandarin. I continued to point at the menu, as if I were pointing at a map and asking for directions. She nodded her head and twitched her eyes in confusion.

After a few minutes, I realised that the burger I wanted did not come with a meal so I ordered it separately. As I waited for my order, an American woman, who I later discovered, was working in Shanghai also placed an order with utmost difficulty.

"These people should learn English," she said. "They need to open themselves up to new possibilities and give up on their old ways."

Minutes later, when her order arrived and she rummaged the brown paper bag to determine if everything was in place, the American woman realised that her order had not been taken down correctly.

"You've got my order wrong," she said, matter-of-factly.

A few seconds later, the woman at the counter snatched the brown paper bag from the American woman's hand and flung a few bundled notes at her.

"What's wrong with you?" the American woman said, her voice thick with anger. "Why didn't you get my order right?"

At that point, I was tempted to fish out the contents of my brown paper bag to see if she had misunderstood my order as well. But, at that moment, I saw the woman at the counter heave a sigh and blink back her tears. I clutched my bag and decided to walk back to the hotel.

I began to realise that no language could surpass the depths of human emotions.

If it was difficult for me to make sense of what she was saying, I'm sure she was also grappling with the same dilemma. After all, language is all about empathy, about using words to understand people instead of creating cultural and emotional barriers.