---
There was a reason why we were unbeatable under Imran Khan
When we were led by Imran, we were ferocious, even in the face of defeat no one dared to tread near Imran's Tigers!
---
Watching the Pakistani team turning it on against the Springboks at Centurion, my memory took me back in time.

As a cricket enthusiast who had just entered his teens, there was nothing more joyful than watching a Pakistani cricket team – led by the great Imran Khan – regularly punching above its weight. Speaking about Imran, we often talk in terms of his charisma, his extraordinary prowess as a genuine fast bowler, his amazing feats as a world-class all-rounder, his exemplary work ethic, remarkable fitness, astute leadership and of course his uncanny ability to spot and nurture young talent.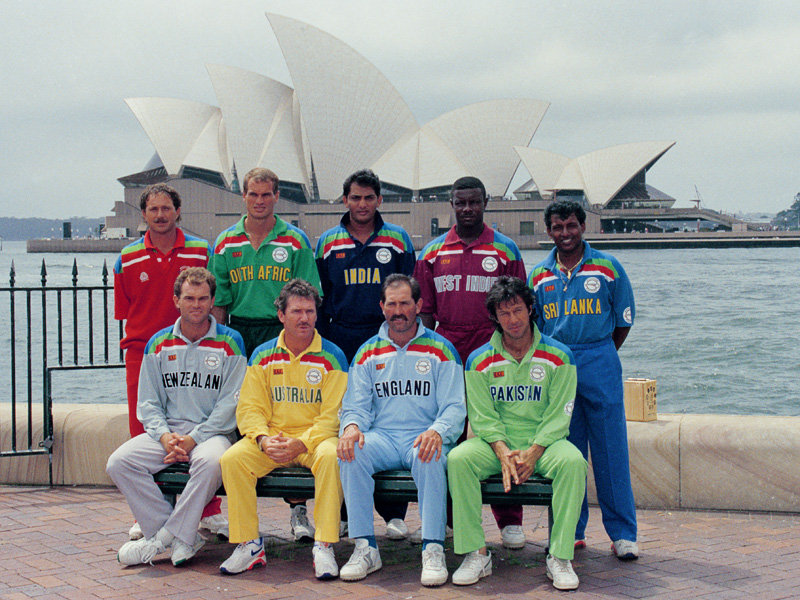 Source: Dawn.com

However, what is often not mentioned is his undeniable role in single-handedly changing the overall psyche of a cricketing nation; its character and its image. We never discuss his part in inspiring a whole generation of cricketers who would carry his heritage for years even after the great man had made his swansong. Those of us fortunate enough to have witnessed the Pakistani team of the late 80s and early 90s – aptly remembered as 'Imran's Tigers' – know what I'm talking about.




Source: Herald Sun

Led by a warrior, this team was not the most talented one to have represented Pakistan, but the brash, fiery bunch of proud youngsters displayed the kind of courage, passion and a never-say-die attitude that not only made them a darling of the Pakistani cricket fans but also made them the hot favourite of  spectators all over the world. They wore their emotions on their sleeves, looked the opposition in the eye and most importantly, believed in themselves.




Source: http://www.guyanatimesinternational.com/?p=4105

The memory of Salim Malik coming out to bat against Malcolm Marshall with his arm wrapped in plaster has become part of the folklore and define what the Pakistani team of that period stood for. To a large extent, this fearlessness was also responsible for much of the team's successes during that period as Pakistan conquered England and India on their territories apart from holding the mighty West Indians – arguably the greatest team to have played the game – to three straight stalemates. The team defeated Australia, won two Australasia Cups, a mini-World Cup in India and of course the big one; the World Cup in 1992; however, it wasn't simply the results but the way these results were achieved that made Pakistan one of the most thrilling teams to watch on the circuit.

Such was Imran's legacy that the team did not lose its disposition even after the great man had bid adieu to the world of cricket. The team of the 90s will be remembered as one of the most vibrant and attractive units to have ever represented Pakistan.




Even though Imran was no longer around, the crowds loved to watch this team play, the commentators would marvel at their exploits while the opposition had no choice but to admire their abilities.

Inevitably, absence of a strong leader coupled with lack of direction from the helm led the players to go astray.




Controversies of all sorts ranging from ball-tampering to match-fixing and from drugs to infighting started becoming synonymous with the team. To its credit, the team remained competitive on the field but words such as mercurial and volatile got added to the team's description.

The administrators –who had the responsibility to get things right – failed miserably in their job; instead of channeling all this energy in the right direction, the men at the top chose the easy way out and decided to get rid of all those who they thought were part of the problem.

Thus, a whole generation of exciting, passionate individuals had their careers brutally cut short one-by-one.




Source: http://www.internationalcrickethall.com/cricket-world-cup-%E2%80%93-blast-from-the-past/

The players who replaced the old guard were warned not to indulge in any misadventure lest their careers would also suffer the same fate. As a result, the new breed of youngsters was forced to adopt an approach that was extremely cautious, in fact bordered on lackluster.

Consequently, the Pakistani team slowly but surely started to lose its appeal; style gave way to ineptness and things reached a stage where the system would automatically jettison anyone who would pose even the slightest of challenge to mediocrity. This is the precise reason why a temperamental Shoaib Akhtar was such a misfit into a Pakistani team of this modern era.




Barring few exceptions, the current crop of youngsters representing the national team is in no way less talented than their predecessors; however, it is the body language that is in stark contrast to what it was only a decade back.

Where once we had the firebrand duo of Saeed Anwar and Aamer Sohail walking out to bat with their collars standing up looking like men on a mission, we now have to contend with the nervous-looking Mohammad Hafeez, Imran Farhat and the like, pushing and prodding rather than driving and pulling, unless of course it's a low-pressure match in the shorter format of the game and the stakes are not as high.

Where once we had the two Ws, we now have Umar Gul as our pace spearhead who – despite being a capable bowler and a destructive one in T20 – simply doesn't have the persona to intimidate the opposing batsmen.




Source: http://www.defence.pk/forums/national-political-issues/79708-what-will-happen-if-imran-khan-get-selected-6.html

Where once we had a Miandad egging on the fielding side, we now have Azhar Ali, Shoaib Malik and Asad Shafiq – all fine batsman – but who would avoid eye contact and look the other way in the face of verbal abuse. We have got a captain in Misbahul Haq whose body language does not inspire confidence, who looks tentative rather than assured at the crease.




Photo: AFP

Regardless of the results which have more or less been satisfactory, this defensive attitude has made Pakistan team a dull, unattractive outfit, much like a bland New Zealand team or a pre-Ganguly Indian side. The phenomenon of setting an intimidating tone right from the beginning has been replaced by a preference to protect and preserve, especially when it comes to as big a match as say an India-Pakistan encounter in a world championship.




Photo: AFP

No wonder the bigger teams no longer look forward to playing against Pakistan.

If Pakistan Cricket is to rediscover the aura, the old magic – something similar to the team displayed at Centurion – the players will have to evoke the same kind of flair that made their predecessors the biggest draw-cards in the cricketing world and made them one of the most eye-catching units to watch on this planet.

We do not merely want to see 'talented, well-behaved, decent ambassadors' of the country stepping out on to the field; we do not want this "we're-here-to-make-friends" approach killing the sheer joy of watching a Pakistani team play.




Photo: File

We want aggression, hostility, fire in our players – qualities that characterised the nation's cricket.

We don't want to see our players applauding the rival players on the field; we want a furious rather than a smiling Younis Khan walking back to the pavilion; we want a Shahid Afridi who would whack the ball over midwicket rather than going for a cheeky paddle sweep over fine leg, a Junaid Khan who would rely on raw pace rather than line and length.

Agreed, we can do without the bare-chested, shirt-wagging celebrations and the foulmouthed send-offs; but a certain degree of unruliness – something that the Imran's Tigers were known for – is necessary.

A few carefully chosen words from our faster men, a spine-chilling stare from our openers and an imposing demeanour from the captain can go a long way in restoring the irresistible, unstoppable brand that team Pakistan once used to be.

Read more by Syed here, or follow him on Twitter @MustafaFairplay
Facebook Conversations
COMMENTS (24)
Comments are moderated and generally will be posted if they are on-topic and not abusive.
For more information, please see our Comments FAQ