---
How many Ajmal Kasabs are we raising?
Kasab was poor and illiterate; he never understood what jihad signifies in Islam and only wanted to be famous.
---
The memory of the fidgety and mentally distracted Indian classmate, biting his nails furiously, who could not sleep for the whole night after watching the live coverage of the attacks in Mumbai on November 26, 2008 flashes back to my mind whenever anybody mentions attacks. Indeed, it was a tragic as well as ghoulish event; the sights of the killings, the shootings, the hostage-taking and the lamentations of victims' relatives were seen and heard for three days on satellite TV, which aired grisly images all over the world.


(Photo: AFP)

On that fateful day, Mumbai was attacked by ten men; nine perpetrators of that attack were killed during the 60 hour siege which began on the night of November 26, 2008.

Ajmal Kasab was the lone terrorist captured alive.

Yesterday, that sole surviving gunman of 2008 attacks was hanged at Yerwada Central Jail, Pune, Maharashtra.

Salman Khurshid , External Affairs minister of India, said India did not get any request from Pakistan, either from the government or the relatives, for handing over the body of Kasab. Thus, he was buried inside the premises of the jail.

As a Pakistani, I can say that we were pained by the Mumbai attacks, but were, equally, intrigued by the perpetrators of the attacks. Who were the attackers? What were their motivations? How did they end up in Mumbai?

The chilling images of Kasab, dressed in smart sports gear, holding a bulky, blue bag pack, firing gunshots in the railway station, were recorded on the closed circuit TV cameras.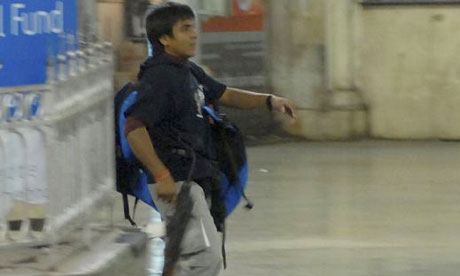 (Photo: Reuters)

After his capture, his interrogators as well as the media constructed his identity, training and probable motivations.

He was born in an impoverished village in Central Punjab, where the walls of houses were filled with hate graffiti against infidels and imperialists. His father was a landless labourer and Kasab spent part of his time in Lahore with a teenage brother. After a bitter verbal gruel with his father, reportedly, on not getting new clothes for Eid, he left for Lahore, and got hooked in with petty criminals in the provincial metropolis. While buying weapons for an armed robbery, he met members of a religious organisation, who were distributing weapons for jihad, and ended up joining their training camp.

At the time of his capture, he was barely 21 and spoke broken Hindi and English but his talents were his physical strength and mastery in armed combat. On his last visit to the village, he had exhibited proudly his wrestling skills to the village boys. His confessions to the interrogations, which form part of his charge sheet, revealed that he had received rigorous combat training by a jihadi outfit, which included training in the use of high-end weapons, explosives, survival tactics and marine navigation.

He confessed that he was trained "to kill to the last breath."

Apart from the combat training, his mind was psychologically oriented towards 'jihad' by constant exposure to graphic footage of atrocities committed against Muslims in Jammu and Kashmir, Chechnya, and Palestine. So, in a way, he was physically and mentally hardened for the combat.

A question arises:

What motivated the young man to embark on that hazardous journey? Was it the pursuit for glory, or material reward or the martyrdom?

The answers to these questions lie submerged in his personal history as well as geo-politics. Here is a youth, who is almost illiterate, unemployed, but who hankers after material things, which cannot be procured with their limited family means. So, Ajmal, a physically fit and agile young man, enters the petty crime life of the teeming metropolis. His tragedy lies in not becoming a petty criminal but in meeting the members of a militant organisation. These people remain on the lookout for poor, vulnerable youth that can buy their narrative of perceived persecution and the validity of armed struggle - proclaimed as jihad - to end that exploitation.

It is possible that Kasab never understood what jihad signifies in Islam and what is meant by greater jihad. His video confession to police brings out chillingly this reality:

"it [Jihad] is about killing and getting killed and becoming famous." "Come, kill and die after a killing spree. By this one will become famous and will also make Allah (SWT) proud."

The story of Ajmal Kasab has been narrated not to arouse sympathy for his vanquished life, but to point out that in Pakistan, many innocent youngsters, without hope of education and employment, and without any immediate relief in sight to wriggle out of misery of life, can easily became victims of rhetoric of banned militant groups. We can see marks of these organisations presence in the graffiti on the city walls and on the posters of jihad on rickshaws.

The writing is on the wall for all to see.

[poll id="231"]

Read more by Sameera here.