 ---
Warm up: Pakistan shows India how it's done
What this match did more than anything else was to prove that it is always premature to write off Pakistan.
---
The warm up game against India confirmed Pakistan's unpredictability on one hand and sounded the alarm for everyone else on the other.

The bowlers had an off day and were carted all around the ground by the Indian batting line-up with Virat Kohli being at the forefront. Except for Ajmal holding the fort, the likes of Gul and Afridi, two of the three highest wicket takers of all time in the format, had a dismal day and were rendered ineffective. To be fair, India's batting line-up is the best in the business when it comes to the T-20 format, but still the bowling performance was the sort that would have made most Pakistani fans cringe in their seats.




Kohli's run of form in the last year or so has been phenomenal.

He batted with elegance and had the confidence and the audacity to step out to the Pakistani spinners and hit them all around the park. He was ably supported by Rohit Sharma, who made 56 before being bowled by Saeed Ajmal. India's fortune in the tournament rests with the likes of Kohli, Sharma and Raina, and seeing Sharma come back to form must be a relief for them.




At the half way time Indian players were sitting contentedly having posted a huge total on the board for the bowlers to defend. That feeling must have just gotten better when Pakistan were 91 for 5 in the 12th over with Ashwin being the destroyer in chief.

But that was when the dam broke and the flood waves of sixes and fours washed away the Indian team in to oblivion.

Kamran Akmal played a magnificent innings and scored at a little less than two a ball as he smashed sixes left, right and centre. Malik, not wanting to be left out of the party, joined in and even out did Akmal when it came to the strike rate. The interesting fact to note is that all Indian batsmen combined, the ones that batted, only had five hits over the rope while Akmal had six off his own bat.




It wasn't all hit and blitz either from Akmal and Malik.

Initially, during their partnership, they consolidated and batted sensibly before breaking loose. All the bowlers suffered during the assault except for Ashwin. It was especially a bad day for Harbhajan Singh, who is trying to make a comeback in the team.

Zaheer Khan and Irfan Pathan didn't fare any better either.

If you think Pakistan's bowling performance was bad, look at the numbers for the Indian bowlers! It was a massacre. This will be a cause of concern for the Indian Team management throughout the tournament.

Afridi's form and his failure to be effective either with the bat or the ball in the last few games is alarming though he is a big match player and I expect him to be at his best come the crunch games. Imran Nazir's consistent selection baffles me, though. His past record isn't flattering and he hasn't done anything of note in the few games he has been afforded.

A better bet would be to move Nasir Jamshed to open with Hafeez and slot in Asad Shafiq in the middle order. If this match showed anything, it showed that some stability is needed in the middle order and Asad is an ideal candidate for that.

What this match did more than anything else was to prove that it is always premature to write off Pakistan.




And as Pakistani news channels sung praises for the two batsmen who saved the day for Pakistan, here are the two announcements that seemed most enjoyable;

Express News reported- "Kamran Akmal ne Dhoni ko dho dala!" (Kamran Akmal washed Dhoni away)

Geo News took it a step further and praised Shoaib Malik's performance in a... rather unconventional way;

Geo News headline: "Shoaib Malik ne apnay susraal ko ruswaa kar dia, Sania Mirza mekkay ja betheen." (Shoaib Malik disgraced his in-laws and Sania Mirza had to go home)

We can engineer victory from defeat!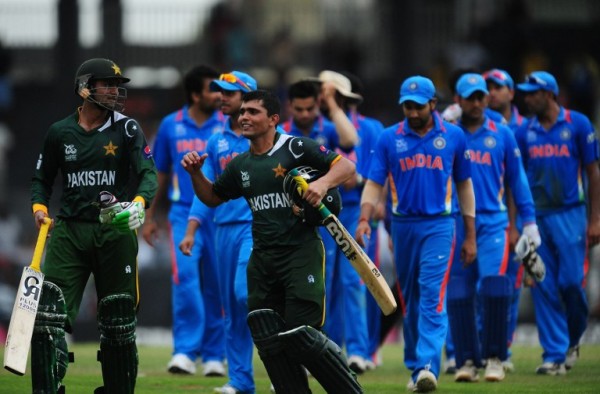 Team green is here to compete. Beware world, you have been warned!

Read more by Amyn here, or follow him on Twitter @amynmalik

Join us on Facebook for blog updates and more!