PUBLISHED January 01, 2023
KARACHI:
During the height of COVID-19 pandemic, lockdowns and work from home enhanced a pattern of spending a great deal of time watching TV. One other thing that has undergone a big change is the attention span of Gen-Z. With so much spare time to pour over old and new content, the film corner of TikTok has exploded as a subgenre to rival its reading counterparts BookTok and FoodTok.
BookTok and FoodTok are TikTok hashtag trends on which readers and foodies gather to share their recommendations and writers and cooks share their work. FilmTok or FilmTikTok is where filmmakers and film lovers connect.
Creators and studios are showcasing their filmmaking and editing skills on TikTok with quality short-form content. Upcoming artists showcase their acting skills, and filmmakers show their talent by directing and shooting a video that can grab viewers' attention. Making a short video to give a message or tell an entire story is difficult, but content creators on TikTok are doing a great job. It is every filmmaker's dream to showcase their work on an international stage, and TikTok has unlocked a global avenue for content creators.
Participation in international festivals, such as the Cannes International Film Festival and Doha Film Festival, via TikTok has also risen. Recognising creators' skills, the Cannes Film Festival and TikTok partnered to identify the top filmmaker on TikTok. As part of the partnership, TikTok held a short film competition to select three winners to send to the festival. Cannes Festival does not allow selfies on the red carpet, but this year, TikTok offered a glimpse into the behind-the-scenes world of one of the top film festivals in the world.
Pakistan through short films
FilmTok or FilmTikTok, with their 14.3 billion and 5.3 billion views on videos, motivated content creators to send in entries for the Cannes Film Festival competition. Pakistan recorded the highest number of submissions, with 41,000 entries, approximately 58 per cent of all submissions.
This number is a reflection of how much TikTok has inspired creators in Pakistan to gain confidence and use their editing skills to make videos that are worthy of being submitted to a global event like Cannes. One of the creators is Zainab Tariq, known as Baekartoot on TikTok. Baekartoot is an Urdu/Punjabi word that means "someone with ill doings." Tariq creates humorous pieces with her smartphone. She does not have any experience in filming and acting, and her process of learning continues as she creates content.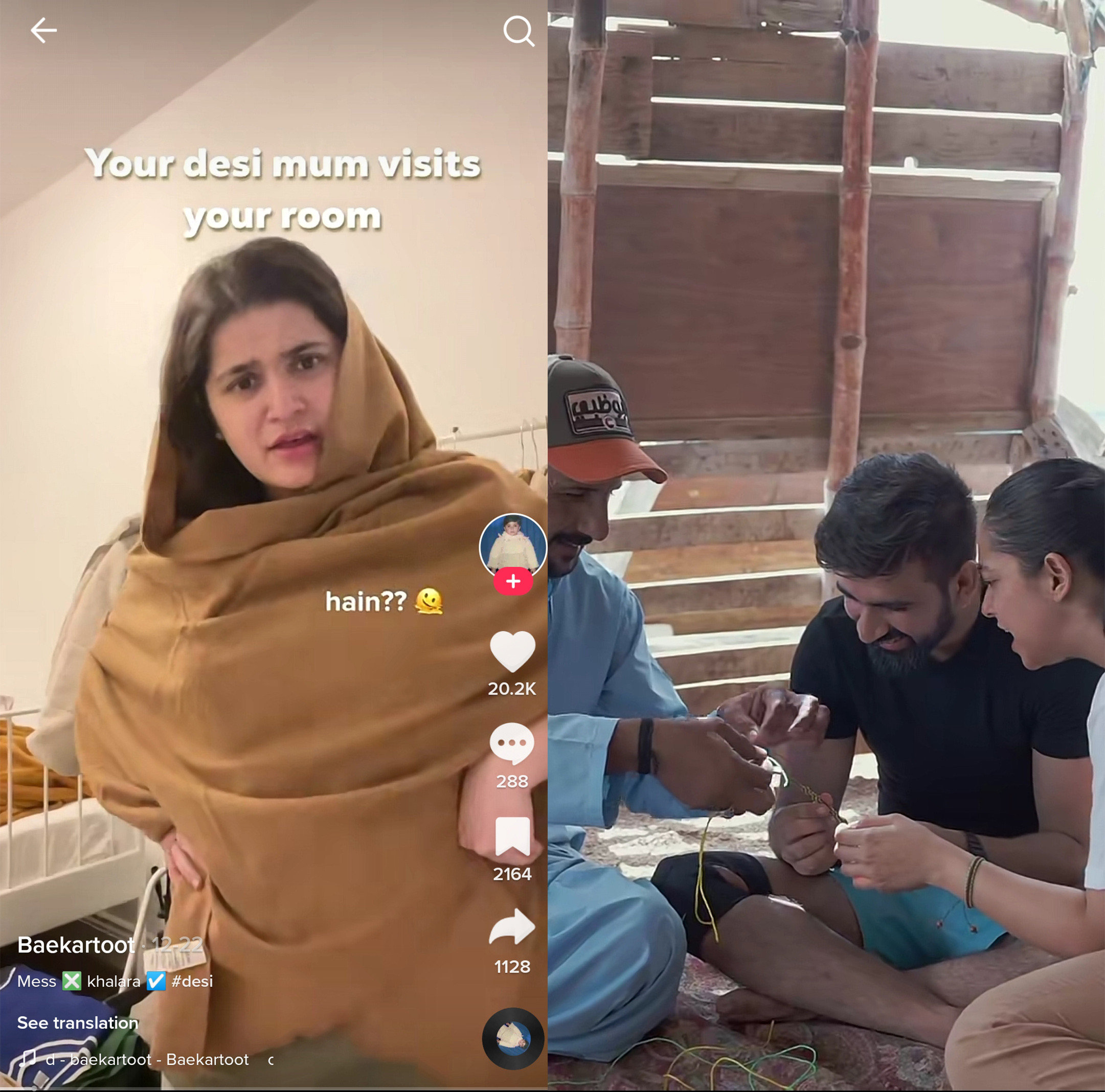 Tariq believes that TikTok has changed the way the world used to consume content. "A couple of years ago, long-form videos were the IT thing, and now everybody just wants to scroll and not spend more than thirty seconds on a video unless it is very entertaining. Tiktok has also managed to force other apps to shift to short-form content," she said. Tariq says that most of the content in Pakistan is lip-syncing, and there are just a handful of creators who write proper scripts and make original content.
Another creator, Ghazanfar Jaffery, runs a comedy skit account named Bekaar Films. He is also of the opinion that TikTok has introduced a new way of making short videos. "Tiktok renewed the essence of short videos. In this age, people don't have a lot of spare time; they want quick content, and TikTok gives them that," he said, adding that comedy videos like skits and pranks are most popular because people are always in search of a good laugh.
Before TikTok, there was no representation of Pakistan at the Cannes Film Festival. But the highest number of submissions from Pakistan shows how much talent Pakistani creators have and how interested they are in filmmaking. TikTok has given a platform to people from all walks of life. We see a farmer from a remote village telling a story through a short video and entertaining people. "TikTok has made it easy for everyone to make videos. Through TikTok, I've seen that people from all areas of Pakistan, irrespective of their social class, are doing wonders on TikTok," added Jaffery.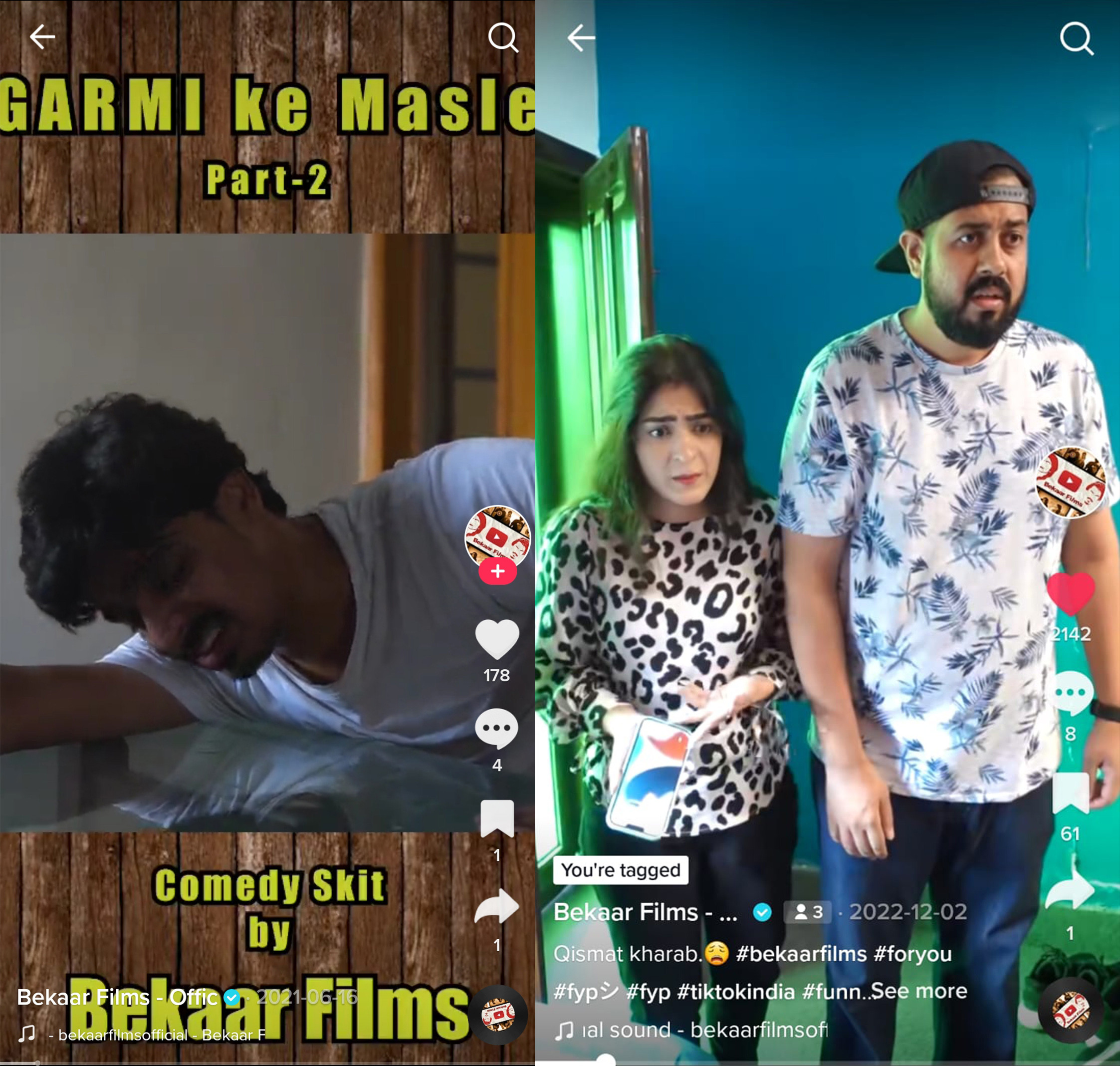 Use of #FilmTok
Young and upcoming filmmakers use #FilmTok or #FilmTikTok to get their short videos out to TikTok's global audience of more than one billion. The more times a video is viewed, the more it reaches a larger group. It allows a creator to decide the type of content they wish to make. A video that gets more views helps them learn new things.
Some of the creators use this aspect to look for ideas for their videos. Ghazanfar Jaffery, who makes fun and entertaining videos, uses it as a tool to find out the latest trends and what people are watching these days to create content accordingly. He said that one of the advantages of making videos on TikTok is that it has all in-app editing features that you can use to make an excellent short film. "It is easy to create content on TikTok, which is why it is easy to gain popularity. With TikTok, you don't have to use complex editing software. Everything is there on TikTok, from music to various transitions. People have been using these tools creatively, and that's how they've gained popularity. The music, the effects, and the filters, all these tools are more than enough for one to produce a creative and engaging short film."
Tariq creates stories about people's daily lives, and what they face at home or outside. That allows her audience to connect the link between her videos and the stuff they go through on a day-t-day basis. She says that she spends more time making a good video than making a number of videos. "I believe in quality content over quantity. I write humorous skits, but I often like to create cinematic masterpieces with my smartphone. For example, I watched Laal Singh Chadda recently. While the song "Turr Chaleya" was playing, I envisioned an emotional scene of a character in a bathtub. The scene portrayed the helplessness of the character in some profound moments of vulnerability," she said. To ensure that the video reached the right niche of aspiring filmmakers and actors on TikTok, she used the hashtag FilmTok in the caption.
Zainab Tariq was one of the creators who made it to the Cannes Film Festival Tiktok short film competition. "My video was shortlisted for the top ten videos from Pakistan, but it is yet to reach the international ranking. I made a video that portrays the stages of grief of a female character who has recently lost her partner. The video made it to the Cannes Film Festival. I am working on improving the quality so I can reach the international ranking," she said.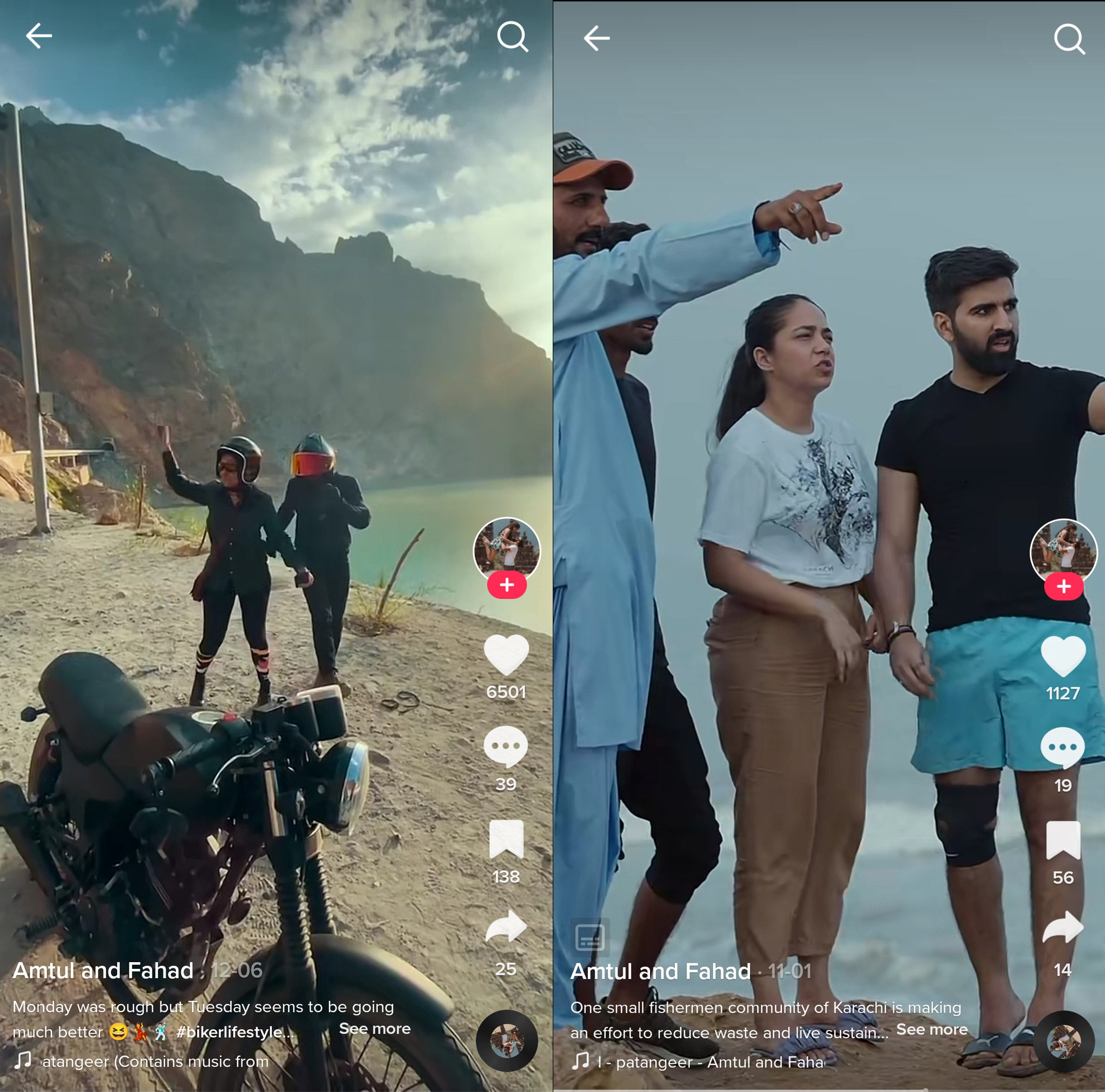 Amtul Baweja, who creates travel videos under the account Patangeer, also believes that by introducing FilmTok, TikTok has given a chance to creators to showcase their skills to the world. "TikTok has revolutionized how short-form content is consumed and produced, and it has made content accessible to the general masses who want to express themselves. People who had never even thought of editing a video can now create amazing content with TikTok. Effectiveness of short-form videos has definitely increased because now, with the help of text, emojis, cuts, and other features of TikTok, you can pack a lot of information in a few seconds.
The short video trend
Since TikTok introduced a new way to make short videos, creators have evolved and developed the talent to tell a five-minute story in thirty seconds. "Everybody wants short content; even my parents scroll TikTok all the time," Baweja said. She further explained that in her experience of regular content creation on multiple social media platforms for the past three years, the audience on TikTok is very candid. "They like relatable, witty, and short content. Instagram is a slightly uptight sister of TikTok, but after reels, the audience is loosening up. Bollywood and Lollywood songs dominate South Asian reels. You have a meagre chance of going viral if you don't use a relatable desi song or sound on reels. Whereas TikTok is a proper global community at this point. People on the UK TikTok are using Bollywood songs for content and are getting massive views. And South Asians are using Chinese songs for content and going viral," she said.
Giving an example, Baweja said that she recently mimicked the Indian actor Imran Hashmi in a video and posted the video. The video imitated a mainstream sad Bollywood song from the early 2000s and gained 740k plus views and 134k likes on TikTok, whereas on Instagram, it barely crossed 366k views and 30k plus likes. The choice of song in the video wasn't trending at the time on reels. Another reason could be the different niches on both platforms. The video was majorly re-shared and watched by British Asians on TikTok. There could have been a sense of nostalgia that forced the audience to hit the like and re-share button. Whereas on Instagram, the video was mainly watched in Pakistan and India. Since the song wasn't trending, and there weren't any feelings of nostalgia, the audience couldn't relate much.
Baweja says that TikTok with its different trends, challenges, and easy access to music has made videos more fun. "Because of all that, short-form videos gained much more popularity as they started to seem very attractive to the audiences. TikTok definitely removed the barriers to creating and made it much easier and simpler to create short-form videos," she said.
Notwithstanding the category of your content, if you know how to tell a story and keep the viewer interested in your video, TikTok helps it to reach a larger audience where it is loved and shared. A person from a remote area of Pakistan can arrive on the global stage. Just like #BookTok and #FoodTok, #FilmTok is also gaining popularity in Pakistan. That day is not far when we will see a Pakistani among the top short-form video creators worldwide.