PUBLISHED December 04, 2022
KARACHI:
Being a die-hard R. Madhavan fan, I couldn't wait to see his latest film once I had spotted the preview on Netflix. His work has been on my watchlist ever since he appeared in the role of Ashley Alexander, a young priest in Zee TV's drama series Banegi Apni Baat (1993). Much later came hits films such Guru, Ramji London Wallay, Tannu Weds Mannu, Tannu Weds Mannu, Tannu Weds Mannu Returns, 3 idiots increasing his visibility, fandom and popularity.
His more recent successes such as Rocketry: The Nambi Effect, the web series Decoupled and the latest Dhokha Round D Corner establish him a seasoned craftsman and only add to his versatility as an actor.
The title of Dhokha Round D Corner instantly reminded me of Vastav: The Reality, Aatish: Feel The Fire, and Daag: The Fire because all such titles always make me wonder why did they think we would not understand the first word in the title if we are opting to see it and what is there that needs to be decoded. But in some cases the definition is used when the title has been used previously for a film.
I'm ranting. Let's get back to Dhokha Round D Corner, directed and written by Kookie Gulati who made his debut as a director with the Abishek Bachan starrer The Big Bull (2021).
Ever since Dhoka… was announced, the cast has been the talking point, and now after watching the film, it all seems perfectly baked.
Dhoka... is a crime thriller that stars R. Madhavan and debutante Khushalii Kumar (producer Bhushan Kumar's sister for irrelevant trivia lovers like myself) as an unhappy married couple. Aparshakti Khurana plays a terrorist, who breaks into their home, and wants a cop (Darshaan Kumaar) to accept his demands in return for her release. Plausible? Predictable? No, no wait. There is more than what meets the eye.
Let's start with the funny bit. The terrorist Haq Riyaaz Gul is 'Lashkar-trained' [but ofcourse, the only credit Bollywood loves to generously give out across the border) and hides out in a Mumbai high-rise. Fortunately for Gul, he finds himself in alarmingly close quarters with Saanchi, a woman clad in a whisper-of-a sari [no, not tightly wrapped up like a joint of meat ready for the freezer aka Nirupa Roy-style but more like Deepika Padukone in the Badtameez song, and who on earth dresses like that at home in the morning, but never mind!] and Saanchi seems to be in a very seductive mood especially after having a row with her husband. You start wondering, is she mad, or is it an act? You'll find out in the end.
The film cuts back and forth from the flat from where the terrorist is demanding money and a getaway vehicle, and the posse of khaki cops down below, with a battery of TV reporters noisily standing around doing pretty much nothing.
Within minutes of the opening, the director given you the deliverables, a bad marriage, a busy man, and an angry woman. You are also driven towards a completely different set of questions: why would a woman who suddenly sees a stranger with a gun show no signs of being scared? She cavorts around, being flirty. Why is the terrorist thawing and getting mushy around her? When he makes puppy eyes back at her, you dread this might be a 'I've fallen in love with my kidnapper' story. But with a Lashkar terrorist? No. Since that is not a hot theme with Bollywood these days, you can put that random thought away.
Dhokha Round D Corner earned INR 1.25 crore at the domestic box office on its opening day and its final box office collections would deem it a flop, but it is not a bad film to watch for its unpredictable end. Remember Ram Gopal Varma's psychological suspense thriller Kaun (1999) with Urmila Matondkar the protagonist, who in the end turns out to be the antagonist? It is a hint, not a spoiler.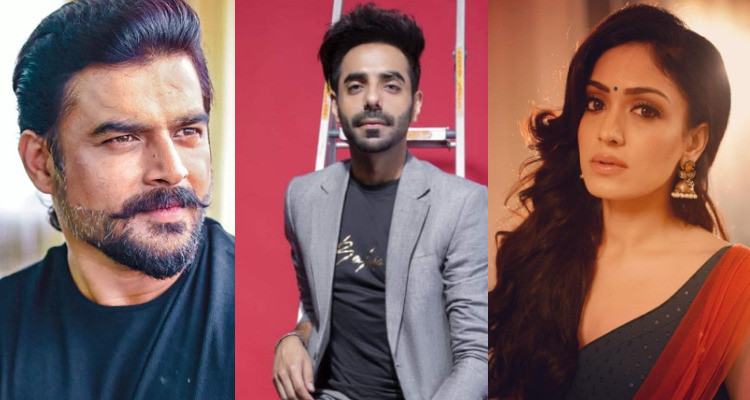 There were numerous twists and turns woven into the screenplay and none of them seep into over-the-top territory, keeping you on your toes to the very end. Khushalii Kumar, who could be a fresh entrant to the femme fatale slot that the likes of Huma Qureshi and Mahie Gill have so far dominated, gave a fine performance as her role required her to be sensuous, vulnerable and devious at the same time. Darshan Kumaar makes a good support while for Madhavan who is a fine actor who has way more demanding roles and convincing performances to his credit, this was a piece of cake and perhaps something light that he wanted to do after Rocketry. The camerawork, editing and background score combine well to amp up the suspenseful and mysterious atmosphere. Is the terrorist going to shoot someone, is the woman going to kill him or will the police stop picnicking and move their backsides and kill everyone?
Admittedly, there are a few moments in Dhokha Round D Corner where your fingers are crawling towards the remote but Gulati's clever direction stops you. Too much logic isn't his cup of tea, his target mostly is to make a commercial thriller.
It could even be called predictable until the very end and the final twist. You could slot it with Madari (2016), or Kartik Aryan's Dhamaka (2021), and if you enjoyed those films, here is another one to watch. At best, it is a taut, edgy, claustrophobic thriller that keeps you engaged with perfect pace. For R. Madhavan fans, it is a lot more because you can't go wrong with a Madhavan movie.