PUBLISHED November 13, 2022
LAHORE:
Imran Khan survived an assassination attempt on November 3, 2022. It happened in Wazirabad on the seventh day of Khan's Haqeeqi Azaadi (real freedom) Long March that starting from Lahore and travelling on the GT Road through several towns and cities of Punjab was moving to its final destination, Islamabad. The assassination attempt was a terrifying reminder of the December 27, 2007 assassination of Benazir Bhutto during one of her pre-2008 election rallies in Rawalpindi.
Alone in my room, I read the news of Khan's attempted assassination after seeing dozens of missed calls and messages from Pakistani and Indian media houses. Profound incredulity. Beyond anger, beyond sadness. Someone tried to kill Imran Khan. I'm still in the process of making sense of what happened on that Thursday.
Today, for millions of people, Khan is re-committed to a Pakistan that has the promise to be the best version of itself. Based on the attendance of his rallies and his landslide victory in the recent by-elections, the reality of his message resonating with an unquantifiable number of Pakistanis is undeniable. Drive to bring about a real people-focused change; perseverance to establish a truly democratic Pakistan; delineation of clear boundaries between civilian and military dominions; supremacy of vote; deep empathy for the underprivileged; faith in Pakistan's young to steer their country into a realm of positivity, progressiveness, and prosperity; and a strengthened belief of the homeland as the first and the last priority.
It is the hope of every rational, peace-seeking Pakistani that the date for next elections—free and fair—is immediately announced. Political turmoil and extreme polarization that has affected Pakistan in the last few years is neither good for its internal stability nor for its already floundering economy.
Despite the relentless propaganda of the forces opposing Khan, his message is not a declaration of confrontation with the State. Khan wants nothing but what is best for Pakistan. His single demand, since his questionable ouster in April 2022, is fresh elections—people be given the democratic right to choose their government.
For the nation that is an agonised witness to undemocratic removals of "undesirable" leaders, an unknown assailant's attempt to kill one of Pakistan's most popular leaders is a harrowing reminder that not much has changed. Pakistan exhaled in collective relief when despite being shot in the leg, Imran Khan—former prime minister and Chairperson of the Pakistan Tehreek-e-Insaf (PTI), unarguably the largest and the most popular political party in Pakistan, circa November 2022—survived the targeted attack on his life.
Condemning the attack on Khan, Prime Minister Shehbaz Sharif tweeted: "I condemn the incident of firing on PTI Chairman Imran Khan in the strongest words. I have directed Interior Minister for an immediate report on the incident. I pray for the recovery and health of PTI chairman & other injured people." Sharif is the President of Pakistan Muslim-League-Nawaz, Pakistan's second largest party.
Condemning the attack on Khan, Minister of Foreign Affairs Bilawal Bhutto-Zardari. tweeted: "Strongly condemn the attack on @ImranKhanPTI. Praying for his swift recovery." Bhutto-Zardari is the Chairperson of Pakistan People's Party, Pakistan's third largest political party.
One person was killed, and more than ten were injured in the shooting. Among the injured are PTI leaders Faisal Javed Khan, Ahmed Chattha and Chaudhry Yousuf, and party workers Omer Meyer and Rashid. I wish them a speedy and full recovery.
Zahid, part of Khan's special security detail, was shot six times in one of his legs and arm. None of the bullets damaged any of his arteries or bones. His commitment to his duty is heroic. I wish Zahid a speedy and full recovery
The one deceased. The most unfortunate death of a PTI supporter, Moazzam Gondal of Wazirabad, Punjab, is the most heartbreaking consequence of Thursday's violence's unwieldy turmoil. In the terrifying visuals following the initial firing on Khan's vehicle, a man is seen grabbing the gunman's arm and stopping him from shooting again. Another man, dressed in light blue shalwar-kameez, also rushes forward to lunge at the shooter. He is shot.
The image of his dead body lying on the ground and his little children trying to wake him up is one of the acutely painful manifestations of the worthlessness of an aam aadmi's life in a Pakistan caught up in its elite power struggles. Moazzam's children had accompanied him to participate in Khan's march.
As I write these words, my mind keeps drifting to my fearless compatriot lying face down, dead, his children touching his still body. It's an image that will haunt me for a long time. So much pain delineates the life and death of so many Pakistanis. May Allah bless Moazzam Gondal with His best. May Allah keep his children safe. May Allah give his family strength.
Ibtesam Hassan is the PTI supporter in the red-blue-white FILA tee shirt who jumped on the shooter and prevented him from firing more shots at Khan. What could have happened if he had not demonstrated heroic bravery, only Allah knows. All Pakistanis who endorse non-violent ways to bring about a change are grateful to Hassan for his very, very courageous reaction that saved a horrific situation from turning into absolute chaos.
The shooter was arrested. A "confession" was made in which he claimed to be a lone assailant who was "mortified" at Khan for "misleading" the nation: "They [Khan's rallies] were playing music and shouting from loudspeakers as the call for prayer was happening. I didn't like this happening on our soil." The video of the confession was released with a rapidness that is a deviation from the Punjab police's traditional procedural speed.
When I asked Barrister Ahmad Pansota, a renowned lawyer, about the significance of that televised confession, he said: "This person was arrested from the spot under Section 54 of the Code of Criminal Procedure [because of a cognizable crime]. There was no FIR, and therefore no investigation was going on. Police can investigate without an FIR but here there was no proof that the police were vested with that power or that investigation was assigned to a particular officer. A video was recorded in which the suspect was making a confession. What is important to understand is that a confession made in police custody has no evidentiary value. Article 38 of the Qanun-e-Shahdat Order, 1984 says that it cannot even be used against the suspect. The other important thing is that police cannot record a statement and air it in media. Video recordings cannot be made of a suspect in custody, it is not permissible under the law. Circulating it is also not allowed under the law."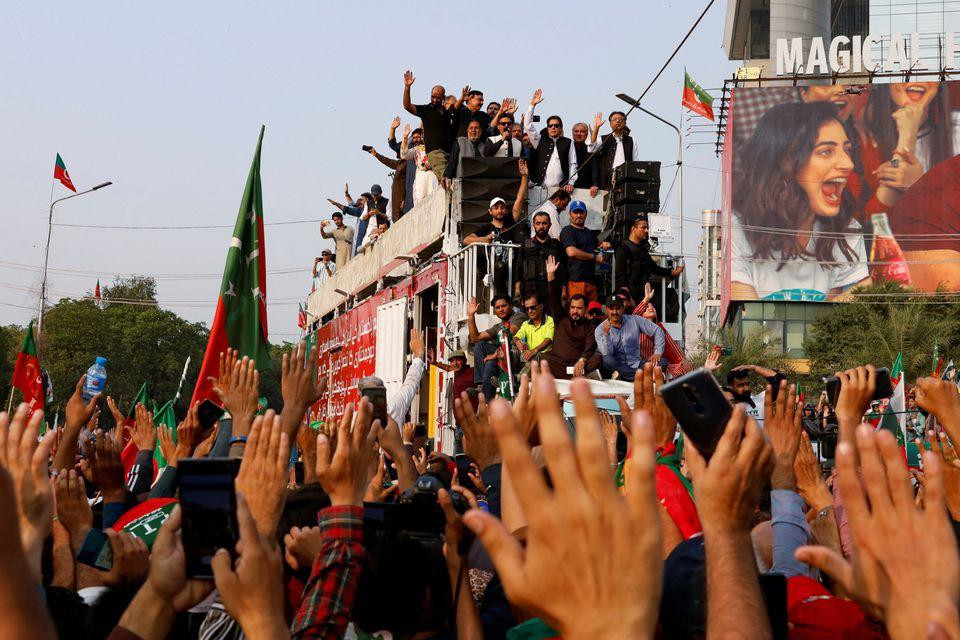 Multiple eyewitnesses have stated that the gunfire came from more than one side. All accounts corroborate hearing a round of an automatic assault weapon.
Fasih Ahmed, Editor-in-Chief of Newsweek, Pakistan, tweeted: "I was covering today's procession and was in the container when the attack happened. My car was following the container. My driver saw a burst of automatic assault gun fire come at the container from the second story of a plaza."
Hamza, PTI-designated DJ to play PTI anthems, national songs and Sufi qawwalis during the Long March, spoke to media: "The firing was not from one place. [There were] three people, firing from two-three places. From one place, as shown in media, with a small gun. The person I saw had a big gun; he was standing on a terrace type place on a rooftop."
On the day that shocked and grieved Pakistanis within and outside Pakistan, there were a few seconds that became a re-validation of the reason why millions of Pakistanis support Imran Khan, hailing him as one of the most courageous and fearless leaders of modern times. After being shot in the leg and bleeding, Khan stood up and walked to the door of the container [the modified vehicle used for the march]. There he stood, waving to his supporters present in Wazirabad and across Pakistan and wherever they were watching him from. Khan smiled, waved, raised his fist in the air, and walked out of the container unaided. Loud happy slogans followed his every move.
At the time when his words uttered in justified anger could have unleashed a state of turmoil in Pakistan, Khan remained calm, composed, dignified. Slightly limping, Khan kept his head high. Pain of his wounds was visible as he flinched, wordlessly. "Ya Allah" echoed as Imran Khan was seen leaving the container to travel to Lahore's Shaukat Khanum Memorial Hospital for his treatment.
Dawn's November 4 editorial states: "It is as much the nation's good fortune as it is Mr Khan's that the dastardly attempt on his life failed. He has, according to initial reports, sustained a bullet injury. Thankfully, being extraordinarily physically fit and active for his age it appears that he will pull through just fine."
UK's Sky News reported: "The former prime minister gave an interview to Sky News two hours before he was shot in which he said he was hopeful there would not be violence during his march across the country."
Responding to Sky News' Cordelia Lynch's question "Does it worry you, the prospect of violence?" Khan said: "I've been on the road for six months now. What I've seen, I'm confident that I'll be able to direct it through elections and bring about a change. The other possibility is you would not want it to go in the other way."
In the evening of the day Khan was shot, his statement from the hospital reiterated his commitment to his mission: "I would take to the streets as soon as I am discharged from the hospital and lead the long march towards Islamabad."
On Friday morning, Dr Faisal Sultan, former Minister of Health, and head of the four-doctor team treating Khan issued a statement to AFP that Khan "was stable and doing fine."
On Friday evening, Dr Sultan, showing x-rays of Khan's legs, explained to media the nature of Khan's injuries. Khan sustained a fracture to his right leg due to bullet fragments that were lodged in two sides of his thigh. The lower part of his leg was also hit with two bullet fragments, one of which damaged the tibia, chipping a piece of the bone. In the left leg, four slivers of bullets were found, but due to their size, no fracture was caused. In close proximity to the main artery—that provides blood to the entire leg—of the left leg, bullet fragments could be seen. If that main artery is hit, rapid bleeding occurs. "Those [bullet] pieces were so close to the artery." Bullet fragments were surgically removed from Khan's left leg.
On Friday evening, in his address to the nation Khan said: "I was hit by four bullets. [Following the first burst] "a second burst comes, there were two people. Because I fell down, I think he [the shooter] thought I had died and [he] fled."
Having named three people responsible for the attack on his life, Khan's instruction to his supporters is to launch a nationwide peaceful protest to demand legal action for the assassination attempt on his life.
Prayers of regular Pakistanis and countless patients, many of them children, treated free at the Shaukat Khanum Memorial Hospital, the cancer hospital Khan built in the memory of his mother who died of cancer in 1985, are Khan's constant protection. Surviving an assassination attempt with minimal injuries, Khan, seventy, is one of those special humans who are blessed with people's unconditional love, admiration, respect and gratitude.
Six months after his ouster, today Imran Khan is more popular than he ever was in his twenty-six years of politics and three years and eight months of prime ministership.
I wish Imran Khan a complete and speedy recovery. I wish Imran Khan all the best for his mission to make Pakistan the best version of itself.