PUBLISHED November 13, 2022
KARACHI:
It is tragic and unacceptable, although not a novel phenomenon, to see a much awaited and promising artistic or literary venture falling a prey to negative criticism or being generally dubbed as an unproductive or a failed project. Indian superstar Aamir Khan's production Laal Singh Chadda is a fresh addition to that museum of precious and rare artifacts that for an ordinary person are not more than outdated and damaged showpieces or utensils from the past. It has happened before, and it will continue to happen to various creative and arduous works of sublimity due to reasons unknown and unanticipated to most of us.
The story revolves around a character who is born with physical and mental deficiencies as per doctors' diagnoses and the general social criterion. As the plot develops and Chadda begins to grow up, we come across a human being who is innocent but complex, struggling but dedicated, "imbecile" but gifted, and most importantly, underestimated but charismatic. He leaves behind with his miraculous feats the so-called normal and even above average folks far behind. As a school-going child with leg braces, he struggles hard to run to save his life and, one day, breaking the braces and the barriers, runs faster and faster, setting records as a celebrated racer, an admired sportsman and a medal-winning soldier.
As far as his mental and managerial drawbacks are concerned, they earn Chadda miraculous success in business and industry, where he is more successful than highly educated and trained people in fields of business management and entrepreneurship. The highly precious quality he possesses is an inherent composition of honesty, sincerity, purity, simplicity, and a passion to do something phenomenal.
There are old anecdotes and mesmerizing folklores about the holy fool in spiritual literature that demonstrate the power of innocence, simplicity and submission to nature and heavens. It is said that "miracles happen to only those who believe in them." The sharpest, most sagacious and seasoned persons, due to being extraordinarily rational, remain deprived of such blessings of life as they mostly remain stuck in rules of probabilities, technicalities, circumstances, and resources.
Characters like Laal Singh Chadda follow the commands of the heart and are often able to effect great works of compassion that pay them back with charismatic accomplishments they never ran after. Their brand of unconditional love, firm faith and selflessness is free of reason's madness and ego's frivolous grandeur. Holy fools never hanker after worldly glory, lust for power or monetary accomplishments, but are gifted with all these phenomena as by-products of their spiritual and dedicated approach towards life. That is why they are usually deemed crazy and forced to live as lonely outsiders.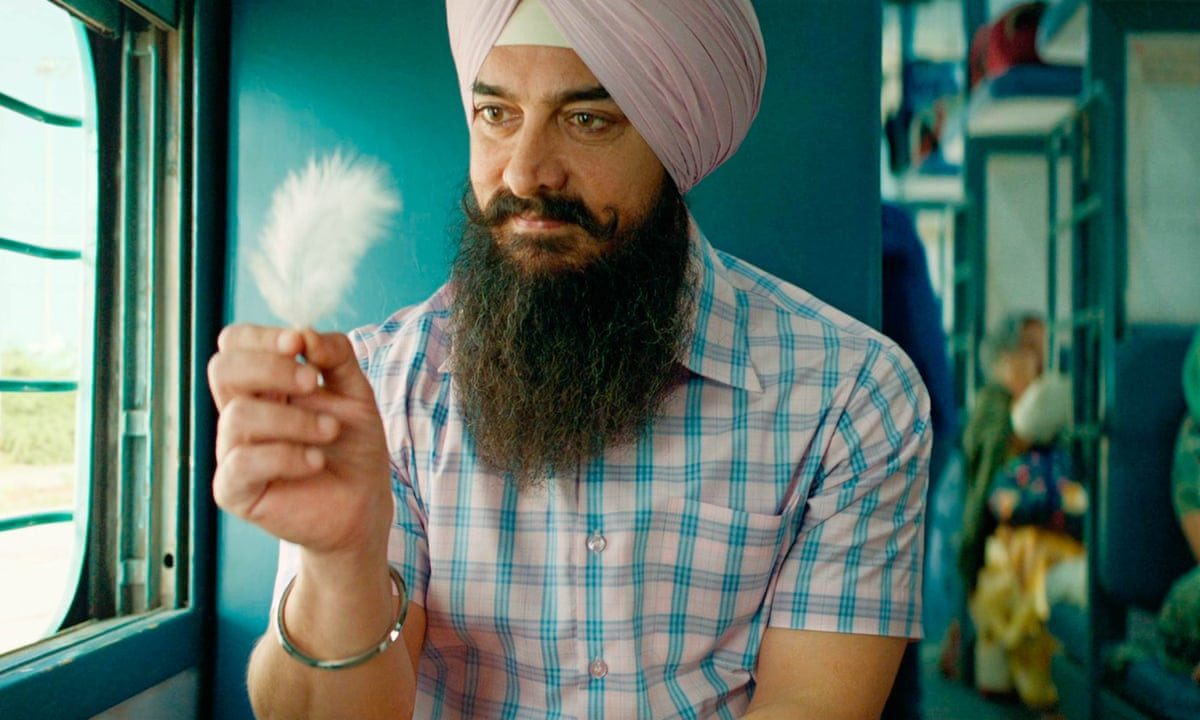 The explicit message in the scheme is that if fortunes and achievements had been the privileges of the cunning, manoeuvring and judicious bipeds, the whole world would have been filled with them—people who would have devoured the folks with below-average IQ who are sent to this universe with a specific purpose by the Almighty. Another prevailing notion is that those who yearn for and wildly chase their lust for power, wealth and material gains do not always achieve all that, but those who are simple and pure at heart and never wish for materialism, fortunes follow them as a surprise and boon from God.
Aamir Khan's acting is distinctly inspiring and attention grabbing. If Tom Hanks is considered to be the only actor who could play the role of Forrest Gump, the same compliment can safely be attributed to Aamir Khan for the role of Laal Singh Chadda, the Punjabi version. Another choice, I think, could have been Shah Rukh Khan.
An indigenous and desi touch to the plot and employing local sociopolitical, cultural and religious issues in a logical, delicate, and controlled way add extra gloss to the artistic venture. Screenwriter Atul Kulkarni, director Advait Chandan and producer Aamir Khan deserve applause for their ingenuity. The Shah Rukh Khan cameo, although hardly a minute long, creates a special positivity.
Issues like clashes between communal, racial and religious units and identities and the havoc they play with humanity are shown in a bold but sensitive manner. It is depicted that ordinary and innocent citizens have to bear the lethal angle of social savagery that is unleashed by a handful of powerful people and influential politicians who themselves are rarely affected by that madness.
Chadda's mother advises him to stay home as there is a malaria pandemic outside. It is highly tragic that natural disasters and plagues attack human societies like a bolt from the blue and can hardly be avoided by the masses. But the human madness of massacres and acts of torturing to death their fellowmen is a man-made-nourished-supported endemic.
Kareena Kapoor is, once again, impressive while playing Rupa D'Souza, the main female lead, and the forever love-cum-better half of our dear Chadda. She comes across as an ambitious woman who longs for wealth and fame and falls again and again while trying to climb up the ladder to her dreams. She desperately exploits her cunningness and beauty to amass wealth at any cost but fails. On the other hand, Chadda who was abandoned by D'Souza for his low-profile personality earns glory and wealth without consciously aspiring for material gains. In the end, she finally finds a serene and comfortable life in the arms of her true love and a pure human being.
Kapoor seems to have put in a great deal of work to play the young Rupa; she looks stunning. The whole team, including Mona Singh (Mrs Chadda), Naga Chaitanya (Balaraju), Manav Vij (Muhammad Bhaji), Gitikka Ganju Dhar (Manjeet, Laal's aunt), Aaryaa Sharma (train passenger sitting in front of Chadda) and others have done justice to their respective roles, making the artistic venture an inspiration for discerning cinemagoers.
Here, we can draw an analogy between the simple but miraculously successful and influential character of Laal Singh Chadda and the film under review. People's cold and taunting response to this character's outlook, his way of talking, his apparent mental calibre, and his true stories is a sheer example of underestimation and underrating. Only a few people can grasp the beauty and the art of sublime flowing side by side with the plot. Sadly, the majority does not have the insight to see the achievement wrapped in innocence, simplicity, and light humour.
Apparently, one of the main reasons behind the negative response is the "sin" of remaking a classic film with so many similarities in scenes, dialogues, and sets. Moreover, it was in the news for years that an Indian "copy" of 1994 Forrest Gump was being produced in Hindi with Aamir Khan as the desi version of Gump. So, audiences received the project with a preconceived concept that they were going to watch a copy, an imitation, a fake creation. But few people know that the Hollywood movie is based on the 1996 novel The Forrest Gump written by Winston Groom. Although Groom was awarded the best fiction award by the Southern Library Association in 1980, it was his novel Forrest Gump that raised his stature to the Olympian heights. The movie adaptation brought in over $657 million globally and won six Academy Awards.
Making multiple films based on a celebrated novel, remaking of movies in various cultures and languages, and even remaking of a film in the same language and region with a new crew and perspective are not new phenomena. One of the most interesting examples is the famous novel Love Story, written in 1970 by the American writer Erich Segal. The novel brought forth a hit film with the same title. As the ripple effect of inspiration spread, more than fifteen films were produced on that novel in different regions and languages of the world in the next two to three years. Almost all these films received remarkable responses from critics, box office pundits and audiences. In Pakistan, an evergreen sensation Mera Naam Hai Mohabbat was created with two new artists, Ghulam Mohiyddin and Babra Sharif. The latter ruled over the film industry for two decades on the basis of her first film being such a huge hit.
Winston Groom, the celebrated novelist and original writer of Forrest Gump, was born in 1943 in Washington, D.C. He received his education from the University of Alabama. He served in the US Army, toured Vietnam, and rose to the ranks of a captain before switching to literature. The autobiographical and subjective elements are obvious; the firsthand experience of military environment and war-torn locations provided him with a solid understanding of and aptitude for portraying the character of the protagonist, probably his mouthpiece. His creation of an evergreen character that is far from the madding crowd and distinguishably different from a typical hero with extraordinary capabilities, smartness and charisma has won him many awards and a unique identity and pedestal.
The one concept that artistically highlights the theme is the dialogue articulated by both Laal Singh Chadda and Forrest Gump while talking to their paramours: "I am an idiot, but I know what love is."
Muttahir Ahmed Khan is a literary critic, educationist, and author. He can be reached at [email protected] All information and facts provided are the sole responsibility of the writer.