PUBLISHED August 28, 2022
KARACHI:
It can be the most challenging decisions in your life that end up becoming your most rewarding. It might even be that these challenges come with grave risk or danger, but that is precisely what makes them even more gratifying or worthwhile in the end. In our culture we associate dangerous or challenging endeavors with men however, some women are now subverting this dominant paradigm and, in the process, becoming an inspiration for young girls.
K2 is full of records and attempts. Some successful and some unsuccessful. Since the first summit on K2 in 1954 till date, many have tried their luck in climbing the K2 peak - the second highest peak in the world (8609m). This includes more men and few women. Despite being located in Pakistan, none of the Pakistani women have ever completed a successful summit in the last 68 years since the first one. But in 2022, when there were more than 100 summits on K2, two Pakistani girls, Naila Kiani and Samina Baig became the first Pakistani women to reach the K2 peak.
The Iron Ladies
Samina, a Pakistani high-altitude mountaineer famous for her Mount Everest summit, belongs to a mountaineering family. Having been born at an altitude of 3000m, Samina's family in village Shimshal located at Hunza. Samina has been climbing mountains her whole life. After a successful summit of Mount Everest in 2013 at the age of 21, and all Seven Summits of the world in 2014, she was able to summit K2 in her third attempt in 2022.
Another such mountaineer is Naila Kiani. Naila is a daughter, a wife and a mother. Naila has no background in mountaineering. Naila lived an ordinary life, following the same norms as others: studying, starting a career, getting married and having kids. Others might restrict their life to this, but this is not where Naila stopped. This is where her real-life adventure began. In her very first attempt at climbing K2, Naila became one of the first two women to climb one of the dangerous peaks in the world.
Unlike Samina, Naila was not born at a high altitude, but she got married at the K2 base camp in the year 2018. Her love and enthusiasm for the mountains were evident when she climbed up to 5000m to tie the knot. Since then, she has been clear about her goals. "I met some professional high-altitude mountaineers at K2 basecamp, and their stories motivated me to become a mountaineer or at least test how far my body and mind can take me," said Naila to The Express Tribune.
She began training for the challenge, however soon after she began, she realised that she was pregnant. Then COVID-19 came, and her dream of becoming a mountaineer was put on hold for a while. However, this didn't stop her. She knew what she wanted to achieve: climb the world's highest and most challenging peaks. In August 2021, Naila, mother of two daughters, decided to leave her six-month-old daughter and go for her first expedition to the world's thirteenth highest mountain, Gasherbrum-II.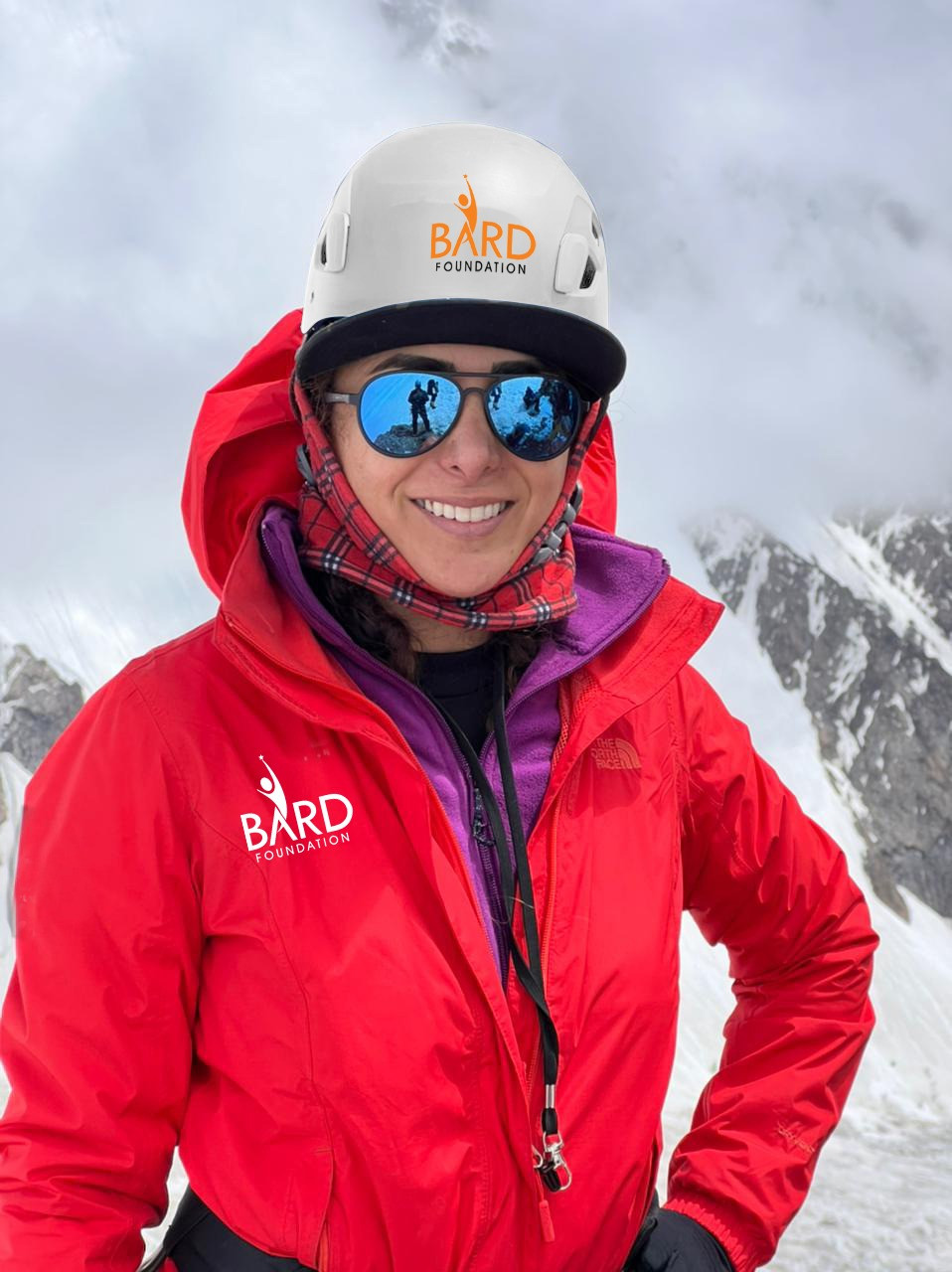 Attempting a summit for the first time, she was able to summit the 8035m peak in her first attempt and became the first female Pakistani mountaineer to do so. Accompanied by the famous Ali Raza Sadpara and Sirbaz Khan, she was the only female to summit an 8000m peak at that time. "There were five other Pakistani women, including Samina Baig, on their expeditions to different peaks above 8,000 meters in Pakistan that summer. But Allah chose me, and I scaled G-II," said the former boxer who had previous trekked to the K2 base camp and visited Gondogoro La, a 5,585-meter-high mountain pass 25 kilometres south of K2 but never scaled any peak.
Before COVID-19, Naila chose a 7000m peak as her first summit in 2020, but it was cancelled due to the pandemic. In 2021, she was unsure which peak to choose for her first summit, but after her research, she found out that 7000m and 8000m take almost the same time to summit, so she went for one of the three 8000m Karakoram peaks, Gasherbrum-II.
"At that time, I just wanted to test my body, strength and mind on a mountain. That is why I picked the 8000m peak. I managed to summit. I don't know how but it did. I was well supported by my guide and teacher, Ali Raza Sadpara," she said, adding that as soon as she did her first summit, her team suggested trying K2. "When an experienced mountaineer like Sadpara said that I have to try K2, then I should try it. It is every mountaineer's dream to summit K2. It was too soon for my mountaineering career as I had just begun, but I thought that within a year, I would summit K2." Since 2021, Naila has been able to summit all three 8000m above Karakoram ranges, Gasherbrum-II (8034m), K2 (8611m) and Gasherbrum-I (8080m) and become the first Pakistani female to do so.
Belonging to a non-mountaineering family, Naila believes she has become an inspiration for many girls as many are contacting her through social media. "Previously they saw tough Samina Baig, who has achievements including Mount Everest summit, Seven Summits and now K2 under her belt. But as she belongs to a mountaineering family, many were not sure if a female from a city can take up this challenge," said the Rawalpindi-born Naila, who is famous and active on social media.
Naila, at the age of 17, went to the UK to study Aerospace Engineering. Her parents supported her initially, but then, intending to lighten the burden of her parents, she started doing two to three jobs to help support herself. Sleeping for four to five hours, working and studying at the same time were demanding from the beginning. For her, the first achievement of her life was to graduate from the University of London and then secure a Project Management Job in Leicester. She has now moved to Dubai and is a banker by profession.
Talking about why not many Pakistani women have tried summiting these peaks, she gives four reasons: it's a dangerous sport, there's awareness, lack of social acceptance, and lack of financial support.
A dangerous sport
Mountaineering is considered one of the most dangerous sports in the world. Naila believes that it is the only sport where there is no winning or losing. It is only life and death. "For me, it was also a spiritual journey. I had done my research before the K2 summit and knew it was dangerous. No one had to warn me as I knew all the risks. The danger of falling rocks, sliding avalanches, the danger of falling into crevices, the danger of slipping, altitude sickness, etc. I had read all about it and was ready to take on the challenge. I didn't think about the dangers; I just wanted to see how high can I go and how high my body and mind can take me," she said.
She says that this is dangerous not only for women but men too. One doesn't know if there will be a way back. Naila says that climbing the 8000m above peaks is a danger. Above 8000m, the death zone starts, and one cannot stay there for longer as there is less oxygen. Naila explained the risk by explaining that during her K2 expedition, she was standing at the bottleneck on blue ice with dew surrounding them. "I was scared at that time. I didn't know what would happen. Will I be able to go back," said the mother of two daughters. "But then I thought about my inspirations. My two daughters. For whom I have to go back, and then I started ascending slowly and was able to summit the might K2 to become the first Pakistani female mountaineer to summit K2 in the first attempt," she explained.
"It is crucial that you have good health. Many of the toughest high-altitude climbers fall sick at the base camp. Either they get cold, or their lungs get filled with water. So keeping yourself fit is the key before going on the expedition," she added.
Going on the expedition for the first time, she was not confident as she knew it was not easy. "There is uncertainty in mountain climbing. No one in the world can confidently say that they will summit this time as they are strong or have a good team. Expeditions are like puzzle pieces. Once they are put together, then only the picture can be completed," she explained while adding that the weather is also to take care of. There are times when forecasts don't work. One has to be prepared for the most challenging weather.
She added that getting injured is also a risk when you see falling rocks. "I was not confident when climbing, and it was so tough. I was strong mentally, but I had doubts about physical fitness. K2 was a technical mountain. You have to take every step really carefully. My mind kept me going, and I went slow and steady," she shared.
She said that having courage is the first thing you should have while planning to start a mountaineering career should test their courage first. "The female mountaineers should go step by step and start with basic trekking to test their courage. It is something that you cannot build, and it is either you have it or not. So start with small peaks and start going for higher gradually," she said, adding that once you have that, the next thing is the financial support.
Financial support
Mountaineering is an expensive sport. One can afford one summit on their own, but not all. They must get a sponsor to get them to the top of the mountain. Naila, who financed her first summit herself, said she had to prove herself to get sponsors for the subsequent expeditions.
"Getting a sponsor for your expedition is difficult and even tougher for women. So when I decided to become a mountaineer, I knew the financials required. So, I aimed to prove myself so I can get for the next expeditions," she said. "As soon as I did my first expedition, made my name, and planned for K2, I was able to be supported by Bilquis and Abdul Razak Dawood (BARD) Foundation for the K2 and G-II summits."
She added that many mountaineers are not that lucky, and she has been fortunate to achieve her goals this soon. "Now that I don't have to worry about the financials, I concentrate more on the training. This is really important as if you have a worry of financials in mind, you cannot focus on the movement, and without finances, your courage and health won't be of any help in your path to becoming a mountaineer.
In supporting Naila and other mountaineers, Abdul Razak Dawood, Chairman of BARD Foundation, said, "As a mountaineering enthusiast, Naila has inspired and motivated women across the country to pursue their sports careers with zeal; while also promoting gender equality in the sports community. Supporting and celebrating this monumental success has instilled a new commitment in the Foundation to continue our care for young talent. We must take on the responsibility to nurture future athletes and turn them into stars for Pakistan's sporting community."
"Naila embodies the spirit of Pakistan's greats, the work ethic, the desire to give of herself and her heart, and the love of victory. With each successful climb, she etches her name in history, inspires countless other young girls, and makes our country great. Naila's monumental feat to summit the Gasherbrum I right after the K2 summit inspires the Foundation to continue supporting talent with opportunities to excel in athletics and sports. Naila's success is proof of the tenacity women possess to achieve anything they set their minds to," he added.
Less information
Naila believes that having information about the peaks also motivates one to go for expeditions. "Once you start reading about it and knowing the mountain, you get motivated to climb on the top. Unfortunately, in Pakistan, not many people are aware of the peaks of Pakistan. Not only women but men too. The information is not easily available. You have to work hard to get all the related information," she said
She added that in Pakistan, there is a concept of women not being tough. "Since childhood, the girls' mindset is developed that they are not strong enough and mountaineering is not for women. We are taught that this is a men's sport. It is because we don't see many Pakistani women; if we do, they are only from the northern areas. So, one has to get information about mountaineering and then decide to do it or not to," she said, adding that there are difficulties in finding the way and place for washrooms to eat at high altitudes because of less oxygen.
"When you go high and look down, it is so steep, you get terrified, but if you know what to do at that very moment to bring the courage back, then you can keep yourself going."
Social acceptance
Realising that it is difficult for women to leave home for two to three months to live in the mountains, she said that our society doesn't accept this. "When girls grow up, they get a lot of restriction on doing things as the parents think what would people say. I didn't want my daughters to grow up with this mentality. I want them to grow up with a mindset of doing whatever they want to do in choosing a career and sport. I don't want to develop that restriction. They are the ones who motivate me. Whenever I get tired, I used to think about them and that I cannot afford any mistakes. I have to go back to my daughter and motivate them as they grow up," she said.
She shared that her parents and in-laws were very supportive during all her expeditions. "My father belongs to a conservative family, but my mother supported me initially. The biggest support was from my husband. Later on, when my father saw me achieving my goals, he also became one of the important pillars in my life and career. He is very proud of me and shows a keen interest in my expedition. He also received the presidential award on my behalf. So having a supportive family can help you achieve what others haven't," she said.
She concluded by saying that the girls who are thinking of trying out mountaineering should start with three to four days of trekking, where they can figure out whether mountaineering is for them or not. The introductory courses of rock climbing and ice climbing start with small peaks and then go higher. "Most importantly, take every information about the mountain you are climbing," she said.