SUKKUR:
Growing up in Haji Lal Bux Shaikh near the historical remains of Moen Jo Daro, Samreen Solangi found her niche making replicas of various artifacts found in the historical ruins of her home region.
Unlike her siblings, Solangi, 17, has never been to school. That's why she opted to join her father, Hajan, in his craft of sculpting replicas, which is the only source of income for her family. She always admired the toys her father made from clay, which looked especially appealing after he applied color to them. When she was 8 years old, she started helping her father, slowly learning his techniques for toy making. She collects clay from the banks of the Indus River and turns it into replicas of things found in the ruins of Moen Jo Daro, as well as toys and other clay ornaments.
Before she joined her father, Solangi said he used to make the same few styles of artifacts, which people grew tired of seeing. She decided to use the technique to make different objects, like parrots, owls, pots, flower vases, and ornaments. Soon enough, her income began to grow. Her innovation proved to be a godsend for her family. "This new idea of mine took our business to the heights, we have never dreamt of," Solangi said.
Solangi did the work for her own satisfaction until last year when she learned about vocational training from the SUCCESS program run by the Sindh Rural Support Organization that provides women resources to polish their hidden talents. With the approval from her parents, Solangi trained for three months to perfect her craft. Now, she can be considered an expert craftsman, making figures of a dancing girl, a man of Moen Jo Daro, bullock carts, birds, coins, and other types of ornaments that people can purchase and enjoy.
After her training with the Sindh Rural Support Organization, she said she is earning much more than before. Since she is not formally educated, Solangi said she didn't know how to use online platforms to sell her products. But thanks to the SUCCESS program, she has been able to post her designs on Facebook, which has allowed her to get orders online. After completion, she sends the artifacts to the SRSO office, which sends them to buyers. Solangi said this has increased her income greatly.
Program origins
SUCCESS was started in Larkana, Qamber-Shahdadkot, Dadu, Jamshoro, Matiari, Sajawal, Tando Allah Yar, and Tando Mohammad Khan districts in 2016. This program is designed based on lessons learned about successful poverty reduction techniques and was piloted by SRSO in two districts Shikarpur and Kashmore.
Naseeba, another beneficiary of the SUCCESS program, said her training had a similar positive effect. One year ago, she took an interest-free loan of Rs. 20,000 from SRSO and bought two sheep, which quickly multiplied to six. She sold the sheep and after repaying the loan spent Rs. 50,000 to develop a fishpond near her house. She is confident that she'll be able to sell fish in the market to multiply her profits. Before attending the SRSO program, she said women in her village worked in agriculture from dawn until dusk and earned very little.
She says that when the SUCCESS program was launched in 2016, men from her area were reluctant to let women partner with the organization. But over time, she said opinions changed and women from around the area started joining the program. Soon enough, thousands of households were benefitting from the program and using their hidden talents to pull themselves out of poverty. She said women are now involved in every development activity either initiative by the government or SRSO. She said the program has made families self-sufficient.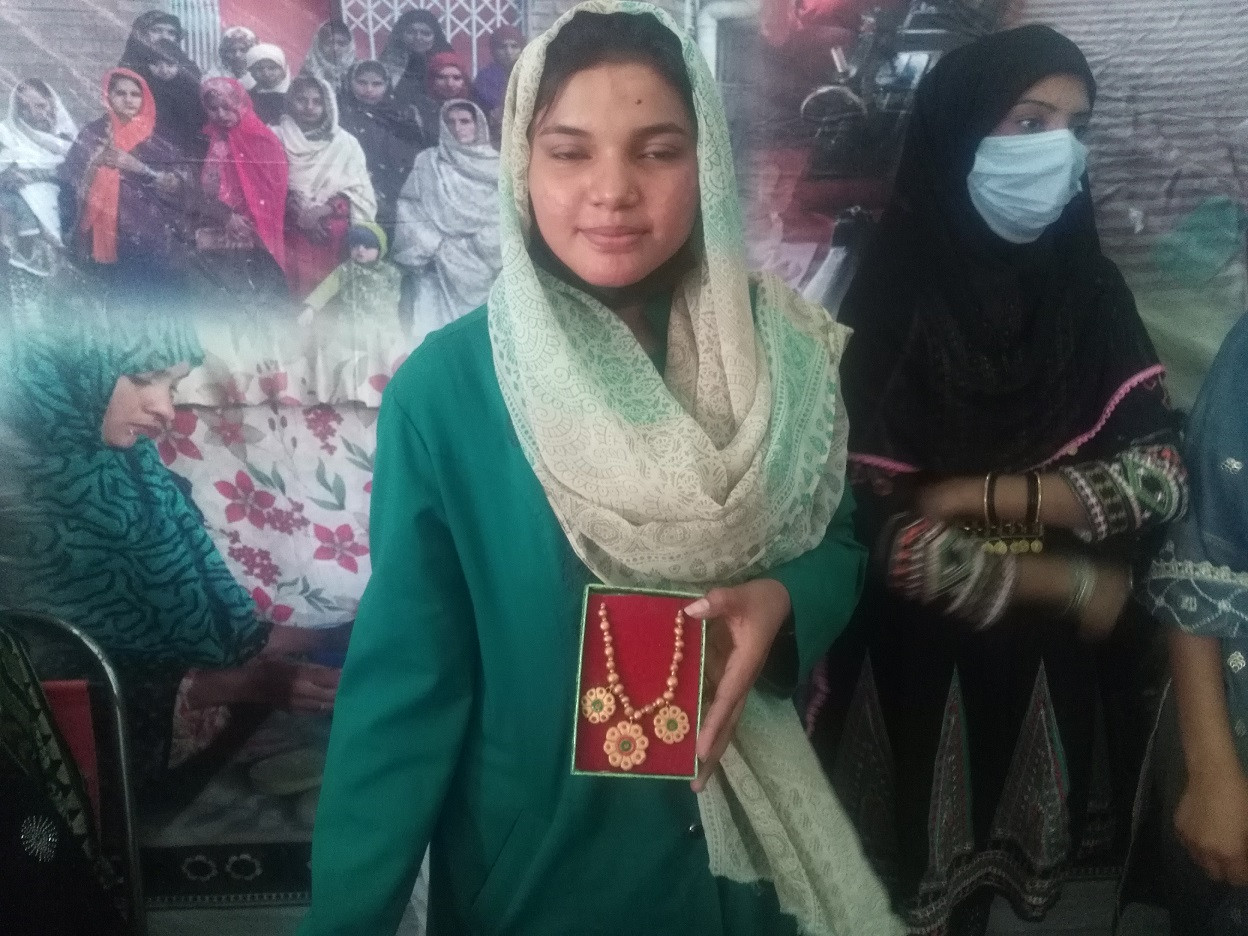 Another woman, Ruqia, said the SUCCESS program has helped many women like her earn money from crafts they've practiced for a long time. Since her childhood, Ruqia watched her mother pour into her embroidery work while earning barely enough to help feed her family. She said the SUCCESS program has helped her earn from her embroidery while showcasing products in big cities like Karachi and Islamabad, which has helped boost their sales.
Ruqia said she never dreamt of going to Karachi or Islamabad to sell her products but now is getting good prices there for her hard work. "Gone are the days when women in our areas were kept confined to the four walls of the houses," she said. "I am proud to say that today men make all decisions with our consent," Ruqia said that with the support of SRSO, needy, rural families with uneducated women have been brought to power.
Fighting poverty with talent
Solangi and other women have showcased their work in an exhibition organized by the Sindh Rural Support Organization in Larkana. The title of the conference was "Taraqi Ka Safar" (A journey towards development), which aimed to empower women and encourage them to take on leadership roles in their communities. The event was funded by the European Union and implemented jointly by the Sindh government and SRSO.
Jamal Mustafa Shoro the SUCCESS program coordinator said community institutions are formed based on the results of a poverty scorecard. So far, he said the program has surveyed 121,917 impoverished households in both districts, which led to the creation of 3453 community organizations. Additionally, 574 village organizations and 47 local support organizations were formed, he said.
Shoro said SUCCESS is the largest grassroots poverty reduction initiative in Pakistan. He said the program works by identifying poor households and bringing them into the fold of community organizations at the village and local levels. The localized strategy helps reach individual households by helping convince them to participate in the process.
Shoro said this program has helped increase the capacity of community institutions in Larkana, training office workers, community leaders and local support organizations, and bookkeepers. He also said the program has helped establish adult literacy centers to provide basic literacy and number skills to 1,800 female learners.
Moving forward
Back in Haji Lal Bux Shaikh, Samreen's father, Hajan, says having her join the family business has been a major blessing. The eldest among her sisters, Samreen was always responsible for the household chores, taking over work from her diabetic mother. Her father did everything he could to make money from the artifacts he sold, but due to inflation, the family was always living hand to mouth.
Samreen's training has helped the family sell more artifacts online, improving their business dramatically. Besides making artifacts, Samreen has also learned to draw portraits, make applique work, and embroider. Without a boy in her family, Samreen says it is her goal to take on the role of son to eventually pull her family out of poverty.
Hajan is also happy to have his daughter taking over the business as he gets older and weaker and less able to support his family. He said the online business has brought in orders to supplement the local business they used to have. He thanks SRSO for recognizing his daughter's many talents and helping her bring them into the world.