PUBLISHED January 09, 2022
KARACHI:
Just when the world thought the coronavirus or super spreader, as it is commonly known, was slowing down, a new variant of concern reared its ugly head.
Rising cases of what the World Health Organization (WHO) has designated as Omicron, has sent the world into a tizzy – just like its predecessor, the Delta variant.
First discovered in Botswana and South Africa last year, the latest version of the Covid-19 virus has turned out to be highly transmissible and maybe even less receptive to vaccines than previous variants.
Within weeks of its discovery, the WHO issued a warning against describing the Omicron variant as mild, saying it has caused more deaths around the world. Studies conducted to understand the latest form of the coronavirus suggest that vaccinated people are less likely to be seriously ill after catching the infection than previous Covid variants. But data about infection rates from across the world raises the red flag. The Omicron variant appears to be overtaking Delta in many parts of the world. This week the total Covid cases registered worldwide crossed the 300 million mark, with the Omicron variant setting new infection records in dozens of countries, including the United States and India. The US alone, according to the WHO, the UN's health agency, has recorded millions of new cases over the past few weeks.
With over 58,000 new daily cases, twice the number seen in previous days, India too, is preparing for the worst. Similarly, in Pakistan, the National Command and Operation Centre (NCOC) – the government's nerve centre that prepares strategies to control the pandemic, issued a warning saying the country has witnessed the highest tally of new cases in three months. The southern port city of Karachi, the country's top adviser on Covid said, had witnessed a surge of 984% during the last two weeks. "This is just the beginning in Pakistan that will spread more quickly in the coming days. I urge all the people to vaccinate themselves as soon as possible if they have not vaccinated yet," said Dr. Faisal Sultan, Special Assistant to the Prime Minister on Health.
In its warning, the WHO said the number of global cases has gone up by 71% during the first few days of 2022 – which many thought would be less dominated by Covid. More than 90% of the total new cases, the WHO said, were found in patients who were not vaccinated.
"While Omicron does appear to be less severe compared to Delta, especially in those who are vaccinated, it does not mean it should be categorized as mild," said WHO chief Dr Tedros Adhanom Ghebreyesus during a press conference. The record number of cases, he cautioned, has left health systems around the world under severe pressure.
Shortly after the discovery of Omicron, the world witnessed another round of knee-jerk reactions. Countries around the world reimposed varying degrees of travel bans to limit the spread of the new variant. But that hasn't worked. Experts still suggest the best solution to contain the virus is greater vaccine distribution – particularly to assist poorer countries vaccinate their populations.
Still haunted by last year's coronavirus crisis, countries around the world, including Pakistan are now bracing for a deluge of new Covid-19 cases. Most experts fear that the sheer number of hospital admissions will overwhelm the already crumbling healthcare facilities in many countries.
To answer some of the key questions around the new variant of Covid-19, The Express Tribune interviewed Dr. Faheem Younus, an award-winning clinician, and a certified physician executive (CPE) who is leading the University of Maryland Upper Chesapeake Health's quality and safety programs. The prominent health expert, who received the 'Presidential Service Award' from the Obama administration in 2008 for his humanitarian services, regularly shares pandemic tips from the Covid frontlines with millions through his posts on Twitter, a microblogging and social networking service.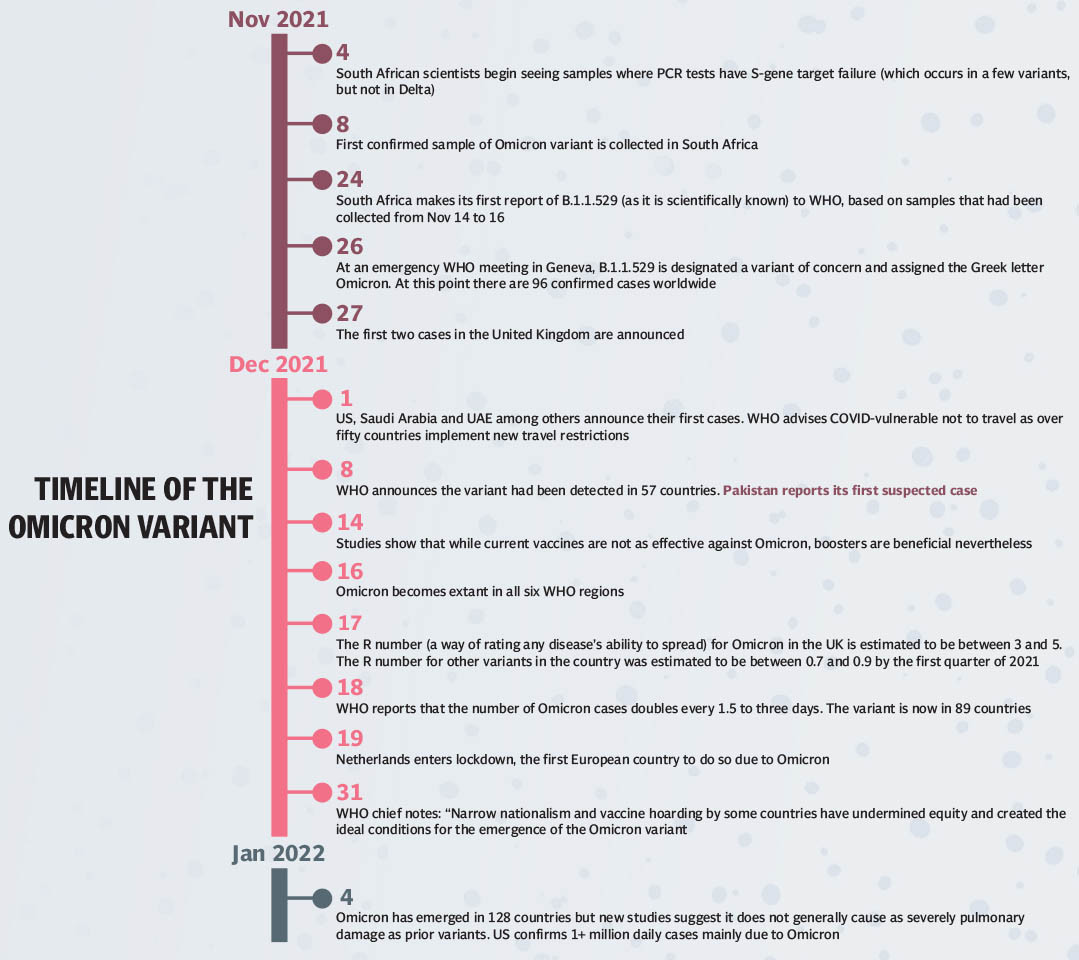 Why was it named Omicron?
At the time when the WHO was naming emerging variants of coronavirus, the UN health agency decided to use the Greek letters. According to the naming system announced by the global health agency, it wanted to reduce public confusion and stigma by using letters of the Greek alphabet. In Omicron's case, the agency and experts decided to use the 15th letter of the Greek alphabet. "These labels were chosen after wide consultation and a review of many potential naming systems. WHO convened an expert group of partners from around the world to do so, including experts who are part of existing naming systems, nomenclature and virus taxonomic experts, researchers and national authorities," said WHO in its statement issued last year.
"While they have their advantages, these scientific names can be difficult to say and recall and are prone to misreporting. As a result, people often resort to calling variants by the places where they are detected, which is stigmatizing and discriminatory. To avoid this and to simplify public communications, WHO encourages national authorities, media outlets and others to adopt these new labels," the agency explained on its website.
How dangerous is the new variant?
At the time of its discovery in November 2021, the new variant of Covid alarmed health experts. It appeared different from the earlier versions of the virus, and it had the ability to sidestep vaccines and infect people rapidly. With the passage of time and more studies, the clinical picture appears to be clearer than it was last year. In its statement, the UN health agency cautioned: "All variants of Covid-19, including the Delta variant that is dominant worldwide, can cause severe disease or even death, in particular for the most vulnerable people, and thus prevention is always key." A report by the UK Health Security Agency in December 2021 supports WHO's statement. "Patients who contracted the Omicron variant were about half as likely to need hospital care as those infected with the dominant, Delta variant of the virus," said the UK health security agency.
Responding to a question about the severity and transmissibility, Dr. Younus said: "Omicron is clearly many times more transmissible than the Delta variant, even though current consensus and the studies show that its severity might be less than Delta. However, that should not make people complacent because if it infects a lot of people, it will overwhelm the hospital and intensive care units."
"So, the Omicron variant clearly can collapse a healthcare system just by sheer numbers of cases because of its very high transmissibility," warned the chief of infectious diseases at the University of Maryland Upper Chesapeake Health. When asked how concerned people should be about the new variant, Dr. Younus said: "I don't think people should be worried about the variant of Covid. They should simply be worried about catching Covid whether it is delta or Omicron."
In short, the new variant is dangerous, highly contagious and can infect fully vaccinated people. However, vaccines still play an important role in preventing severe disease that could put you in hospital or an ICU.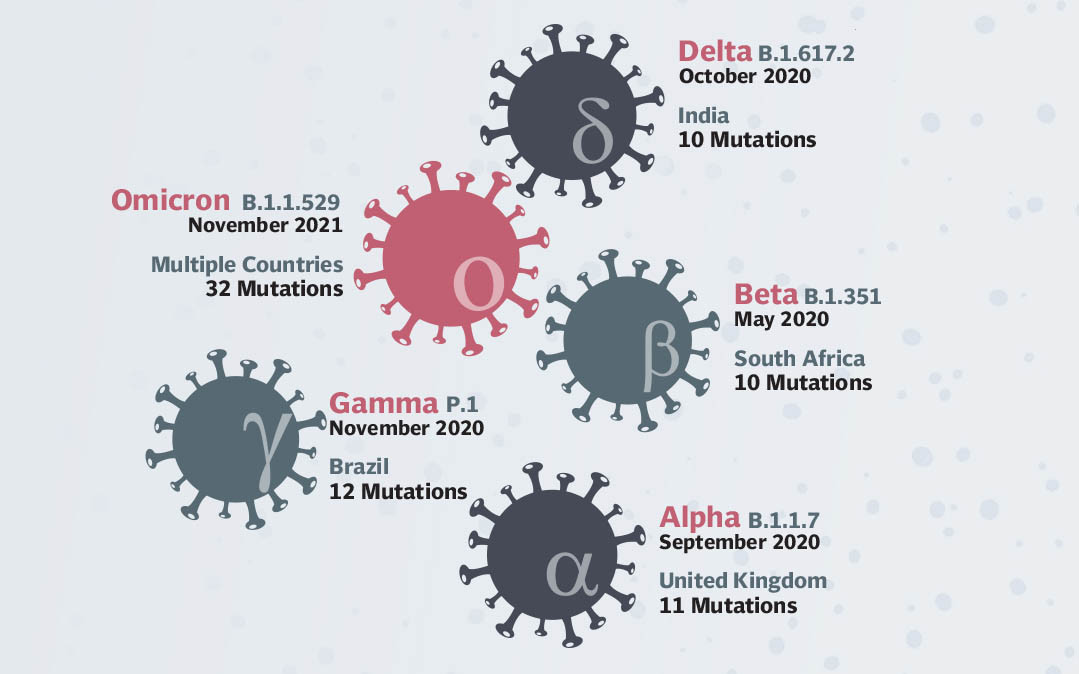 What are the symptoms?
Despite the high number of patients being admitted to hospitals across the world, there is no exact or perfect template or checklist to define what a typical case looks like. People who have been diagnosed with Omicron report a mix of symptoms. Those symptoms, according to experts, come rather quickly once a patient is exposed (usually three days after exposure) to the virus, and are said to subside without the need for hospitalization in most vaccinated patients. However, those who are not vaccinated are likely to develop serious symptoms and would require hospital care.
"As far as indications are concerned, we do believe that Omicron infects the upper respiratory tract more than the lower respiratory tract so fevers, chills, sore throat, cough are the common symptoms," explained Dr. Younus. "I do not think it's possible to distinguish between flu or Omicron or Delta just based on the symptoms so people should get a rapid test or a PCR, the most widely used diagnostic test for the coronavirus, to determine exactly what they're going through," the health expert said. Data collected by doctors suggests that the loss of smell and taste, the tell-tale sign of Covid-19 appear to be less common in patients infected with Omicron.
Bottomline, limit your exposure, and get tested as soon as you notice the symptoms.
When asked about protection against Omicron's dizzying spread, Dr. Younus said: "The strategies to mitigate Omicron remain the same that we've used for previous variants."
"Number one, vaccinate. Number two, if you've already received two shots, get your third shot to boost your immune system that is typically recommended after six months of your second shot. Number three, wear the best quality mask whether that is a N95 or KN95 or a surgical mask. And number four, simply avoid large gatherings – common scenarios will be indoor gatherings, whether they're educational, religious, or weddings, or things of that sort, where you just don't know who may be symptomatic and who may not be symptomatic," he explained.
On the use of cloth masks, the Maryland-based health expert sounded a note of caution. "Cloth masks do not offer protection against the extremely transmissible Omicron variant. They don't prevent virus particles from entering your nose or mouth and aren't effective against the new variant," he said.
Which group is the most vulnerable or exposed and what should they do to lower their risk?
With more and more health data available, experts now believe that the new variant's high transmissibility will become dominant within weeks in many countries, threatening medical systems in places where a significant portion of the population remains unvaccinated. According to studies conducted since the onset of the new variant, evidence seems to be emerging that Covid vaccines still provide some level of protection against Omicron.
In short, get vaccinated, if you haven't already. And if you're already vaccinated, get a booster to enhance that level of protection as soon as you're eligible.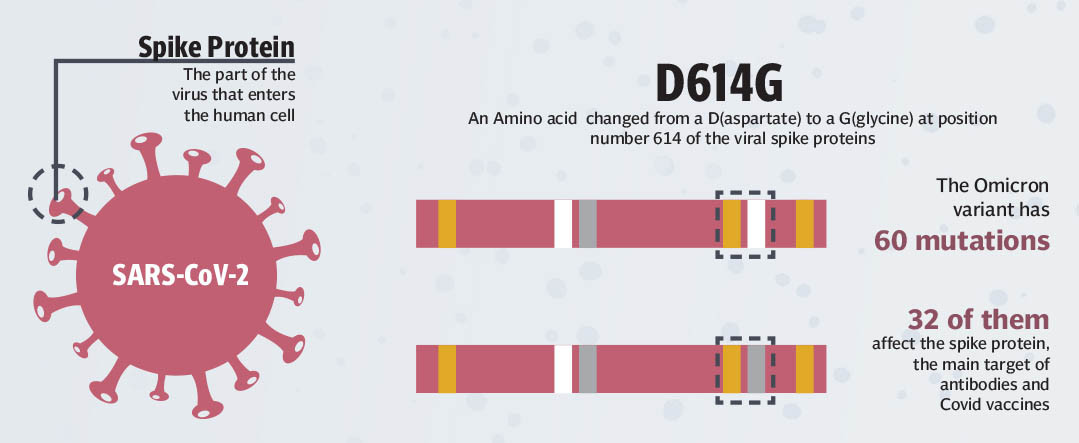 How can we stop Omicron?
Most experts have a very simple answer to that question. The Covid virus or the super spreader as it has been commonly known since its onset two years ago, can only be stopped when a maximum number of people are vaccinated, and people continue to follow the safety protocols and guidelines issued by the WHO. Without that, case counts, though imperfect, will continue to mount.
The shortest response to this question is that nations around the world will have to marshal resources toward vaccinating a significant portion of their citizens to prevent the spread of Covid and its variants.
Responding to a question about the most vulnerable group, Dr. Younus said: "It's ironic that the group that's the most vulnerable is also in the most denial."
"People who are the most at risk, pretend that they're also very brave. It's not a test of their bravery. What I mean by that is those who are unvaccinated or who continue to resist or question the vaccines or those who refuse to wear masks, or those who simply do not take precautions are at greater risk. At the same time people who are immunocompromised, by that I mean, those who may be on hemodialysis, who are receiving cancer treatments, or they're on steroids, or other immunosuppressive drugs are at risk. In general, we know the underlying conditions increase your risk as well, which is obesity, diabetes, high blood pressure, heart failure, chronic obstructive pulmonary disease (COPD), kidney failure, all those patients should take extra precautions. And the risk of death also proportionally increases with age," explained Dr. Younus.
"If you are 50 years old, you're likely to be better than those who are 60 years old. And if you are 60 years old, your outcome is likely to be better than those who are 70 years old and so on and so forth. Vaccinated people or people who have already recovered from Covid will have some immunity. How much we don't exactly know," the expert added.
Will 2022 be better than 2021?
According to University of Maryland's Dr. Faheem Younus, to control or reduce the disruption caused by the highly contagious respiratory disease, we will have to get our act together. That means get vaccinated, get boosted when eligible, and continue to follow the safety and health guidelines. "Let's be real. Covid can't read a calendar. Nothing magical will happen in 2022 unless we get our act together," said Dr. Younus.
Researchers, according to a New York Times article, are working on mathematical models to predict what the highly contagious variant of Covid will do in the months to come. These models, the article explained, are based on assumptions about Omicron, and those assumptions may need to be altered as more evidence surfaces. But the scientists are confident about their findings related to the variant's extraordinary transmissibility and its ability to evade immune defenses.
Are lockdowns and curfews the solution?
At the onset of the global health crisis, several countries witnessed strict internal shutdowns and variable degrees of external travel restrictions. While that helped the health system and was accompanied by an audible sigh of relief from most quarters initially, it ended up penalizing the economy both locally and globally.
Lockdown and curfews, Dr Younus said, are always used as a temporary measure to either improve your capacity or reduce the spread of the virus. "I personally think that now almost two years into this pandemic, we should have immunized at least 70 to 80% of the population. And in those countries, there should be no need for another lockdown or another curfew. However, my fear is that when this wave comes, if Omicron or Delta or a future variant hits a system, like it hit the US, UK or Indonesia, or India, the virus dictates the policy. And in that case, it gets difficult to maintain the economy and keep things open. So, if that happens, yes, as a last resort, lockdowns will be the only solution. But we must do everything to avoid that and the best way to avoid that is to have excellent mass communication, work on vaccine hesitancy, inoculate as many people as we can and as fast as we can."
Lockdowns, the health expert said, punish the poor, law-abiding and the vaccinated. "These groups aren't the problem," he added.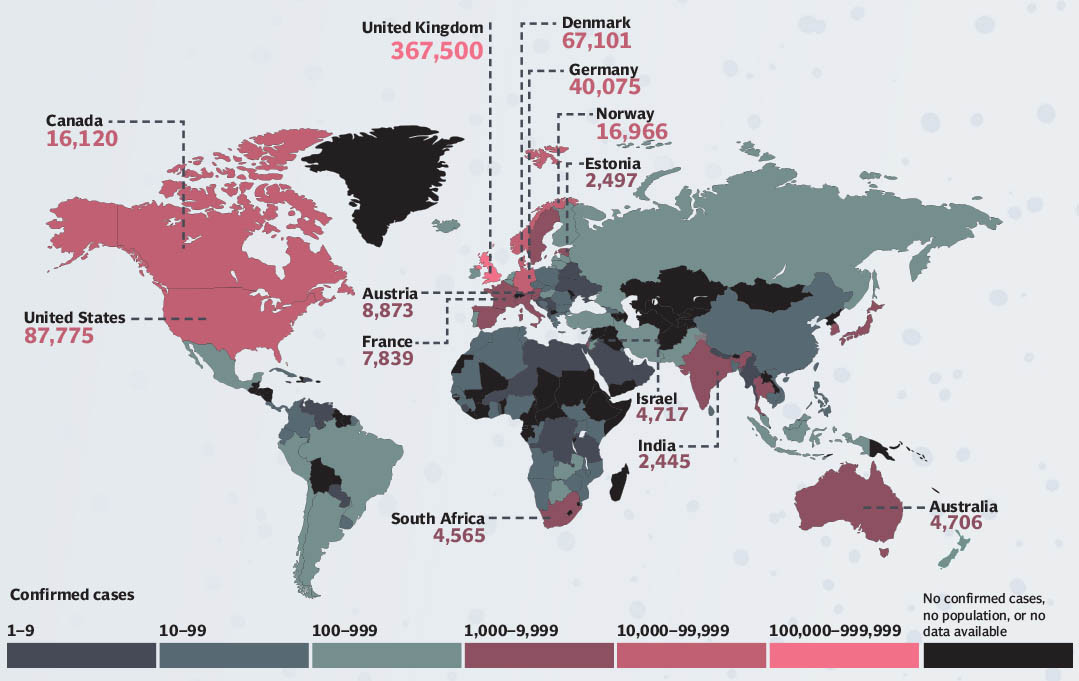 Do vaccines offer protection against Omicron?
The million-dollar question has been answered repeatedly by health experts all over the world. Yes, vaccines offer protection against serious illness in most cases. Studies conducted by the UK Health Security Agency suggest that vaccinated people are less likely to get seriously ill after contracting the Omicron variant of the coronavirus. The number of patients who would need hospital care after being infected with Omicron is likely to be half as those infected with the Delta variant which is responsible for a significant number of deaths across the world.
According to Dr. Younus, who concurs with other experts, those who received booster shots were 80 - 90 per cent less likely to need hospital care, compared with unvaccinated people. The risk of being admitted, he explained, is significantly lower in patients who have received two doses of a vaccine.
"Studies have shown that for those people who have received two shots of Pfizer their immunity dropped to 55% and those who received two shots of Moderna, immunity dropped to 37% against the Omicron variant. While if those people received a third shot, their immunity went back up to high 80s and even in the 90s, depending upon the host. So yes, we know that the third shot or the booster shot, improves the immune system and protection. We also know that this is nothing unusual. Other vaccines such as Hepatitis B, a vaccine-preventable liver infection, typically require three shots to boost and build enough immunity in a subject," said Dr. Younus.
"This is a rapidly changing virus and therefore when the virus changes its strategy, and a new variant comes out we must change our strategy and up the ante on our protection. That is why booster shots are extremely important," he explained.
To another question about vaccines, Dr Younus said any vaccine is still better than no vaccine.
Experts all over the world have maintained that while the latest variant of the virus appears to be slipping past antibodies, evidence suggests that existing vaccines will continue to provide some protection, by triggering a second pillar of the immune response from T-cells and the general prediction is that protection against severe hospitalization and death (due to the new variant) will be maintained in people who are fully vaccinated.
Bottomline, if you're vaccinated, Omicron might be less severe than for those who are unvaccinated.
While the debate about Covid-19 seems to be complicated and constantly changing, experts are openly talking about new and existing methods to deal with the health crisis – which has claimed more than 5.48 million lives worldwide since its onset.
This week, Dr Anthony S. Fauci, the US government's top infectious disease expert, told a local news channel that it was time to stop focusing on the case counts and more on the hospitalizations.
According to data available with the Express Tribune, about 60 per cent of the world has received at least one dose of a Covid vaccine. But most of these shots have been administered in the developed world or the wealthiest nations, leaving people from Asia and the less fortunate parts of the world, exposed to the highly communicable respiratory disease.
The WHO chief has repeatedly urged the leaders of the developed world to increase the sharing of vaccines. In his last press conference, Dr. Tedros said: "Booster after booster in a small number of countries will not end a pandemic while billions remain completely unprotected." But his warnings appear to be falling on deaf ears.
What is almost certain, health experts fear, is that the world, at some point, will have to learn to live with the disease. The virus, they said, is likely to become more common like the flu and other seasonal health issues.
On the other hand, a leading expert who helped create the Oxford-AstraZeneca Covid vaccine has said that giving everyone booster shots several times a year is not sustainable or affordable.
In an interview published by the Daily Telegraph, Professor Andrew Pollard, the director of the Oxford Vaccine Group and head of the UK's Committee on Vaccination and Immunization said: "We can't vaccinate the planet every four to six months. It's not sustainable or affordable." The UK-based expert said the world needs to focus on the vulnerable, rather than administering doses to everyone.
While the virus shows no signs of slowing and theories to combat it continue to change, Dr. Younus believes that the world needs to rely on the strength of scientific evidence. "Don't be fooled by a majority of fools around you. Get vaccinated. Get boosted."