PUBLISHED December 26, 2021
It seems that the Sindh government may once again have to pay heavy compensation to the residents of Kachcha Bunder, as huts and kachcha houses have started mushrooming inside the Bunder wall at the right bank of river Indus. Most of the residents of the Kachcha Bunder are the old residents, who along with others had vacated the area after receiving compensation from the government. Majority of the residents of the Kachcha Bunder had utilised the compensation by purchasing land near Achchiyoon Kubiyoon in Rohri and constructed kachcha houses, while some of them wasted money on buying motorcycles, television sets and costly mobile phones and started living in rented houses in the slums.
It is worth mentioning that as a result of the super flood in Indus back in 2010, the entire locality of the Kachcha Bunder was inundated and the residents were forced to take shelter on the main Bunder road. Only then the authorities decided to get the right bank vacated through force, but strong resistance posed by the residents, compelled the authorities to reverse their decision. Later, former Pakistan Peoples Party senator Islamuddin Shaikh held negotiations with the protesting residents of the Kachcha Bunder and promised to take up the matter with the government. As a result, the government provided a sum of Rs 600 million, which was distributed among the residents of the Kachcha Bunder and according to criteria an amount of Rs 300,000 was given to the owners of small houses and Rs 600,000 to the owners of big houses and in this way the possession of the Kachcha Bunder was vacated peacefully.
Though some of the residents claimed that, they were not given any compensation, rather it was given to near and dear ones, who never had any house inside the Bunder wall, but with the passage of time, their protests died down. After the vacation of Kachcha Bunder, the residents of Sukkur especially living at Bunder road, Miani road, Jinnah Chowk, Mochi Bazar, Frere road and others were left without domestic support, because women living in the Kachcha Bunder used to work in various households and that too for little salary. On one hand, the people faced hardships in finding alternative domestic support, while on the other they also felt relieved as it also led to a decrease in street crimes. Kachcha Bunder had become a safe haven for the street criminals and drug peddlers. As a matter of fact, the settlement at Kachcha Bunder was illegal because the land belong to the Irrigation department, but the residents were given electricity, gas and water connections on political basis, being voters of a political party.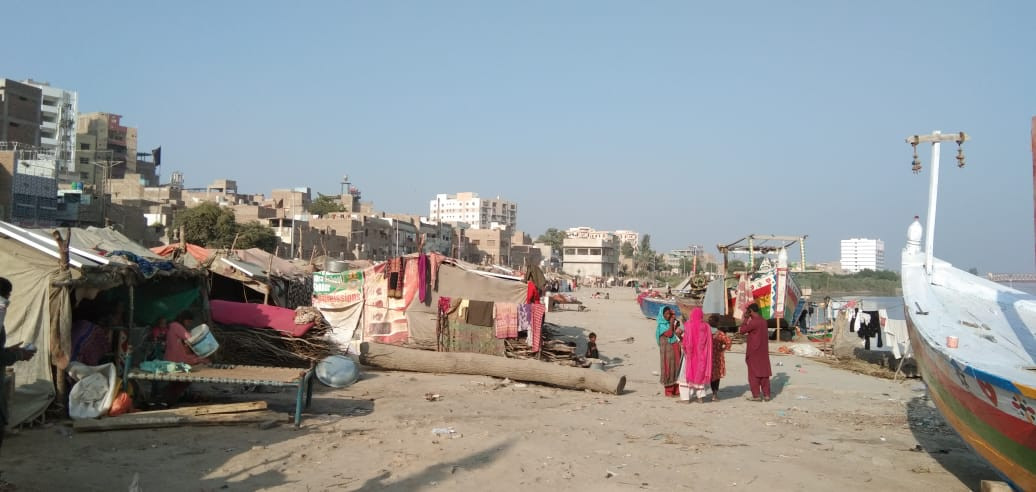 Now once again dozens of huts and kachcha houses have been constructed inside the Bunder wall and the number of huts is growing with every passing day. As the land belongs to the Irrigation department, therefore the officials keep visiting the area from time to time, warning the residents to vacate the place or face police action, but the residents never take such warnings seriously, as they know very well that, the politicians once again will come to rescue them. During a visit of the area, it was found that there are more than 100 huts and kachcha houses constructed and more are expected to come. Interestingly majority of the male members of the families don't go to work, instead they send their women to find some work to make the ends meet. Out of dozens of male, this correspondent found only one man namely Mohammad Nawaz, who was repairing a boat.
Narrating his story Mohammad Nawaz claimed that he used to live inside the Bunder wall since his childhood and in 2011 they moved to some other place following promise of compensation, but no compensation was paid to them. "We were living in a rented house, but it was too difficult for me to pay rent from my little income and therefore I have moved back to Kachcha Bunder. According to him, he is an expert at repairing boats, but repairing two to three boats in six months is not sufficient to cater to the needs of a 15-member family. I have five sons and all of them are married and jobless," he said. "They seldom find work in the city and therefore they scavenge through heaps of garbage to find cardboards, old shoes, empty bottles and pieces of iron and plastic to earn something for the family".
"Our women use to work as domestic support in different households in the city and often bring some leftover food for the family, besides bringing some money every month", he said. Strongly criticising the Sindh government he said, "many residents of the Kachcha Bunder were not paid compensation as promised by the PPP senator. He blamed the authorities who also paid compensation to people, who never lived in Kachcha Bunder on political basis and to some extent he was right, because some of the party workers were given compensation amount under favoritism.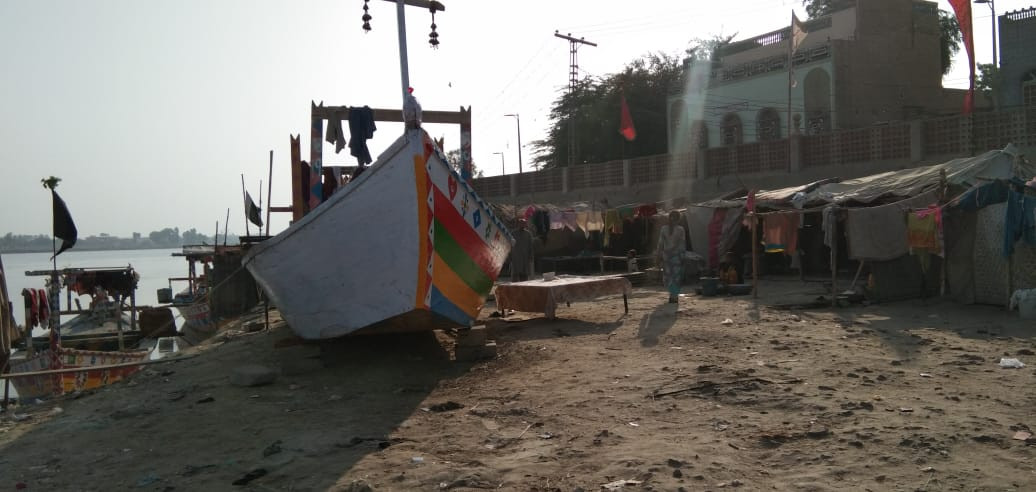 While passing through the huts, a woman named Uzma with apale face and bulging tummy caught my attention and I asked her, whether she or her husband had jobs? She opened a pouch of naswar, made a tiny ball and expertly placed it inside her lower lip, giving a smile showing her uneven pale teeth, probably due to use of Naswar and called her husband namely Saddam, who was lying on a cot playing some game on his mobile phone. The man stood up and reluctantly came to me and asked what is the matter?
I told him that, I am a journalist and doing story about the residents of Kachcha Bunder. "Better ask my wife", he replied and once again went inside the hut. "He never talks to strangers", she said adding, he has nothing to do except for eating and playing games on his mobile phone. Replying to a question Uzma said that during seven and a half years of marriage with Saddam she gave birth to three sons and two daughters, of which two sons died within six months of the birth. "Now once again I am expecting and I am hope this time I will give birth to a baby girl," she said.
When asked why she wanted a baby girl, she gave a big smile saying, "girls will help me when I will start working as maid." Looking towards her husband, who was busy with his mobile phone, Uzma whispered, "our men seldom go to work, and instead prefer to remain at home, play cards or games on mobile phones."
Meanwhile another woman Rehana joined us. Her story was no different than that of Uzma because her husband had gone out to pass time with his friends, while Rehana, mother of two sons used to work as a maid in a house and earn Rs 3,000 per month. "Our life is very tough, our men never go to work, but yes, sometimes they go out, scavenge through garbage to find something to sell, but they never give us a single rupee," she said.
Yet another woman Shumaila holding her baby girl in her lap came out of her hut to see what was going on. Narrating her side of story she said, "We are living here amid lack of basic facilities like electricity and gas. Earlier we used to go to the Kachcha area to bring some burning wood, but now the criminals living in the Kachcha are not allowing us to take away burning wood," she said. "Now we have to buy burning wood to prepare meals."
While I was talking to the women, a man named Ghulam Mohammad came to me and asked why I am here? "I am doing story about the Kachcha Bunder," I replied.
He said, "you know one thing? There is nothing for the poor in Pakistan. The politicians are enjoying every bit of their lives, while we the poor take birth like animals and die like animals," he remarked. "Jao Baba jao apna kaam karo, humari fikar mat karo," he cut short the conversation and walked away.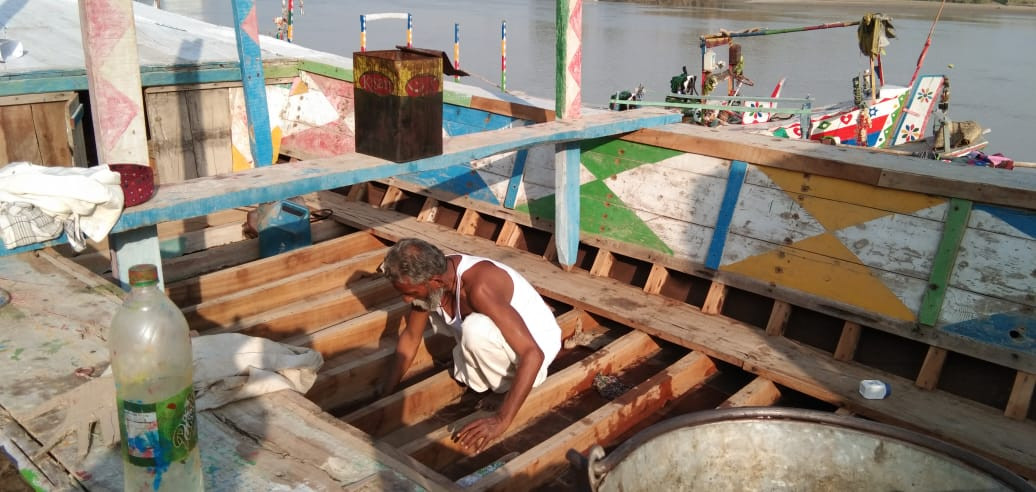 Later I walked past some other huts to find other women to talk. A woman most probably in mid 20s was sitting on a cot with her four kids and on seeing me stood up and introduced her as Shumaila. She told that she works as domestic support in three houses at Bunder road and earns 8,000 a month. "My husband takes away his share out of my salary and waste it in gambling and consuming liquor," she said with a sad smile. "I go to work at about nine in the morning and return back in the evening along with some leftover food for my children," she said. "My husband comes back home late in the night and falls asleep without uttering a word with me or children. She says she was married to Rafiq at the age of 13 and lost my first baby minutes after birth. Now I have three sons and a daughter and don't want even want to give birth to yet another child," she said.
Nasreen yet another resident of Kachcha Bunder is the mother of eight children and her husband is serving sentence in the prison following attempted murder charges. "My husband has been in prison for the last four years and I have had to take care of the whole family including my in-laws," she said adding, "I work in seven houses as a maid from dawn to dusk to earn my livelihood." According to her, her elder son Kashif works at an electronic shop and earns Rs 7,000 per month, of which he gives his mother Rs 5,000 and holds Rs 2,000 for his own expenses.
Before leaving the area, I saw a woman sitting on the ground, feeding her new born baby. Her name was Amna and she was married last year with a man double than her age. When asked whether she wanted to share her story, she said, why not and started narrating her story. Amna's marriage was solemnized with Suleman in exchange of Suleman's sister, who was married to her brother. "My husband is a drug addict and begs in the streets, not for the family, but for his drugs," she informed. She further said that she was trying to get some job as domestic support to make the ends meet. Her mother-in-law, who was trying to make fire out of soaked wood, shouted at her daughter-in-law, ordering her to stop talking and come and help her in making fire. I tried to talk to her mother in law, but she refused saying, "just go away and leave us alone."