PUBLISHED December 19, 2021
KARACHI:
Ustad Bashir Khan is a world renowned tabla maestro and soloist belonging to the Punjab gharana. He has received many awards including the 'Pride of Performance'. He performs regularly outside Pakistan collaborating in fusion music with foreign musicians. In 1946, his father Ustad Meeran Baksh - a student of Ustad Aagday Khan - migrated from Rajasthan to Pakistan, where Ustad Bashir began his taleem from ustad Karim Bux Pairna, one of the most acclaimed tabla players of Punjab gharana.
One of the finest accompanists of this subcontinent, Bashir Khan has performed with many of the great instrumentalists and vocalists of the subcontinent starting from Noor Jahan, Runa Laila, Mehnaz, Mehdi Hassan, Ustad Nasiruddin Sami, Ustad Salamat Ali khan, Ustad Nazakat Ali Khan, Ustad Amanat Ali Khan, Ustad Fateh ali Khan, Ustad Shareef Khan, Ustad Umaid Ali Khan, Zaheda Parveen, Abida Parveen, Farida Khanum, Ajoy Chakarboty, Anop Jalota and Talat Hussain. His journey continues till today with Javed Bashir and many other current singers. Ustad Bshair has also produced rhythm for a good number of films including 'Naseeb apna apna', 'gharonda' and 'sehre ke phool'. A faculty at the National Academy of Performing Arts, he is a big name in Pakistan's classical music scene. His passion for tabla started in his childhood and has not diminished in the last 55 years. His mathematical prowess has placed him in the list of tabla nawaz of the highest order. In an exclusive interview with The Express Tribune, the master percussionist opens up about his life and passion for the instrument.
STF: How hard is it to play the tabla?
UBK: Playing tabla is not a difficult task if the teacher guides the beginner correctly. It also needs concentration and dedication. Moreover, there is no quick-fix solution, no crash courses in music and one has to put in the required hours.
STF: Who was your tabla guru? Tell me about the masters who have influenced you?
UBK: Mian Kareem Baksh Pairna Khan was my ustad. I learnt under his tutelage for 13 years in my early years and have been following his guidelines till date.
STF: How would you characterize the mass effect of Indian classical music in the 21st century?
UBK: Traditional classical music is very popular and is one of the strongest music in the world. People from around the world have found interest in this music. They are learning this genre and composing too which is a good sign. It has influenced the western style of music.
STF: Solo tabla has a huge audience, does it become difficult to accompany any other instrumentalist or vocalist?
UBK: Playing tabla is an art of complimenting the music in association with vocalists or instrumentalists. Performers of this instrument need to understand the music. They put all out efforts to enhance the beauty of the music and work hard not to spoil the mood, expression and composition of other performers. It is the basic rule of sangat or accompaniment. There are some difficulties in using string instruments like sitar or sarangi as it is difficult to play high beat with these.
STF: Is tabla of the old masters is withering away? Do you find a significant transition in the 'modern' tabla?
UBK: Yes, tabla beats and techniques played by our teachers are fading slowly. Their works were not saved anyway. They had no means or facility to record their works. There are not many records. Only those works that have been transported to the young generation by taleem are treasured with us. This is the difference between today's world and the past. Earlier students used to spend years with their teachers to memorise the skill and they used to transmit forward to their students. I have spent 13 years with my teacher to acquire this knowledge. But now things have been changed. Now artists are trying to create and perform new things and old teachings are dying with time.
STF: Music producers are using other percussion instruments like drum or other. Does that upset you?
UBK: Fusion is a good thing because it increases exposure. The musicians from around the world have joined us with new ideas. This has broadened our horizons. Despite all these, it is not possible for us to forget our traditional percussion instrument table, which is the foundation of our music. The tabla has its own distinctive style and rhythmic divisions. We should not neglect its value. We have our own set of instruments and we should keep up the value of classical music in order to understand them. For that we need to educate new generation with the skill.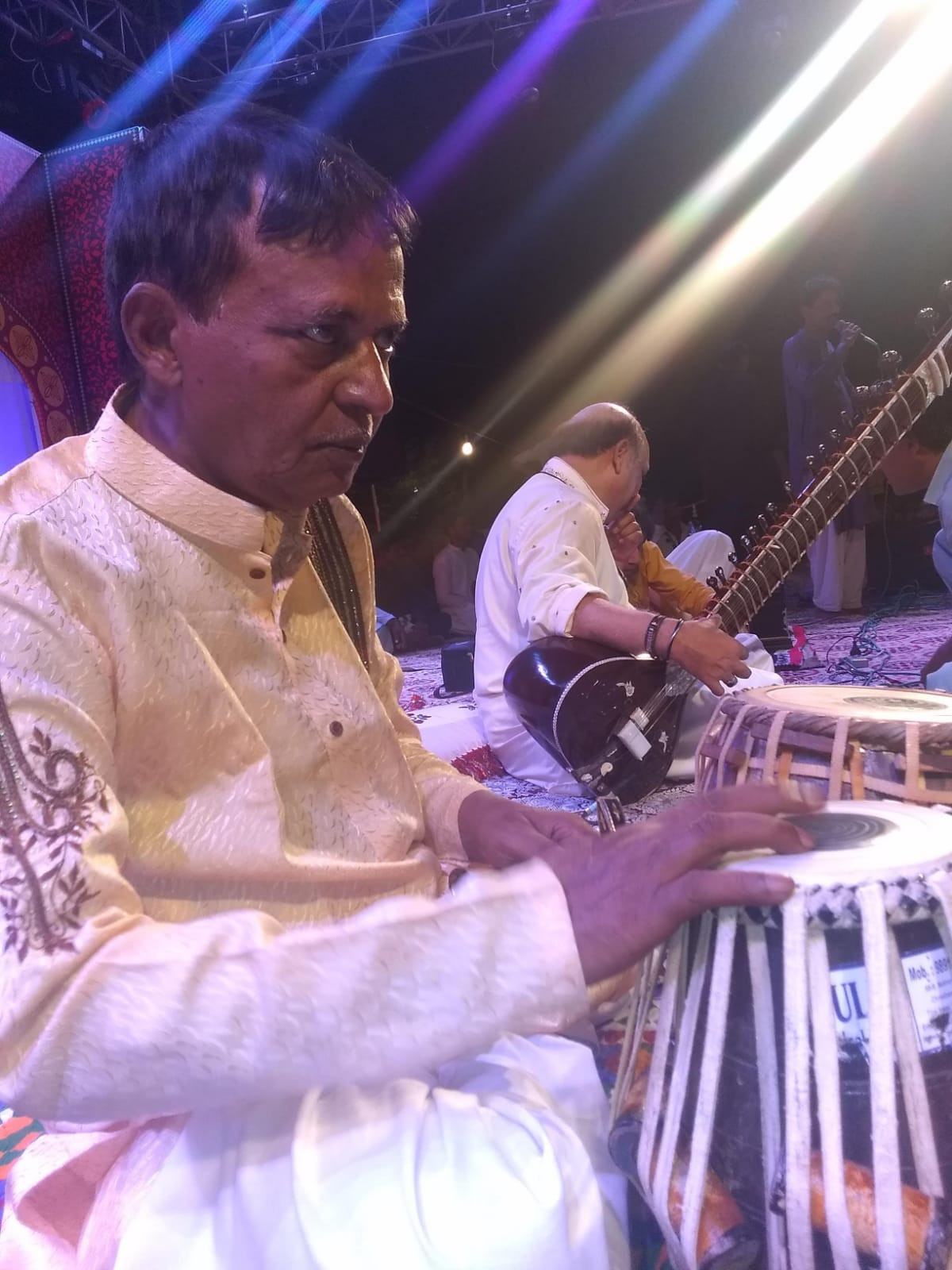 STF: Do you believe that modern tabla or other percussion instruments are killing the very essence of pure classical music?
UBK: Classical music has its own style and value. There is nothing wrong in learning modern music. I want to improvise the state of music. But one should not ignore learning classical music as it is the mother of all music. It should not be crushed on the pretext of modernisation. Once you acquire the knowledge of its grammar, you will start valuing classical music.
STF: What is your greatest hope or expectation from your audience?
I wish to popularise the instrument among the larger audience. I wish if I could teach the global audience and hope someday, they will understand the language of this instrument. People here in Pakistan should understand their own culture. I can feel that there is a good audience here. If we play rare music, people will become used to it. The only thing that matters is to create new artists.
STF: Apart from table, which other instrument do you like most?
UBK: As a tabla player I can feel the essence of all kind of music to support in sangat and I love it. If given a second choice, I would love to play sitar as it has the space for every kind of technique.
STF: How many hours of practice do you do every day?
UBK: Learning has no time limit. Now I have cached age. I am having some health issues too. It has been years now that I have stopped doing riaz. Of course, the daily habit is still in place. I do play daily as much as I can.
STF: Why did you only opt for table?
UBK: I used to play tabla from my childhood. My father too was a great tabla player. Taking taleem from ustad jee changed my life and I could not think about any other instrument.
STF: Is there a concert where you have performed that you consider unforgettable?
My big show was a concert in Sehwan in 1964 in front of a mammoth audience and I cannot forget that event. That was for the first time I was performing on a big stage before a large cream of musicians. It was a life changer and the event brought me into limelight.
STF: Let us talk a little about the grammar and beats of tabla a beginner should know about.
UBK: Hands should be positioned correctly in such a manner that it looks beautiful and at the same time produce clear beat. Once the player could produce Na and Ghe clearly, the task is accomplished. Tabla bols Tirkit Tak Ta Tit Ghir Nag and few more of the like are the basic technique and grammar used in my gharana, which is no longer heard in the world. These are the distinguished identity of my gharana. If one can tune this technique finely then nothing can stop him from learning.
STF: How much effort has this tabla taken from your illustrious father and you?
UBK: It is difficult to express in words what it takes to work hard. It is reasonable to say that we have dedicated our lives to this cause and I have been serving till today.
STF: Do you think the traditional eastern tabla has an impact on other kinds of music?
UBK: Yes, it has a powerful impact on western system since the time of gramophone. It is a very complicated instrument due to its unique rhythmic division which the western system of music lacks. It also supports other instruments in making of a music composition. It has superior quality of grammar and levels that all instruments don't have. Western music has a rhythmic mathematics of 4+4 or 6+3.We have a 16-meter teen taal but in the western system playing 16 beat is quite difficult and their musicians have developed deep interest in our eastern grammar.
STF: What will be your message be to the young generation?
UBK: I want to tell them to conserve our works. Keep the value intact. Now it is their responsibility to carry on the legacy. We should introduce tabla to today's audience and should not allow any cultural change to torment the old bols.