PUBLISHED November 28, 2021
KARACHI:
The last two decades have reshaped the technological landscape of the world perhaps more drastically than any other time in history. The digital revolution, which perhaps began not that remarkably in the second half of the previous century, has evolved and expanded exponentially. Once seen as novelties for the well off, electronic items like smart devices and digital cameras have now become integral to daily life.
But while new generation of upgrades in these gadgets, smartphones and laptops hog most public attention, the civilian unmanned aerial vehicle (UAV) or drone has gone through a silent but drastic evolution of its own. The world over, these miniature flying machines are now an essential tool in the kit of various industries. Thanks to the Covid-19 pandemic, their immense utility is now clearer than ever before.
An opportunity for Pakistan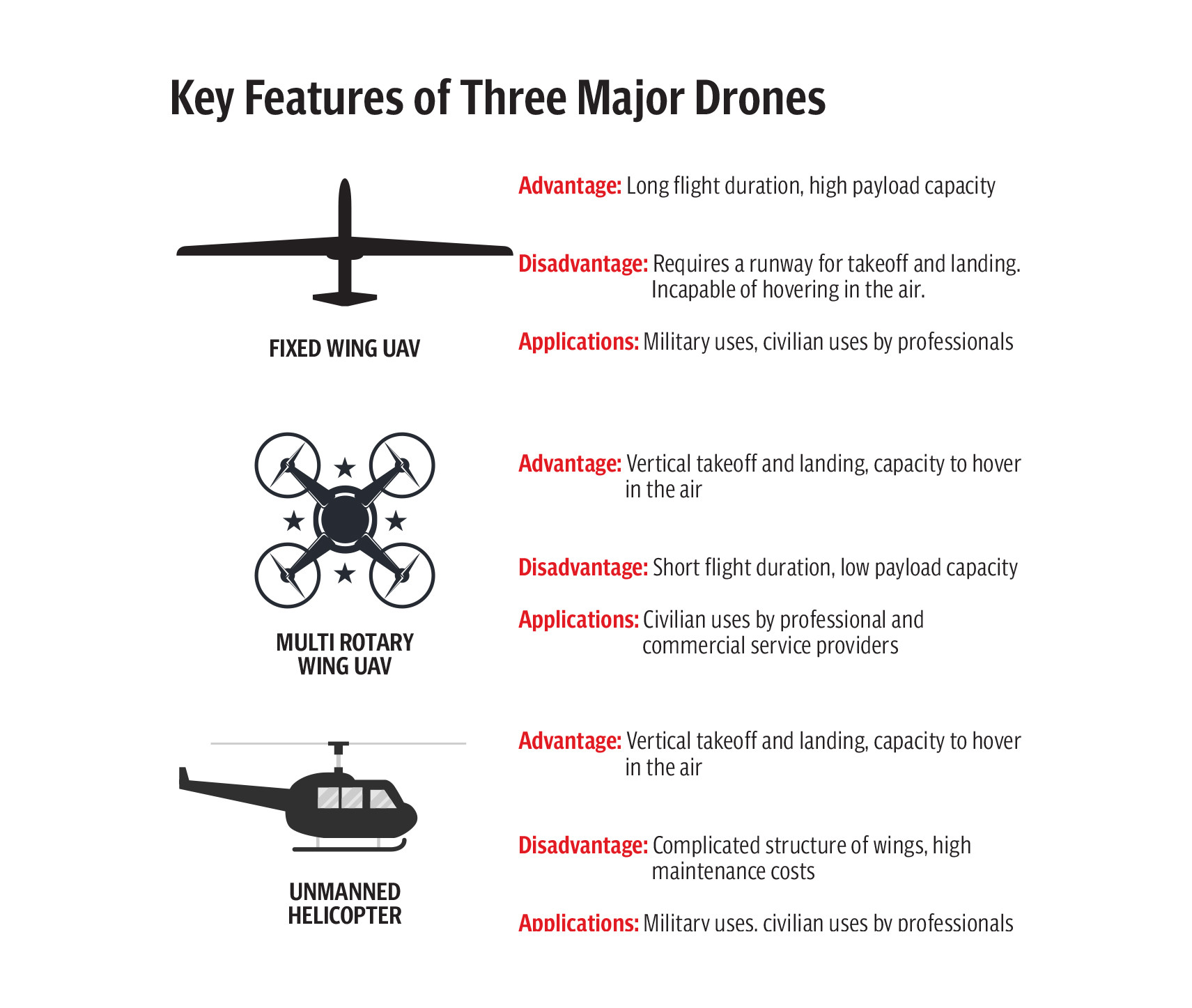 For the most part, drones have acquired a notorious reputation for Pakistan. Even as low cost commercial UAVs become readily available, the term 'drone' conjures up the image of armed military aircraft, ready to rain down precision strikes.
Even so, campuses and engineers in Pakistan are quietly engaged in efforts that could bring about our country's own drone revolution. While the image of small civilian drones flying left, right and centre above our heads, delivering groceries, health assistance and other essential services may seem more in place in the Silicon Valley right now, it may hold true for Pakistan too in a few years' time.
"Pakistan has the potential to become a producer of what is essentially the next generation equivalent of the automobile industry – drones," Dr Bilal Siddiqui told The Express Tribune. A PhD scholar of unmanned aviation, Dr Siddiqui, who has been involved in various civilian drone-manufacturing projects for the past ten years, said many countries are using drone technology to make their life easier. "We have seen them employed for everything from food delivery, air taxis, lifesaving drones, agriculture drones to mapping, wildlife preservation, replanting areas impacted by Wildlife, etc," he said.
Siddiqui emphasised that these technologies provide huge potential market for any nation that develops drones. "Pakistan can be the next big exporter of drones if the process is made smooth. The work that is being done in Pakistan related to drones is massive. Many institutes are pushing their students to make new innovations with drones, and the students are doing wonders," he shared.
According to Dr Siddiqui, there was a huge opportunity for Pakistan in this regard given the United States' move to ban the import of Chinese products for use in government services. "This is a huge market we can tap. The vacuum that is created can be filled by Pakistan. We have the best technology and the best minds to manufacture world-class drones. I believe that the students and the drone industry in Pakistan have a chance to become one of the top exporters of drones to the US and others," he asserted.
Siddiqui pointed out that even Information Minister Fawad Chaudhry, who previous held the portfolio for science and IT, acknowledged that Pakistan should aim to capitalise on this gap. "In order to do that, we need to get things straight in education, technology, imports and exports, and regulations," he said.
"It is not easy to import drones or even import parts of it to manufacture in Pakistan as the Ministry of Defense is involved in it and a lot of customs inquiries are also involved which makes it difficult to work," shared Fatima Shafique, a student of NUST AIR wind who is working on drone technology since last three years.
Engineers in waiting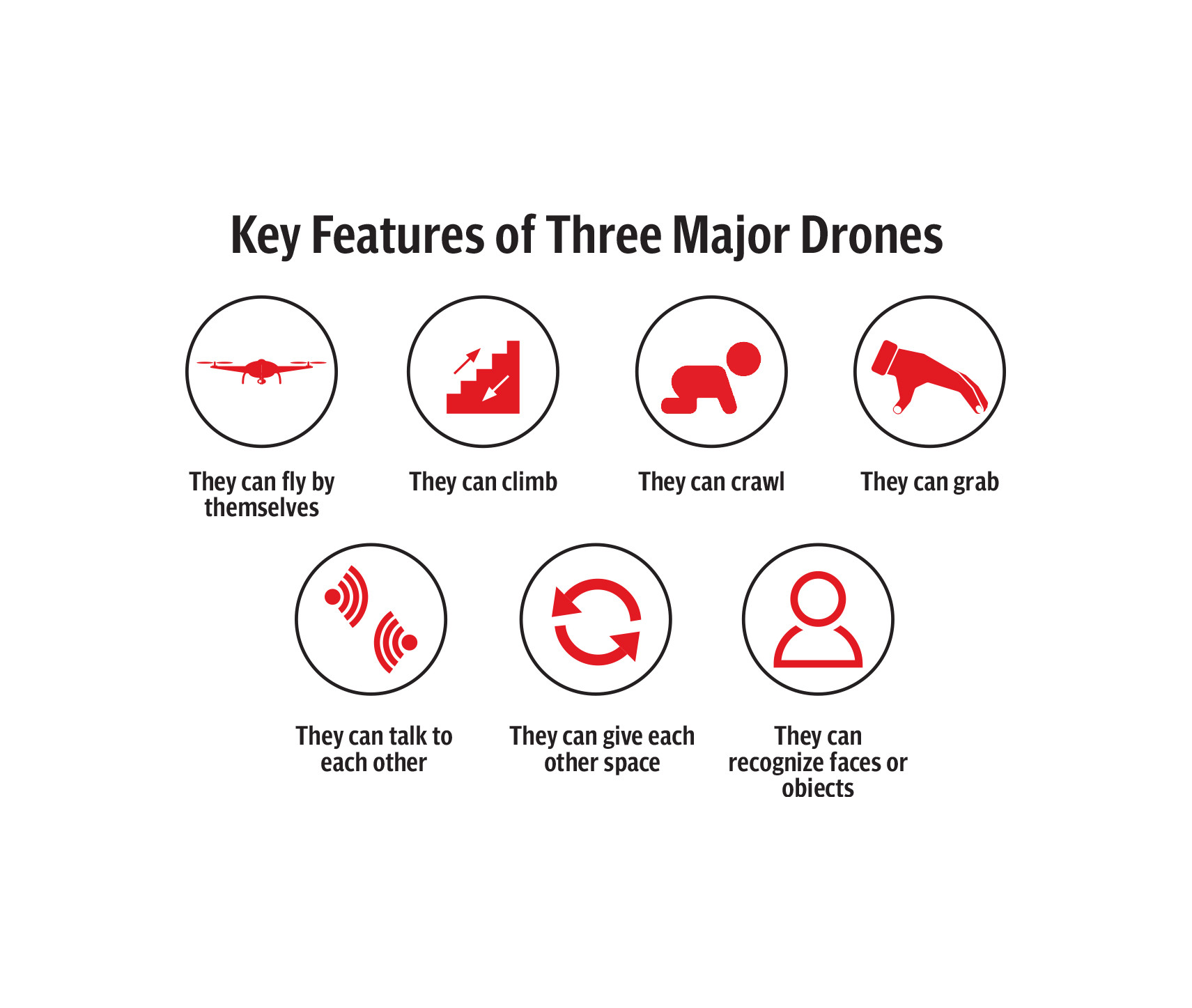 Every generation of Pakistan have done wonders and demonstrated to the world that Pakistan refuses to be overlooked in any aspect, be it education, sports, IT, acting or even video games! One of the prime examples is Arifa Karim who became the youngest Microsoft Certified Professional at the age of nine, then Haris Khan who became the youngest smartphone developer at the age of 11, Iman Qureshi – the 11-year-old Tennis star, and many more.
There are some areas, where Pakistan is still yet to step in. For example, in the automobile industry, Pakistan is yet to manufacture a complete car in the country. There are many assembly plants but no manufacturing. It may be too late for that, but with several companies which are now working on the manufacturing of drones, there are four universities that are investing in students to work on the technology and has also been participating in several international competition. The student teams in particular have also won several competitions and the universities engaged in drone research include, DHA Suffa University, National University of Science and Technology (NUST), Ghulam Ishaq Khan Institute of Engineering, Science and Technology (GIKI), and Institute of Space Technology (IST).
"The students today are more equipped than we were. They have all the information available online, have multiple platforms from where they can learn. This is why they have a lot more exposure than us. We had libraries, whereas, for today's generation, all the information is available just a click away," said Dr. Siddiqui. He added that the monopoly of the software companies is also breaking. "There are many things that were too expensive before but are easily accessible now. You have multiple platforms where you can ask questions or post an issue, and there will be experts from around the world with the best advice."
Siddiqui, who has been teaching machine design in many institutes in Pakistan, says that he always motivates the students to build. "In my course, 50 per cent of the marks are for practical work. Everyone has to do a project with some new innovations. This leads them to think out of the box and away from the theories to develop new drone uses."
Siddiqui is also the founder of Woot Tech, an aerospace company that designs and manufactures innovative and customised drone technology solutions and provides services for a broad spectrum of applications for industrial-strength commercial use. He believes the best partnership is among the industry and academia.
"We have been providing mentorship and technical and financial support to the students from top universities working on drones. The top teams of Pakistan who have won awards and competitions have worked at Woot," he said. "I have been a student, then a professor, and now in the industry side, I know all the pains and strengths of the students. I support them where they need the most, and that is the technical support. We call them here, and not only do they learn, but we also learn from them."
He added that most industries that work with the final year students require quick results in months, but they don't understand that the students have the whole year to complete their project; they will not end before that. At Woot, they are given the necessary support.
There are very few institutes working on drones technology, and Bilal believes that this can be increased with a minimal investment. "There is no institute offering aerospace program in Sindh, there are some in Punjab and K-P, but this issue can be solved. In other countries, there are schools of Mechanical and Aerospace. You just have to swap 10-15 mechanical engineering courses with aerospace, and you can produce the best aerospace engineers. There is no need to build separate institutes. If mechanical departments are equipped with aerospace, every province can produce aerospace engineers," said Siddiqui.
Manufacturing potential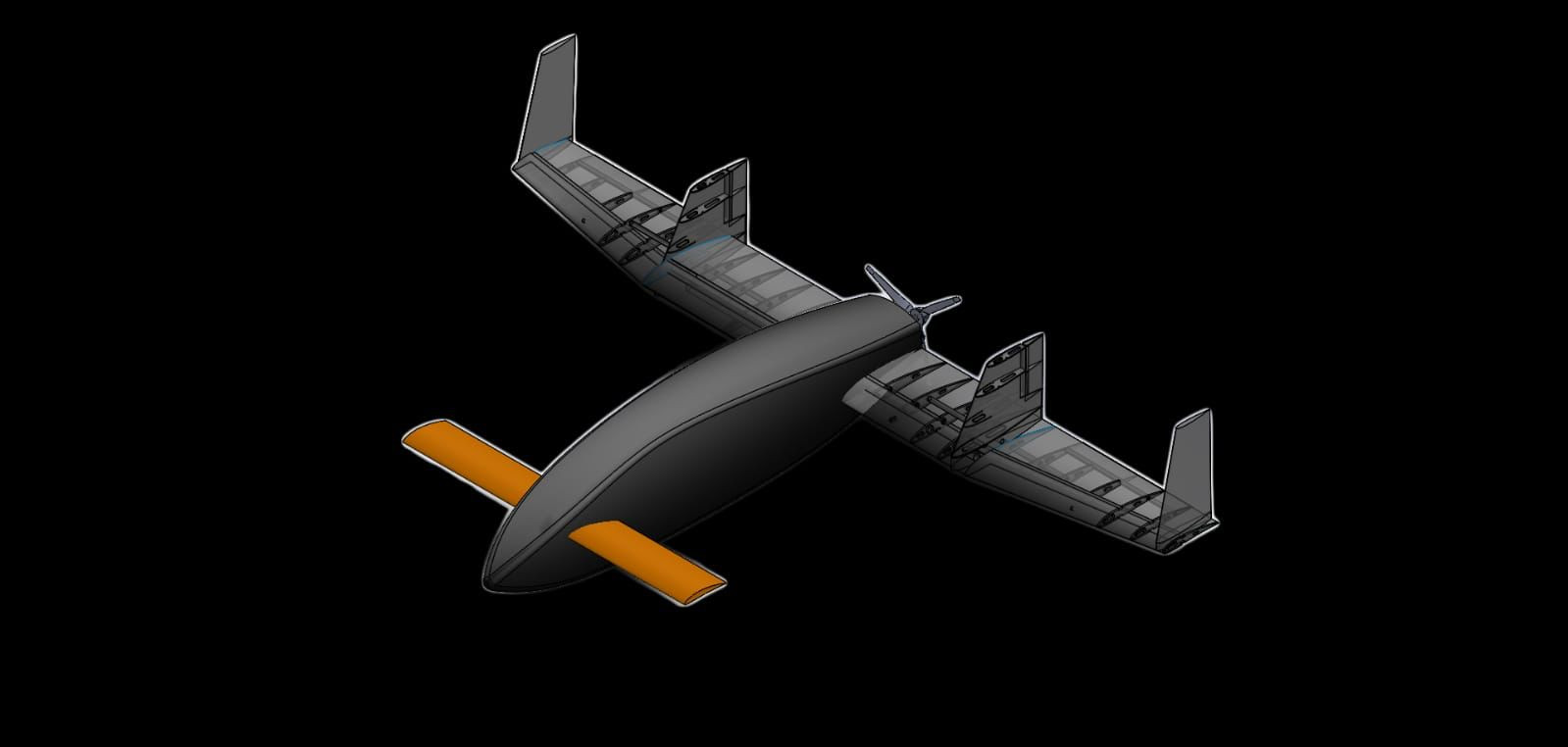 National Radio Telecommunication Corporation (NRTC) Director General of Innovation Air Vice Marshal (retd) Asad Ikram said that the civil use of drones was growing at a rapid pace and its market size was estimated at $17 billion in US alone. "Drone use in Pakistan is also growing with teams already utilising them in areas of urban survey mapping, town planning, aerial crop surveys and spraying, aerial seeding and inspection of wind farms," he said. "Moreover, crowd monitoring and policing, aerial photography, film making and light shows are also being done through service drones."
In due course of time, he expected to see civil application of drones in other areas such as wildlife counting and protection, environment monitoring, delivery of medical and food supplies, fire detection and monitoring and search and rescue operations.
A few days ago, a food delivery giant in Pakistan demonstrated the delivery of food in Islamabad using a Pakistani built drone, he said. He cherished that growth in use of civil applications of drones comes despite the difficulties faced in importing and building UAVs, their components and enabling technologies like 3D printers. "Another impediment is the restriction on UAV flying due to lack of a policy that can help regulate UAV flight with security and safety," he said. "Such a policy has been in the making but still it needs to see the light of the day."
Woot Tech CEO Bilal Siddiqui felt that delivery drones would rapidly occupy market share in Pakistani market. Siddiqui, whose enterprise has launched pilot project of food delivery via drones in Islamabad, said that the technology would be immensely successful in the future
"Amid Covid, People are preferring home based solutions hence there is bright future for this technology," he said. Siddiqui hoped that the scope of delivery drones will widen if pilot scheme is successful. Talking about localisation of drone parts in Pakistan, he said it has started and added that his company was not the first one in this field. He anticipated localisation to skyrocket in future.
Raza Sabri, who is involved in production of customised drones for defence forces and the government, agreed that the market of non-combat drones in Pakistan was quite visible and it was growing day after day. According to him, the most prominent civilian applications of drone included land survey, mapping, agriculture use and mining.
He appreciated that the revenue earned by his company from non-combat drones was rising as well given the rapid adoption of service drones in Pakistan. Sabri added that his enterprise was exploring this segment and at this point, the potential of such machines in Pakistan was extremely strong.
"Even more than drone sale segment, the service segment is expanding," he said. "Drone sale segment is where a consumer can buy a drone but drone service segment comprises of services provided by people through the use of drones such as marriage photography and advertisement creation."
He regretted that the awareness of such drones among the public was quite low.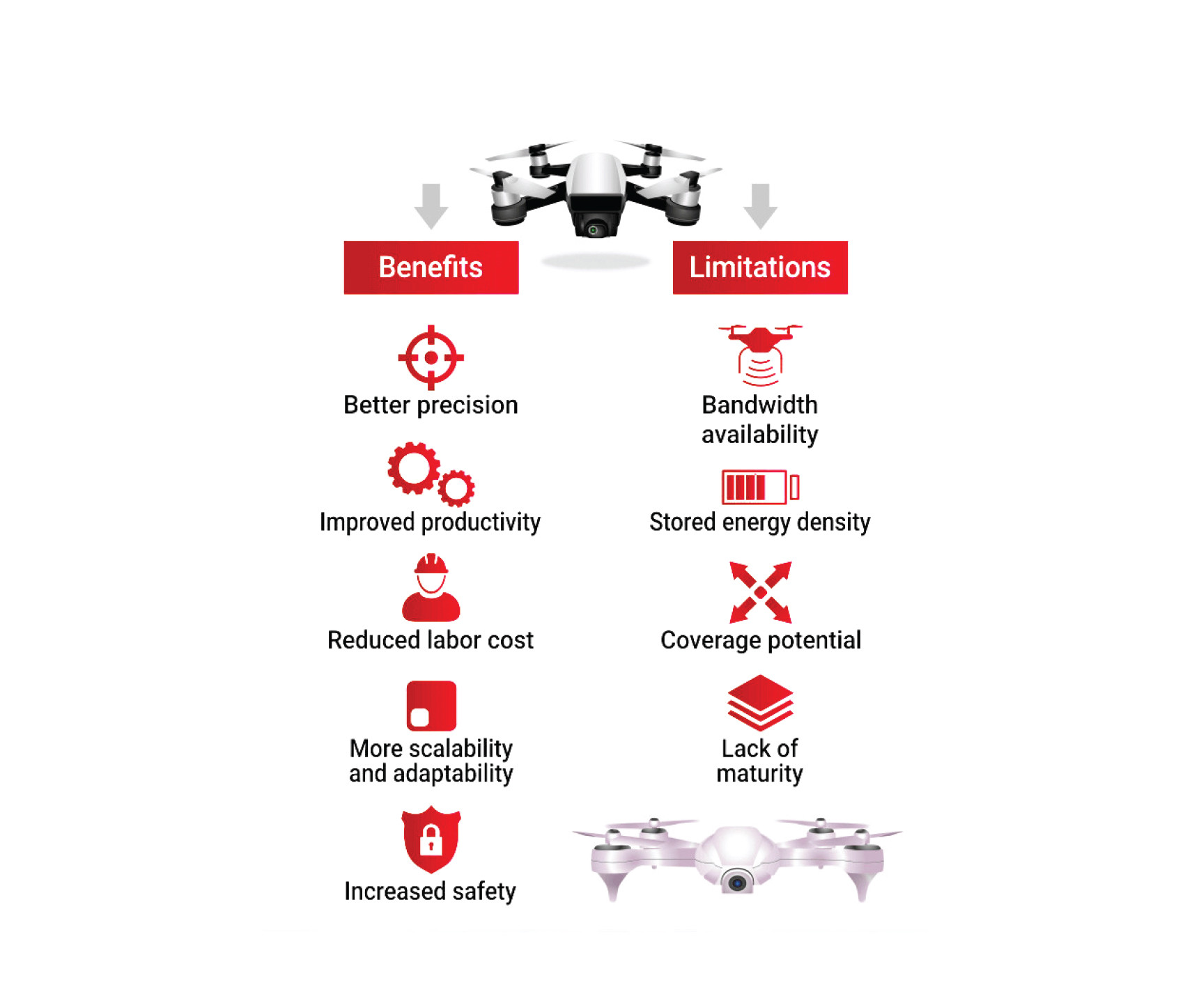 Citing reason behind this, he added that defence forces and the government had been using drones for many decades now hence they had complete idea of what functions a drone could perform. On the other hand, the general public that had adopted drones around one decade ago, will take time to learn about their true potential.
"This is also a good thing because it gives the companies the time and space to conduct different experiments on service drones and know which one would be preferred by the public," he said. Citing that his enterprises exported drones to the rest of the world, he remarked that civilian applications were gaining massive traction all over the globe. Recently, the company entered the services segment and there is robust potential in that area, he said.
Ahmed Rehan, another drone producer said that there were countless civilian applications of drones and agriculture sector of Pakistan was swiftly adopting it.
Agriculture space has huge potential but agri-drones are costly, he said. He argued the consequences of self-spraying of pesticides and other toxic liquids on farms could be deadly for humans hence farmers should invest in the costly technology to stay healthy in the long term. "Prime Minister Imran Khan's Billion Tree Tsunami initiative was not possible without the use of drones because such a big area cannot be seeded and maintained by humans in a small timeframe," he said.
Talking about more civilian application of drones, he said they could be used for safety and surveillance in housing schemes. He agreed that revenue of non-combat drones was rising because people were buying them for hobbies and for agriculture. He was optimistic that the drones will play a drastic role in the years to come as they were becoming an integral part of the internet of things.
He detailed that drones had medical use cases as well and they can be flown to inaccessible placed to save lives. "If a person is bitten by a snake in a remote area of Pakistan and ambulance is not available, drones can be used to transport medicines and cure to them so they can heal," he said. "One company is already working on it."
National Drone Policy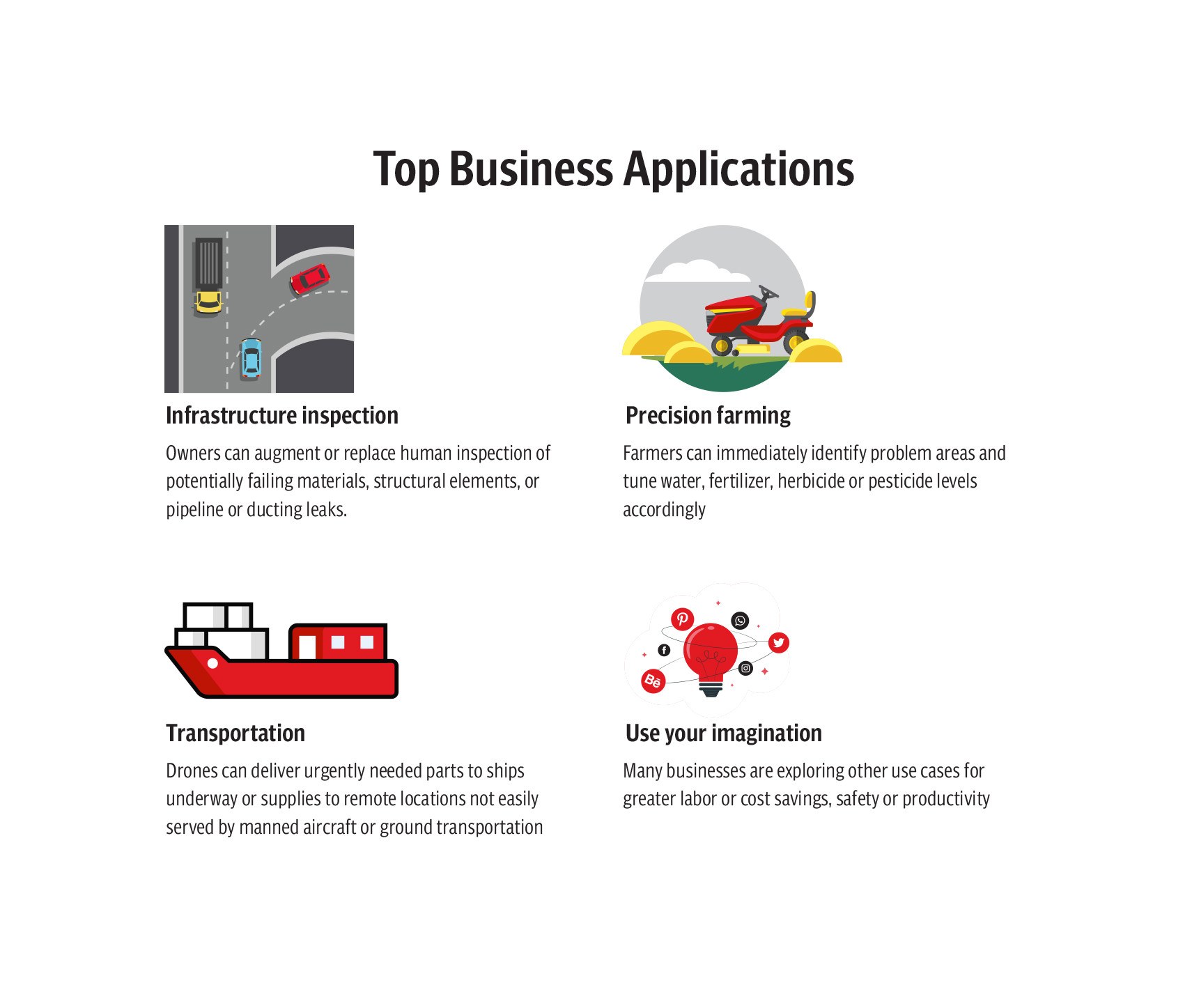 In July 2020, the government of Pakistan shared plans to formulate a National Drone Policy and in March 2021, Prime Minister Imran Khan announced creation of Civil Drone Authority to regulate unmanned aircraft in Pakistan.
Ikram highlighted that the National Drone Policy needed a three pronged approach.
"Firstly, it should enable the growth of UAV industry in the country by turning it economical to design and manufacture UAVs in Pakistan as opposed to importing them," he said. "Secondly, it should provide a practical framework for authorisation of UAV flying in coordination with CAA and other stakeholders."
Finally, he added that it should enable the formation of UAV ports and training centers so that our next generation is in step with rest of the world.
Many stakeholders term absence of approval of drone policy a major hurdle in growth of the drone industry in Pakistan.
Giving details of the National Drone Policy, Siddiqui said that it would demand licensing of drone because the government needed to know who is flying them and for what purpose.
"This will curb smuggling and increase legitimate businesses which is a good thing for the industry," he said. "Following implementation of the policy, local and international drone dealers in Pakistan would be encouraged with the passage of time."
Why do we need drones?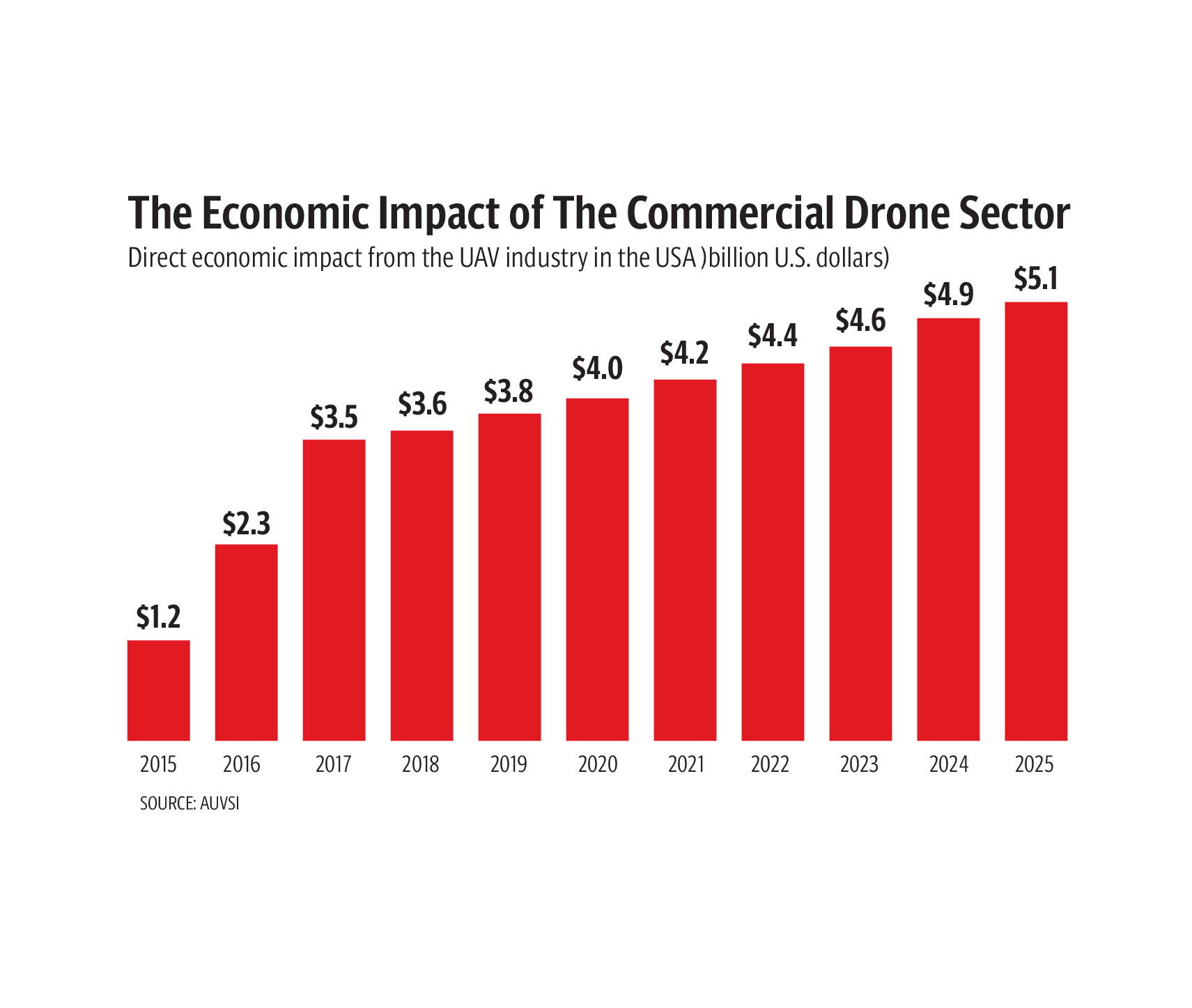 The country not only needs the technology just because the world is adapting it but also needs to understand the use and in what fields drones can be helpful. "It is not just making drones but also the concept that it can help people in need, it would not just be given to deliver food but can also help in emergency situations and provide first aid, from delivering food to medicines," shared Shafique who along with her team is working on conventional drones.
With a team of 25 members from the electrical engineering department, they have managed to be runners-up in international US talent this year. "We are experimenting on hybrid drones with 5 drones together, also on blended wing body aircraft, and long drones," she told adding that usually people only see drones as video recording and now delivering food but it has much more than with aerospace, rocketry, atmosphere, and mechanics. "Researches on government level are moving very slow but still they are working which is a good sign," she added who is in her third year of electrical engineering.
The drones which are usually used on student-level are 10 kg in weight and can fly up to 500 feet.
Uses of drones as understood by the common man are very few with watching them flying over in banquet halls at weddings or now getting the idea of drones delivering food at their doorstep with food services started delivery through them but drones are of different types which can be used for different purposes. "Drones can be used for aerial imaging of places where the human eye cannot get the broader view, such as any hunt in dense forests, research in places which are not easily accessible to humans," share Shafique. Another student, Abdullah Afzal from IST who is working on drones while adding onto information shared how the mapping of buildings can help in lessening the accidents of laborers working on high rises, and drones can bring the exact sizes and area of the building. "Drones are a better choice in the 3D mapping of the building which can help in making designs, this is the emerging technology which can help in accessing the places where humans are not able to go," said Afzal adding that these types of drones work with Unmanned Ariel Vehicles (UAV) and this technology is being used a lot in Pakistan now.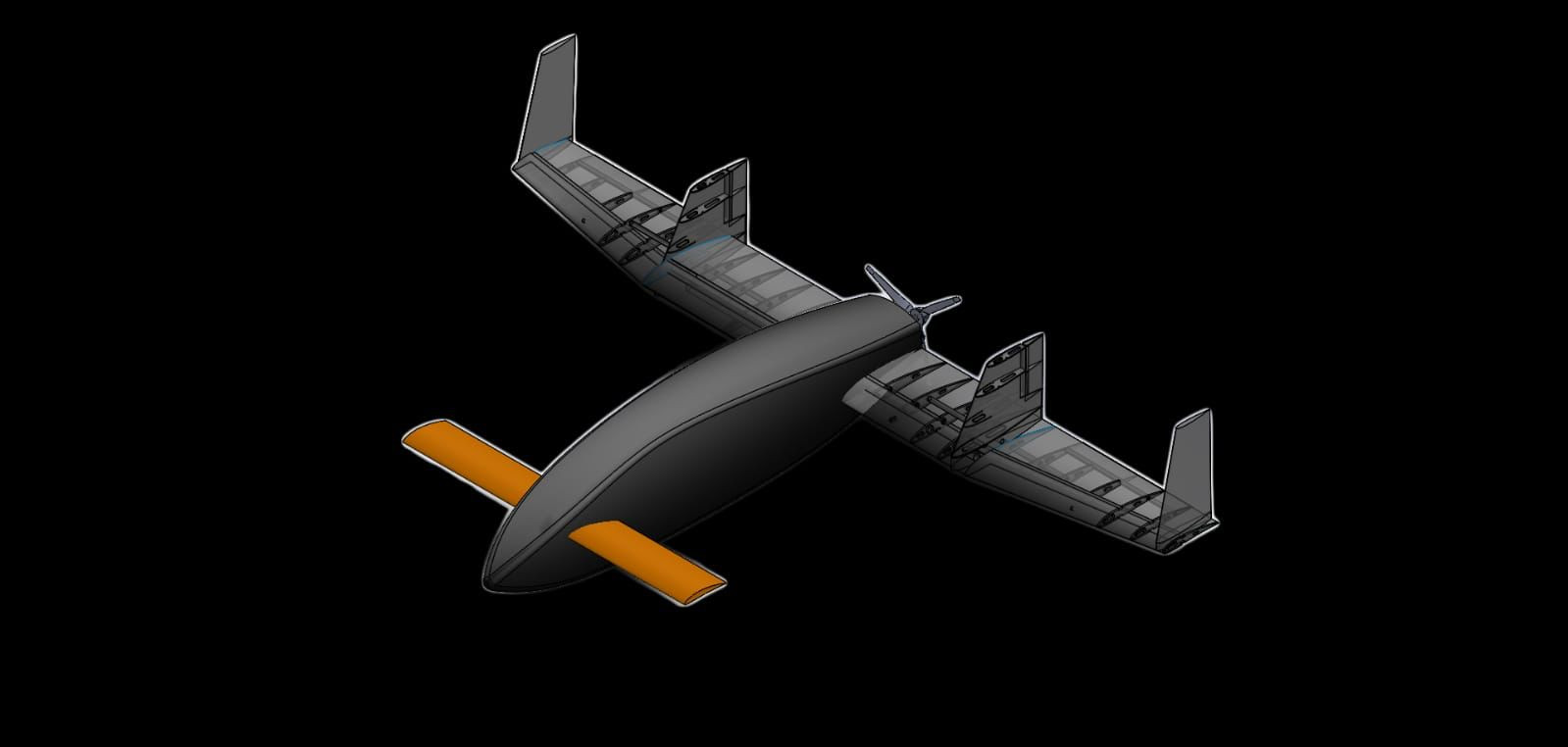 Another good use of drones can be in new societies which are under construction or just the mining has started, just flying a drone over the area can help in scanning the area for minerals and all other things that can help before starting the construction. "The technology will not help civilians but can be a great weapon for the military to help and detect danger just because the size of the drone is smaller and can be as small as the size of the palm it can help in detecting and informing about the size of the troop of the enemy," he said adding that the world is also working on suicidal drones which can detect the person and can shoot them anywhere where the target is not accessible to humans. "The drones will be very helpful in the agriculture department where drones can be used to sensor infections and any other abnormalities in fields and can also be used to spray pesticides as well," said Afzal.
Other than in Pakistan the technology can be used for helping people in difficult times and making the places accessible for the for example, in floods or any disaster the drones can help in rescuing or detecting people if they are stuck anywhere and can also provide food and medical supplies to their terraces at least. "NDMA can use them well with the given conditions and resources we have it gets difficult to reach to places in floods, earthquakes or even if any accident happens," shared Arham Abid a student from GIKI.
What are the hurdles?
Despite the government having given permission to set up a civil drone authority to help in this case, there is still a long way to go with the prices of the parts and duty on them, which makes it almost impossible for a lot of interested businesses to work with drones. "Cost of drones when imported can cost anything in between 4000 dollars to 40,000 dollars varying on the type of drone but if the drones can be manufactured in Pakistan it will cost less than half of it" shared Afzal adding that even when they manufacture drones at the university level they have to import such as motors, computers, etc which can only be imported through companies that have NOC to import from Ministry of Defense while ordering them individually is another hassle as it usually gets stuck at custom and the duty is mostly more than the actual price of the item.
A single drone that students usually make in the country for their project costs around Rs300,000-400,000 but they have to make two at once one for testing and the second for competitions. The drones which are the company's making in Pakistan are high powered which on average are of 100kg and can fly high and can be used well in helping many sectors.
According to Sabri, the biggest hurdle to the drone ecosystem was the absence of a dedicated policy to regulate drones. "Massive amount of work was done in this area and the government took a huge amount of stakeholders, including us, on board however the federal cabinet has not ratified it yet," Sabri elaborated. "Until the policy takes effect, the arrangement of drone components and usage of drones will remain a huge challenge in Pakistan."
The official underlined that drone manufacturers of the country needed to import drone parts, particularly cameras and few other equipment, from abroad and a huge amount of no-objection certificates were required for these parts which are essential to produce a drone.
"So to make a drone, we need a lot of permissions in a bid to secure raw material need from abroad," he said. "Secondly we also need a handful of permissions to test the drones to check if they are performing correctly or not."
This is a challenge because the client lays a few conditions down for the company to fulfill them while producing the drones, he said.
Every client wants different features and the companies are unable to test the complete potential of drones prior to selling it because there are no laws in place. Due to this challenge, the client's product can turn out to be faulty, he said.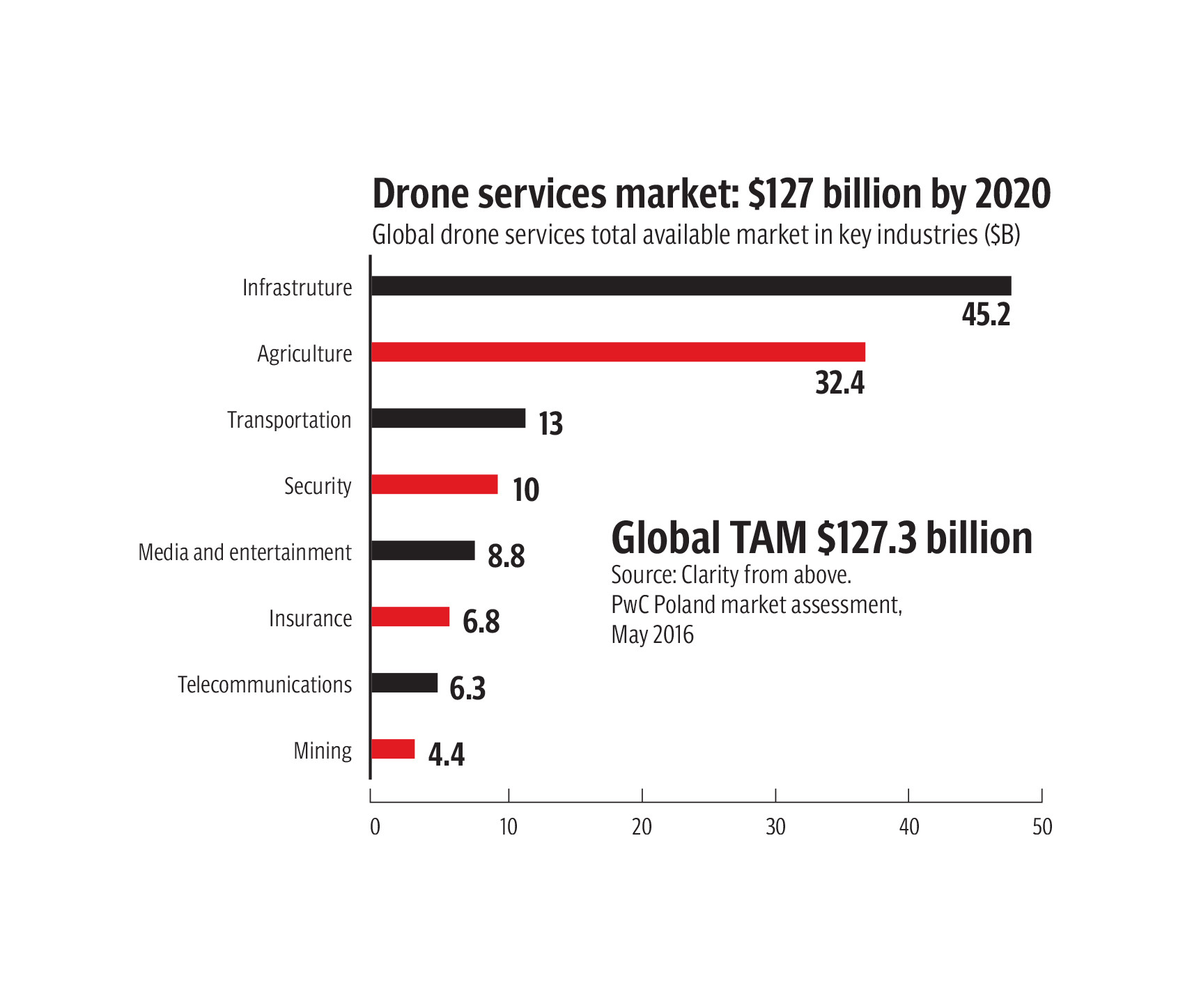 "Let's say that a client wants to survey 50,000 acres of land in Balochistan so we have to make a drone of that capacity but regrettably, we cannot be sure if it is up to the mark without testing it," he said. "The testing part is a challenge."
He added that firms could run tests on a small scale but to successfully create drones for large scale work, a few more tests are need on a huge area of land which was a challenge owing to lack of policy.
He lamented that Pakistan has remained an emerging market for drones for past 20-30 years. He detailed that buyers from defence forces and the government were increasing but the market for civilians was stagnant primarily due to lack of policy regulations. "If a large scale factory owner wants to map the roof of his facility by a drone, it is an arduous task to create such a drone because it would need a huge amount of tests that are impossible to conduct in Pakistan," he said.
Siddiqui said that the pilot project of delivery drones faced two kinds of challenges ie technical and administrative. In technical side, the materials needs to be imported hence it took time for shipments to reach Pakistan. Secondly, he added that tax on imports was high which was discouraging for the industry.
Moving on to the administrative side, he highlighted that convincing the government that drone delivery was a safe, secure and speedy way consumed some time. Rehan also pointed out that lack of policy was limiting the growth of drone industry. In addition, the government has placed unnecessary curbs on import of drones and their parts traders were liable to attain clearance from the Ministry of Defence, which was time consuming.
Security concerns
The technology seems promising for the upcoming time but what can be the reason why the ministry of defense is so concerned about the parts being imported and why few companies need to have NOC to import the parts or manufacture them in Pakistan and the answer might be a security breach and security of not just military installations but also of public. "It is not that the drones will be flying and capture people in their houses or on their terraces but they will give specific areas to fly and will be functioned to not fly in risk areas, also every drone does not have a camera installed in them and they do not fly that low as well," told Dr. Bilal the CEO of the drone manufacturing company Woot Tech. he also told that the drones used for delivery purposes have GPS and radio systems and cannot be a reason for privacy breach of the common man.
To further help in this case, only those companies will be allowed to use drones that have licensing through government and specific height and routes will be assigned to them for delivery purposes, "Licensing policy of drones has been approved from the cabinet and soon it will get better for the industry to boom," he said adding that right now the companies are working through NOC and they import the parts from UK, USA and mostly China. He also added that mostly it is easier for students to import parts as they are associated with universities while it is difficult for normal manufacturers and companies as the procedure of clearance is very long.
Types of Drones:
There are multiple types of drones being manufactured in Pakistan, including mapping, surveying, intelligence analytics, Inspection/monitoring, and Delivery of parcels and packages.
Recently, Bilal's company Woot Tech made a delivery drone for one of the food delivering services in Pakistan. The design of the drone is known as Vertical Takeoff and Landing (VTOL). It starts with the four motors, which lift it up in the air, and once it is in the air, the four motors are switched off, and the forward motors are started to get it moving.
The technology was introduced in the world in 2017, and in five years, Pakistan was able to build its own and become the first in the South Asian region to do so. The type of drone is not the one that delivers to your doorstep. In fact, there isn't any type of drone that has to your window or doorstep as according to the Federal Aviation Administration (FAA), the drone should be 400 feet radius away from a human of a structure.
Talking about the range of VTOL, Bilal informed that a quadcopter-based delivery is widespread globally, but the content is low as the continuous working of four motors takes a lot of battery. "In VTOL, as it turns of the four meters once it takes off to a certain height, the total operating time is up to 45 minutes compared to 10-15 mins of the quadcopter. Whereas, the communication range of VTOL is 20km radius and can travel with a speed of 100kmph," said Bilal, who made his first complete end-to-end Jet Drone in Air Force in the year 2018 that could travel up to 500-600kmph.
This type of drone uses a middle-mile delivery system. VTOLs are flown from point A to Point B. "A rider comes with the food to point A, and the drone takes to point B where another rider is ready to pick it up and deliver at the doorstep," told Bilal.
Another type of drone that is popularly being used in Pakistan is the Surveillance drone. They are used to mapping. The manual process can take months, whereas the same can be done in a week. "Our Surveillance drone called 'Survair' broke the record of mapping 10,000-acre land in just four days," he said, adding that it also benchmarked with Chinese drones and gave three-time more production.
The other type of drone is the one used for agriculture. The drone has a multi-sensor camera that can tell the condition of the plants with just flying above. "They tell the farmer what is needed in the land, like spray, fertilizer, or water," said Bilal.
He said that the design and mechanical equipment are entirely made in Pakistan, but 80% of the electronics are imported from China. "The problems arise when the consumer asks to meet the same price as it gets over the internet. It makes it difficult for us to meet that price, but then we have to give them what they ask for so we meet the standards and prices using different methods," he said, adding that the motors can also be made in Pakistan, but the cost of production will be too high.
Limitations
Whenever a product is used commercially and in public, it has to be regulated; otherwise, where it will be used, it can also be misused. Currently, around 90% of the drone in the country are either smuggled or brought through other illegal means as there is no policy, and the NOCs are not provided easily.
If someone has to import a drone, they have to get the NOC from three ministries; Defense Ministry, Interior Ministry and Defense Production Ministry. Only then a drone can be brought inside the country.
Bilal explaining the challenge, said that if there is no regulation, then it can be misused. "They have to register to know who is breaking the rules, if someone is damaging something, invading privacy or entering into a sensitive area. If there is no regulation, the fear of misuse will always be there," he said.
He informed that he has contacted the former IT Minister Fawad Chaudhry to develop a Drone Registration Authority that can provide licenses and renew them every year. "Almost all drones are illegal in Pakistan. The government is trying to restrict them, but technology is so common that it can't be banned but can be controlled," he said.
He also added that the government should promote the local manufacturing of drones by giving subsidiaries to local companies. "Tender should be given to the local companies. The government also supports local manufacturers as you save the foreign exchange and get the after-service easily within the country," he said, adding that the need is to promote local companies by regulating them to become the only companies selling drones in Pakistan.
Highlighting the issues of the exporter, he said as there are three NOCs required to import a drone, there is a lot more documentation required to export. "These limitations demotivate us to export as consumers outside of Pakistan don't understand this; they just want their product delivered. Until this system is not made smooth, we cannot grow this market," he said.
He also informed that other stakeholders were taken on board to discuss the regulations of drones. All the homework on the policy is done but yet to be finalized. "When Fawad was the IT Minister, he made much efforts to get this through, but then the budget came in the middle, and he was given a new ministry," he said, adding that the things have slowed down a bit, but he is hopeful that it should not take more than six months to get the drone regulations finalized.
Talking about the potential of the Pakistani market, he said that the Pakistani market is worth $1 million, and few companies cannot fulfill the demand. "We have been in this for just six months and have got massive response from the local market. More players are still to enter the market. The barrier to entry is minimal. Once the regulations are made, more players will come and increase the competition. It is good to have a local competitor than international," he said.
While giving the example of his first successful drone project done for the Air Force, a jet drone that was made and had a successful flight in the first attempt, he said teamwork is the key to success. "I had a great team that worked day and night to make this a perfect jet drone that it had the first flight a successful one. If the government and local manufacturers work together, they can tap the biggest drone markets in the world," he concluded.
Consumer growth
Rahim Khan, who specialises in drone photography, told The Express Tribune that wedding and event photography as well as the shift of marketing strategies of firms has boosted the market of services drones in Pakistan.
"Up until 2011, there were few shops in Karachi that dealt in drones and that too just limited brands," he said. "At that time, many dealers were unaware of the specifications of this technology and most only knew that they can be used for photography."
Fast forward 10 years later, world class and renowned service drones can be purchased online and all specifications can be knows, he said.
He added that despite slower growth in Pakistan compared to the world, the drone market of the country had expanded manifold over the past decade.
He detailed that besides the market for drones, the technology and resistance of drones has evolved as well.
Back in 2011, most of the drone could rise to a limited height and 50 feet was considered an achievement but today, there are few service UAVs that can rise past 200 feet in height.
"This was the vertical limit of drones, now let's discuss horizontal limit. A decade ago, the range of drones with the controller was also limited to just a few feet but today the range has widened by a massive scale," he said. "One of my earliest drones got damaged because it lost communication with the controller because of flying out of range but today, such an incident is rare."
Finally, the companies have eased the adaptability of the service UAVs as well, Khan said. Knowing how to fly a drone used to be a huge talent in 2011 because it was complicated, the official said. As a matter of fact, expert drone flyers were often termed pilots hence the difficulty related to knowing how to operate a UAV can be evident.
He pointed out that now, even kids of age five years are able to fly and control a drone easily because the companies have made it easier for everyone to adapt to it. This, in particular, aided the whole industry and helped it post steep growth.
Khan, whose occupation is related to drone photography and videos for the purpose of marketing, added that with widening popularity of UAVs, the repair segment is also gaining traction.
From a handful of shops in 2011, the number of people who can repair a damaged drone and arrange spare parts has climbed drastically. The spare part segment has also grown but not at the pace that is required to push the industry to new heights.
Furthermore, the quality of drones has improved by leaps and bounds because UAVs are able to withstand low heighted falls and there is little to no damage. A crash of any quantum could prove deadly for drones a few years back, he said while drawing comparisons.
"Services drones other than photography were also quite rare in Pakistan up until 2015 but today they are being used in delivery, medical, agriculture, surveillance, construction and law and order fields," he said.
According to him, drones were a rapidly conquering the internet of things which was previously exclusive to smartphones, smartwatches and modern cars.
He cherished that Pakistan was holding small scale service drone expos as well which was pushing this industry to fresh heights.
"Perhaps the biggest thing behind the uncontrolled expansion of service drones segment is the cost factor," he said. "A good drone is now available for Rs14,000 and a drone of lesser specifications but good quality would start from Rs55,000 in 2015 and price could go upto Rs250,000."
As more and more companies entered the industry, the dominance of just a handful of firms ended and as a result, drone penetration in Pakistan skyrocketed.
He added that the market for agriculture drones has ballooned since agriculture cooperation began under the China-Pakistan Economic Corridor.
Technology transfer from China included agriculture drones and now farmers are using them on their fields.
Sports drones
Hamid Ali, who takes part in drone racing as a hobby, stated that race drones were an emerging niche in Pakistan and the market from them was rising steadily.
"Drone racing is gaining traction because it offers thrill with life safety," he said. "As opposed to car or bike racing, there is virtually no threat of losing lives in drone racing and it is also enhancing adoption of digital solutions in Pakistan."
Detailing about the race drones, he added that they do not have high tech add ons like high resolution cameras or sturdy built and their bodies are usually light because it helps enhance their speed.
He elaborated that drone racing does not need a large scale area either and it can be practised in small grounds or empty parks.
"Usually there is a need to modify racing drones with even more lighter parts to boost their speeds and this is where the drone part market comes into play," he said. The official lamented that racing drone part market was scarce in Pakistan because this niche area was in its nascent stages.
Due to non availability of parts, Ali is forced to order them from foreign countries to improve the speed of his drone.
He underlined that drone racing could unlock new avenue for sports in Pakistan and highlighted that many foreign countries hold drone racing contests.
In the current times, even sports are getting digitalized and there is a need for Pakistan to adopt digitalization in accordance with the international standards, he said.