PUBLISHED November 07, 2021
KARACHI:
Jamal Yousuf was fully immersed as he played the short and romantic composition of Frédéric Chopin's Nocturne. From his fingers on the keys, a powerful stream released over the room where he normally spends hours playing the piano daily.
When he stopped, I realised that so powerful is the effect of music that with no words at all, it can bring one to tears.
Jamal Yousuf is a musician who experiments with music through fundamentals of his instruments and has created a signature collection. From there, he dived deep into the avant-garde of his own, where Jamal is testing new ideas and methods in the art of music.
Jamal is a music graduate, trained western classical pianist, saxophonist and a music educationist from Karachi Pakistan, who has been spreading the love of music through teaching and performing for the last two decades.
Jamal's journey as a pianist was the polar opposite of the conventional path. He taught himself to play piano before starting lessons. At the same time, he was experimenting with the saxophone.
Having played and worked with many influential national and international artists and bands Jamal has composed, arranged, conducted and played and sung a lot of original music for kids, theater, and ghazals and solos on piano.
Music is at the heart of Jamal's life, but he also has an interest in choreography.
"Piano music fascinates me ever since my brother bought Elton John's Greatest Hits on CD!", said Jamal.
Curious to learn the fun a pianistic exercise with his instrument and how he demonstrates it on the piano, I managed a session with Jamal Yousuf and tried to understand his relationship with music and how he structures chord in his compositions.
STF: How would you describe your journey through this musical world?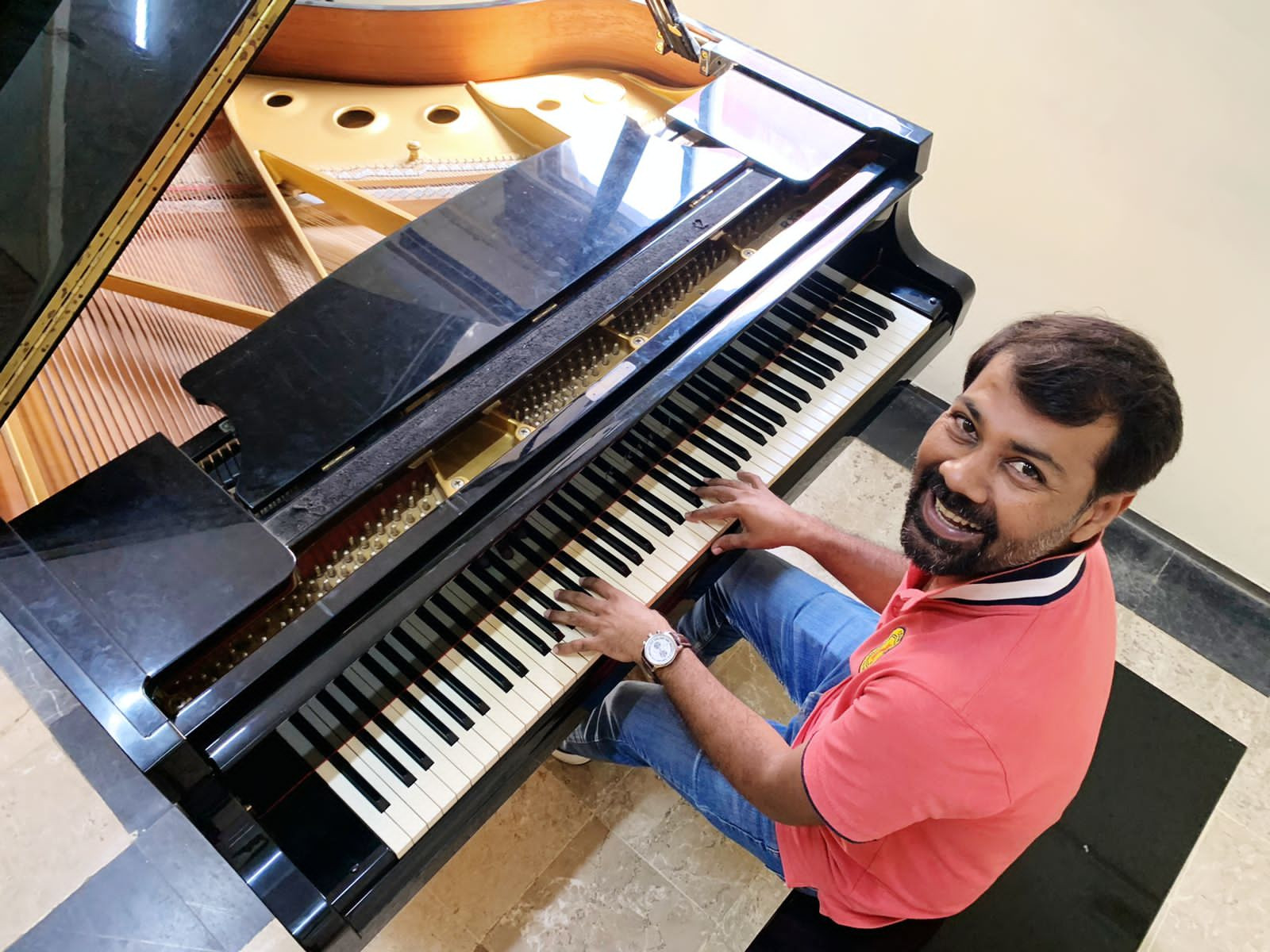 JY: Initially, I was sort of doing my own thing. I played only the stuff I liked. Then I started to realise that the notes and dynamics weren't the only important things. What really transforms the music on a page to actual music was the performer's personal touch. I wanted my ideas and my feelings to come through. This is something I will never stop trying to achieve.
STF: Do you have any academic degree or training in music?
JY: I had a keen interest in music from my childhood. While studying, I did some choir (chorus) performances with piano and full orchestra. I graduated from National Academy of Performing Arts (NAPA) in music. I also studied music at Sarah and Earnest Butler School of music in Austin at Texas, USA and Dave School of Music, Karachi and got certified from Dawn Elementary College, Karachi as a teacher, besides doing masters from the University of Karachi.
STF: Who is your favorite Western classical composer and which composition of him you like most?
JY: Though there are many great composers like J.S Bach, Ludwig Van Beethoven, Amadeus Mozart, but I am really inspired by Fredric Chopin, who is considered as one of the best composers from romantic era. Though I love most of his work, my favorite pieces are Nocturne in E flat scale and Valse or Waltz I follow these two compositions and have composed too. Here I would like to mention there are two terms in the system of musical notation, flat and sharp. Flat is low pitched scale while sharp refers to high pitch.
STF: What are your other interests?
JY: I have a keen interest in choreography. I often perform for children and have devised ways to engage children through music and promote unity and love in the society. Dance has a meaningful influence in theater. It is not a new method. The purpose of introducing dance is to express emotions and communicate physically. Choreography is all about emotions in motion and I am happy to learn the art.
STF: How many memorable performances have you done?
JY: All my performances are memorable to me as I have performed with great composers. Among those are Arshad Mahmood, Ashraf Mehboob, Ustad Nafees Ahmed, Ustad Bashir Khan, Flute Player, Salamat Khan and Ghulam Abbas. There is also a long list of internationally known big names from USA, Germany, Austria, Indonesia, Japan and UK which include Dr Sonia Seeman (Music Professor, Director and Clarinet player in the USA), Franklin Pilland, Chris Ozley, Julian Dixon, Laura Jorgensen, Mike Del Ferro and many more. I have also performed with International band SANGAT consisting of musicians from University of Texas in Austin USA and NAPA, Signum of Germany) and Fuzon Band. I also participated in events of Alliance Francaise and NAPA International Theatre and Music Festival 2013 and 2017.
STF: How do you structure chords and scales to compose music?
JY: To construct music first I have to blend notes together to create a tune. It also depends on the mood and environment of the creators to choose tune from a random thought. This is called composition or melody. There are many scales to select from the notation. Like the great composer Chopin, who composed Nocturne, which is a low pitch evening music. For that he used E flat scale. He has composed volumes of Nocturne on that scale. Now everyone follows that scale to play Nocturne. Once the tune is created, a composer will decide whether to use vocals of words or it should be played as an instrumental composition. At this stage of creation, there is an arrangement of instruments. It is all about to decide about the instruments to be used like flutes, violin, piano or other. After all these there comes the decoration of chords. The harmony becomes richer as the piece unfolds until finally the music is composed. I learned some Chopin compositions and I really liked it, actually.
STF: How do you see the future of music in Pakistan?
JY: Since I have been a music educator for a long time and have worked in many schools, I have never witnessed people here considering music as subjects like English, Urdu, Math etc. There is a need to devise a comprehensive plan to include music in the regular curriculum of schools. Although music is called a universal language and it plays an important role in the development of brain or mental health. Many brain related issues are being treated with music therapy. Music gives you stronger memory and listening ability. It has a soothing effect on stressed human mechanism. Many countries have successfully tested music to calm crying babies. Gradually people are being musically educated and I have started working on a curriculum for school students. Many studies have proven that musical training can improve attention and working memory in children.
STF: Have you ever thought of starting a music academy?
JY: Yes, I am running a small music school. I have a team of teachers and classes are conducted to teach piano, keyboard, guitar, singing, violin, saxophone and many other instruments.
STF: What is the most important thing you would tell any young pianist who wants to be a performer?
JY: I see composing not as a process but a space. A convergence of creativity and craft into a perfect harmony we know as inspiration and it is best found within one's work, not without. While tricks and techniques can be learnt, I feel the ability to convey emotion through music is more innate, more personal. Therefore, young composers need to maintain a kind of open channel between feeling and fingers, a channel to move a complex, wordless inner experience towards an outward expression. The brain should come ahead the fingers. The approach of a pianist should be like the approach of a conductor where anticipation is fundamental and the physical gesture is also important to harmonise the musical intention.