PUBLISHED October 17, 2021
KARACHI:
They say history has a tendency to repeat itself. Well, that is certainly true in the case of US-Pakistan relations, which once again stand at a crossroads following Washington's departure from Afghanistan.
For decades this capricious relationship between Islamabad and Washington DC has been centred on one transaction or another. The most recent glitch that has the potential of changing the way the two countries conduct business in the future will be defined by the manner in which they decide to operate in the aftermath of the Afghanistan withdrawal.
Experts argue that while the changing dynamics after the fall of Kabul will certainly alter the trajectory of the complex relationship, Islamabad will continue to remain the most relevant player for Washington in this region.
While the most recent alliance between US and Pakistan goes back to October 7, 2001, roughly two decades ago when former president George W Bush launched Operation Enduring Freedom, commonly known as the Global War on Terrorism, it hasn't been a smooth ride for either side.
Over the past two decades, both countries have been in what James Schwemlein, a former US diplomat and expert describes as bubble-crash cycles. The bubbles, according to the former senior State Department advisor, are periods when the strategic interests overlap, and the relationship remains harmonious. Crashes, in Schwemlein's opinion, are defined as periods or moments, when interests separate, like they did at the end of the Soviet occupation of Afghanistan. The most recent period of bonhomie began shortly after 9/11 when, once again, Washington needed Islamabad's assistance to launch its offensive and subsequent takeover of Afghanistan.
While uncertainty and lack of trust have been the only constants in this relation, Islamabad, undoubtedly remains a relevant component in Washington's overall strategy in this region – primarily due to its geopolitical leverage. "I will classify the US-Pakistan relationship as a tactical relationship — largely driven by the US need for Pakistan's assistance or support in a particular geopolitical context. And whenever that geopolitical context changes or shifts the US loses interest, and whenever the situation changes to the American detriment, they seek Pakistan's support, and this has been the broad pattern of the relationship since the 50s," explained Mushahid Hussain Sayed, who serves as the Chairman of Senate Foreign Affairs Committee.
The relationship between the two sides has been punctuated by periods of need and then followed by complete or partial abandonment. In the 50s and the period leading up to the Soviet invasion of Afghanistan, Islamabad remained a key ally. Following the exit of defeated Soviet forces and the subsequent collapse of the USSR later in the 90s, Pakistan was left in the lurch – a fact that was acknowledged by Hillary Clinton, who served as president Barack Obama's Secretary of State. "We have a history of kind of moving in and out of Pakistan," confessed Clinton during an appearance before a subcommittee of the House Appropriations Committee in 2009.
Despite the checkered history with the US, Senator Mushahid Hussain Sayed described Pakistan as the only country in the region that concurrently enjoys good relations with China, Russia, Iran, Saudi Arabia, Turkey, and the Central Asian republics. "That makes Islamabad even more relevant for the US than ever before," explained Senator Sayed from Islamabad. "No other country has this kind of geopolitical leverage that we enjoy today," he added.
In a no-holds-barred interview the senator said Pakistan has no reason to fall for pressure coming from Washington and must aim for a strategically beneficial and sustainable relationship. "The 'do more' strategy has been buried in the debris of Kabul after the humiliating American defeat. It is a thing of the past and Islamabad must not respond to Washington's carrot and stick tactics," said Senator Sayed.
Pressure game
In the wake of the US exit from Afghanistan, several Republican senators made an attempt to revive the carrot and stick approach towards Pakistan by introducing a legislation that could lead to fresh sanctions on Islamabad. Dismissing the proposed 'Afghanistan Counterterrorism, Oversight, and Accountability Act', Senator Sayed said a significant portion of the document that focuses on Pakistan is based on unverified claims. "I'm sure certain sections of the document have been drafted by the Indian lobby in Washington DC."
In return the senator urged authorities in Pakistan to confront the US over claims in that document. "I've not seen our officials question the veracity, the factual accuracy and the fake news in the bill that has been officially presented in the American Senate. It's rather shocking. And it's inexplicable for me," said Senator Sayed. The relationship with Washington, he said, needs to be on the basis of sovereign equality and reciprocity and there should not be any exceptions. As Pakistan prepares for a reset, the senator urged the leadership in Islamabad to act in a more dignified manner.
Referring to the much anticipated phone call between President Joe Biden and Prime Minister Imran Khan, he said: "We should behave with more dignity rather than feeling that Pakistan's destiny will be decided by one phone call from Washington DC. That's not what diplomacy is all about."
Our redlines
In no uncertain terms, the journalist-turned politician said Washington should be informed about the redlines that it should not cross. "We should talk openly about our red lines: the nuclear program, Kashmir, Indian hegemony, our relations with China, Russia, Iran, Saudi Arabia, Turkey, CPEC and regional connectivity. We should define convergent interests with Washington – particularly stability, and security in Afghanistan."
The China factor
Up until the day Kabul fell and the Taliban took over, the Biden administration operated with a stiff upper lip and was somewhat stubborn in their approach towards China. Weeks after the exit from Afghanistan that stance appears to be melting. President Biden himself called his Chinese counterpart, Xi Jinping and even requested for a bilateral in person summit, which he was unable to secure at that time. The new thaw between Washington and Beijing, according to Senator Sayed, evelates Pakistan's position further.
Despite playing a pivotal role in arranging a secret visit from Islamabad to Beijing for former US Secretary of State Dr Henry Kissinger, which eventually paved way for the famous visit by president Richard Nixon, Pakistan received very little credit for its efforts in the 70s. History, according to Senator Sayed, suggests that the US could once again benefit from Pakistan's close relationship with China to reduce tensions between both powers.
"We need to be very clear that there is no room for a new Cold War in this part of the world, because this is the time for connectivity and cooperation, not confrontation or conflict," cautioned Senator Sayed in a veiled reference to the ongoing rivalry between Washington and Beijing. "Of course, Pakistan can play an important role in defusing tensions in the hegemonic rivalry between the US and China. I feel that the US is on the wrong track and they've realized that igniting a new Cold War and conjuring up a new enemy like China will not help," the senator added.
The India factor
India, which has always been part of the love-hate triangle, has been cozying up to the US since its forces left Afghanistan. This has been a constant irritant in the US-Pakistan ties. According to Senator Sayed, Washington will have to keep New Delhi at bay if it wants a steady working relationship with Islamabad. "India is a major factor in this equation. During the Sino-Indian conflict of October 1962, the US chose to arm India without consulting or informing Pakistan, its strategic ally. That was viewed as a sign of betrayal in Islamabad."
The senator minced no words in saying that Washington would have to balance its bilateral priorities. Describing India as a long-standing sticking-point in the US-Pakistan ties, he said: "If India is trying to destabilize, demonize and damage Pakistan consistently, either from its own borders, or using proxies, as it did in the past, it is detrimental to our core interests. The US will have to understand that."
In the latest diplomatic faux pas last week, Wendy Sherman, who serves as Secretary Tony Blinken's deputy at the State Department, ruffled the feathers of the leadership in Islamabad by announcing at a public event in Mumbai that the US had downgraded the bilateral relationship with Pakistan. Sherman stated that the new parameters of Washington's relations with Islamabad, will not be equal to it's deepening ties with New Delhi. The trip to Islamabad, she elaborated, was for 'a very specific and narrow purpose, and that was to talk about Afghanistan and the Taliban.
"We don't see ourselves building a broad relationship with Pakistan," said Sherman. "That's not where we are. That's not where we're going to be," Biden administration's senior diplomat added. As a sign of protest, Sherman's reception in Islamabad the next day was limited to minimum protocol. The US Deputy Secretary of State was met by a mid-ranking official at the entrance of the Foreign Office in Islamabad.
To downplay her remarks and to placate her irked host, Sherman, even hinted that Prime Minister Imran Khan would soon receive a call from President Biden, her boss at the White House. Such mistakes, Islamabad-based experts believe, should be avoided if the US wants its relations to remain consistent with Pakistan.
Advice for Islamabad
After being in a transactional relationship with Washington for decades, Senator Sayed said Islamabad needs to understand the American system, which according to him, is pluralistic and has multiple power centres.
"The American system includes the White House. It includes two warring political protagonists, the beleaguered Biden administration and the rather aggressive Republicans, the US security establishment, as well as the deep state i.e. Pentagon and the CIA, and of course, the United States Congress. So, we have to engage with these power centres," explained Senator Sayed, who has been part of think tanks in Washington. The US capital, he said, is a marketplace of ideas. "It is receptive to all kinds of narratives. All you have to do is sell your product which is your country's narrative."
"Pakistan has been abysmally failing to do that. We have not had a strategic sustained engagement, either with the Western media, or with the international think tanks based in Washington, or London or with the US Congress. We should do that and that is our own failing," urged the chairman of the Senate Foreign Relations Committees. "Let's not forget that the American problem in Afghanistan has now been transferred and is a regional problem, which means, Pakistan, and the region, including China, Russia, Iran, the Central Asian republics, Qatar and Turkey, are all stakeholders, as far as resolving the crisis is concerned," Senator Sayed added.
Towards the end of the interview, Senator Sayed reiterated that Washington needs Islamabad perhaps more than it did 20 years ago, because the US has hardly any allies in this region other than India. "China, Russia, Iran, and Afghanistan are already off limits for the US. Turkey, their old ally, is moving closer to Moscow. Saudi Arabia is already reassessing its relationship because they no longer trust the American commitments. So, you're left with Pakistan which is in a strategic location and is the principal conduit to Kabul. So, if you're talking about stability in the region, Islamabad holds the key and Washington desperately needs it for that," emphasised Senator Sayed.
View from Washington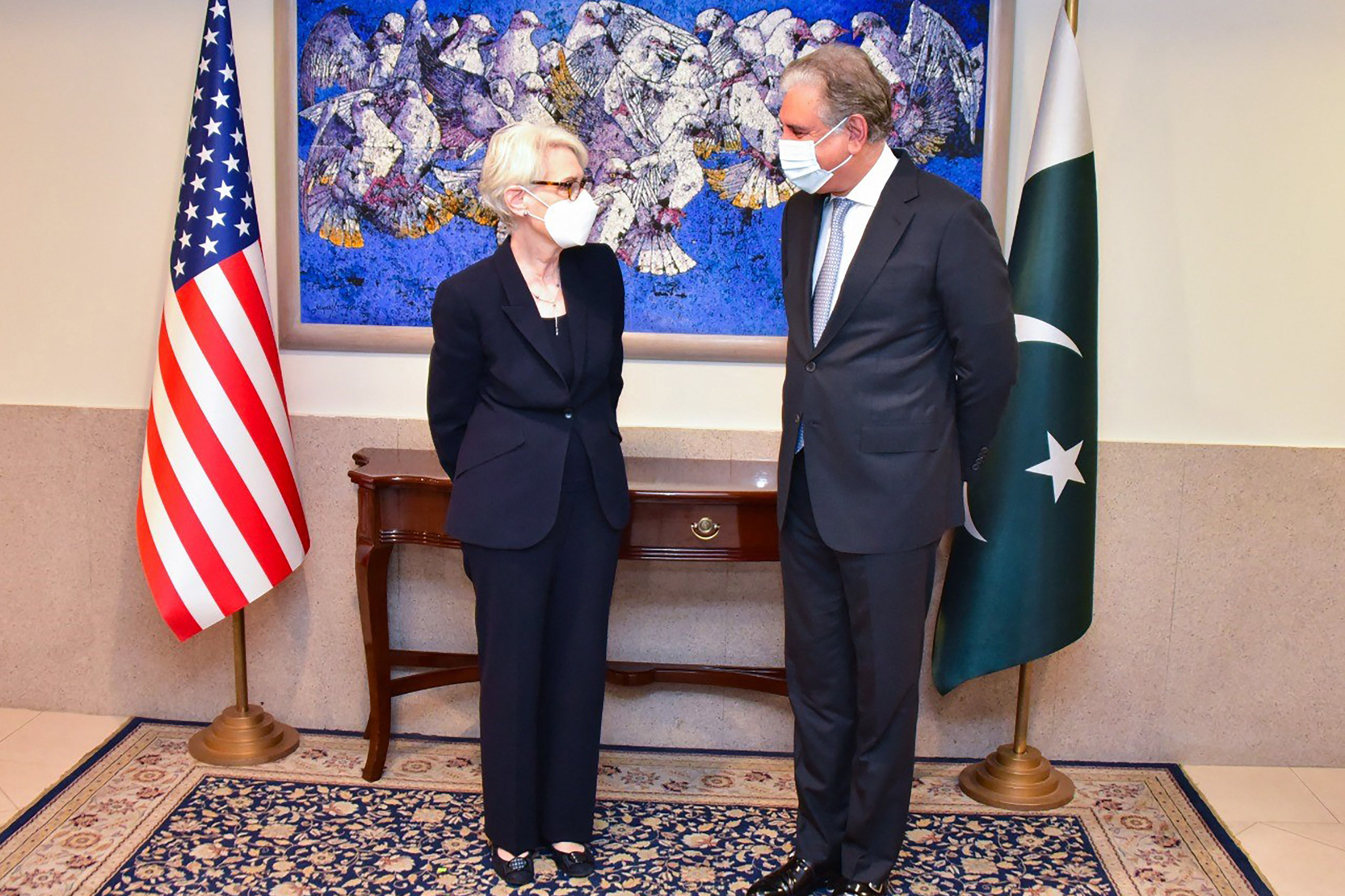 The US-Pakistan relationship, like a coin, has two sides. In the US capital, anger and bitter feelings towards Pakistan have been simmering and calls to punish Islamabad for the disastrous exit from Afghanistan have been growing. In a recently published opinion piece in the Washington Post, Prime Minister Imran Khan urged policymakers in Washington to stop scapegoating Islamabad. He said scapegoating Pakistan has become a coping mechanism for Washington to avoid its own failures.
For obvious reasons, the message does not resonate well with Republican policymakers, who at this point are trying to use the failure in Afghanistan as a reason to crucify the Biden administration and the Democratic party. Despite all the hullabaloo about Pakistan's role in Afghanistan, Michael Kugelman, deputy director of the Asia Program at the Wilson Center, believes that Pakistan will remain relevant for the US, but it will be seen through an Afghanistan lens.
"US-Pakistan relations are at a crossroads. And as is often the case, it's Afghanistan that will be the determining factor of their trajectory," said Kugelman by email from Washington. "Accordingly, the direction of the US-Pakistan relationship, from Washington's perspective, will depend on factors like how the US approaches its relationship with the Taliban, as well as how the US chooses to maintain its over the horizon counterterrorism capacity in Afghanistan," the expert explained.
Commenting on the obstacles in US-Pakistan relations, Wilson Center's leading specialist on Afghanistan, India, and Pakistan said: "There is an enduring disconnect about what the relationship's anchor should be. For Washington, it continues to be Afghanistan. For Islamabad, it's just about anything else — trade, climate change, you name it." "This disconnect is not new. We've seen this movie many times before," he quipped.
According to Kugelman, both sides will have to downgrade their expectations to be able to maintain a healthy relationship. "I think above all the two sides need to be more realistic in their expectations. The US must recognize that Pakistan won't make changes to its policies just because the US wants it to do. Similarly, Pakistan must recognize that the US is simply not interested in a deep, strategic partnership," explained Kugelman. "The irony is that if the two sides downgrade their expectations and goals, the relationship is likely to be a happier one," he added.
Commenting on the 'Afghanistan Counterterrorism, Oversight, and Accountability Act', which triggered an angry rebuke from a senior member of Pakistan's cabinet, Kugelman simply dismissed it by saying: "It won't have legs, given that it was introduced by Republicans and no Democrats signed on. Also, the Hill has much bigger legislative fish to fry." And at any rate, he said, lawmakers don't set policy on Pakistan.
"The Biden administration, however, is undertaking a review of the future of US-Pakistan relations. Pakistan's ties with the Taliban will certainly figure heavily in that review," the Washington-based expert cautioned. He further said that as long as the US wants to focus on counterterrorism in Afghanistan, it won't tighten the screws with Pakistan. "It will look to Islamabad for help with intelligence sharing and overflight rights, and it recognizes that it won't get that help if it takes a harder line," Wilson Center's Kugelman added.
On the points of divergence in the US-Pakistan relationship, he said, many revolve around the simple reality of different priorities. Islamabad, according to Kugelman, wants to prioritize a broader relationship. Washington, on the other hand, wants it to remain narrowly focused. "There are also different priorities with terrorism risks. The TTP is Pakistan's biggest concern. But for the US, it had previously been the Haqqani Network, and now it's al Qaeda and ISIS. There are also geopolitical divergences. Each country has deep ties to the other's bitter enemy: Pakistan is close to China, and the US is close to India. This reality also rules out the US bringing Pakistan into its Indo Pacific strategy, because that strategy—even if not stated publicly—is all about countering China," he explained.
In addition to all the other issues, Pakistan's ties with China, Kugelman said, are viewed as evidence of the limitations of Washington-Islamabad relations.
The US departure from the region, Kugelman said, has provided Islamabad the opportunities to scale up ties with Moscow and Beijing. "​​And that's because China and Russia have an interest in deepening their footprints in Afghanistan, especially through trade and investment. That said, none of these countries will move in quickly," he said.
Both countries, the Wilson Center expert said, will wait and see if the Taliban can produce more stability in Afghanistan, with a better security situation. "That's a big if, given the challenges the Taliban will face in consolidating its power, easing a worsening humanitarian crisis, and fending off a growing ISIS terror threat," he explained.
From the Quincy Institute, Adam Weinstein had similar views about the future of US-Pakistan ties. The Research Fellow at the Quincy Institute for Responsible Statecraft explained that Islamabad may even be more relevant for Washington after its withdrawal from Afghanistan since access to Pakistan's airspace and potential intelligence sharing will be crucial to President Biden's so-called 'over-the-horizon' approach. However, Weinstein too believes that the ties between the two countries are likely to revolve around counterterrorism cooperation in the near-term.
When asked about Washington's carrot and stick approach towards Islamabad, the Wasghinton-based expert said it has rarely produced the desired results for the US. "The carrot and stick method has rarely produced the changes in Pakistan that Washington seeks because that approach doesn't address Pakistan's fundamental concerns," Weinstein explained by email.
Concurring with Michael Kugelman over how Islamabad should consume the negative noise against it in Washington policy circles, Weinstein said: "Plenty of people in Washington are unhappy with Pakistan but recently introduced legislation does little more than investigate Pakistan's role in supporting the Taliban. Pakistan's leadership should be more concerned about how the White House feels about the relationship."
He urged President Biden to find areas of cooperation with Pakistan beyond counterterrorism. "This should be done while making it clear to Islamabad that security is the building block for all other development," Weinstein added.
About Pakistan's geoeconomic reset wish, Weinstein explained in blunt terms that there is close to zero chance that Islamabad's 'geoeconomic reset' will come true anytime soon. The Quincy Institute expert concluded by cautioning Washington against viewing Pakistan as an arena for great power competition with China.