PUBLISHED October 10, 2021
KARACHI:
He may be just another political activist for millennials who have just started following Pakistani politics, but for seasoned journalists, politicians, activists and academics, Masroor Ahsan lived a political career larger than life.
A loyal Jiyala from a middle class background, he is revered by many a Pakistan Peoples Party acolyte as 'Ustad Masroor'. A close associate of PPP founder Zulfikar Ali Bhutto and later his daughter Benazir Bhutto, he was placed under arrest multiple times during Pakistan's dictatorial years and was among those released by Ziaul Haq's government in exchange for hostages taken by Al Zulfiqar.
Unwavering loyalty
"I am loyal to the Bhutto family," Ahsan reiterated in a rare interview. "I joined the late ZA Bhutto at a time when he was in a sinking ship, not when he was at the pinnacle of his power," he said sharing what illustrates perhaps the bedrock of his political convictions.
Just 26 years of age at the time, Ahsan was nominated by ZA Bhutto to challenge Pakistan National Alliance candidate Professor Ghafoor Ahmad in elections announced by Ziaul Haq. Although the elections never actually took place, the veteran political activist still deems it a personal honour.
Reminiscing on his interactions with the PPP founder, Ahsan recalled another meeting when he was still political novice. "Bhutto mentioned his plans for Pakistan, particularly how he wanted to make the country an atomic power. He also mentioned that a conspiracy was being hatched against him. I asked who it was that was conspiring against him and he said to me 'The US and its proxies are here in Pakistan!'"
He added that the meeting concluded with Bhutto encouraging him to continue with the struggle. "But he also hinted that a man like me is not suited to political parties in Pakistan. Still, I was asked to fight and to never lose hope. I can say that the talk between us is the reason I never gave up my support for the Bhutto family."
When the verdict to execute Bhutto was announced, the late Nusrat Bhutto formed the 'People's Action Committee' composed of leaders from all over Pakistan to mobilise workers, organise nationwide protests and keep the party intact. Along with Masroor, the committee included Raja Anwar, who later became advisor to Nawaz Sharif, former Senator Pervaiz Rashid who is also now a close aide to Nawaz, Riazuddin Janbaaz, Sardar Hanif, former MNA Pervaiz Ali Shah and Sadiq Umrani.
Benazir takes the mantle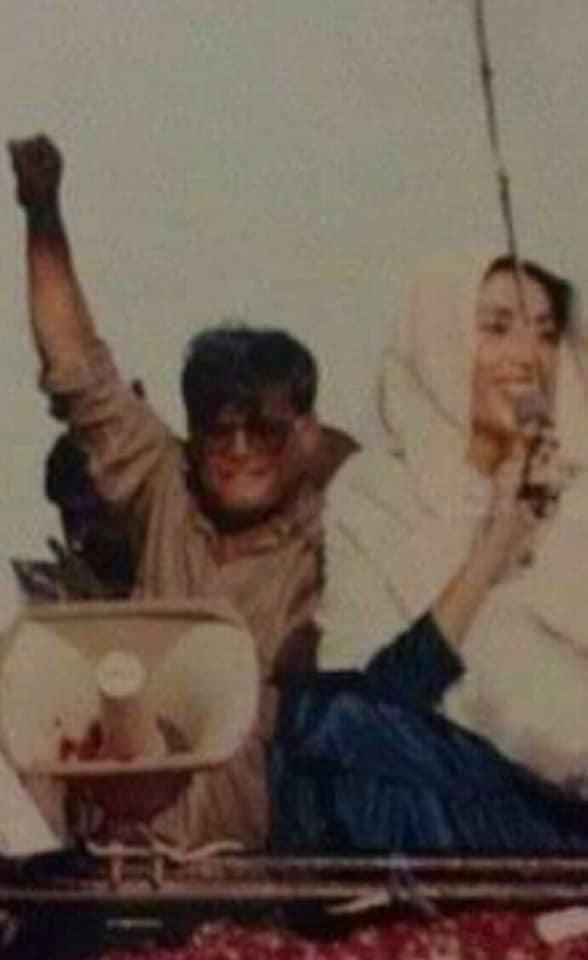 When ZA Bhutto was in jail, he had no contact with people on ground, Ahsan shared. "Nusrat Bhutto and Benazir Bhutto were the bridge between him and party workers, so the latter started to meet workers in party offices," he said. "She wanted strong agitation against Zia to save her father, but it was only possible with strong party organisation."
"It was really tough to mobilise the party under strict martial law but we managed to mobilise in at least 90 per cent of the union councils," he added. "Some great political workers, like Nasir Baloch, Ayaz Samoo, Lala Aslam, Salamullah Tipu, Nasir Jamal and Arshad Ali Khan joined the party during these efforts."
"Both mother and daughter were trying their best to save ZA Bhutto. They took it upon themselves to visit different parts of Pakistan and were arrested as well," Ahsan said. "I have not seen such brave women in my entire life."
The efforts, however, could not save Bhutto from being executed. Ahsan believes the top cadre of the party, including late Sindh governor Mumtaz Bhutto, could have done a lot for the PPP founder and the party but they chose not to during the time of crisis.
"As the young cadre started joining the PPP after Bhutto's execution, a message came from abroad about the inception of Al Zulfiqar," Ahsan shared. "The entire structure was formed abroad and the leadership in Pakistan including Benazir Bhutto and Nusrat Bhutto did not play any part," he clarified. "Benazir Bhutto at that time was only supporting the political restructuring that we had begun although that too was criticised by the senior leadership of the party. They believed there was no need for it."
According to Ahsan, him and other party figures took this matter up with Benazir. "We told her that even though we have mobilised a lot of support, the senior leadership is not happy and that we fear they could have us arrested since this was secretive political restructuring." In response, Benazir asked for a meeting of the party. "This was actually very difficult. We had to ask a party worker to hold an aqeeqah ceremony for his son. Benazir and other party leaders were there as guests so that it would look like a private event," he revealed. "At this meeting, Benazir told the senior leadership to not criticise us workers if they couldn't support us."
Al Zulfiqar hijacking and release from custody
The infamous PIA hijacking by Al Zulfiqar under Salamullah Tipu in 1981 was a turning point in the life of Ahsan who was imprisoned at the time. "The hijacking was done to release 54 PPP workers but the main target was to get me out," he claimed. He remembered that two months after his arrest, some officials came into his cell and informed him about the hijacking. "I said I have absolutely no idea about it since I had been in prison all this time."
"One of the officials told me that they had identified two of the hijackers – Salamullah Tipu and Nasir Jamal – but could not identify the third one," he shared. "The third hijacker was a friend and a distant cousin to Tipu, Arshad Ali Khan. But at that moment, I told them that I didn't know any of them."
According to Ahsan no one in the party knew about the hijacking. "But I had an idea that these newbies to the party were aggressive enough to do anything to get me out." Ahead of the hijacking, Ahsan said he was kept in a very small cell. "But since they needed my cooperation, the officials moved me to the Frere Police Station, to a well furnished room and served me homemade food … that too from my home," he shared. "Their efforts did not yield the desired results. I knew these were mind games."
Ahsan was kept at the Frere Police Station for 12 days. Meanwhile, Tipu had given an ultimatum that he would kill all hostages if the workers weren't released. "I knew that if the hijackers killed any passenger, that would be the end of me. I was offering prayers when suddenly, right at that moment, some officials told me 'your problem is solved, you are going'."
According to Ahsan, he was unable to get up and was handcuffed while in Sajda. "I thought they would kill me. But they took me to another place with the other 54 detainees and we were boarded on a flight to Syria." In Syria, they were handed over to the International Red Cross, "And then we were put on another flight to Libya as Col Gaddafi had agreed to take us," he shared. "As soon as we landed, however, Gaddafi seemingly changed his mind and we were returned to Syria where Hafiz ul Assad hosted us."
Ahsan said he demanded to talk to Tipu before getting off the plane and was assured that it was safe and controlled. "We all met Tipu at a five star hotel of Allepo airport, which was vacated for all of us. Only 28 of us decided to join Al Zulfiqar. This was an obligation now, since the favour had to be returned," he added.
After spending 15 to 20 days in Syria, during which they had several meetings with Murtaza and Shahnawaz Bhutto, the Al Zulfiqar cadre decided to go to Kabul where they stayed for about a year. "There was this guesthouse the Americans had left empty; we stayed there to train. It was once attacked by Mujahideen but we were able to defend it. I assume the Afghan government was aware of our activities but never officially approached us."
The group later moved to Libya "to a camp in the forest where we would occasionally hunt and eat. We were often visited by Shahnawaz and Murtaza here as well, but eventually this camp was also over after four months."
Imprisoned again
Ahsan faced another arrest as the UAE authorities apprehended him for travelling on a fake passport. "I along with Tipu and a few others were then heading for Kabul, via Dubai. For some reason we missed our flight to Kabul at Dubai airport and that was our bad luck. We were arrested." Tipu, somehow, managed to duck the arrest. The UAE authorities handed Masroor and few others over to Pakistan.
Another imprisonment was waiting for Ahsan in Pakistan. He was sentenced for over a year at Rawalpindi jail and then transferred to Shahi Qilla, Lahore for 16 months. "Later we were shifted to Kot Lakhpat Jail Lahore, where Razzaq Jharna, Idrees Baig and Usman Ghani were present too. They were later hanged in the same prison."
The then military regime nominated him in a treason case along with Murtaza Bhutto, Shahnawaz Bhutto, Salamullah Tipu and Nasir Jamal. The trials continued until then prime minister Muhammad Khan Junejo lifted some restrictions against political prisoners. "We were released from prison a month before Benazir Bhutto's arrival in Lahore," he said.
Benazir Returns
After his release, Ahsan re-entered politics. His new task was to prepare groups to welcome Benazir. After her arrival, the young PPP leader instructed him to head to Karachi. The veteran leader was assigned key responsibilities to ensure a mammoth welcome for Benazir in Sindh.
"Benazir chose the right time for return. She realised Zia was losing his grip and that his global utility had started to diminish since the war in Afghanistan was near its end," Ahsan said. "I believe, Benazir was a far-sighted leader like no one else I've seen in my life. Her father was no doubt a great politician, but Benazir's politics starts where ZA Bhutto's politics end."
He added that Benazir had a strong ability to convince. "We were rather emotional and sentimental. We respected her but out of strong sentiments and concerns we often presumed things. She had the ability to see beneath the walls but we couldn't. That's of course the quality of leadership while we were just a bunch of young emotional people."
Recent activities
Former president Asif Ali Zardari and the PPP leadership recently contacted Ahsan to mobilise the party and he played a significant role in PPP's by-election win in Baldia NA-249, Karachi. For his role, PPP Chairman Bilawal Bhutto Zardari thanked him in person.
"The flaw, however, that I observe is that if we do not organise, we will keep facing troubles. If there's no organisation, politics is of no use. The secret to Bhutto and Benazir's success was good organisation and preparation," Ahsan said. He believes conditions in Karachi for PPP to mobilise are quite adequate. He also feels that had the MQM collaborated with PPP, they could have worked productively for Karachi. "The fate of the people of Karachi is tied to the people of rural Sindh and their choice. There is no alternative available other than PPP in the city and province."