PUBLISHED September 26, 2021
KARACHI:
Khurram Zuberi is a mystical artist by nature, who loves to transcend the boundaries of perceived reality into the realm of creative expression that teleports the innate artist to commune with all that is celestial and divine. He believes, there are spiritual feelings that reside within all of us, and that true art brings forth the awareness of our own original feeling of authentic self. When wood is carved into art, it allows the viewer to see the microcosm of all that lies within and without, while integrating the two worlds into one powerful unity. Born with a natural artistic ability, Khurram started his creative pursuit early and he has not looked back since, keeping his practice up. He took a pause while studying computer science at the University of Karachi, then his wedding and raising a family. But now with great shape of mind, he has actually afforded his more focus in and for his work. Selling his work mostly by commission, he has recently completed his most challenging project yet, carving Ayatul Kursi for the Islamic Institute of Bangladesh.
Khurram recalled watching his father create wood carving art as a child. He has watched how his father used to add details to the artwork, and how finely he used to polish without coloring the piece. Zuberi replicated that technique, keeping the wood grain patterns visible, and continues to use this technique to this day.
The 20th century has seen a resurgence of interest in the medium of wood. A self-taught carver, Khurram Zuberi has been doing chiseled saw art for 15 years and takes great satisfaction in his work, especially following his daughter's interest in the artistry.
I interviewed Khurram Zuberi to learn more about this art.
ST: How would you describe your creative style?
KZ: I think it is very important for my work, to be described as visual art. My art carving in wood is as flowy as colors of a painting within the boundaries of symmetry. It allows me to get a visual feel of the adoration people have in their hearts. At the same time, it is not categorized to any certain text form. Carving text in wood is an animated art, larger than the colors of painting as it is to create a three-dimensional artwork from a solid piece of wood. I don't define my work just as calligraphy as it defines only the art of writing. In a world that's more about typing and texts than pen and paper, calligraphy is becoming something of a relic. And yet, I love calligraphy. I have become more focused on putting Arabic calligraphy onto my wood work.
ST: What kind of tools do you use?
KZ: My artistic arsenal includes chisels, saws, and whittling knives. When completed I use different types of sand papers for fine polishing. My tools are simple gouges, chisels, wooden mallets, and pointed instruments. I have nearly 100 different chisels of different shapes and sizes that I use. I also use power tools to shape the wood.
ST: Do you season the wood before you carve?
KZ: I prefer to buy seasoned wood. Pure wood is already seasoned but I am very keen about the quality. If felt unseasoned, I make sure to dry.
ST: What makes your carvings different from others?
KZ: My work is based on only teak wood of Burma, now Myanmar. Burma teak wood is an old-growth tree that is native to forests of Burma and Myanmar. Their growth time is more than100 years and they don't cut unless it reaches 100 years of age. It is the best quality teak wood that is available today. It has golden color, elegantly distributed grains, and a high amount of teak natural oils. It is the most durable type of teak wood among all. Teak's original color is very beautiful and does not need further coloring. It is very expensive, shiny and I do not paint. I do fine finishing by using sand papers. I always use Burma teak as my base material and carve with a finishing of highest order to get the best shine. Burma teak just doesn't decay, therefore whatever I produce will survive for 1000 future years I guarantee.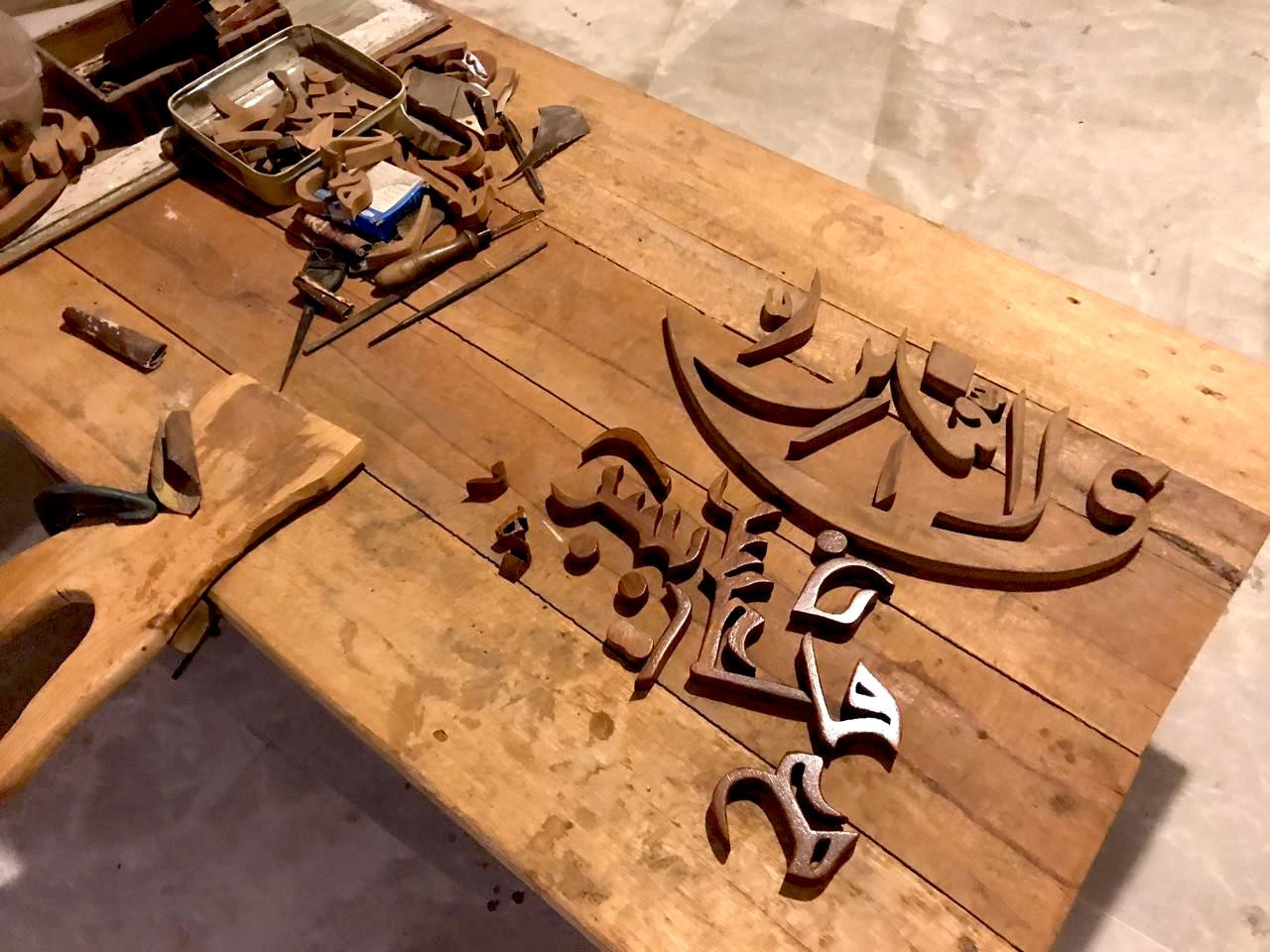 ST: What do you normally carve?
KZ: There is a misperception about my artwork that I do only religious calligraphy. But my art is not classified, from a simple wrist chain to personalized name plaques, and again from sculpturing human face and portrait to the Quranic Inscription, I create everything that serves and satisfies me. I value my work as an art of highest order, whether it is small or big. At the same time, I do have veneration for the Quranic inscriptions like any other Muslim or believer. One's spiritual progress is definitely directly linked to one's improvement in the art of carving calligraphy. It is a sacred art because it expresses mostly the words of the Holy Quran.
ST: What is the basic requirement to become a good artist?
KZ: If you want to be a good artist, first you must have patience. It requires a great deal of patience and peacefulness within the heart. If the heart is restless or distracted, the outcome is sloppy. I find myself only doing well when I'm totally involved with mind, body and soul, otherwise the art will suffer.
ST: When did you start carving?
KZ: I enjoyed doing artwork and I was pretty good from my childhood. It has come to me as a sort of inheritance from my father. He was collector in customs department. He had a boundless creativity and thirst for experimenting with woods. I too, started without any formal skill with just the passion in heart and of course the tools that I have inherited from him. As a first I carved my own face and showed to my friends and coworkers. They could not believe that it was my creation. Then my friends asked me to carve something for them, their wives, and families, I said yes and I sort of took it up from there.
ST: Do you have an academic degree or training in the art of wood carving?
KZ: No. My father, late Muzamil Zuberi, began crafting artwork on wood in the 1950s as a hobby. Always a keen apprentice to my father who was also my mentor, I observed, marveled at, and ultimately learnt the craft myself.
ST: What inspired you to become a carver artist?
KZ: I began venturing the art with self-portraits, followed by profile portraits of celebrated personalities. One such portrait featured Sir Alex Ferguson, the legendary football manager, upon the request of my son. This remains one of my son's most prized possessions to date. Drawing inspiration from my late father as well as the brilliant Sadequain, I get started with the journey and you see where I am today.
ST: Do you keep track of how many things you have carved?
KZ: Recently, I have started taking pictures of things I've carved so customers can compare what they want but I do not know the exact number of the things I've carved.
ST: Have you created anything memorable that you will cherish through your life?
KZ: I have created Shaheed Mohtarma Benazir Bhutto's face. The art was put on exhibition in 2001. Recently, I had carved a pyramid shaped 6ftX3ft art of Ayatul Kursi. An Islamic research institute from Bangladesh found out about the art and showed their interest to buy a similar piece of art from me. The institute faced an internal disagreement over placing the order to buy the art piece from Pakistan. Finally they were able to overcome the difference. Then I carved Ayatul Kursi for them and it was sold out. Thus I was able to bring this honor to Pakistan. This was a great event of my life and I will always cherish this accomplishment.
ST: For young people who would like to start carving, what kind of advice would you like to give them?
KZ: Well, I'd tell them they'd need sharp chisels and before they start they would have to understand what the tools do and wood carving takes patience and practice.
ST: You work mostly on commission. This means that your work has an audience and fulfills an artistic need. Tell us something about the people who buy your work. Do most live in Pakistan? Are they avid collectors of Islamic calligraphy, or simply wanting to surround themselves with the beauty and spirituality of traditional Islamic art?
KZ: Those who have commissioned work have been from all around the world, for example Saudi Arabia, England, and the U.S. including my own city Karachi. While all definitely appreciate Islamic art, they come from all walks of life, and not all are Muslim.