PUBLISHED September 12, 2021
KARACHI:
Recently, Pakistan's most popular Youtube star Irfan Junejo opened up about his struggles with anxiety and impostor syndrome in his comeback video after a hiatus of 17 months. Shared with his 1.12 million subscribers, in the video Junejo talks about how his rapid success took a toll on his psychological and physical health where he often experienced anxiety attacks in public places, developed an eating disorder and suffered recurring insomnia. Taking his cue, many of his followers have since revealed their own mental health issues in the comments section of his video.
Kit Harrington, the Games of Thrones star, revealed last month how the end of the show had an adverse impact on his mental health, leading to addiction and suicidal thoughts for which he sought professional help.
Athletes are usually perceived as representing the pinnacle of strength. Hence, the stigma against any sort of perceived 'weakness' - either physical or mental - is greater. This was evident in the public reactions to Naomi Osaka and Simone Biles' decisions to withdraw from certain events citing mental health issues.
Michael Phelps, the most decorated Olympian of all times, has been vocal about his depression and substance abuse after his early retirement from swimming. He shared how initially he was hesitant to discuss his mental roadblocks but realised that seeking therapy actually did make him feel better. Phelps now works as a mental health advocate, is the face of the therapy app Talkspace and on the board of Medibio, a company focused on the diagnosis of mental health disorders.
In July, England's top all-rounder Ben Stokes announced that he is taking an indefinite break from the sport to focus on his mental wellbeing. His decision was lauded by the cricket community with Kumar Sangakkara and Virat Kohli who commended him for prioritising his mental health. Public personalities from all walks of life are coming forward with their mental health struggles, igniting discussion regarding archaic ideals of masculinity and mental health stigma.
Dwayne 'The Rock" Johnson, considered the ultimate alpha male, revealed years of battle with depression, saying that "Depression never discriminates. Took me a long time to realise it but the key is to not be afraid to open up."
'Suck it up'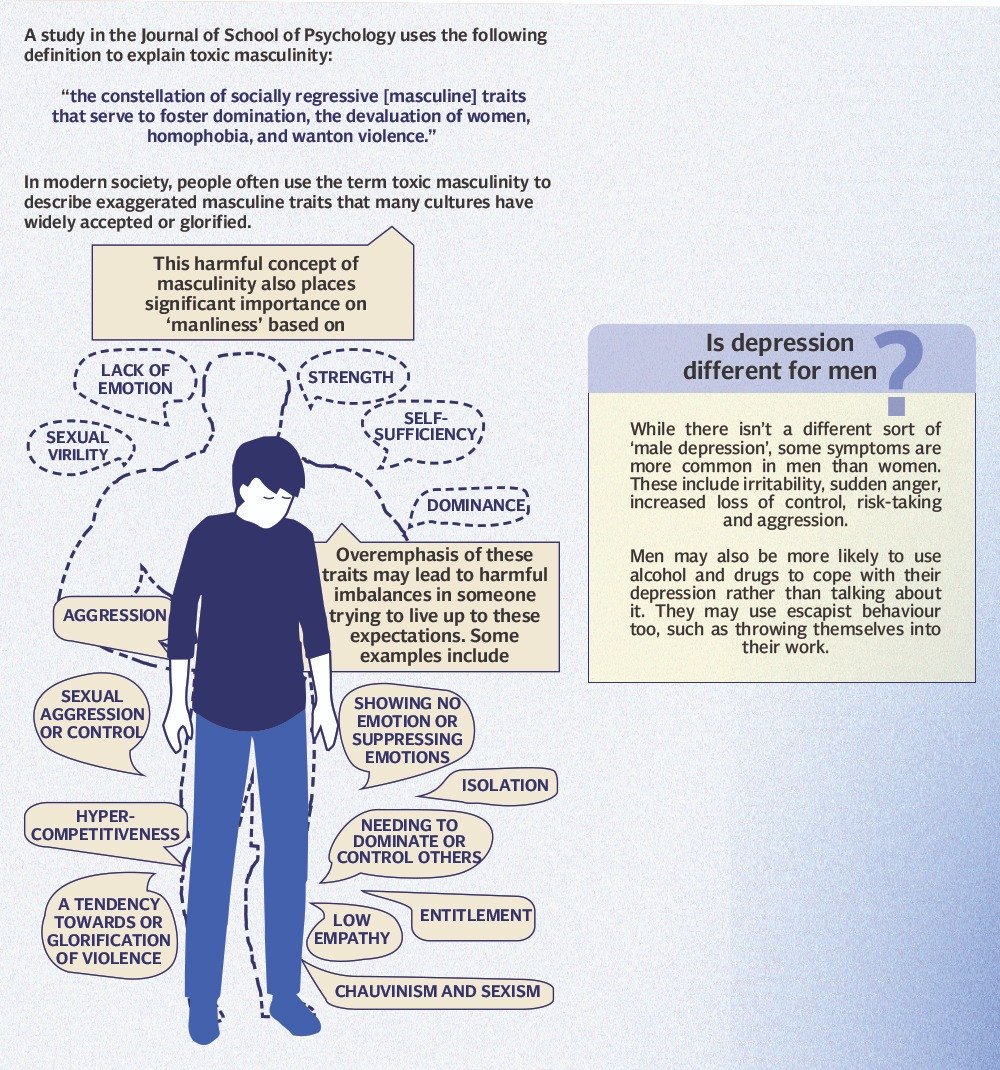 In a patriarchal culture like Pakistan, unresolved mental health issues of men certainly have a spillover effect on the psychological well-being of their families but little attention is paid to this intersection. Due to the prevailing ideals of hegemonic masculinity, mental health issues in men are seen as a sign of weakness or cowardice.
Ali Madeeh Hashmi is a psychiatrist and professor of psychiatry at King Edward Medical University. He shared that his practice consists of about 60 to 70 per cent women. "Men, in general, tend to be a little more reluctant to acknowledge and ask for help related to mental or emotional issues." He added that our very macho, very patriarchal culture is a huge reason why boys and men are reluctant to acknowledge and ask for help related to mental health.
When asked which issues were most frequently reported, he shared that anxiety and depression tend to be quite common. "In our culture, certain substance abuse issues tend to be more common in men (alcohol, 'charas', heroin etc) while women tend to abuse other substances (sleeping pills, pain medicines). Men in Punjab at least, and, I think this can be generalised to the country, tend to suffer quite a bit from mood problems related to anger,aggression and/or suspicion etc. Religious guilt is another factor in causing emotional problems. This can be compounded by substance abuse. Relationship or marital problems are quite common with men in general being very reluctant to engage in any mental health treatment which requires both partners to participate."
Barrier to help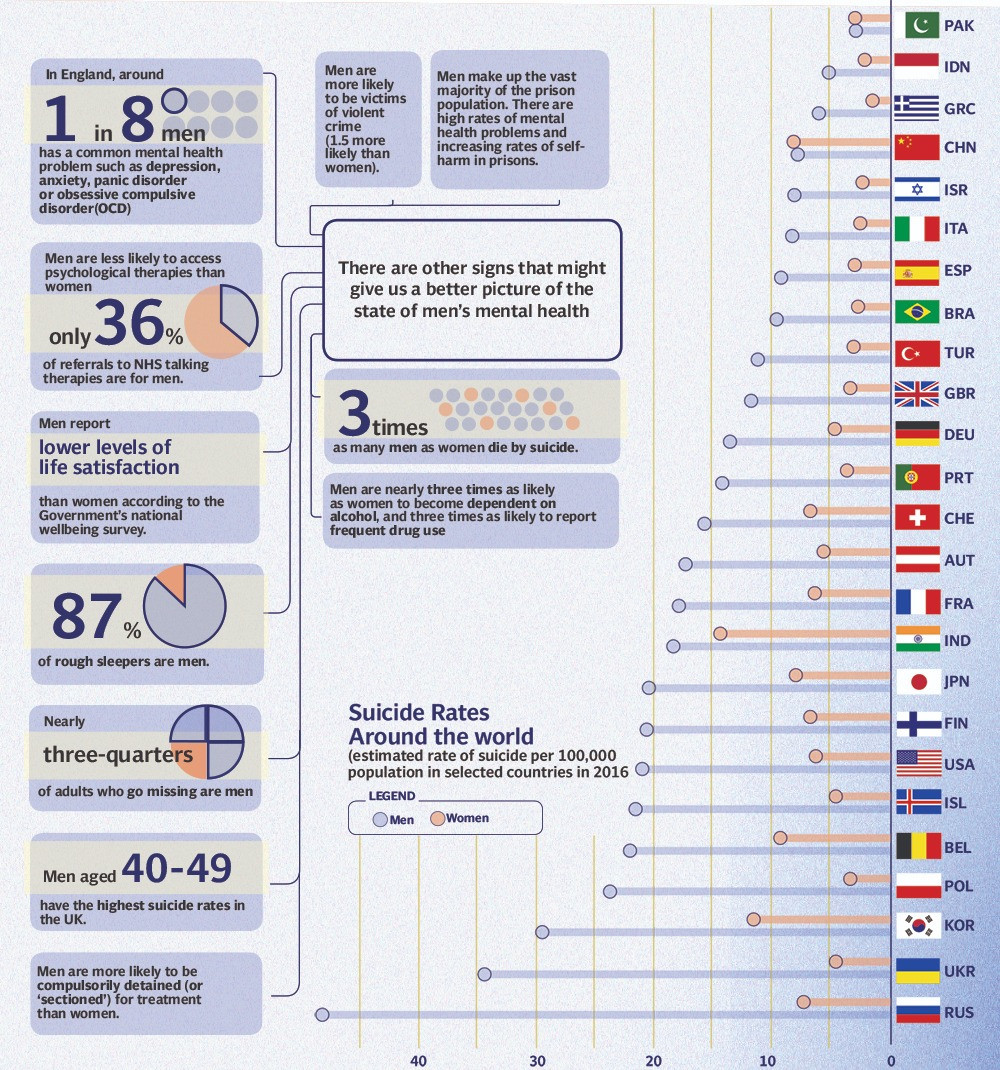 According to WHO, gender differences occur particularly in the rates of common mental disorders - depression, anxiety and somatic complaints, in which women predominate. Men are less likely to seek help for the aforementioned disorders. Moreover, men are more than three times more likely to be diagnosed with antisocial personality disorder than women. The lifetime prevalence rate for alcohol dependence - another common disorder - is more than twice as high in men than women and men are three times as likely to frequently use drugs. Men die by suicide three times more often than women, but rates of attempted suicides and suicdial ideation are higher in women. This is referred to the traditional gender paradox of suicide. Global trends reveal that men are less likely to access mental health help (especially therapy) than women: only 36% of referrals to NHS talking therapies are for men.
These statistics however, do not reveal the full picture. On their website, WHO states that gender bias impacts mental health diagnosis. Doctors are more likely to diagnose depression in women compared with men, even when they present with identical symptoms or have similar scores on standardised measures of depression. Gender stereotypes regarding association of emotional problems with women and substance use problems with men also serve as a barrier to the accurate identification and treatment of psychological disorders.
Clinical manifestations also differ according to gender. According to research, depression in women is generally present with prototypical symptoms like crying spells, depressed mood and feelings of worthlessness and guilt. In men, depression usually manifests itself with symptoms of anger such as irritability and heightened aggression, risk-taking and abuse of drugs.
A toxic inheritance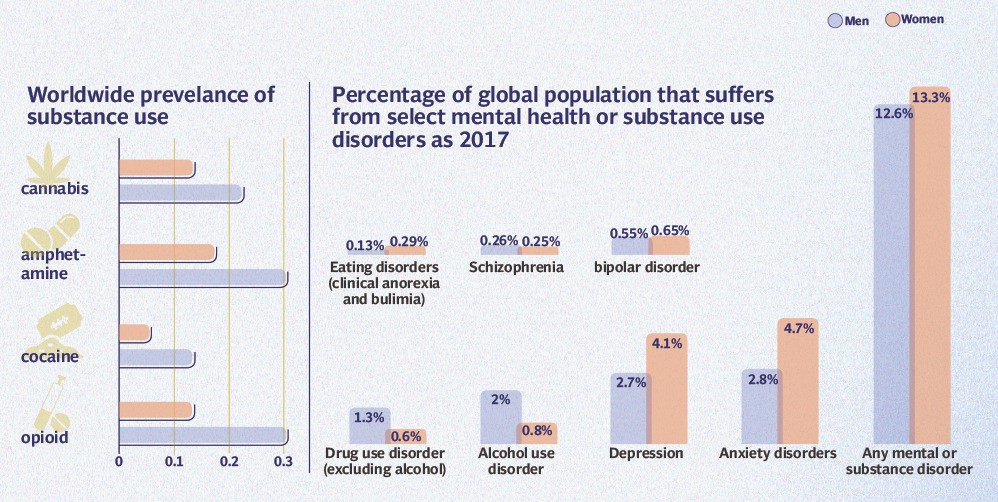 "It is very strange growing up as a man in Pakistan, a country that is gripped with patriarchal conditioning to its very core. It is even stranger to be a man who is in touch with his feelings and is so to say 'sensitive.' This is the truth of the state of the educated man in Pakistan - men, even if they feel something real, are not accepted if they end up sharing it." shared Babar, who works for a mental health organisation.
He believes that men's reluctance to discuss their mental health is "a concoction of outdated traditional values, enabling boys problematic behaviour, terrible parenting practices, misunderstood religious practices, the stigma surrounding mental health and ridiculous double standards. But the root of all this, the consistency and continuation of toxic inheritance is ego. It is this very ego that stops us men from inner reflection and from accessing our feelings. It is this very ego that leads to aeons of denial. And it is this very ego that is the enemy of men's mental health (and as a result of the patriarchy, an enemy of the state's mental health)."
Shaheer Jawaid, an associate clinical psychologist shared that even though he was a student of psychology, he was hesitant to seek help when he went through a period of anxiety back in his university days. "I was afraid to feel vulnerable due to the culture that had taught me that being a man, accepting your feelings and being vulnerable is a big sign of weakness." Waleed Shahid, who is also a student of clinical psychology, had a different perspective. "I have never thought of struggling with my mental health issues as a weakness. In fact if anything it helps me understand clients problems better. I understand how it may be perceived as a weakness and the reason is that men talking about mental health is considered a taboo in our society."
"I do telecounseling and I have heard a lot of times from men that since I can't see them, they feel better as they would have been more nervous in person. And even growing up if someone shared something personal, they were going through, they were made fun of. So it comes as no surprise that men find it difficult to share. Some clients even express that they are pursuing therapy for the first time, highlighting the fact it is difficult for a lot of them to acknowledge the problem and seek help," reported Shahzor Hashim, a Fulbright scholar working as a therapist.
Shahzor Hashim said traditional masculinity is to be blamed. "When you are brought up thinking that emotion is weakness, it gets difficult to admit it, let alone share it with anyone. Like crying, it is a basic emotion. A lot of men can't even accept physical weakness, let alone emotional or mental weakness. I have noticed it personally while growing up as well, a man crying would be met with reactions like "boys don't cry," "are you a girl?" or even just ignoring the person right away. These remarks, from men towards men, invalidate them and in order to seek some validation they put down women instead of getting in touch with their own biases and working towards them."
Ahmer, Naqvi, a writer and journalist, shared that certain mental health issues - like someone being very violent, having some sort of outburst or using their strength disproportionately - are not even seen as problematic and might even be celebrated because they underscore harmful traits that toxic masculinity and patriarchy seem to uphold. "Masculinity is often structured around viewing things as binary; winner-loser, strong-weak, black-white. If you are not able to reconcile that or find shades of gray, that in itself makes processing feelings and thoughts difficult because they don't conform to that binary worldview. That and the gendered framing of the world exacerbates or gives rise to mental health issues, making it difficult to resolve them. For a lot of men getting into therapy or any sort of practice to treat mental illness necessarily causes a deconstruction of a lot of your own beliefs related to toxic masculinity."
Trapped by conformity
Society expects men to conform to certain societal norms - to be the breadwinner of the family and exhibit physical and mental toughness. This can also discourage men from openly discussing their mental health struggles. Since then they are less likely to seek help, to deal with their distress they usually resort to maladaptive coping strategies like denial, substance abuse and overworking.
We need to create a culture of more transparency around mental health issues and to educate men on how hiding their mental health struggles can actually make them worse or even result in physical ailments like hypertension, chronic back pain and ulcers.
Rabeea Saleem is a clinical associate psychologist and freelance journalist. She can be reached at [email protected]