KARACHI:
In the corner of every city across Pakistan, you will often observe group of people, young and old, mostly men, playing cricket on the streets. In the middle of a residential street, with a wicket set up in the middle, often inconveniencing cars driving by, there will be a batsman, a baller, fielders all enthusiastically enjoying one of the country's favourite pastime. You will even see some observers, either neighbours or the staff members of the members, maybe even construction labourers taking a break from their work, sitting and enjoying and passing commentary on the ongoing game. This most famous type of cricket in the country is called tape ball.
One important point to note however is that unfortunately, when we look at the opportunities of tape-ball cricket on a professional level, the ratio men participating is far substantially higher than women. One of the most common reasons female players don't come forward is the restrictions they get from their own families.
In Pakistan, especially in Karachi, which is said to be the region of origin of tape-ball cricket, the streets are filled with tape-ball cricket matches during the month of Ramazan. Tournaments for men are held with big prize money. Even aside from Ramazan, night tournaments are held throughout the year.
For women, it's the other way around. Except for the street cricket that they play with their siblings and friends, there is no tournament, with the exception of one, is held for women. Khelo Khawateen, organised by the Pakistan Cricket Board (PCB), is an indoor cricket tournament under their initiative, Cric4U that is held once a year.
The seeds of passion
Pakistan has seen a number of great players who have come from street cricket to represent the Pakistan national team. Pacers like Wasim Akram, Shoaib Akhtar, Mohammad Sami, Umar Gul, Sohail Tanvir, Mohammad Amir, Junaid Khan – are all products of tape-ball cricket. The same goes for the Women's national team, where most players have come from tape-ball cricket backgrounds.
Hafsa Khalid, a Pakistan Women A team player who started off playing cricket at the age of five outside her home with boys, said that every female player had grown up playing tape-ball cricket on the streets before they opt for professional cricket.
"I used to play with boys on the street outside my house. I played there, and then by grade six, inter-house tournaments in school were held. Soon when I reached grade eighth, I played for U19 professional hard-ball team at the national level," she said.
She added that she didn't know that there is any cricket team for women during her early days. "Many of the girls don't know that there was a women's cricket team. The reason is that we see no girls going up to play local tournaments unless someone from their family is from a cricket background," she added.
Held back by social pressure
One of the common reasons for the girls not playing cricket is the restrictions and limitations they have from their families. Ramin Fatima, an 18-year-old cricketer, said that the girls cannot or are not allowed to travel far away to play matches. "This is just one of the restrictions. Some girls are not allowed to dress up for the game. Some are not allowed just because they will get an injury. Most of the girls opt for tape-ball as there is less risk of injury," she told The Express Tribune.
One of the other limitation that Ramin indicated was that she and her brother use to play cricket together on the street, but once they decided to go to the academy for further training, it took her six months just find an academy that inducts female players.
"My brother and I went together to find an academy to get training. My brother had dozens of options but I couldn't find a single academy that trains female players. Then after searching many academies, I found Customs academy that had a separate training plan for female players," she said, adding that there are very few opportunities for female players who want to become cricketers.
Mohsin Khan, a fitness trainer at National Coach Center who also runs an academy and a women's cricket team known as the Athletic Club, says that female players face fitness issues while playing.
"There are many players who only come for the tournament and don't play cricket or work on their fitness throughout the year. That is where they face challenges. Stamina is the most common issue among female players, then comes to the reflexes and then speed," he said, adding that he in his academy focuses on these areas to make the female players stronger.
The first step to national level
Hafsa, who had played both tape-ball and hard-ball cricket, referred to tape-ball cricket as a first step towards professional cricket. "Like me, there are thousands of girls who have played tape-ball cricket. This type of cricket is more fun than professional cricket," she said.
"In tape-ball cricket, you get a chance to hit the ball hard out of the park. It's more fun. The batter targets the ball to hit the boundary while the bowler aims to bowl quick deliveries to get the hold of the batter. This is training for both players with the bat and ball," added Hafsa.
Ramin, On the other hand, says that the conditions of tape-ball cricket are much more difficult than the hard-ball. "The weight of the ball is light. If there is wind, you will get more swing which is difficult for both baller and batter. But at the same time, it increases the focus, and you learn to have more control on the ball," she said.
She added that more advantage is given to the baller in tape-ball cricket. "This form of cricket is played on cemented pitches, which are slippery and gives the bowler an increased pace. Pacers are the ones getting the most advantage," she said.
The coach of a women cricket team of Credo College, Raja Naveed said that some schools and colleges hold a tournament for their students but that too is limited to their inter-house tournaments. "There are not many tournaments for the girls. They will only get attracted and motivated once they have ground to play. We organise a tournament once a year but more tournaments for female players should be held to get them into this sport," he said.
A ray of hope – Khelo Khawateen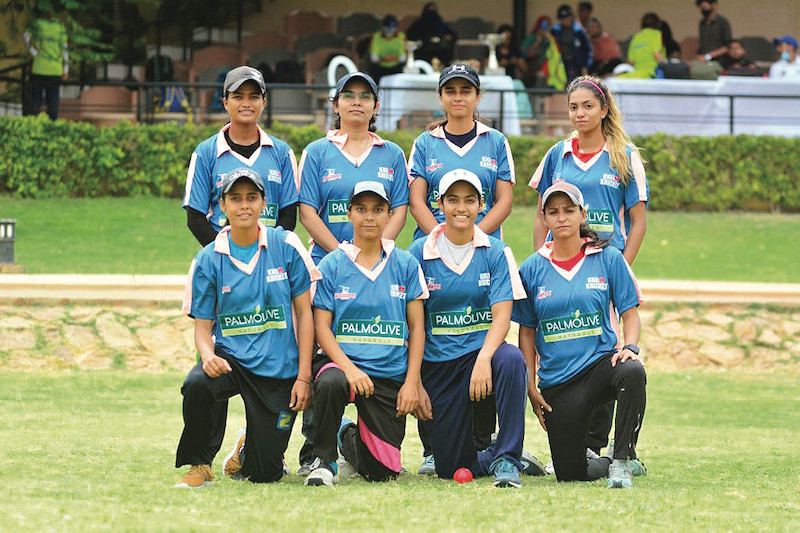 For passionate female players don't get enough opportunity to showcase their cricketing skills, Khelo Khawateen, a women's cricket tournament held by Khelo Kricket, is a ray of hope.
For the last five years, this tournament has given the women an opportunity to build up a team and play tape-ball cricket in a safe environment. The tournament is held in Ramazan, a time of the year when cricket is happening all around the city. This tournament provides them with a ground to play under the same conditions as the male players.
Hadeel Obaid Chinoy, the founder of Khelo Kricket, took the initiative five years ago to give the girls an opportunity to test their skills and opt for further training. "We started this off with the aim to provide the girls with a safe place to play and a tournament to test their skills. The interested players are encouraged to register their teams or as individuals who are later pooled in with a team, to come and play," she told The Express Tribune.
Talking about indoor cricket, Hadeel said that there is no point in getting the girls to play in an artificial environment. "Unless the player doesn't want to go forward and play for just fun, then indoor cricket is good but if they plan to go forward and play for the national team, then coming out in the ground is a must. This is why we hold our tournament out in the ground so that the girls can train themselves according to different conditions," she said.
"We do get issues from some of the girls that they don't have a ground to play, so we are working on this to provide them as many opportunities at the ground to enhance their skills. I am also a part of PCB's cricket association, and we are working with PCB to bring something up for the girls but that is for the future. Currently, we are trying to create a platform where you can scout talent and a path for the girls to get to the national team," she explained.
Talking about the tournament rules, she said that they have different rules of the game to make it more fun. She also informed that not only the amateur girls come out to play but also the players who have represented Pakistan team at different levels. The team Athletic Club, has been the winner for the past four editions and is a fan favourite team this year due to the presence of its professional players.
She added that they live-stream the tournament on social media, try to get more sponsors and give good prize money to the teams so that the players are motivated to join the game on the ground.
In the tournament, a wide delivery bowled in the middle of the over is counted as a legal delivery but give two runs to the opponent team. If the last of the over is bowled wide, that has to be bowled again and gives the opponent one run. The matches are played with eight overs an inning.