KARACHI:
We have moved out of what can be called a 'honeymoon period' with social media. An entire generation has now grown up without memory of what the world was like before. And so, like with all popular things, the downsides of this technology appear to us clear as day. Some, including even the not so young, can even feel nostalgia for 'simpler times'.
But every so often we will be reminded that there is good where there is bad and no technology shapes a world that is black and white. We may live in a world that still struggles with negligence and marginalisation for many, but technology, if nothing else, occasionally amplifies.
Take the city of Pasni in Gwadar district. Without social media, the majestic natural wonders of coastal Balochistan would still be unknown to most of us. As would be the talent this region and that city has produced. Beyond the beautiful beaches, Pasni has a significant contribution to sports and to the arts and literature. It boasts of contemporary poets like Mubarak Qazi and Munir Momin, who have been bringing about something of a renaissance of sorts. The former recently became an honorary member of Karachi's Arts Council for his contribution to Balochi poetry and literature. The latter, meanwhile, continues to be prolific with collections like Nigaah-e-Baatin-e-Safar, Daryaa Chankey Hoshaam Inth, Istaal Shapaada Gardanth, Paas Janaan Inth Darwaazag, Bicheeley Azmaan and Payaapein Lachchahy Paththo.
If you think about it, in a world without social media – like the one we lived in for millennia – how much talent would be lost to geography and time, limited only to the stories of local elders. Maybe the story of Pasni's 'Camel King' Shughrullah Baloch would be one of them. As would be that of the three artistic youths of the city he has inspired.
It was a tweet from the chief minister of Balochistan that first thrust friends Zubair Mukhtar, Bahar Ali Gohar and Hussain Zaib into the limelight. Had it not been for his sharing of their art on his account, the sand artists' work may have suffered the fate sealed in the medium.
"It was 2012 and we were actually having a picnic," shared Zubair. "You want to find ways to do something exciting and fun when out on picnics, and all three of us – me, Bahar and Hussain – share a yearning for artistic expression."
"So the idea hit us," he added. "Let's create something out of sand." Inspired by Pasni's own Shughrullah, who was known for making camel figures, the three friends decided to make a camel sculpture of their own.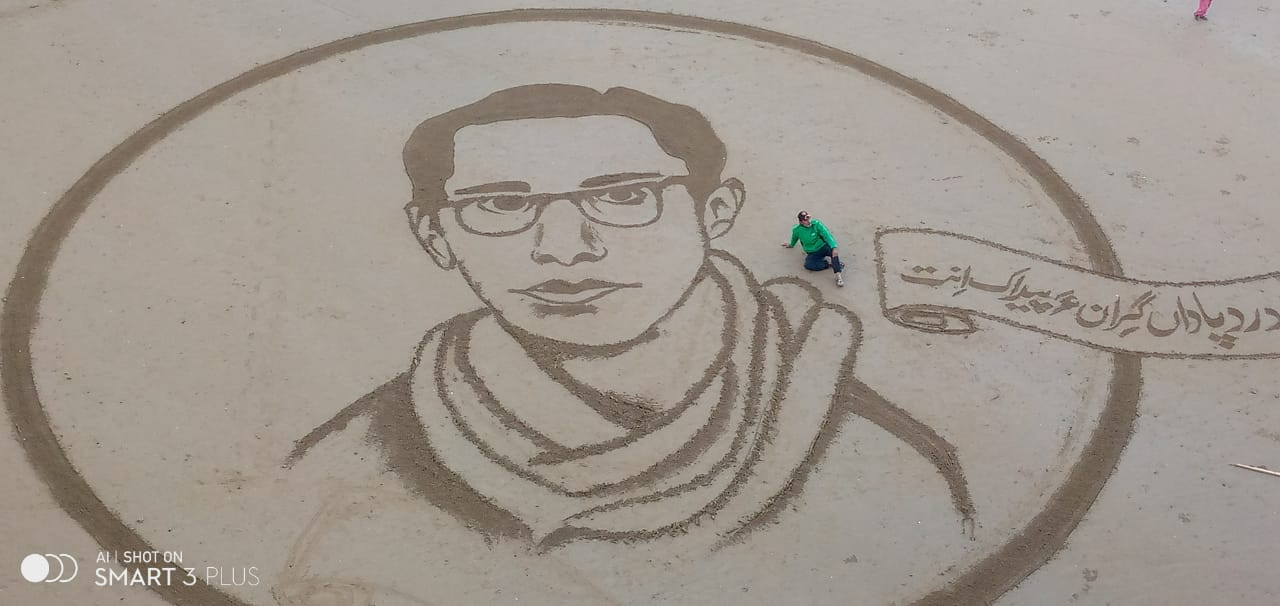 That single experience would kick off a journey with sand that has brought both the trio and their hometown some renown on social media. "[Since then] we have showcased our 3D and sand sculpture at the Gwadar Book Festival, the Balochistan Residential College and Turbat University. We followed it up by making sand art at the Kund Malir and Gwadar beaches, as well as our hometown of Pasni," he said.
Speaking about his artistic journey, Zubair revealed he started when he was in class seven. "I began by observed my late elder brother, Ghaffar Pervaiz," he said. "He was an incredible craftsman and I would say he was my first instructor."
Other inspirations for Zubair include Pakistani greats Abdur Rehman Chughtai and Gulgee. "I attempted to emulate Chughtai and Gulgee Sahib," he shared. "[But] my top pick among all has been the popular Baloch Artist Shughrullah Baloch, who was been given the title of 'Camel King' by locals here as he is well-known for making camel figures."
Talking about how he and his friends plan to take their art further, Zubair said he is in touch with fellow artists from Lahore's National College of Arts. "I try to get them to examine my work and I try to go to Lok Virsa consistently to meet our specialists and talk about how sand craftsmanship can be taken further," he said. "The well-known Jamal Shah Sahib has made an astounding association called, 'Hunar Kada' where we meet numerous individuals and he, when all is said and done, has been an incredible help."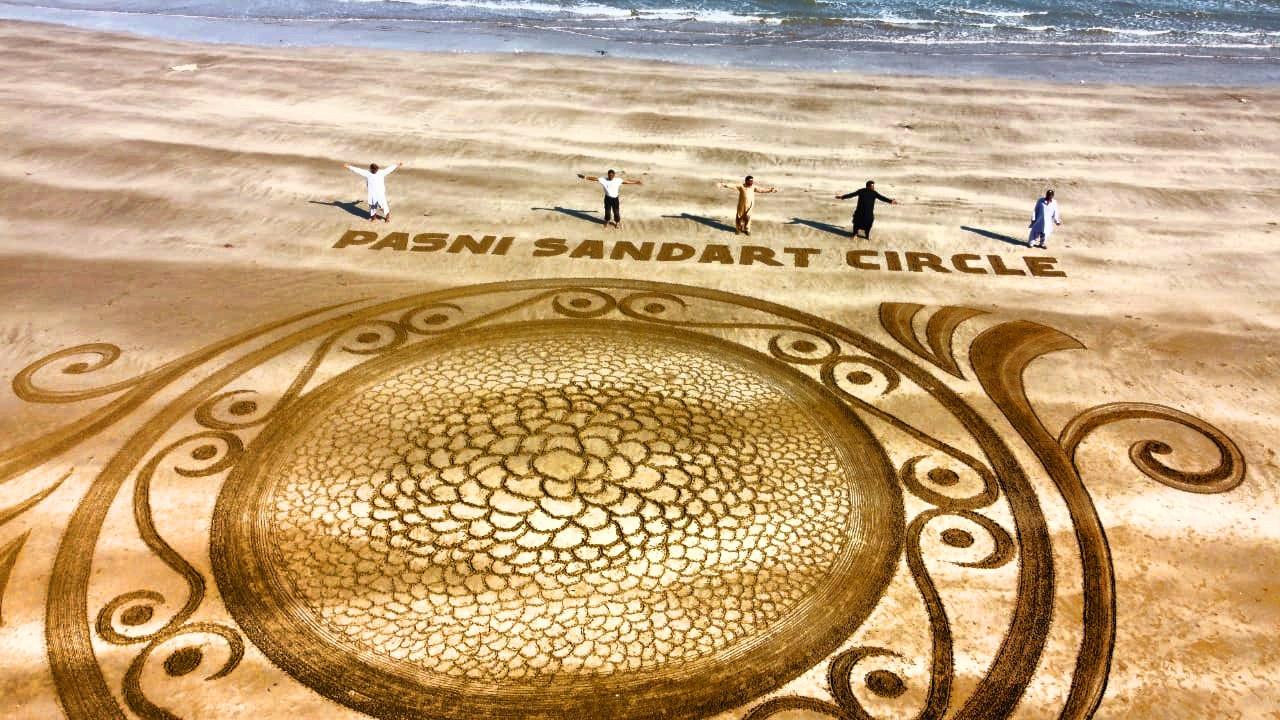 In 2016, the trio was invited as guests of honor to an art competition in Pasni. "Seeing such good talent in the four to five teams that took part, we decided to take it up a level," Zubair said. "We believed if we give local kids the support we missed out on when we were younger, we might be able to find more talent." The experience would spur on Zubair and his friends' pattern art idea. "It eventually opened new paths for us as well."
Three years later, the three friends were invited to another competition in Gwadar – this time focusing on the medium of sand and featuring 20 teams with both professionals and students. "When we saw such a huge body of work, we could not help but be reminded of the lines by Majrooh Sultanpuri: Mein akele he chala tha janib-i-manzil magar, log saath atay rahai aur kaarwan banta gaya [I started towards my destination on my own, but kept joining and our journey became a caravan]."
A tweet and the consequent exposure was not all Balochistan Chief Minister Jam Kamal helped Zubair and his two friends with. "He appreciated us and provided us funds to acquire the latest tools for sand art," Zubair shared. "Simon Drake, a sand artist from Holland has also offered to provide us with guidance and we plan to invite him to Pakistan for a combined art show on the beach," he said. "We want the world to know that artists are the ambassadors of peace and love, and through art, we can bring nations closer."
The trio met has also met Gwadar Deputy Commissioner Abdul Kabir, who has reportedly requested them to open an art institution in Gwadar for the locals. "We have plans to invite artists from NCA, Hunar Kada and Quetta Art Gallery to our city so that they can teach arts here,"Zubair said.
This year, Zubair, Bahar and Hussain were invited to the Lok Virsa event in Islamabad to showcase their sand art but due to Covid-19 the event was postponed. "We get invitations from different part of country all the time now. On New Year's Eve, we were invited to Kund Malir Beach to welcome the New Year," he added.
Sand art is not all Zubair and his friends' talents are limited to. "I am a school teacher by profession and a lot of my sketches and collage art can be seen in the school art gallery," shared Zubair. Hussain, likewise, specialises in many types of sculpture art and has designed book covers also for several Balochi writers.
"But sand art is what has ultimately brought us the most appreciation," Zubair said. "We did not know that our work with sand would be liked and valued so much," Hussain admitted. "We are lucky enough to be born in this era of social media where an artist does not have to wait all his life to get encouragement and fame. Our city which is not that famous outside Balochistan is somehow famous now because of our sand art viral images," added Bahar.
To some extent this conversation with the sand art trio has been both, an inspiration and a confidence building session. When asked about his thoughts on government negligence and disinterest towards talent from less privileged areas, Zubair quoted Allama Iqbal:
Nahi hai na umeed Iqbal apni kasht e viraan se,
Zara num ho to ye mitti bari zarkhaiz hai saaki
(Iqbal is not at all hopeless about his barren lands,
With a little moisture, this soil is extremely fertile.)