KARACHI:
In the 21st century, one needs to be in tune with the digital world. The online population is increasing exponentially day by day – reports estimate the number of Internet users in Pakistan reached 61.34 million in January 2021. To cater to a large digital population, all countries have been in a race to see which country will be first to come up with the best 5G network. This begs the question, where does Pakistan stand?
Communication service providers worldwide are battling one another to build out, validate and deploy commercial 5G networks. Given that Pakistan is a growing economy, more and more of its online population is also increasing in order to access the myriad benefits that it can provide. 5G technology is 100 times faster than 4G and will make life that much better for its users. Time is money, and of course, more time saved and more ease of use equates to more money being saved. As such, Pakistan must complete the transition from 4G to 5G as soon as is practically possible for the benefit of the Pakistani people as a whole.
But there are several reasons that Pakistan is nowhere near adopting 5G technology. Some of these reasons include the lack of good mobile phones, illegal signal boosters and old frequency bands.
Unplanned obsolescence
According to the telecom Indicators updated by the Pakistan Telecom Authority (PTA) on March 2021, there are about 98 million 3G/4G subscribers that make 43.51 per cent penetration in the country. Broadband subscription in the country has hit 101 million, while the total number of cellular subscribers has reached 183 million. Unfortunately, however, the larger chunk of users is still on 2G.
According to figures, PMCL (Jazz) accounts for the highest number of registered cellular subscribers in Pakistan. On the question of 5G, the provider believes that the 4G network in the country must hit 60 per cent penetration for the next-gen technology rollout to become feasible. The ground reality is that the country is far from that level. Despite enhancements such as new 4G towers being added to the network, around 90 per cent of mobile sets that are being assembled or manufactured in the country are only compatible with 2G technology.
"We have to ensure the at least 60 per cent among all consumers are on 4G before going to 5G," Jazz CEO Aamir Ibrahim told The Express Tribune. "We need to accept that the lack of good mobile phone sets is one of the key barriers to the Internet growth in the country."
Talking about the need for a policy decision by telecom regulator PTA, he said, "I do not consider 3G broadband as it is an obsolete technology now. Although Pakistan has a mobile set manufacturing policy, the focus should not be on 2G-compatible sets but on the assembly of smartphones. Presently, approximately 53 per cent of all SIM subscribers use 2G sets."
He further stressed that the PTA has to make mobile companies sell locally assembled sets at instalments. "A digital emergency needs to be declared and targets need to be set the to determine national goals in this regard," he said.
Talking about broadband companies, he pointed out that all of them are foreign investors, and the basic need of all investors, foreign or local, is predictability and equal treatment. "Continuing at this pace won't achieve the digitisation targets, we need to do something radically different. We have to create an environment conducive to investors and do heavy investment in it," he said.
Cellular companies are often criticised for not providing quality Internet in certain areas. On this, Ibrahim said that there are certain areas where the authorities there do not allow the operators to establish a tower. "Our focus of growth is around 20 per cent in unserved areas but the cost of doing business in these remote parts is too high," he added.

Creative: Mohsin Alam
I
llegal signals
Another reason for the slow pace of adopting technology in the country is the illegal use of services. Like any power utility that suffers losses due to power thefts, the same is case in cellular signals.
Many cellular and broadband users in Pakistan are experiencing a drop in their networks due to a growing trend of illegal installation of GSM signal boosters in residential and commercial areas. People use these boosters to increase mobile signal strength within buildings that have poor connectivity due to coverage gaps. Since these devices amplify the signals between a mobile phone and the mobile operator's base stations, they cause problems because they broadcast continuous signals and jam legitimate users' phone signals. This is similar to having an illegal water connection from the main supply line, which causes a shortage for all other consumers.
These boosters are readily available wholesale, retail and in online marketplaces and have become a norm in many households. The rise in the installation of these boosters has led to a growing number of complaints by mobile phone users in various parts of Pakistan against network disappearance issues, which leads to call drops and low data speeds.
However, it seems to be the case that people are also not aware of the illegality of these boosters in Pakistan. According to the Pakistan Telecommunication (Re-organisation) Act 1996 Section 31, Sub-section (2), "the unauthorised use of the radio frequency spectrum shall be punishable with imprisonment, which may extend to (three) years, or with fine which may extend to Rs10 million, or with both."
PTA has issued several notifications warning users of strict legal action if they are found using or selling these signal boosters. In December 2020, PTA also sent a letter to the FBR requesting them to stop importing these illegal boosters and amplifiers. However so far, no action has been taken in this regard, as these devices are readily available in urban markets and even on certain e-commerce websites.
The PTA spokesperson further said that the authority has been serving notices and taking actions against their installation and making efforts to curb the menace of signal boosters. "Much work is being done to end the issue of the illegal signal booster. The authority takes actions on the request of companies and customers. Based on customers' feedback we have successfully managed to increase signal strength in many areas," he added.
In this regard, the cellular companies said they were working alongside PTA to ensure quick provision of quality services. The Chief Operating Officer of Telenor Pakistan, Khurram Ashfaque, said that Telenor ensures the devices installed at the customers' premises are approved as per PTA guidelines. "[However] Recently, we have observed some installation of unapproved, off-the-shelf and poor quality devices at certain locations," he said.
"Boosters create unwanted signal interference and degrade the experience of mobile customers in their vicinity," he said while requesting the PTA and Frequency Allocation Board (FAB) to take steps to control the availability and use of such boosters to ensure uninterrupted signal quality to mobile customers.
Since the pandemic struck the world, almost all sectors moved their work online and what was key for this move to be successful, was good internet however, this was an issue for many. For instance, many health care workers in Pakistan have been consulting and teaching students online, and they many faced issues while trying to execute this. "I am a doctor, and since the pandemic, I have been forced to teach students online. Although I have to go to the hospital in case of emergencies, the OPDs are conducted online. For this, a good internet connection for video lectures is required," said Sadia Manzoor, a practising doctor at Sir Syed University Hospital.
"There are times when the line internet connection is not working and we have to use 4G but even that sometimes does not work. The internet suddenly stops or the mobile cellular signals go off. The same happens at the time of conducting online classes. This causes a lot of interruptions while consulting and teaching," she said, adding that she has complained to the cellular company and, upon their visit, got to know that there are some illegal signal boosters installed in the area that is causing the issue.
New connections, old frequencies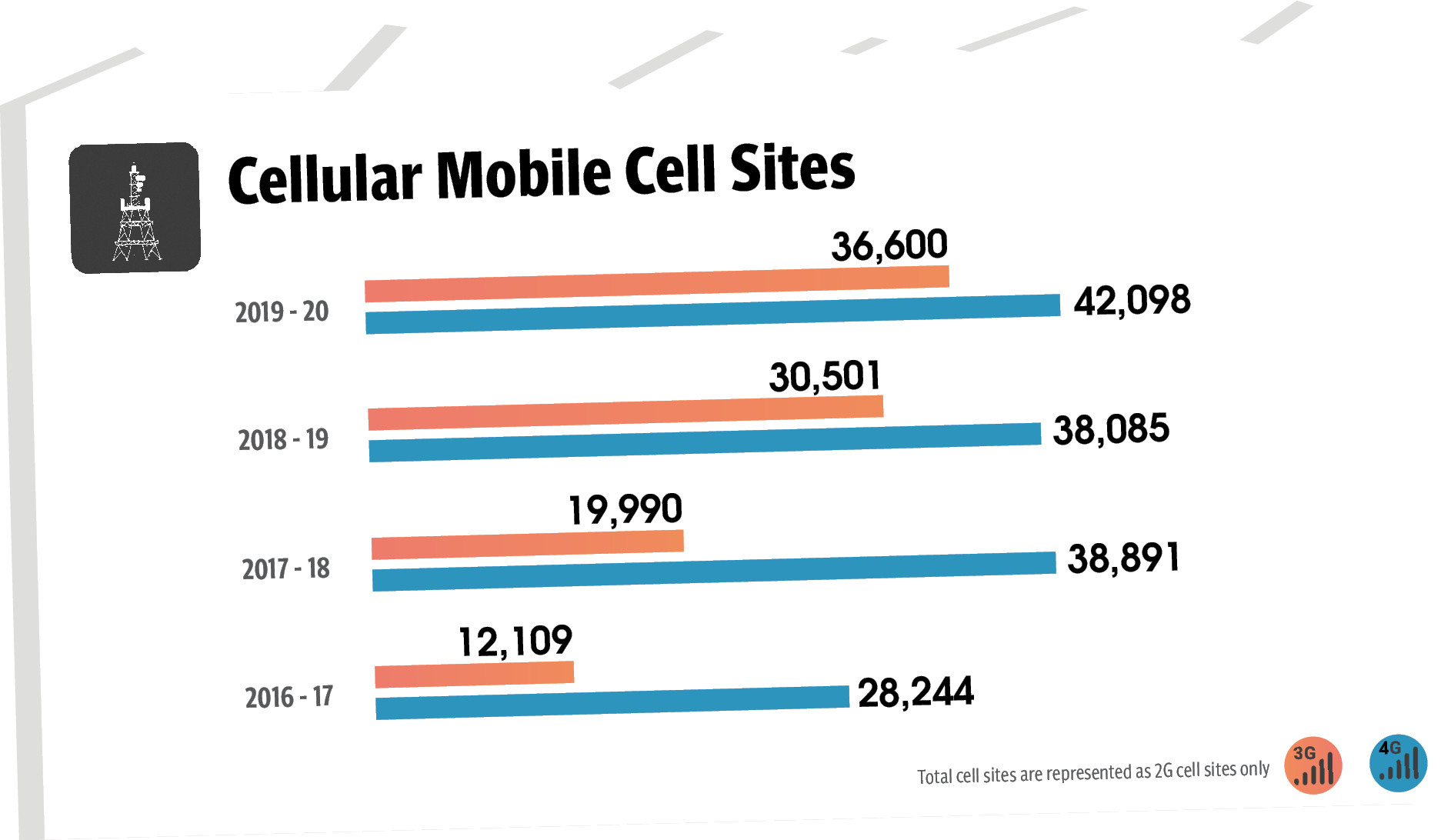 Another challenge is the frequency bands. A 4G LTE operates on established frequency bands below 6GHz, whereas for 5G frequencies go all the way up to 300GHz. But in Pakistan, the companies are adjusting the new connections on old frequencies.
An independent information and communications technology (ICT) analyst said that this is an ideal time for PTA and the FAB to float frequency spectrums for auction. "The Covid-19 pandemic, has increased broadband penetration in Pakistan but companies are still adjusting new connections at old frequencies," he added. He added that people use boosters to strengthen the signal strength, and this issue will be resolved to a great extent when a new spectrum becomes available.
Even though many users use fixed-line Internet, mobile-based Internet is the essential source of digitisation. It is the best tool to spread awareness and education, especially during the pandemic. Having access to Internet at your fingertips, not only open forums to gain knowledge but also to enhance your skills.
A Karachi-based gamer, Mohib Asad, while talking to The Express Tribune, said that many mobile-based games are getting popular in Pakistan but low configuration mobiles and slow internet connection is a huge hindrance in Pakistan. "We have some of the best gamers of the world in Pakistan but the unstable and slow Internet connectivity creates issues. If 5G is introduced in our country, it will create a level playing field for us and other gamers in developed nations," he said.
However, Pakistan is will be nowhere near introducing 5G technology unless the issues mentioned earlier are resolved. Currently, even 4G has not penetrated countrywide, there are still some areas that are yet to get 3G/4G service. The need for smooth and stable connectivity in the serving areas is also required as soon as possible. More importantly, the users who have not yet switched to smartphones will keep on using 2G-bassed phones until local manufacturing is not stopped.