KARACHI:
It took Farhan* three years to get past the traumatic experience of gang sodomy. The nightmare haunted the 14-year-old so severely that he couldn't even stay alone in his room. There was also no way his family could encourage him to go to school or play outside with his friends.
"He remained terrified for years, fearing they would also come back to kill him. We live hand to mouth and couldn't afford counselling for my brother," said Farhan's sister, Khaula*, while talking to The Express Tribune.
Talking about Farhan's ordeal, Khaula who lives in Attock said that there were three boys in the neighbourhood who made a girls' group on Facebook and messaged Farhan to hang out with them but Farhan never met them. One day, those boys used Farhan's friend to bring him to a shop to buy some groceries. Farhan didn't know their heinous plan and accompanied him. His friend took Farhan to a quiet place where six boys were waiting for him. One boy blamed Farhan for talking to his sister on Facebook. Farhan told them repeatedly that he doesn't even know who his sister was but they didn't bother to listen.
The group had some other plans. After some arguments that went back and forth, they started beating Farhan and at this point, two of the boys cornered him and sodomised him. When Farhan fell unconscious, they took him to a hospital and warned him not to tell anyone about this incident at home, otherwise, they would kill him. They asked Farhan to tell doctors and his family that he had an accident.
"I am Farhan's elder sister and I brought him up like a mother, so I was very close to him. He told me about his ordeal and I was determined to take action against those boys," she said. "Later, we came to know that the Facebook group was being run by those boys. We don't even know why those boys treated my brother like that. I am sure they were into such activities."
When we went to the police station, they didn't listen to us or register an FIR for the clash between Farhan and the boys. We kept insisting on sodomy but they didn't pay heed. After a week, they sent Farhan to a forensic lab in Lahore, which didn't help because the medical report was unable to reveal much about the incident which had occurred a week ago.
"The case was in the sessions court for three years. And we couldn't prove our case because we couldn't produce a medical report that can clearly attest to the crime," said Khaula.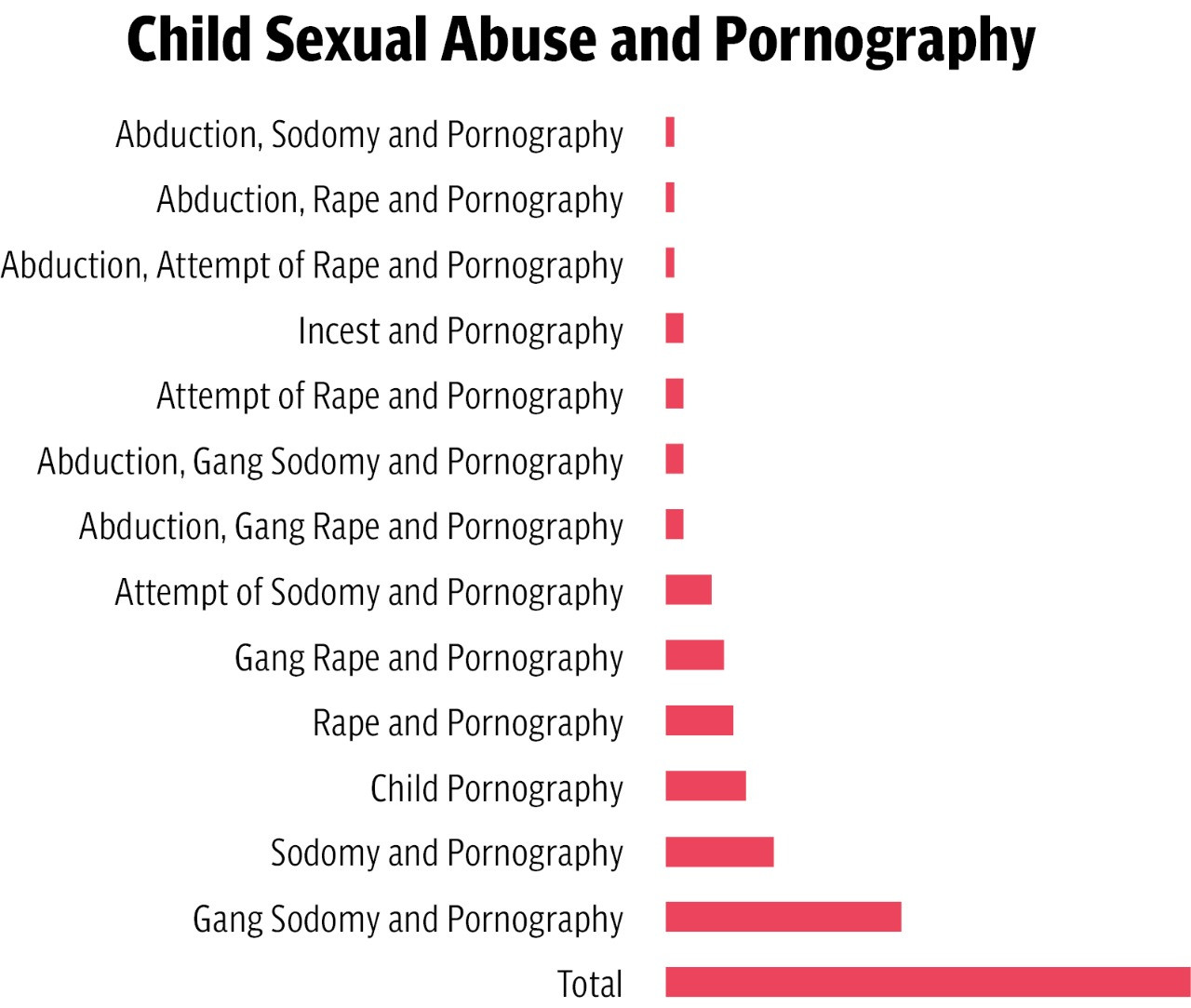 Creative: Mohsin Alam
Rise in sodomy cases
Sindh Provincial Coordinator Sahil—an organisation working for child protection—Barkat Ali Ansari told The Express Tribune that in many child sexual cases, influential people are involved, so cases are not registered. "The influential people tell police they will decide something [with the family] on the issue between themselves and the case does not end getting registered the case. Moreover, police also don't register cases without medical reports," he said.
There is also a common misperception that it is mainly girls who become a victims of child sexual abuse but according to the Sahil 2020 report, cases of sodomy have also been on the rise the last few years.
According to Ansari, data confirms the fact that in most sexual violence cases, the culprits are known to their victims. Most of them are either neighbours, family friends, teachers or even relatives, who use their influence to silence the victims.
According to Sahil's annual report published in March this year, 2,960 cases of child sexual abuse were reported in the media. These cases were reported from Islamabad Capital Territory, Azad Jammu and Kashmir and Gilgit-Baltistan. In 2020, a slight increase can be seen in child abuse cases. These cases have increased 4% as compared to 2019's data.
Analysis of the data reveals that in 2020, out of the total reported cases, 985 cases were reported of sodomy, 787 cases were rape, 89 cases were pornography and child sexual abuse, and 80 cases were reported of murder after child sexual abuse, whereas 834 cases were reported of abduction. Cases of missing children and child marriages were 345 and 119 respectively.
Developmental Psychologist at the Aga Khan University Waliyah Mughis said that sexual abuse against boys is much more common than people believe. "Both, female and male victims can struggle to be believed by others but the taboo surrounding male child victims maybe even higher. Regardless of gender, the harmful effects of sexual violence are the same for males and females: guilt, self-blame, anger, fear, confusion, distrust, difficulty at school and work, difficulty forming and maintaining trusting relationships, increased risk of substance misuse and self-harm," she shared.
This year's data shows that out of total reported cases 80 children were murdered after sexual abuse. As compared to last year's data, a significant increase can be seen in the cases of murder after child sexual abuse.
As per the report, there were 165 cases wherein the victims were aged between 16 and 18 years.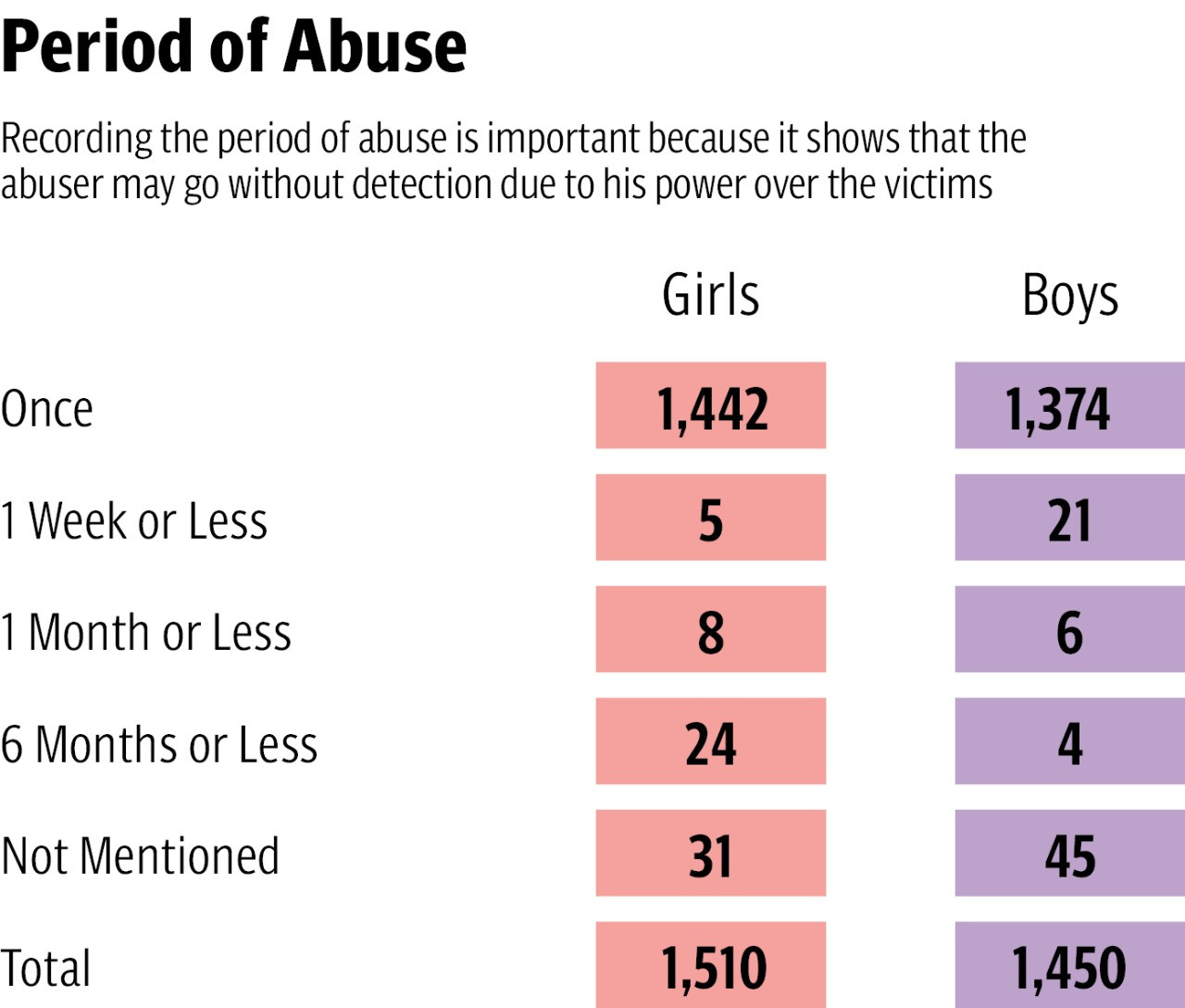 Government's apathy
The government has the resources to work in this area but they do little. Millions of rupees are allocated and then the amount lapses for not being utilised, and every year they cannot establish a proper system to protect children. One such example can be taken of the Sindh Child Protection Authority (SCPA) Act. "The law was made in 2011 but the government has taken no positive steps to implement these provisions that are in the greatest interest of the people of Sindh," said Ansari. On October 10, 2020, the Sindh High Court complained about provincial authorities for not enforcing the child protection law which was enacted in 2011.
The Sindh government has set up child protection units in different districts but these units are used to refer cases only, he said and added that there was a dire need for higher mobilisers and to establish safe houses for affected children.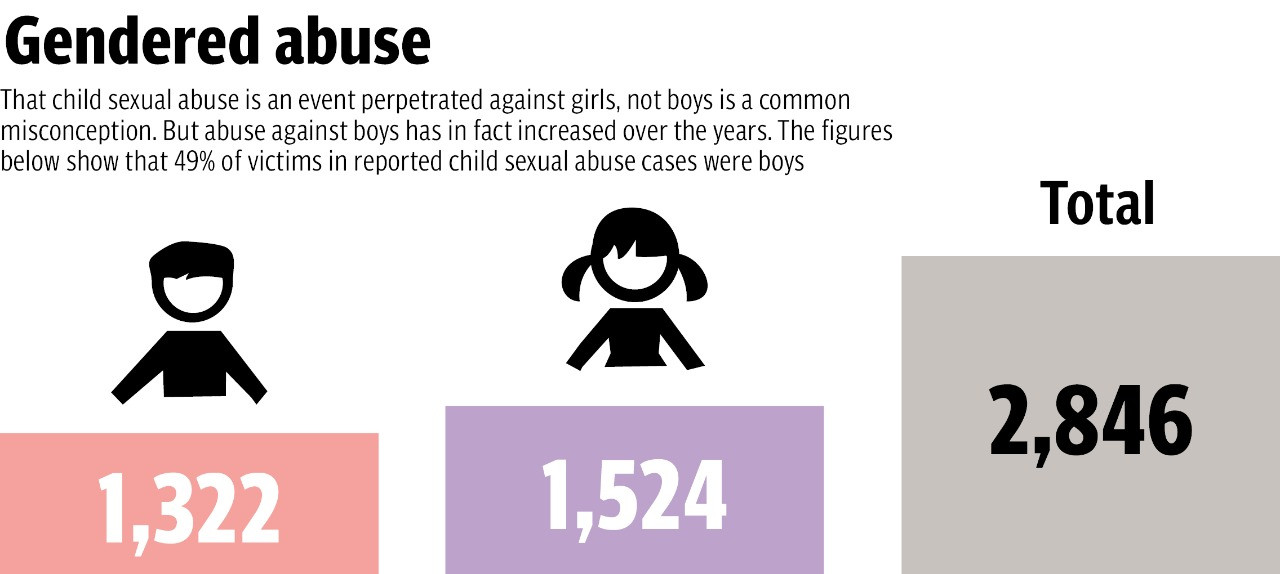 Getting over trauma
According to Mughis, there is no specific age at which one can just 'get past' the experience or get over the trauma. "Their body, mind and spirit have been violated so they require a lot more social support, legal action and medical aid," she added.
She shared that like Farhan those who do not get the right help or cannot report the abuse to anyone else may lead very distressing lives, repeatedly triggered by others and finding it difficult to move on from the trauma. If someone has supportive parents and access to medical and legal services, they have a better chance of recovering and healing from the trauma. Otherwise, this trauma can follow someone and affect them for their entire lifetime.
The abused brain
Mughis explained that sexual abuse or violence can affect children in several ways. "The effect of the trauma can continue into adulthood, especially if not dealt with at the right time. Such violence and harassment can affect a child's thought process, feelings, mental and physical health, the quality of their relationships, their faith and trust in others, as well as their occupational and academic success."
Mughis said that after being abused some children may become withdrawn and isolate themselves from others, while other children may act more emotionally and sexually mature than is age-appropriate for them. Survivors of sexual abuse may be distrustful of others or feel a lot of guilt, shame, fear, humiliation and confusion.
Most cases reported in rural areas
In 2020, out of the total 2,960 reported cases, 1915 (65 per cent) cases were reported from rural areas, while 1,045 (35 per cent) cases are reported from urban areas. Ansari was of the view that Pakistan's 60 per cent population lives in rural areas, which is why more cases are reported from there. "It is quite encouraging to see that now cases of child sexual abuse are being reported even in rural areas, while earlier people didn't even report them due to the shame and dishonor the case it could bring to the family," he said.
According to the report, 87 per cent of cases of sexual child abuse were registered with the police last year.
The report also revealed that 58 per cent of the cases were reported from Punjab, 29 per cent cases took place in Sindh, 7 per cent cases from Kyber Pakhtunkhwa, 3 per cent cases from the Islamabad Capital Territory, 1.79 per cent cases were reported from the Balochistan, 0.60 per cent cases from Azad Jammu & Kashmir (AJK), and 0.13 cases were reported from Gilgit Baltistan (GB).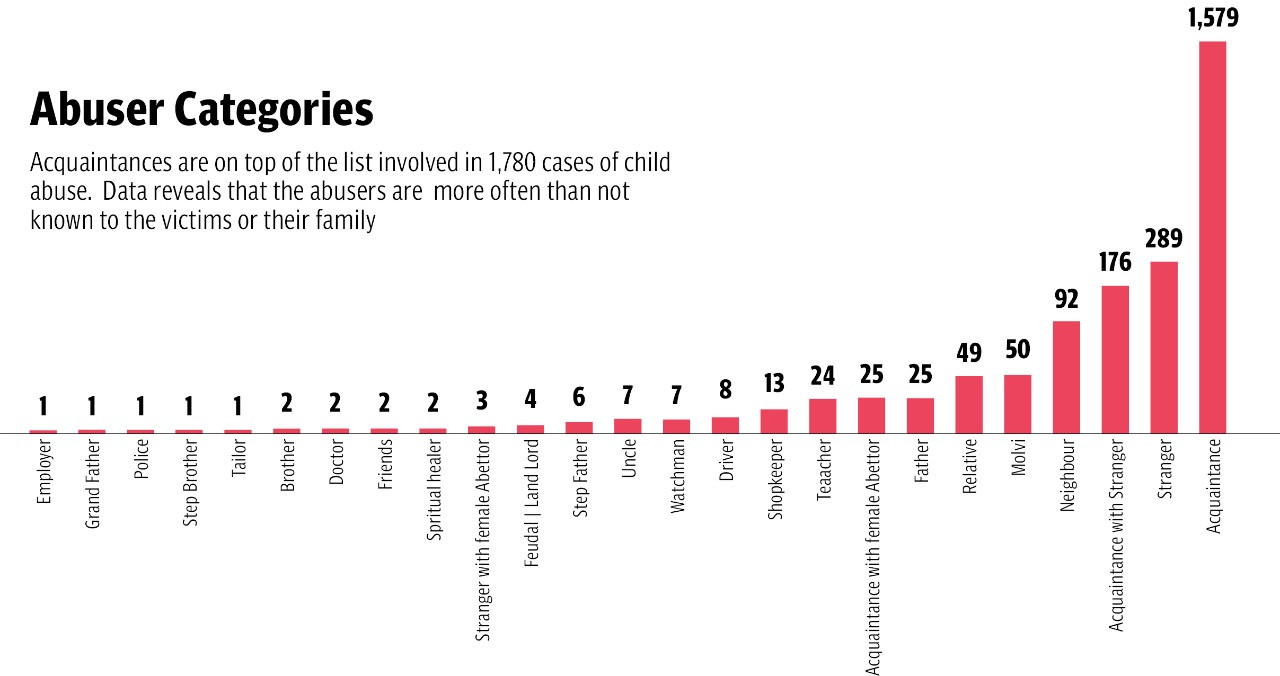 Subsidised counselling, family support
Counsellors and therapists at Sahil provide counselling to children according to their ages and help them get over the trauma. "These children have to appear in courts later and if they are traumatised, they cannot speak before their abusers. Therefore, there is a need to provide them counselling and family support," said Ansari. He added children come to Sahil and our psychologists use different tools specific to their ages in order to help them get past the traumatic experience of sexual abuse.
According to Mughis, any victim of sexual abuse should immediately be provided medical aid and a check-up by a doctor as well as therapy and counselling should be considered as a part of that medical support. NGOs such as Aahung can provide access to doctors and therapists who could support and treat an abused child. There are also NGOs such as Taskeen that provide subsidised, or free-of-cost telephonic counselling for people around the country.
Most times, children are not taken for counselling because of which it takes them longer to get past their trauma. However, there is no substitute for professional help and there is no substitute for family support. "Ideally, an abused child should receive support from both. If access to professional support is limited, then the family must seek legal help for the conviction of the perpetrator and make sure that the abuser cannot hurt anyone else further," advises Mughis.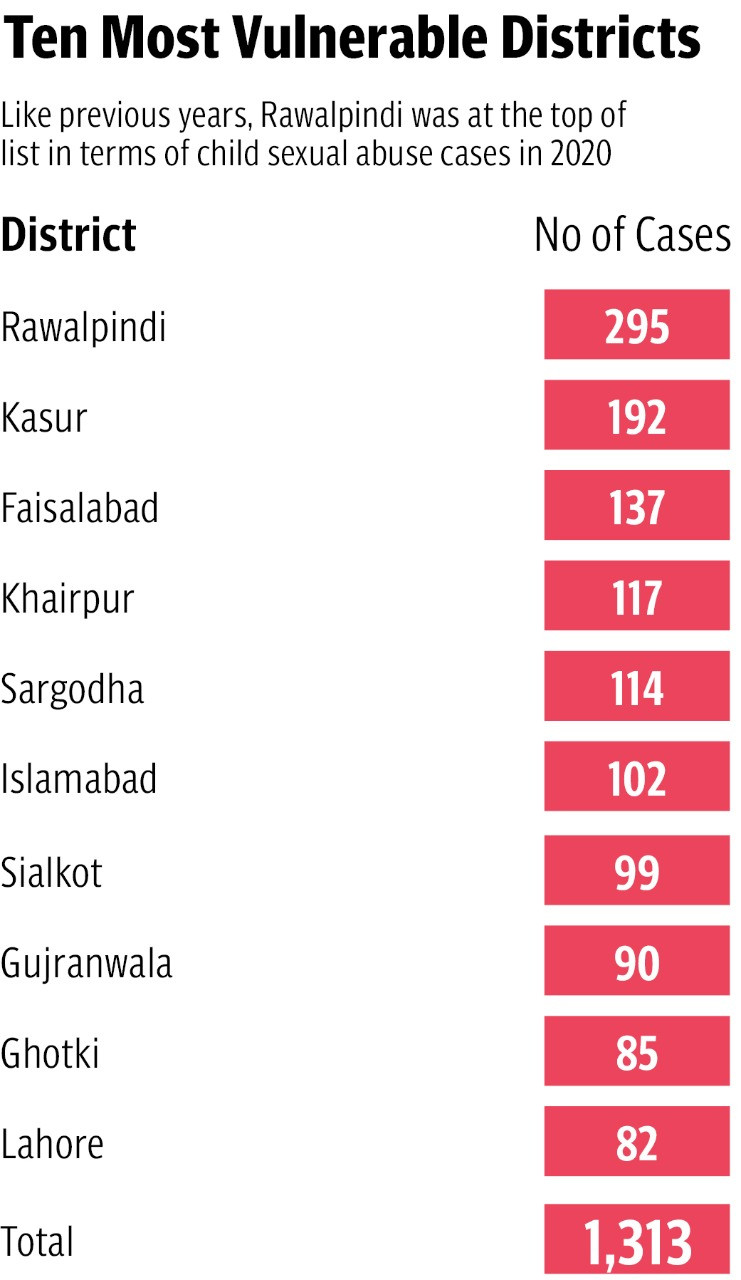 Names have been changed to protect victims' identity*