KARACHI:
The novel coronavirus has had a calamitous impact on almost every facet of life and business. But back in March last year, few would have imagined the pandemic would thrust the technology sector into jeopardy as well.
By December 2020, German auto supplier Volkswagen began issuing warnings of a projected shortage of semiconductors. The carmaker blamed pandemic uncertainties as the prime reason behind the looming chip shortage and forecasted a drop in automobile production in 2021. Shortly afterward, computer producing industry, smartphone segment, TV makers and producers of almost all electronic items flagged a warning of an oncoming chip shortage which could disrupt whole tech industry and people's lives at large in 2021.
Fast-forward to today, the chip shortage seems inevitable and leading global companies that specialise in electronic products have begun taking steps to sustain their businesses amid the shortage of semiconductors. Ford Motor Company has announced that it would be able to achieve only half of its 2021 production target due to global chip shortage. In a recent statement, Apple warned that semiconductor crisis could dent sales of its production by several billion dollars.
While some companies are dealing with the projected crisis by slashing productions, others have resorted to increase prices to balance demand and supply factors on one hand and to meet the soaring cost of production on the other. "The shortage reflects strong underlying demand for consumer electronics, which we expect to be sustained through 2021," said Fitch Ratings in a recent statement. "This has been partly driven by the Covid-19 pandemic."
Qualcomm, which makes chips for Samsung phones, is struggling to meet the ballooning demand. Apple's major supplier Foxconn has also warned of the chip shortage affecting supply chains to clients.
Supply side disasters
The major cause behind the shortage was global lockdowns in March 2020 because of which factories had to either cease production altogether or cut the amount of people in its shifts. Many industries also halved the number of shifts hence production fell to 0-25% compared to what was being produced before the pandemic. Last year, electronic and car manufacturers utilised stockpiles of chips however given the trade restrictions due to the pandemic, the inventory has ended now and many industries are struggling to gather chips for production for next few months.
In addition, supply disruptions due to lockdowns and closure of borders added to the scarcity. Majority of chips are produced in Asia however transportation to factories of electronic products all across the globe posed additional problems. A large amount of chips is exported from Asia to North America and European factories to be installed in the finished goods. The prolonged stalling of trade during mid-2020 led to inequitable distribution of chips with major firms reporting massive shortages.
On March 19, factory of Japanese chipmaker Renesas Electronics caught fire due to a power surge in one of the machines, and it placed further pressure on the broader chip industry amid a global shortage of semiconductors. Renesas, which commands nearly a third of the global market share for microcontroller chips used in cars, said 23 machines were damaged in the fire. The company's Chief Executive Officer Hidetoshi Shibata told a news conference that recovery to pre-fire levels was expected to take around 100 to 120 days from the incident.
Carmakers including Toyota, Hyundai, GM and Ford were hit due to the fire because two-thirds of output at the affected plant consisted of automotive chips used by these companies for production. Chip supplies to carmakers would stop around the end of April and Renesas expects these companies to feel the impact for a month-and-a-half to two months. Renesas accounts for 30% of the global market for microcontroller units used in cars.
Booming demand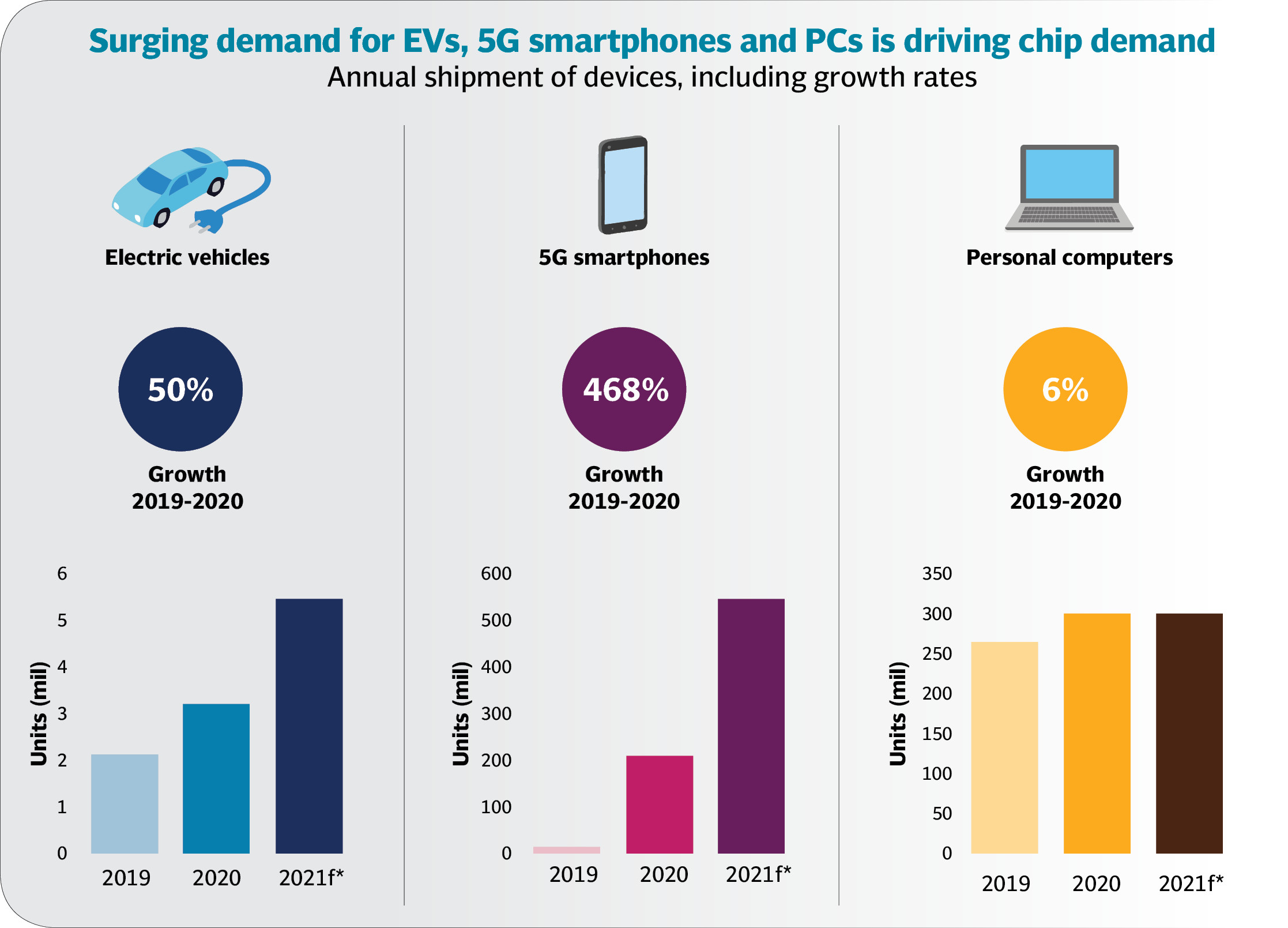 Right after the pandemic gripped the world, a tech boom followed as companies and educational institutions went to work from home and online education models respectively. As a result, retail buying of laptop, smartphones and tablet PCs soared past expectations and their production rose faster than forecasts of the respective companies, which eroded the leftover inventory.
Substantial buying of laptops and other electronic products by the consumers during the pandemic tightened their supplies in the market and producers were forced to enhance output in order to bridge the demand supply gap hence they exhausted their stocks, which they had procured for production during later months.
Globally, car sales inched up after the lockdown as automobile companies moved to clear order backlog while new orders poured which eroded input material including chips faster than expected. With every company that uses chips in production panic buying to shore up stocks, the shortage has squeezed capacity and driven up costs of even the cheapest components of nearly all microchips, increasing prices of final products.
Sanctions against Chinese tech companies have further exacerbated the crisis.
Moreover, recovery came back much faster than expected for firms specialising in hardware. The pandemic gave significant push to demand of desktop PCs, laptops, smartphones, televisions and other gadgets hence factories had to ramp up production while working below capacity.
Cryptocurrencies also gained traction over the past one and half year and demand for graphic cards needed to mine cryptocurrencies surged to a point that many companies sold out their entire inventories. These graphic cards also utilise semiconductors hence crytocurrency mining also played a vital role in chip shortage. Besides, the videogaming segment grew by a manifold with Sony and Microsoft releasing next generation consoles in 2020 hence a modest proportion of global chips were utilised by the two companies.
No short term fix
Speaking to The Express Tribune, Priceoye.pk founder and CEO Adnan Shaffi detailed that cars, laptops and other electronic instruments are increasingly dependent on chips now that everything is computerised. He added that chips are made out of silicon and its supply is limited right now.
But more important thing is that a semiconductor fabrication plant, commonly known as fab, costs billions of dollars to be constructed hence a unit cannot be created in a week or a month's time. "It takes years to set up a fab unit because process is quite slow," he said.
Shaffi pointed out that demand for semiconductors rose since Covid struck the world and lockdowns were imposed however supply remains largely the same until now. It is extremely difficult to enhance supply in short term, he said.
The sale of electronic device sales soared all across the globe when businesses implemented work from home models and demand for laptops and mobile phones skyrocketed.
Even more important than this is the fact that a 5G device uses a lot more silicon or higher amount of chips compared to its predecessors therefore a rise in production of 5G phones and tablets enhanced chip utilisation by a manifold.
"Atleast 25% of all smartphones sold in the world in 2020 were 5G ready," he said. "Although world is yet to adopt 5G technology on a wider scale but still companies are making 5G ready devices so that consumers do not feel left out once 5G is introduced all over the world."
Rise in demand and production of 5G devices is lifting the demand of chips upward.
Winners and losers
Fitch Ratings expects chip foundries, such as Taiwan Semiconductor Manufacturing Company (TSMC) to be key beneficiaries of the robust demand and chip shortage. The ratings agency expects semiconductor foundries to enjoy strong pricing power in the near term. "We further expect recent market trends to spur revenue growth at Outsourced Semiconductor Assembly and Test (OSAT) companies, as higher chip demand will boost the need for assembly and testing services," it said, adding that the chip shortage could lead to a cyclical upturn for larger fabless and Integrated device manufacturer (IDM) companies, resulting in higher revenue growth and operating margins in 2021.
The chip shortage could dissipate gradually over second half of year 2021 as foundries ramp up capacity at existing plants. They are also likely to invest in new semiconductor fabrication plants (fab), which take two to three years to become fully operational, to cope with higher demand over the medium term. According to it, additional risks to chip supplies include US-China tensions which may spur China to develop more autonomous supply chains.
"The established trend among IDMs to outsource chipmaking, assembly and testing is unlikely to be affected by the increased use of in-house production by some IDMs amid the chip shortage," it said. It forecasted that massive investments in new plant capacity at this point in time can drastically reduce prices of chips in future when demand will fall and supply remains on higher side.
"Nevertheless, we view this risk as low," it said. "The pandemic's effects in popularising more flexible working-from-home arrangements, increasing demand for cloud services and accelerating the deployment and adoption of 5G technologies are likely to have an enduring impact on consumer electronics demand."
The robust growth in demand for chips from the automobile sector, associated with the increasing market share of electronic vehicles and spread of more advanced vehicle technologies, also appears to be a structural rather than cyclical phenomenon.
Local impact
Shaffi said that even in Pakistan, phones, TVs and laptops are available in limited quantity and one of the prime reasons behind lower volume is the scarcity of semi conductors. Just like other countries, companies are sending lower amount of units to Pakistan as well, which is consistent with a decline in production and supply, he said.
"Recently, Samsung launched mid range phones in Pakistani market but it is already sold out and local consumers are having a hard time finding those variants in the markets because global supply of these models is low," he said.
He added that at present, prices of smartphones are largely stable hence chip shortage has not yet impacted Pakistan's mobile phone segment.
However, price of newer models, which are being launched in the budget phone category, have increased compared to last year by approximately 10%. Shaffi was of the view that this was not the result of semiconductor scarcity rather it was due to local market conditions.
Karachi Electronics Dealers Association Techno City Chapter Chairman Malik Muhammad Yasin said that revised prices of laptops were notified to dealers and importers of Pakistan May 1. "The prices have been revised upward and this is primarily due to the global chip shortage," he said. "The chip that powers wi-fi in devices is immensely short and since it is a necessity to have that particular chip during the assembly process, companies are having hard time producing electronic merchandise."
At the same time, companies are taking the opportunity to expand revenues hence they have resorted to hike prices stating the reason to be shortage of finished products, he said. "HP, Dell, Lenovo and other prominent laptop makers have elevated prices by 15% which came into effect on May 1, 2020." According to reports, he said that chip shortage is expected to ease by January-February 2022 and prices will remain on the higher side until then.
Rahim Amir, owner of Thrift.pk, which sells technology related merchandise online and in retail, said that the shortage would persist for atleast two quarters.
"Graphic cards and PC processors are mainly impacted bby the shortage," he said. "At times, the prices of graphic cards rise by 100-250%." He added that demand for graphic cards and processors is soaring amid Covid-19 pandemic and supply is limited.
Retail customers are offended due to exorbitant price difference, he detailed.
Amir expects the market prices of the two commodities to remain on a higher side for a few more months. "During this time, customers will prefer buying low end products," he said. Amir highlighted that Intel's supply was not affected because it makes its own chips. "Supply of AMD declined during the past few months but it has stabilised lately," he said. "I predict an electronic crash in two months."
A source in the TV retail segment of Pakistan, on the condition of anonymity, said that chip shortage is a serious issue for TV makers and the scarcity has forced TV makers to hike prices. He said that imports are still disrupted due to which the availability of TVs in Pakistani market was suffering. Due to chip shortage, a lot of companies have halted launch of new TVs and customers have lower choice due to this and they are forced buy model that were released in 2020.