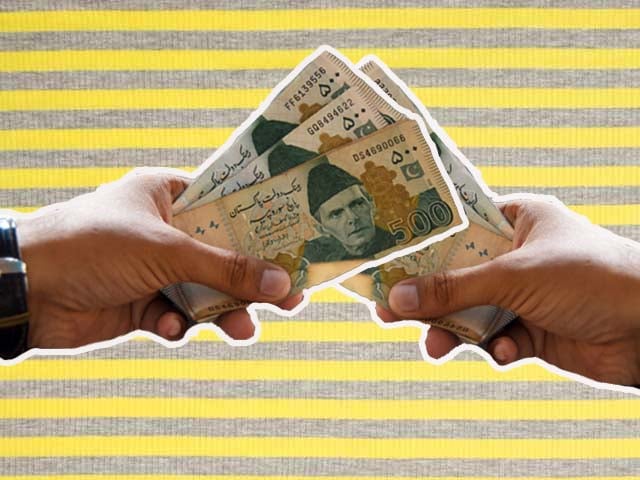 ---
KARACHI:
This month marks a year since the World Health Organisation declared the worldwide novel coronavirus a pandemic. A year since nations around the world started declaring lockdowns in a bid to control the contagion. While Covid-19 has been subdued ever so slightly, even now it continues to hammer the world at large and various states continue to make fiscal and monetary adjustments to support battered economies.
Among the few positive lessons a year of pandemic has left us with is that cashless economies are very much possible and beneficial in times of emergencies like the one created by Covid-19. Keeping this in view, a host of developed nations are moving towards adopting digital currencies at the national level. China has completed trials of its digital yuan while the Euro Zone and Canada are also bracing to introduce digital currencies.
Detailing its plans in a statement, the European Central Bank said that a digital euro would guarantee that citizens in the euro area can maintain costless access to a simple, universally accepted, safe and trusted means of payment. It elaborated that the digital euro would still be a euro like the banknotes, but digital.
"It would be an electronic form of money issued by the Eurosystem (the ECB and national central banks) and accessible to all citizens and firms," it said. "A digital euro would not replace cash, but rather complement it." According to ECB, a digital euro would give customers an additional choice about how to pay and contribute towards financial inclusion alongside cash. While developed nations are working on digitalising entire currencies, the developing world seems to be far away from even digitalising payments to their true potential.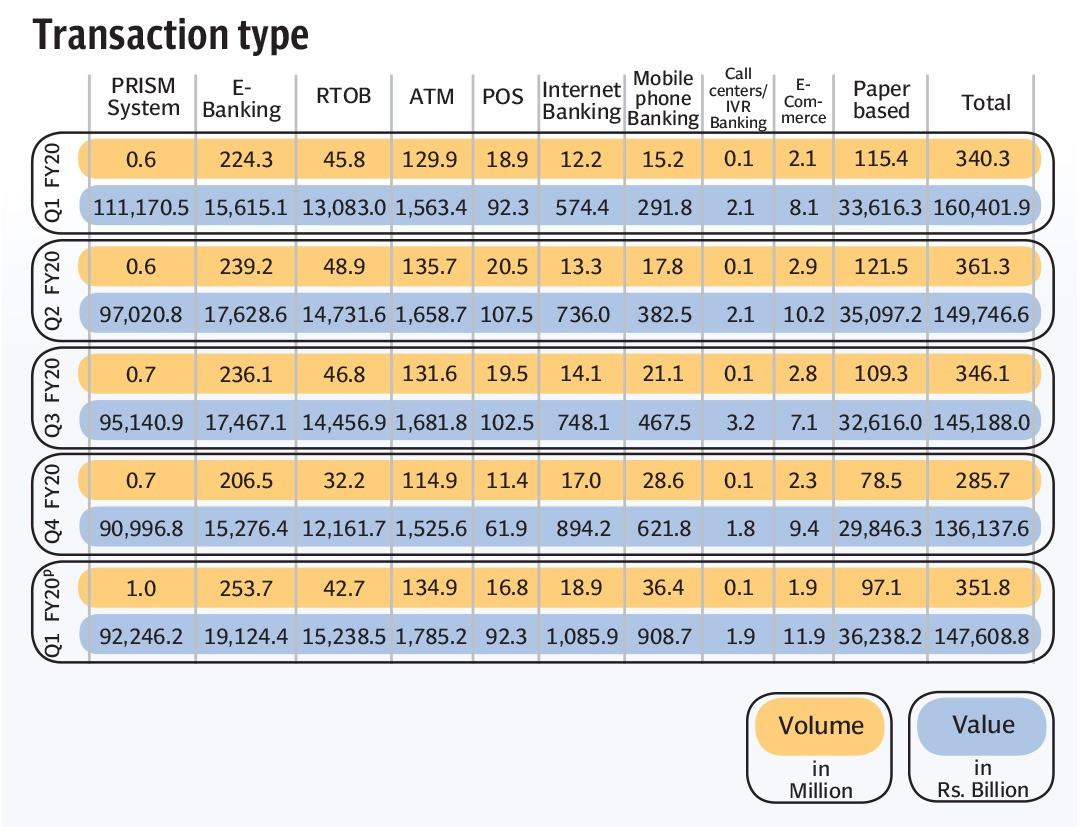 Creative: Ibrahim Yahya
Superficial 'digitisation'
Lets take a look at where Pakistan stands in terms of cash economy. When Covid-19 emerged in Pakistan, the central bank introduced a handful of measures to reduce the use of cash. The schemes were initiated in light of the findings that Covid-19 traces could be found on cash and that cash payments would require consumers to visit banks, shops and other institutions that would raise the risk of Covid-19 infections.
From March to June 2020, digital payments all over Pakistan soared in the wake of a nationwide lockdown and many not so tech savvy people learned and adopted the use of online payments to meet day-to-day expenditure.
"Although cash on delivery remains the most preferred mode of payment, use of debit/credit cards and Interbank Fund Transfer (IBFT) has risen in both volume and value terms during this period," stated a report from the State Bank of Pakistan. "The increasing trend of the already high level of cash penetration in the economy continues to undermine efforts to enhance the digital payments system infrastructure in the country."
It pointed out that the existing customer base of e-commerce platforms also tended to avoid making cashless payments.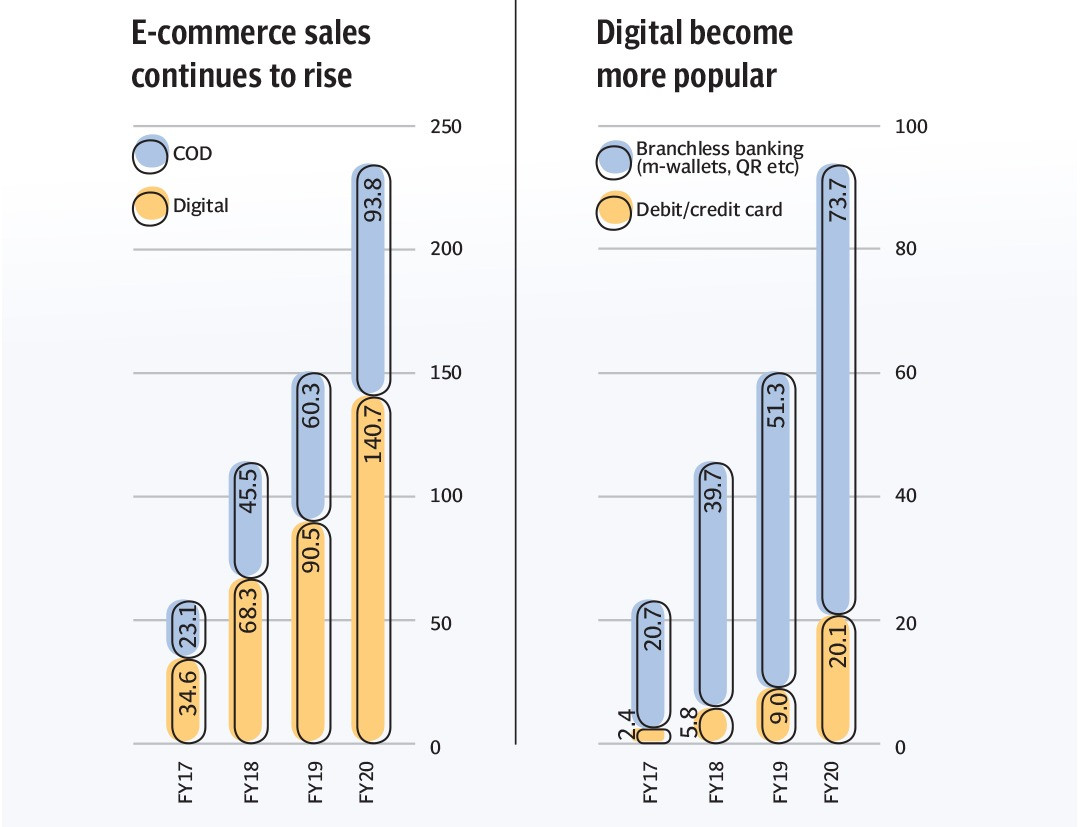 Speaking to The Express Tribune, Telemart Co-founder and Director Hamza Abdul Rauf confirmed that digital payments on his platform doubled since Covid surfaced in March 2020 but this was because the number of orders soared.
"Since the increase in the number of orders was largely similar to the rise in digital payments, I would say there was a negligible increase in them."
The preference of people for digital platforms increased after Covid hit the country but they remained averse to digital payments because cash on delivery option was available.
Many other firms confirmed that the trend of digital payments had indeed risen during lockdown from March-June 2020 however it declined steeply after lockdown was lifted and cash was injected in the economy.
Adnan Shaffi, CEO of Priceoye.pk, said that digital payments on his platform rose just 15% on a year-on-year basis, which was way below the true potential.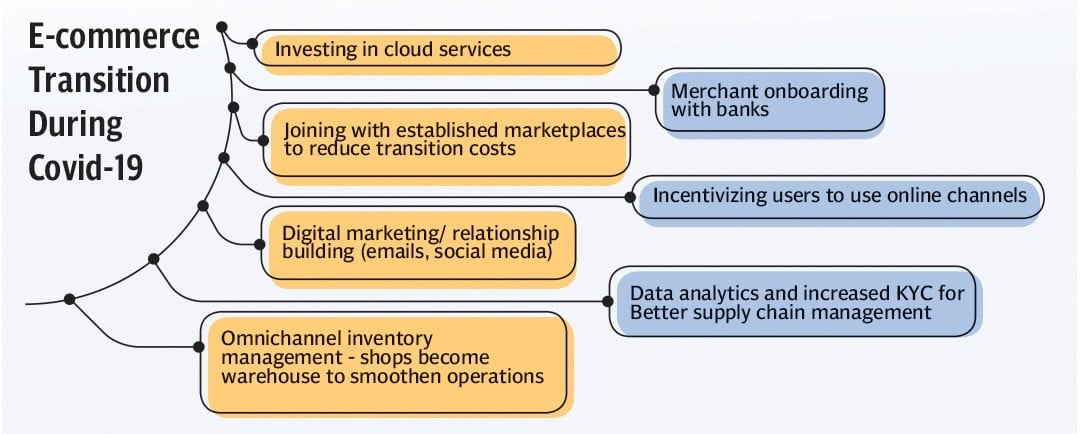 However he cherished that diverse segments of the economy were now moving towards digital payments, which could be attributed largely to central bank's measures.
"Now even allied businesses of out platform have started demanding payments digitally as opposed to cash," he said. "Our vendors, who earlier insisted on dealing in cash, now want payments to be done through digital means."
According to him, the push to digital payments and marginal contraction in cash economy was coming from commercial banks, which were in turn being pushed by the central bank to steer digital payments in the economy.
He added that banks had been directed to enhance efforts aimed at improving the digital payment infrastructure of Pakistan.
Far below potential
An expert from financial sector, on the condition of anonymity, said many firms that offered only cash on delivery options, had also started implementing digital payments in wake of Covid-19. "Moreover, the growing digital payment ecosystem gave a drastic push to digital payment gateways because in the past few months, a lot of private firms introduced diverse payment gateways."
In addition, international payments through digital means were made easier and secure through SBP's measures.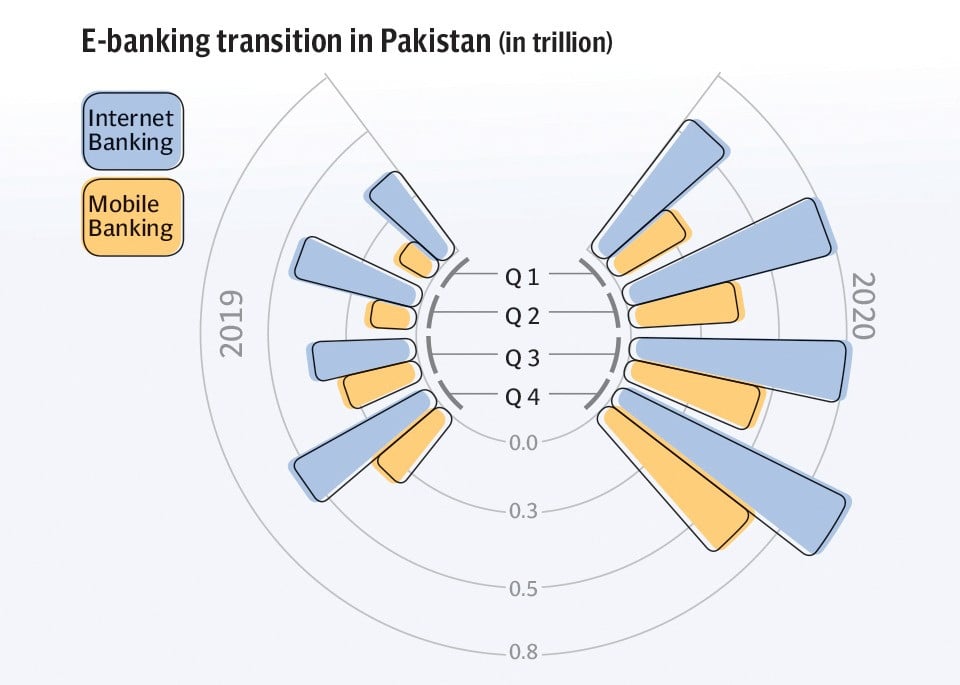 A lot of companies in the financial sector particularly those specialising in mutual funds, micro lending and investment platforms created their mobile application and offered cashless investment opportunities, he said.
Similarly, many commercial banks updated the digital applications to offer cashless payment services as the country was being gripped by the coronavirus.
Tez Financial Co-Founder and Business Head Naureen Hyat said that her company, which specialised in digital financial inclusion, saw number of customers rise on the digital application after March 2020.
"Our app offers different financial solutions ranging from lending to insurance and savings," she said. "After Covid-19 hit Pakistan, we revised the lending criteria and turned it tougher however customers still increased on the application."
When asked if the pandemic had boosted the fintech ecosystem of Pakistan, she said it had given it a marginal push because it was still far below the true potential. Profits have indeed risen but in fintech space, the amount of new customers matter more than the earnings and there is a lot of prospects to enhance consumers.
Giving insights on contraction of cash economy, Pakistan Software Houses Association for IT and ITeS ([email protected]) Chairman Barkan Saeed expected the trend of digital payments to rise in future because e-commerce was gaining traction in Pakistan. He underlined that the e-commerce sector was steering digital payments in every nation.
"If the government desires to significantly narrow down the cash economy, it should support the e-commerce platforms because they are most crucial institutions with regard to raising digital payments," he said.
Hurdles remain
The Telemart and Priceoye.pk officials flagged high merchant discount rate (MDR) as the prime hurdle in way of enhancing digital payments in Pakistan.
Shaffi said that MDR rate stood between 2% to 3%, which affected consumers' preference of paying digitally and encouraged them to adopt cash on delivery mode. A commodity costing Rs30,000 could become costlier by an additional Rs1,000 due to high MDR and given that Pakistan is still in the midst of a pandemic, shoppers would want to save the Rs1,000 and opt for cash on delivery option he said.
Rauf said that brands like food and clothing could absorb MDR fee but digital platforms were unable to do so because profit margins were already quite narrow. He said that MDR on point of sales (POS) machines was 1.3% to 1.4% but few digital platforms were paying over 3% in MDR.
"Government should turn it the other way round and minimise MDR on digital platforms to discourage cash economy and to encourage people to pay through cards for their purchases," he said. "We discussed this issue with banks but no consensus could be reached." According to him, a drop in MDR would incentivise digital platforms to recommend customers to pay digitally as opposed to cash.
Both officials called for reduction in MDR to give a boost to digital payments.
Shaffi pointed out that another problem hindering online payments was that few banks demanded a picture of credit/ debit card and ID card of customers to approve online payments. "These days, if an online platform asks for these particulars, it triggers a sense of fear among customers who believe it to be fraud," he said.
In addition, banks sometime reject transfer of payments from customers to e-commerce platforms if the condition is not fulfilled and it usually happens after two weeks of purchase, which means that the consumer has received and used the merchandise, he pointed out. Reaching out to him after two weeks of purchase and presenting the case of rejected payment can affect the image of business and also encourage consumer to consider the business a scam.
He appreciated that SBP was working at a rapid pace to enhance the use of digital payments and narrow down cash economy.
Though the speed is generally good given the fact that Pakistan is a developing nation, it is quite low compared to the global initiatives, he said.
He firmly believes that digital payments would persist even after Pakistan becomes Covid free.
Central bank's push
In the past one year, the SBP has taken countless measures to discourage the use of cash in Pakistan. These measures were introduced in light of the findings that Covid-19 traces could be found on cash and that cash payments would require consumers to visit banks, shops and other institutions, which would raise the risk of Covid infections.
Initially, the SBP acted to reduce the need for consumers to visit bank branches or ATMs and in this regard, it resorted to promote the use of digital payment services such as internet banking and mobile phone banking. In March 2020, SBP instructed commercial banks to waive all charges on fund transfers through online banking channels such as Inter Bank Fund Transfer (IBFT) and SBP's Real Time Gross Settlement System for customers. The SBP claims this incentivised people to transfer money through mobile phones or internet banking because they were earlier averse to such a method in wake of additional costs.
"Consumers will not incur any cost in case of using ATMs or visiting bank branches for transferring large amounts and can avoid the use of cash," SBP said.
Banks were advised to facilitate customers in using online banking while taking all necessary precautions to ensure the safety and security of customer's funds.
Keeping in view the low digital banking and mobile banking penetration in Pakistan, SBP ensured that call centres/helplines of all banks were available round the clock for instant customer support.
This in particular helped give a boost to cashless banking in Pakistan because addressing of complaints was one of the main issue of consumers who were forced to adopt digital payments. In addition, SBP instructed the financial sector to facilitate education fee and loan repayments through internet banking or mobile devices. "Financial institutions shall also run awareness campaigns through different channels to educate customers to use internet banking or mobile phones, limit use of currency notes and restrict branch visits," it said.
Anticipating frauds in the wake of digital transactions, SBP advised the financial industry to increase vigilance on digital channels and enhance monitoring on cyber threats.
In this regard SBP Governor Reza Baqir held a meeting with presidents and high ranking officials of all banks and urged them to use all available means of communications including advertisements in print and social media for promotion of digital banking and cash less payments and funds transfers.
In October 2020, SBP launched the FX Regulatory Approval System (RAS) for end-to-end digitalisation of Foreign Exchange (FX) related case submission process. The initiative was aimed at providing a fully digitalized platform to the business community and individuals in approaching banks for their foreign exchange related requests.
The scheme helped transform forex operations by replacing the paper-based requests with electronic submissions, which is not only efficient but also cost effective. This development is also congruent with the Government of Pakistan's vision of Digital Pakistan.
Baqir said that SBP worked with various public and private sector entities for providing alternate delivery channels for payments.
Speaking at a conference late last year, he said that SBP has also fast tracked the licensing application process for EMIs which will help to accelerate digital payments by the non-bank players.
Last month, SBP announced introduction of Europay MasterCard Visa (EMV) Chip and PIN compliant payment cards to improve payments to online e-commerce services.
They will be able to make payments up to Rs. 3,000 by just tapping the card on POS machines and no PIN will be required.
Consumers will also be able to make loan repayments through cards.
State Bank has directed the banks to implement all these measures by June 30, 2021.
The measure, aimed at further strengthening the security of digital payments and curtailing the risk of frauds, is a culmination of SBP's efforts that started in 2016 outlining a detailed roadmap for adoption of EMV Chip and PIN standard for payment cards in Pakistan. Banks have also been directed to step-up their efforts to facilitate customers in case they face any issue while using their payment cards.
Taking notice of consumer complaints regarding delays in receiving refunds after resolution of disputes, SBP has directed all banks to immediately credit customer accounts once they receive fund from either merchants or acquiring banks. The regulator has also directed banks to facilitate their customers in registering their complaints and disputes using mobile apps and internet banking portals without the need for physically visiting branches.
Enhancing the drive towards digitization of payments, SBP has also directed all banks/microfinance banks to take measures to facilitate their borrowers in making repayments of loans such as consumer loans, auto loans etc. digitally using internet and mobile banking applications of any bank.
Raast
On January 11, 2021, SBP launched Pakistan's first instant payment system, Raast.
The scheme is a milestone in SBP's broader strategic agenda of digitalisation and increasing financial inclusion in the country.
Launching the system, Prime Minister Imran Khan termed it an important step towards fulfilling the government's vision and commitment to effectively promote and encourage digitalisation of the economy.
"Raast will provide digital, easy-to-use, efficient and cost-effective payment options to people of Pakistan and expected to be a catalyst for providing sustainable opportunities to small businesses and individuals," he said.
He was hopeful that Raast would help government resolve current inefficiencies in various types of payments such as salary and pension and further improve disbursements under Ehsaas Program and BISPs, amongst other areas.
According to SBP governor, the system would provide cheap and universal access to people of Pakistan especially those who are financially excluded and less privileged like women.
The central bank hopes that the system would help spur economic growth especially by facilitating small businesses and individuals.
The system is expected to go live in June 2021.
Talking about Raast, [email protected] Chairman Barkan Saeed held the view that payments systems were a thing of private sectors and governments were not supposed to make and run payment gateways.
Due to this reason, he was uncertain over the success of Raast.
"Government should encourage the private sectors to make digital payment gateways and provide conducive environment to them to diminish the cash economy," he said.
Saeed lamented that companies that are abiding with all regulations are the ones to be affected the most when government amends laws or changes regulation.
He urged the government to introduce stringent regulations against unregistered firms that operate solely on cash to move to a cashless economy.
Tax evasion is rife in Pakistan and it is one of the reason why many firms do not enter the documented economy, he said.
He recommended the government to relax the overall regulatory framework to make significant headways in moving away from the cash economy.
He pointed out that all across the world, startups were leading digital payments and not banks.
He added that two of the most popular payment gateways of Pakistan, Easypaisa and Jazz Cash, were not created by banks.
He agreed that once payment platforms are introduced, banks play a vital role in steering their adoption but they are not the ones to introduce them.
"Paypal, the most prominent global digital payment system was a startup and it was not created by a bank," he said. "Similarly, Wechat Pay was also a startup in China and now it is leading digital payments in the neighbouring nation."
He stressed upon the country to enable the private sector to take a lead in digital payments.
He was of the view that if Pakistan had relaxed regulations, Paypal would've extended its services here.