KARACHI:
They grew up in the narrow streets of Lyari. They witnessed first hand the violence that once marked that side of Karachi. From friends and neighbours rushing to join militant factions, to watching people be gunned down in broad daylight, they had every reason to chose a well-trodden path paved with blood.
And yet, five young minds from one of the oldest parts of the city chose a vastly different path. Instead of letting the violence that marked much of their life define them, Muhammad Faheem, Saqib Haroon, Sarfraz Hussain, Zohair Ali Bhouy, and Parveen Naz have instead chosen to create a safe space in Lyari.
Driving over the Chakiwara road when you cross the zonal office, the old building constructed in 1948 Habibia building is the one you have to visit if you want to see Lyari's own T2F called 'Mehr Ghar' (which means a house of love).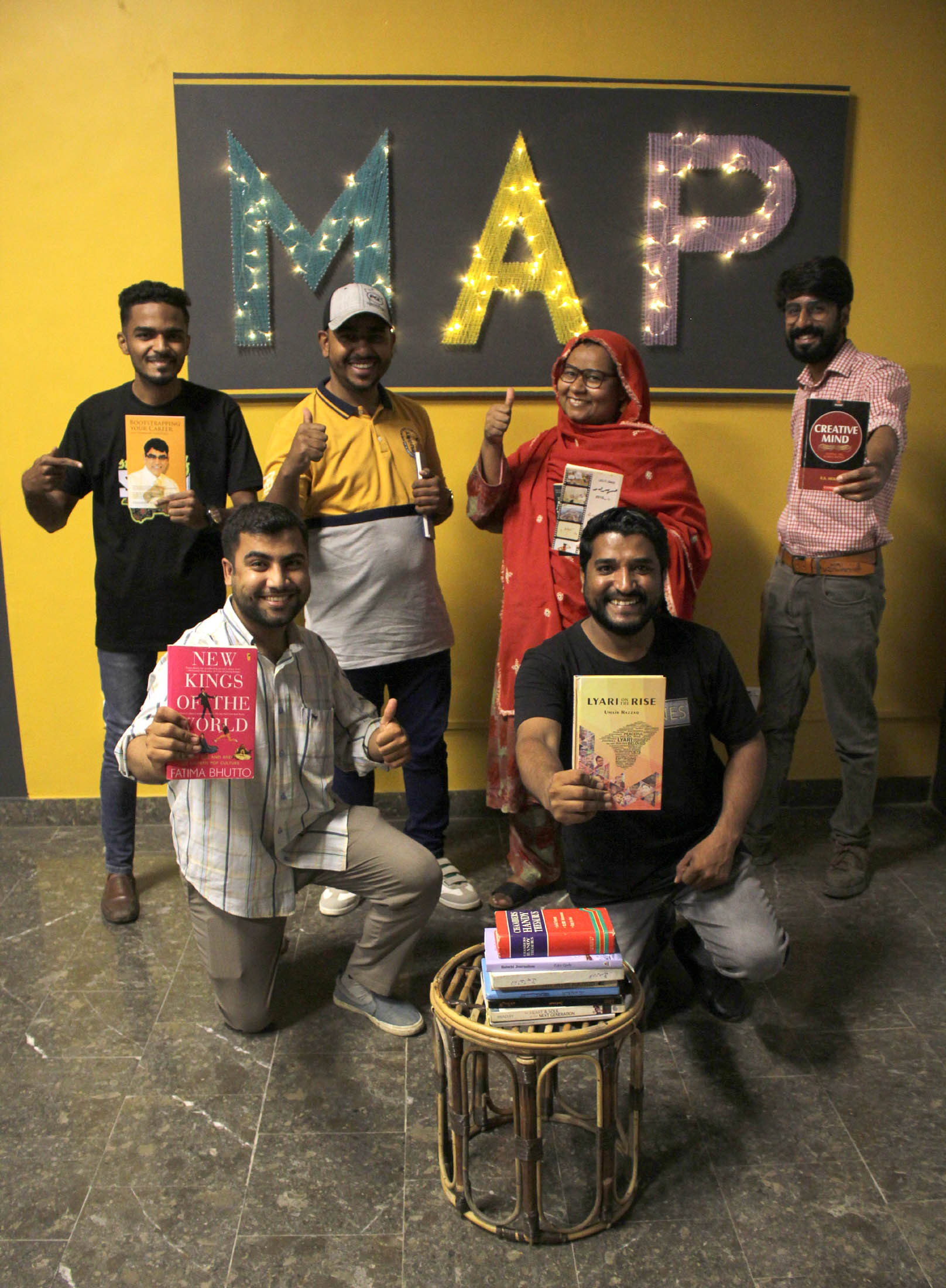 Naz, who is the founder of this group, came up with the idea of the enterprise, MehrDar Art and Production' (MAD). Founded 10 years ago to promote documentary, film making, photojournalism and community build up to come out of the terror which Lyari and its youngsters has faced.
"We started the enterprise to engage youth who went through trauma and have experienced violence in their daily lives," explained Naz. "After the establishment of MAD, we felt that we needed to provide the youngsters with a safe space to gather and enhance their skills."
The main idea behind establishing Mehr Ghar is to polish the capabilities of youngsters and as the area, which houses a population of 2.2 million people lost community centres to violence. "There are several community centers named under different communities but none of them are open for youth to learn something but are only used for two purposes: one is marriage ceremonies and other for funerals and that too is not free of cost," shared Faheem, who is a co-founder, adding that though it took them three months to build and renovate the space, the struggle itself spanned over ten years.
Out of the 2.2 million population, 1.3 million are youngsters and after all the damage done to their youth and neighbourhood, the government hasn't done anything to help them. "When we started our social work, we knew there was an absence of a place where we could gather different communities under one roof," he said. He went onto add that before the operation in Lyari, the area did comprise such community halls where regardless of any difference, people would engage with each other. The main reason behind these centres was to create harmony between different ethnicities and faith however, since most of these centres had eventually been occupied by gangs or turned into religious seminaries, these centres were shut down during the crackdown.
The only cinema in the neighborhood, Crown Cinema, was also closed following the daily firing and killings in the area. The artists had nowhere to perform and show case their talents. "To keep reviving our neighborhood, we have decided that in next five years we will make at least two more Mehr Ghars," said Faheem.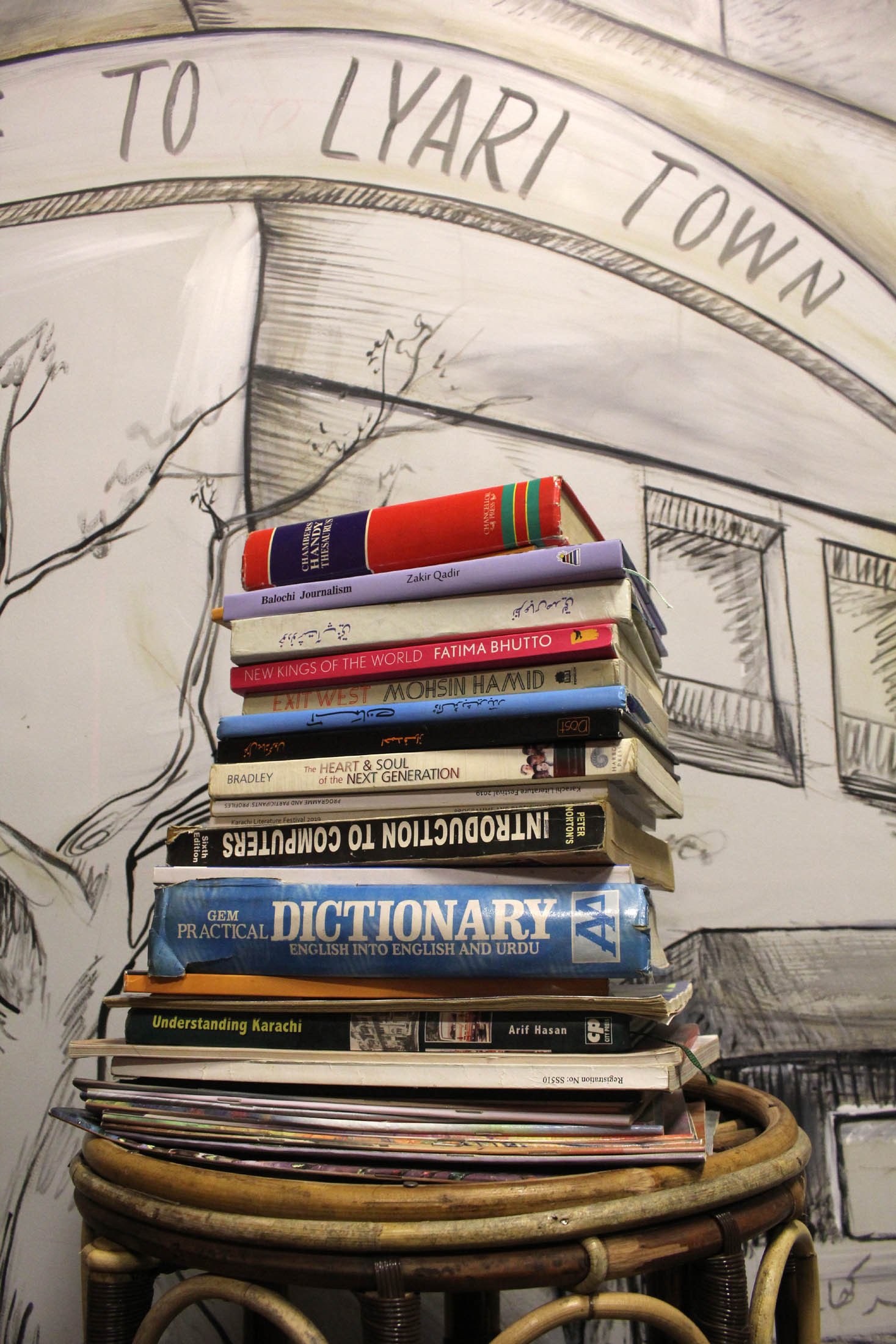 Also, to encourage youth from other parts of the city which have similar stories as Lyari, like Ibrahim Hyderi, Baldia, Sultanabad, Shireen Jinnah colony, Korangi and many others, they have asked members of those neibourhoods to join their cause and start building up such spaces to reclaim their areas and invest in talent.
Walking inside the huge gate of the old heritage building, the 18-feet high ceilings and turquoise-colored gate immediately grab your attention. Stepping inside, the mural-painted red brick walls, the contemporary art hangings one, colourful chairs and piles and piles of books inside, completes the aura of this intellectual safehouse which is due to open its doors on March 20th.
Naz, sitting across from in a maroon Balochi dress, explains that the idea of this name 'Mehr Ghar' comes from Rabindranath Tagore's philosophy of Shantiniketan, which was a school that offered unconventional ways of learning. "Our concept isn't the same but we will branch out into something similar in the future," shared Naz attired in.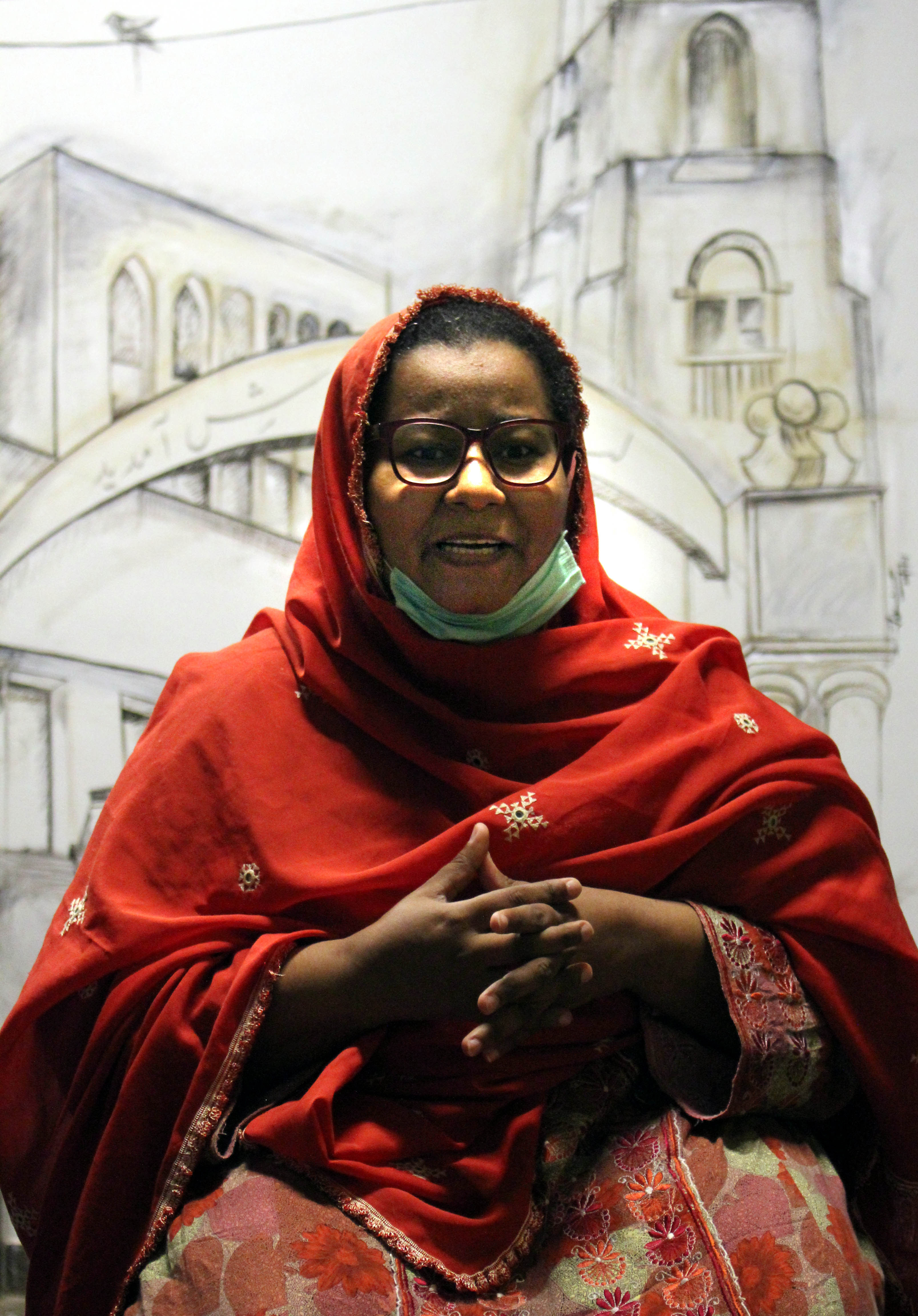 Lyari has many community centres but each of them is affiliated with a specific community. Sharing the namesm Naz kept on going from Muslim Azad, Katchi baradari, Anjuman-e-Balochan and so on but their idea was to establish a space where noone has to worry about which caste, colour, religion or language he or she is coming from. "Our doors won't be closed just because he or she does not same language as ours," she said.
The centre is a 2,400 sq ft area with a co-working space, library, media room, event and community hall as well as a café. "This place was in shambles when we first came here. It took us so much thought and hard work to convert it into what it looks right now," said Faheem, who is a documentary filmmaker and a father of two, "The total cost to renovate this place and turn it into a safe space is Rs1.3 million, which all the founding members and other similar minds invested with our savings and the prizes that we won from different competitions."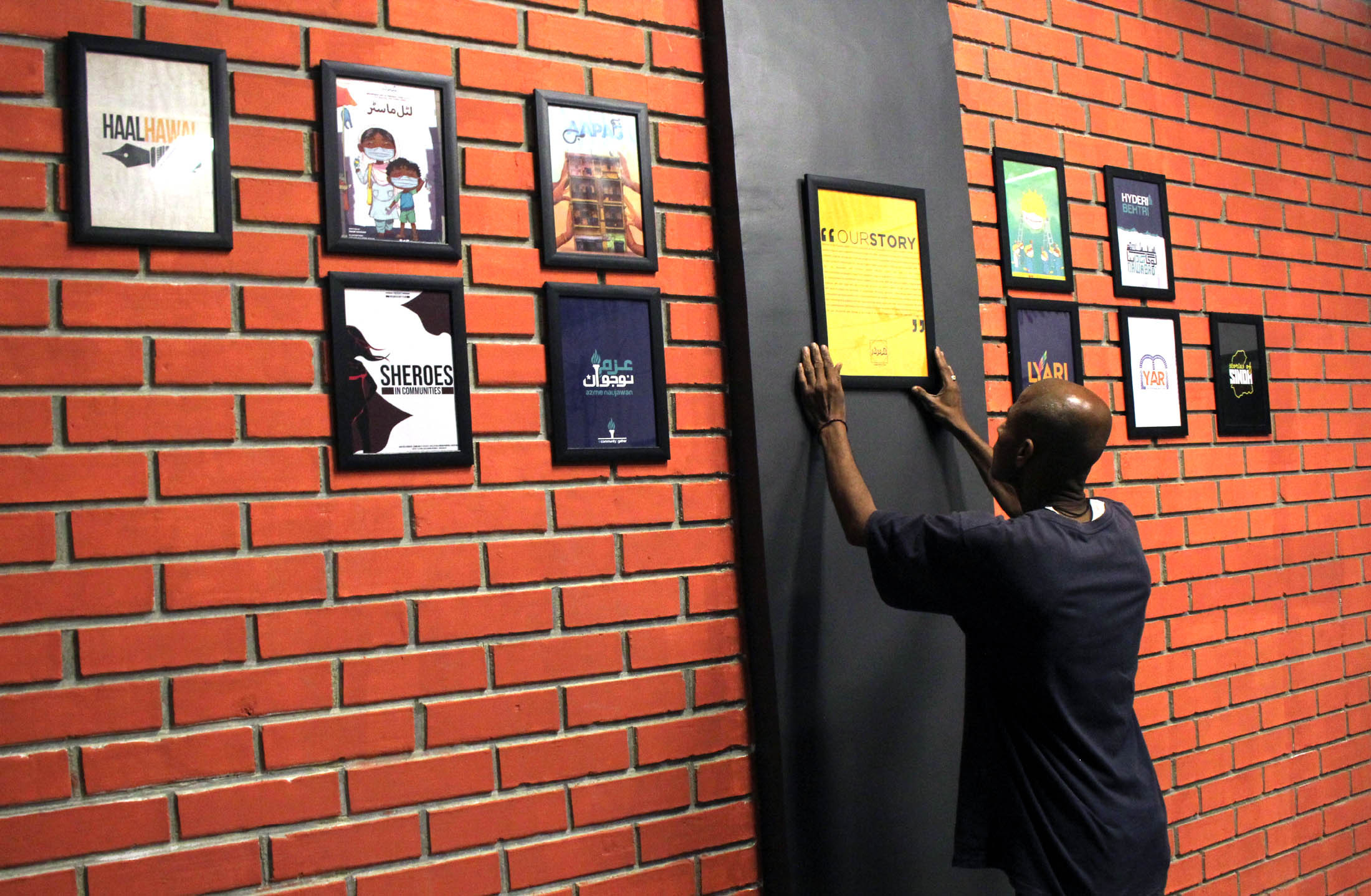 The space was given by the owner of the building, which houses 42 families inside. Mehr Ghar is at the ground floor inside the premises of this building, "The actual rent of this place is around Rs 125,000 a month but the owner really liked our efforts and the work we are doing and he wanted to help us in building a space like this so he has given us the place in just Rs25,000 a month and while the place was being renovated, he didn't even charge us the rent," said Faheem.
The main reason behind Mehr Ghar is to provide a secure place to students and youth who would otherwise would have to travel all the way to T2F or other similar places located in far away corners of the city. Here they can practice music, study, even complete their thesis and can also help in reviving the culture of open mic, dialogues and discussions, critical thinking. In response to a question about the design aesthetic of the place, Faheem shared that all the designing was done by the founders themselves. "We kept searching the internet to select color palettes and we kept digging more and more [online] to finalise how we want the walls and what themes will we go with," he said.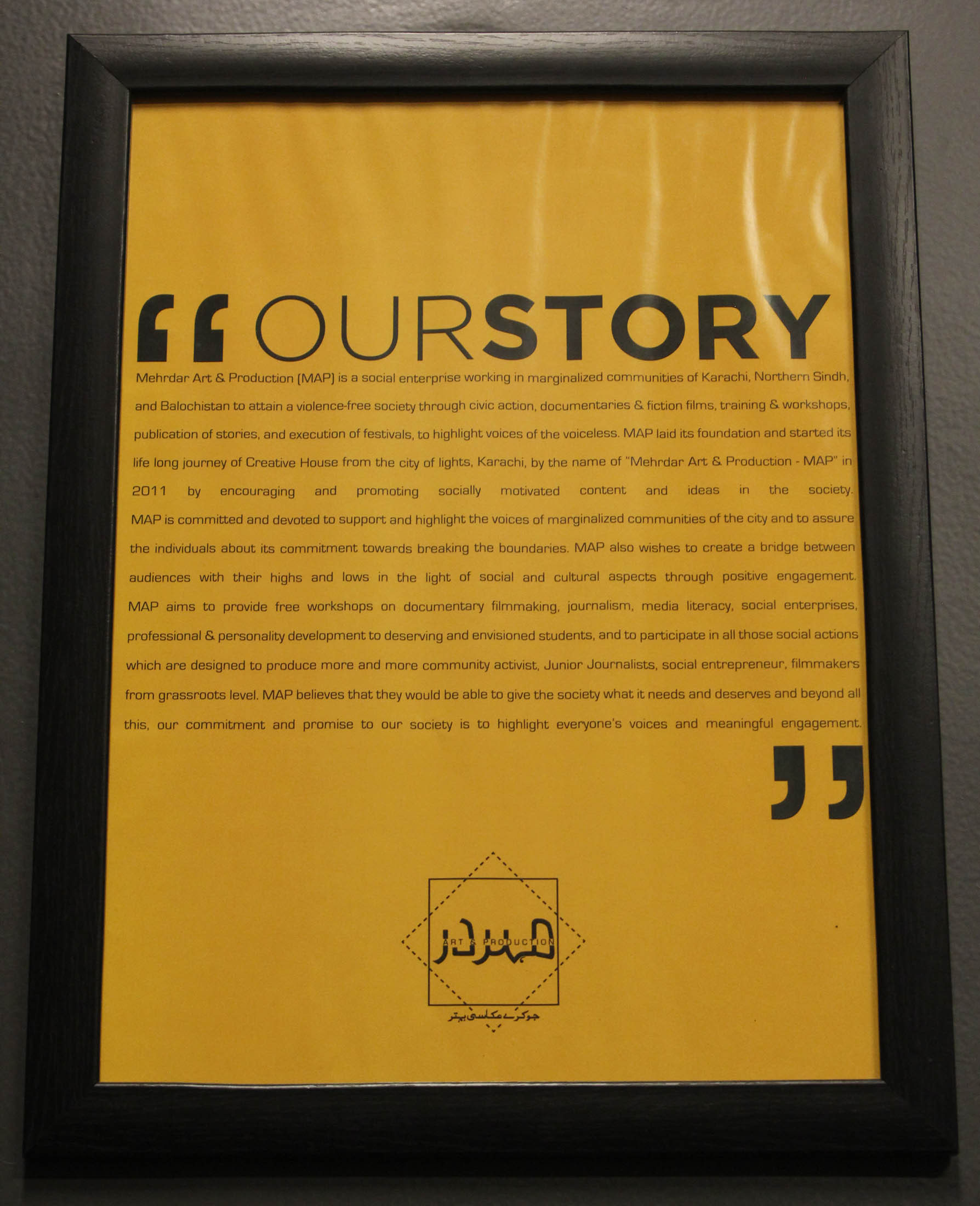 To make the space more vibrant and give it a Lyari touch, the first wall which you see after entering from the huge door is painted by artist Tehmina Makonjia with all the monuments of Lyari including, Cheel Chowk, Lee Market Tower and Kashti Masjid – all monuments that were plastered across on tv screens by the media while breaking terror-related stories of the area. The wall that is directly opposite is painted with calligraphy by a local of Lyari named Rashid Ali. Different words are hidden in this wall and a game or an activity to find the concealed words would later be designed for the visitors.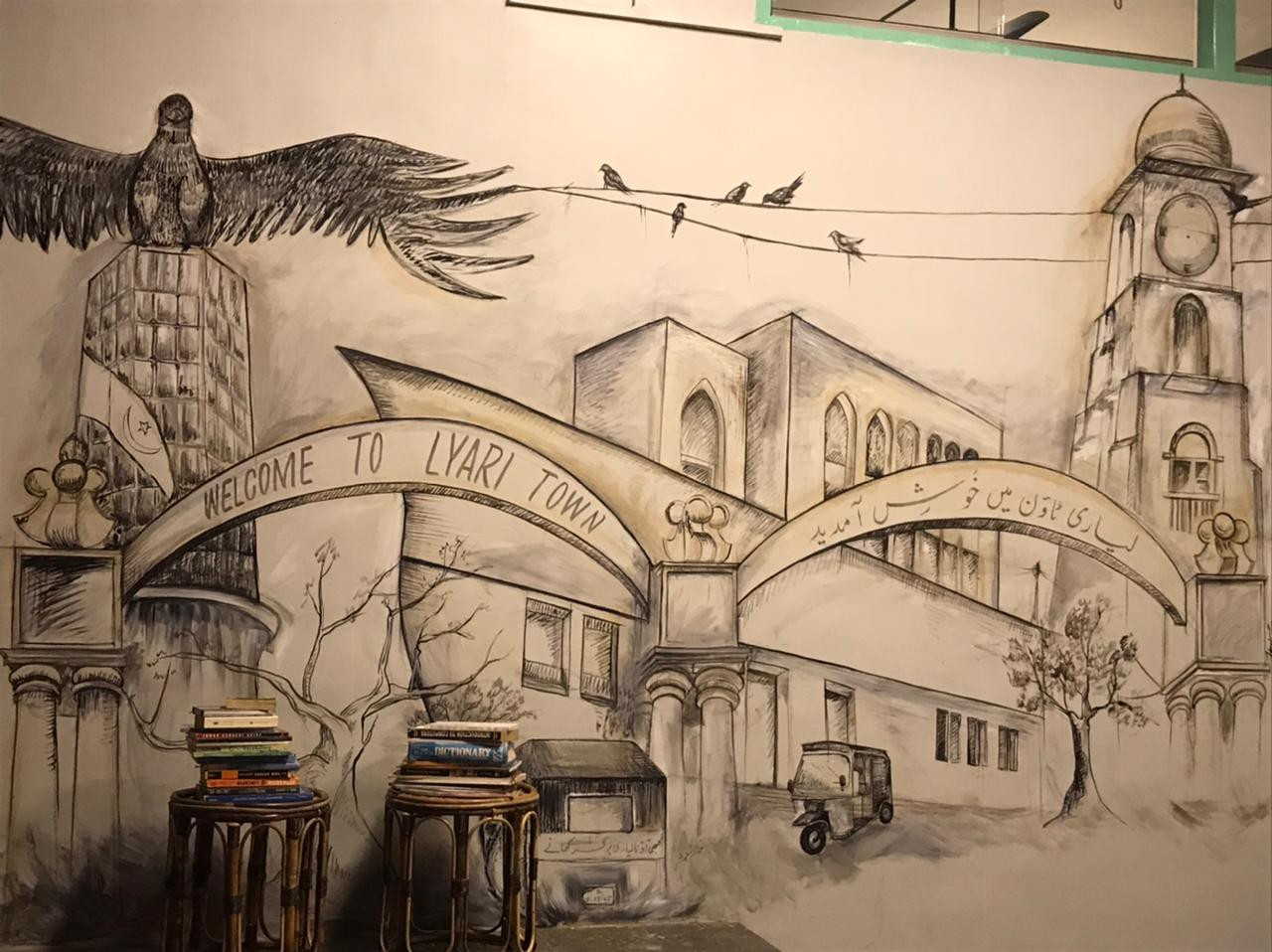 Mehr Ghar not only provides a physical space but has ensured an internet connection as well as a 24-hour generator-backed electricity supply to ensure an airconditioned environment for the café for those who come to the case to work long, hectic hours on their thesis and need to stay awake. Commenting on the future and sustainability of the project, Faheem said that they are not worried about the financial loss. "Our motive was to make such spaces in the society and that is what we want to achieve. Loss of acceptance is greater than financial loss," he said.
The basic idea until now which the team shares to sustain is that they will provide memberships to students or people who are regular visitors to use the space and facilities to maintain the space and manage bills. "We will charge minimal amount in which all the facilities from the library, internet connections, tea or coffe, and most important, a secure environment, will be provided," said Faheem. While still not finalised, the membership cost will most likely be between Rs5,000 to 8,000 a month.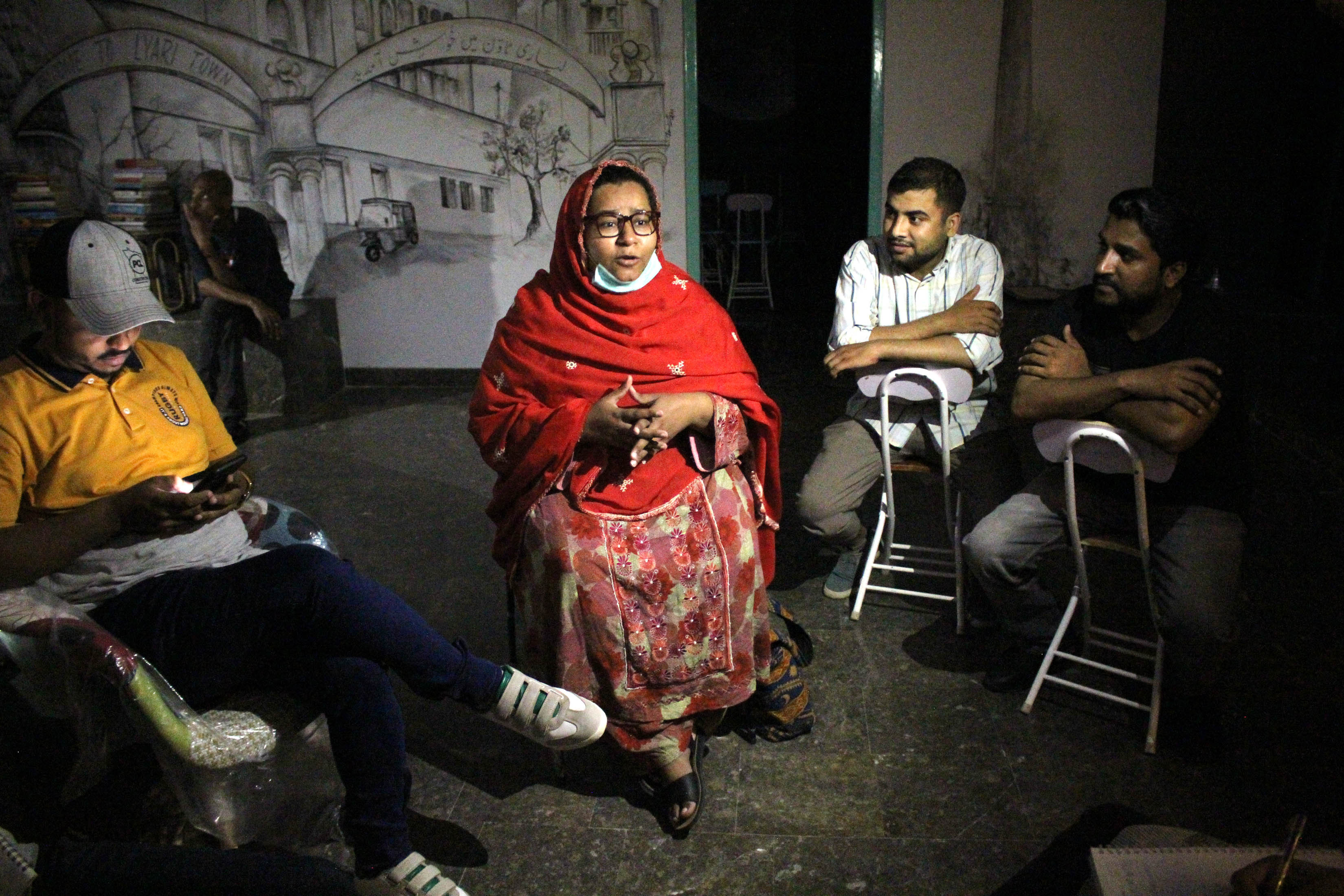 Women empowerment
With Lyari being an ethnically diverse neighborhood, it also possesses gender diversity which was affected with the rise of violence in Lyari. Talking about how the community centre will help access of women in the community, Naz commented that women are now restricted to their homes and are only seen at either weddings or funeral. "Women are more impactful in eliminating the divide in different communities, hatred is always at the minimum amongst the women thus young women coming here will create great impact," she added.
Naz who is a social worker herself added that during lockdown, men after losing their jobs regretted not allowing the women in their family to work, otherwise their financial conditions would have been much better. "After this realisation many have already approached us to learn stitching or to study different subjects so that they can at least teach in schools and earn their bread and butter," said Naz who taught in the same school she has studied in, in order to give back to the community she has taken from.
To help build a stronger network among women, Saqib Haroon shared how they have taken all the stakeholders into confidence for this purpose. "We are operating inside a family building, this will encourage women to come and see what we are doing and they can also enhance their skills which will eventually help them in learning new things and feel empowered," he explained.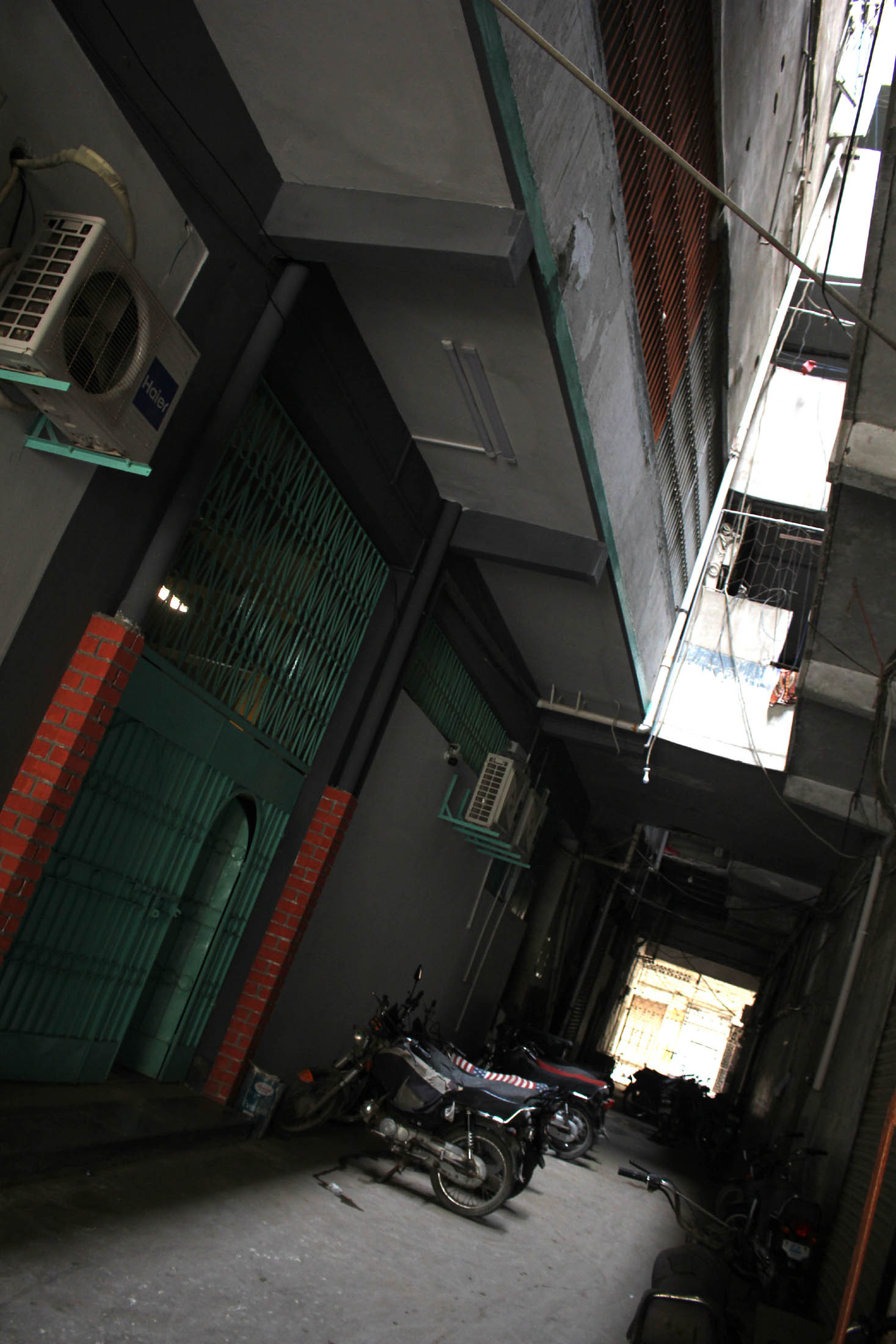 The road of trauma that lead to Mehr Ghar
Each soul and family have lost something or the other during the times that Lyari faced violence, sitting in the safe space each face had a sad notion when they try to remember why they are here together and what made them all decide that a place like Mehr Ghar is the need of the time.
The rise of militancy and the subsequent operation by law enforcement agencies made Lyari safer from militancy but it fractured it along the way and left permanent scars upon the memory of its residents. Sarfaraz Hussain recalls how his friends from other parts of the cities stopped coming to see them, how they were denied jobs which actually created great frustration among the youth and the militancy then attracted them. Young men aged between 14 and 25 became parts of the gangs, parents of their friends were afraid and never let them meet, friendships ended and youth in Lyari had nowhere to go. "Stadiums, playing grounds, community centres, everything was taken away from us, we had nowhere to play cricket or sit around the corners of the street to talk to friends," he said heavy heartedly.
"I had all the reasons to join the fascinating militancy, and I was almost there but then deep down in my heart, I knew this was the wrong path," shared Saqib Haroon. He mentioned that his mother was a house maid while his father was a drug addict but with his mother's financial support he continued his studies, became a hawker and even sold biryani but never gave a thought about militancy.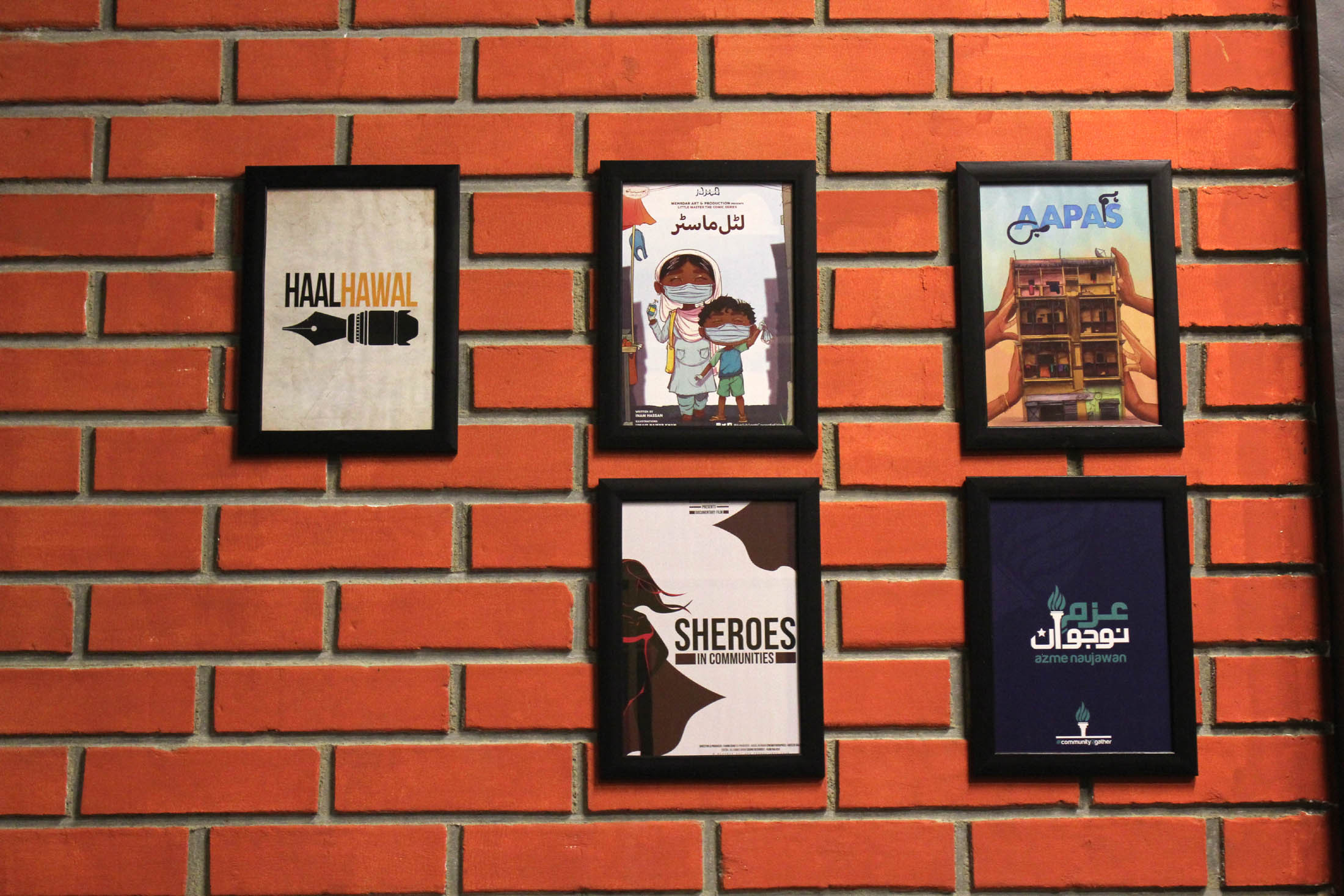 With teary eyes, he shared, "I used to in live in UC-12, my house was just behind Uzair Baloch's home. I was denied various jobs in various banks despite being competent and having an in MBA degree just because of the address on my CNIC was of Lyari."
All Haroon went through made him so disheartened that he tried committing suicide three times because the trauma and violence which he has seen still haunts him and he doesn't like to recall what he has gone through.
The colourful and artistic surroundings of this newly built Mehr Ghar suddenly turned black and white as Haroon recalls bloodshed memories of his teenage days. Sitting in front of the wall that depics all the past violence and terror of Lyari, Haroon says, "All we have is present and the future, while the past haunts us."
"Chauda, pandara…" Haroon Fumbles but collects himself and continues to narrate the story: "Chauda Pandra saal key do larkey merey ghar k paas marey huey parhe they, sar me goli lagi thi, khoon nikal raha tha. Koi qareeb nahi aaraha [Two young boys, aged between 14 or 15 years, were lying dead with bullets in their heads, outside my house one day. Not a single person came to near the bodies to pick them up]. He recollects how when he went near them, he realized that their blood was still fresh blood. Haroon went onto add that few other friends of were also killed, some others became victims of cross fire between the gangs.
"Our past is full of bullet-riddled bodies, drugs, rejection from society, neglect from the government but we do not want the next generation to suffer. Thus Mehr Ghar is the foundation to protecting the future of our children," he concluded.
Faheem recalling when he realised that he needs to give back to the society and fight these odds, shared that in 2011, one day a few gang members came to his door and said that they wanted to use their terrace as bunkers. "What option did I had that time other than taking my cancer patient mother and three sisters with me and shift out of Lyari? Otherwise they would have killed me," he says. Faheem was only 18 years old at the time and returned to the same house in 2017 after the operation cleared his house.
"As children, we were born right in the hub of gang and drug violence, all we can recall from our childhood or teenage days is fights between gangs, every third person on drugs and a town going nowhere but down south towards destruction," he said.
Naz who is the eldest among the five members and has seen the four grow up in front of her eyes recalls how when in 2000 she used to go to teach at the school, young children were forced to take drugs so that they would slowly get addicted. "In those narrow streets I have witnessed child abuse and have seen kids falling into the traps the drug sellers set for them."