ISLAMABAD:
Despite playing an important role in the restoration of judges in March 2009, the image of the legal community has been badly affected due to a high number strikes and incidents where large groups have displayed an alarming level of rowdy and violent behaviour. Even the justice system seems to have been taken hostage by them.
In cases where one lawyer has displayed violent behaviour, several others have often banded with him. In cases where a lawyer has been arrested for said violent behaviour, hundreds of others have tried to foil arrest attempts, protested outside courts and taken to streets in strike attempts. The scenes often resemble more closely to those of thug-like street gangs rather than upstanding citizens in charge of upholding and protecting the law.
An incident of this nature was witnessed on February 8, when dozens of lawyers ransacked the chamber of Islamabad High Court (IHC) Chief Justice (CJ) Athar Minallah during a protest against demolition of their illegal chambers at the Islamabad District Courts also known as the 'katcheri'.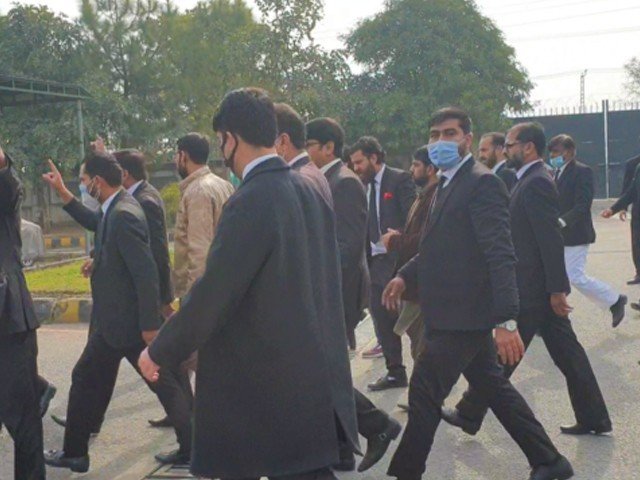 PHOTO: EXPRESS
Following this incident, IHC CJ Minallah has shown courage against such an act of intimidation by initiating action against lawyers who were involved in the incident. Several lawyers were arrested and the practicing licence of more than a dozen lawyers was also suspended by the IHC.
A unity amongst judicial benches is now the need of the hour to face this challenge. If all superior courts have different approaches in dealing with this challenge, then they will not be able to sustain pressure on the bar, to rectify and resolve this issue.
Unlike in the past, the Supreme Court has fully backed the IHC in its decision to take actions against the lawyers who were involved in the incident. Due to unity displayed by the bench, the have been able to counter the aggression of the lawyers and keep it at bay.
Politics has also impacted the regulatory roles of different the bar associations. The annual election campaigns of the bar associations always intensify the aggression displayed by these lawyers.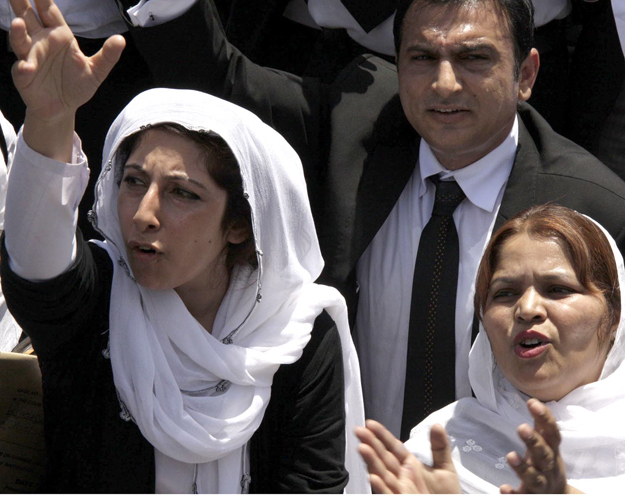 Former Pakistan Bar Council (PBC) executive member Raheel Kamran Sheikh laments that instead of focusing on issue-based politics, bar representatives often represent popular sentiments of their voters. Their primary objective is to remain in power and receive personal benefits, he maintains.
"In my humble opinion, we, as regulators, have largely failed on most of these fronts primarily owing to the regulatory hold up caused due to the politics within bar associations," Sheikh further stated.
Sindh High Court Bar Association President Salahuddin Ahmed says, "The disciplinary bodies for judges as well as lawyers should have some outside representation from non-judges and non-lawyers. It is very difficult to have effective self-regulation. This applies equally to the media, the PMDC, engineers council etc," he adds.
A debate over the role of regulatory bodies in maintaining discipline among lawyers started soon after restoration the of the judiciary in March, 2009. Senior lawyers admitted that the PBC and the provincial bar councils have failed to initiate disciplinary actions against the lawyers who violate the code of conduct.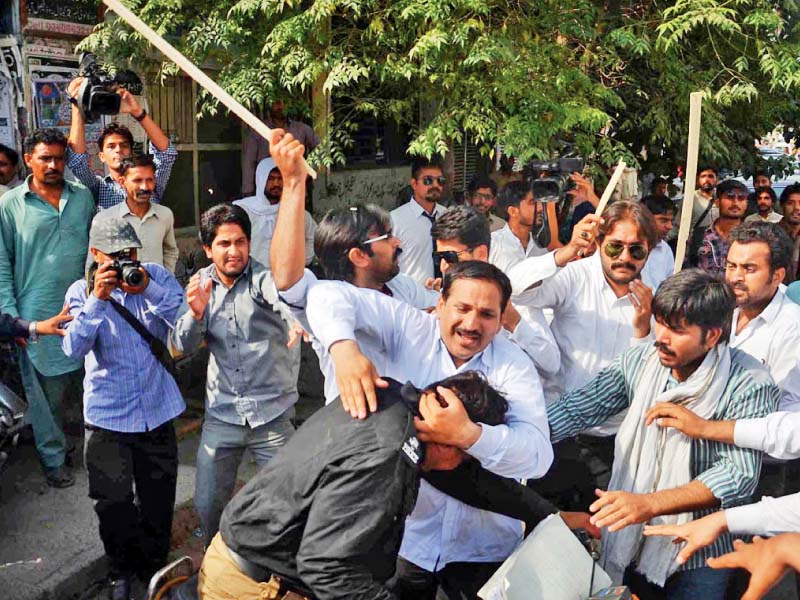 Under the law, superior courts judges are the head of tribunals who hear complaints against judges. However, these tribunals do not take action against lawyers, if the latter are involved in misconduct.
In 2016, the then CJ Syed Mansoor Ali Shah constituted a seven-member supervisory committee. The purpose of the committee was to curb incidents of misbehaviour in lower courts and protect the rights of the judges, especially women judges, who are sometimes face more hostility from the lawyers.
The chief justice headed the supervisory committee with Justice Kazim Raza Shamsi, Justice Malik Shahzad Ahmad Khan, Justice Abdul Sami Khan, Justice Ibadur Rehman Lodhi, Justice Atir Mahmood and Justice Masood Jahangir as its members.
The committee, set up under the Legal Practitioners and Bar Councils Act, 1973, had issued show-cause notices to Lahore Bar Association Vice President Rana Saeed and former president of Ferozwala Bar Association, Asif Bashir Mirza.
Both Saeed and Mirza were accused of misbehaving with judicial officers over 'unfavourable' decisions and snatching court records. Later, the committee suspended the practicing licences of both the lawyers and referred their cases to the Punjab Bar Council disciplinary committee.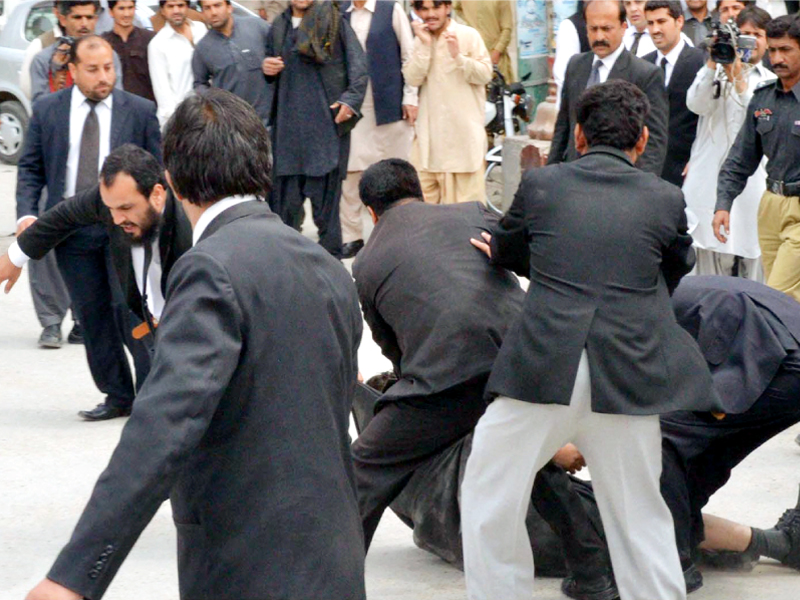 However, the lawyers' disciplinary committee refused to accept the LHC's administrative order and restored the licences of both advocates.
Similarly, when the LHC contempt proceedings against Lahore High Court Bar Association Multan President Sher Zaman Qureshi case in 2017 after, after Qureshi and other lawyers had vandalised and ransacked the court of Justice Muhammad Qasim Khan in Multan, former Chief Justice of Pakistan Mian Saqib Nisar gave intervened and quashed the proceedings against the lawyers.
Senior lawyers believe that most of the cases of lawyers' misconduct were found in Punjab, therefore, they feel that it is time to make the Punjab Bar Council disciplinary committee/tribunal more effective.
In July, 2019, the then Chief Justice of Pakistan Asif Saeed Khosa rightly urged the lawyers to launch a movement called 'Tehreek-e-Bahali Izat-e-Wukla' for the restoration of the dignity to the legal profession. He said that lawyers should give due respect to judges.
"Lawyers have to give arguments by using their tongue and brain but not by [using their] hands. Will it be appropriate if lawyers and judges hit each another?" he asked, in an apparent reference to the incident where advocate Imran threw a chair at senior civil judge Khalid Mahmood Warriach on April 25, 2019 during an argument in court and another incident wherein a judge hit a lawyer with a paperweight during a hearing in the court.
In 2017, the then LHC CJ Syed Mansoor Ali Shah conducted a study regarding the loss of the first three months of legal action and court hearings due to the lawyers' strikes in Punjab between January and March 2017.
According to the study, the national exchequer suffered a huge loss of Rs450 million due to lawyers' strikes in different bar associations of Punjab during those three months.
The study also revealed that due to 948 incidents of strikes, 600,000 cases were affected and 100,000 cases could not be decided.
About Rs30,000 was the cost of a judge per case. Likewise, Rs750 was being spent from the national exchequer on a case per day in the province.
The study also claimed that the 948 strikes cost the national exchequer a whopping Rs450 million. The litigants also suffered a Rs380 million loss due to the strikes as "one litigant spends Rs640 per hearing".
In 2017, the World Bank report revealed that 75 per cent of the cases were being delayed due to the lawyers' adjournment, adding that 80 per cent of the judges had been transferred on the proposal from different bar associations.
Active lawyer Umer Gilani belives that the only solution for lawyers' 'wuklagardi', as some people pejoratively call it, is to engage in, and to promote and protect, alternative bar politics.
"After the PIC incident in Lahore and also after the recent attack on CJ IHC, hundreds of lawyers mobilised to raise their voice of dissent on principle," he said. "If such voices continue to rise from within the ranks of lawyers, I am absolutely confident that this violent streak can be controlled. In the longer run, bar leadership - like other elected people - follow their electorate," he adds.
Gilani however, states that contrary to what some people think, the use of coercive state power - registration of FIRs, raids, arrests and demolition of encroachments - is not a solution to this issue. It is the "making heroes out of rogue lawyers, who are actually a small minority," he adds.
He says that it must also be understood that 'wukla-gardi', like all other sustained social phenomenan, has economic roots. "For a vast majority of young lawyers and also for civil judges, who are not from dynastic lawyers' families nor from privileged, English-speaking backgrounds, opportunities for professional advancements are extremely limited. It is these underprivileged lawyers who resort to hooliganslism for generating social power and then they use this power to generate some money," he said. "In the longer run, the only solution is to create a skill-based rather than class-based professional environment. If all young lawyers know that regardless of their background they can advance further through reading, writing and advocacy, they would have no incentive to resort to violence."
Last year, the Ministry of Law had sought comments from the PBC – the apex regularity body of lawyers – over a proposal for lifetime cancellation of a lawyer's practicing licence in case he or she is found guilty of committing acts of physical violence against any individual.
The letter sent to the PBC seeks its input in view of a bill titled 'Legal Practitioner and Bar Council Act 2019', which was introduced in the National Assembly by the ruling Pakistan Tehreek-e-Insaf's lawmaker Amjad Ali Khan.
The bill proposes that "the license of legal practitioner shall be cancelled for life in case of physical violence against any person by him and the license shall also be cancelled, if the legal practitioner is involved in cheating, fraud, forgery, false affidavit, deliberate concealment of facts."
In its 'object and reasons', the bill notes that the amendment has been proposed in view of "recent incidents of protests" turning into violence activities involving members of legal profession and "to ensure peaceful environment in the legal profession and judicial proceedings in future."
The bill apparently referred to the December 11, 2019 incident in Lahore wherein at least three cardiac patients lost their lives when scores of lawyers stormed the Punjab Institute of Cardiology (PIC) vandalising the facility and thrashing everyone in sight apparently to "settle the score" with doctors who, they claimed, had attacked one of their colleagues.
However, the PBC had opposed the proposed amendment arguing that a mechanism is already present to take disciplinary action against lawyers over misconduct.
"One section of lawyers proposed punishment should be implemented on commission of illegal acts and should range from suspension of license for a certain period to cancellation of a license, said Kamran Sheikh.
"Further, to make disciplinary committees and tribunals of the bar councils more independent and less amenable to regulatory capture, two MNAs nominated by the Speaker National Assembly, one each from treasury and opposition, should be included in their compositions in the cases of the PBC and Islamabad Bar Council," he added.
"Likewise, two MPAs nominated by the speaker of the respective provincial assembly, one each from the treasury and opposition, should be included in their compositions in cases of each provincial bar council. Such inclusion shall also mean that the consumers of justice, which are the largest stakeholders in the administration of justice, are equally represented in ensuring the rule of law and curtailing internal threats to the nobility and independence of the bar," he said.
Sindh High Court Bar Association President Salahuddin Ahmed said changing punishments may not be a useful way of controlling misconduct of lawyers. "The main problem in curbing professional misconduct is actually that professionals are reluctant to punish their own colleagues, whether the punishment is small or great," he said.
"I think the only effective way is to amend the law in such a way that the concerned disciplinary bodies and tribunals have at least partial representation of people and civil society members who do not belong to the subject profession," he added.
Ahmad recommended that the PBC members should choose one representative each from the Pakistan Medical and Dental Council (PMDC) or a media body and that such representatives should have fixed three-year tenures.
Under the law, superior courts judges are head of tribunals which hear complaints' against judges.
However, these tribunals do not take action against lawyers, if they are involved in misconduct. Regulatory bodies are facing immense criticism over their failure to initiate disciplinary actions against the lawyers who violated the code of conduct.
Recently, IHC Judge Justice Babar Sattar in an order posed vital questions for adjudication. The court also appointed senior lawyers Makhdoom Ali Khan, Ali Zafar, Salman Akram Raja and Afnan Kareem Kundi as amicus to assist in this matter.
The IHC judge questioned as to whether the Legal Practitioners and Bar Councils Act, 1976, vest any power in the Islamabad Bar Council or the Islamabad High Court Bar Association to issue a call for strike, mandating lawyers not to appear before courts, subject to the threat of penal and disciplinary action:
(i) While the license of a lawyer can be suspended and he can be removed from practice on the ground that he has committed grave indiscipline or grave misconduct, does appearing in Court in face of a strike called by a Bar Council or a Bar Association amount to grave indiscipline or grave misconduct for purposes of Section 41 read together with Rule 175-A of the Legal Practitioners and Bar Councils Act, 1976, attracting penal consequences?
(ii) In view of Rule 166 in Chapter XII of the Legal Practitioners and Bar Councils Act, 1976, which mandates an advocate to be present in Court when his case is called, would refusal to appear on ground of strike not constitute grave indiscipline or grave misconduct for
purposes of Section 41 of the Legal Practitioners and Bar Councils Act, 1976, rendering the lawyer in question liable for disciplinary proceedings and penal action under Section 41 and 54 of the Legal Practitioners and Bar Councils Act, 1976?
(iii) Does the Legal Practitioners and Bar Councils Act vest in a Bar Council the authority to issue mandatory instructions to strike court proceedings which could render provisions of the CPC, including Order XI Rule 9, nugatory?
(iv) Would a mandatory call to strike court proceedings issued by a bar council constitute "sufficient cause" for grant of adjournment by courts for purposes of Section 35A of the CPC, promulgated through the Cost of Litigation Act, 2017, in view of the legislative intent and purpose of such statutory provision?
(v) By refusing to appear before the Court on the ground of a call to strike by a Bar Council or a Bar Association would the lawyer, breach "the Cannons of Professional Conduct and Etiquettes of Advocates", and would he/she undermine the right of access to justice of parties before the Court, which right is guaranteed under the Constitution and forms the raison d'etre for the establishment and existence of the judicial arm of the state?
(vi) If a Bar Council has the power and authority to issue calls to strike court proceedings at will resulting in the suspension of the same, would the automatic grant of adjournments not fall foul of Article X of the Code of Conduct for Judges issued under Article 209 of the Constitution which states that: "In this judicial work a Judge shall take all steps to decide cases within the shortest time, controlling effectively efforts made to prevent early disposal of cases and make every endeavor to minimise suffering of litigants by deciding cases expeditiously through proper written judgments. A Judge who is unmindful or indifferent towards this aspect of his duty is not faithful to his work, which is a grave fault"?
(vii) If it is assumed that bar councils have the right to issue mandatory calls for striking court proceedings, subject to penalty attaching to lawyers for non-observance, wouldn't compliance with such order by licensed lawyers result in the shutdown of the judicial organ of the state, even if temporarily? Can such a situation be countenanced when under the scheme of the Constitution, the judiciary is one of the three pillars of the state and the machinery for enforcement of fundamental rights of citizens?
(viii) If a lawyer chooses to strike by refusing to appear before the Court, would he render himself liable for obstruction of justice and aiding and abetting denial of timely justice caused due to incessant delay in its dispensation?
These questions are important for adjudication. Bar associations need to realise that when there is no system of self accountbility then external elements forcefully regulate them.