PUBLISHED February 21, 2021
KARACHI:
Pakistan is home to five of the 13 highest peaks of the world, and where there are peaks, there are competitive mountaineers clambering to traverse to the top of those pinnacles. In Pakistan, we see many such international extreme sports enthusiasts coming and summiting the peaks, however the local mountaineer talent remains far behind. Some of the toughest mountains located in Pakistan - all with their own unique terrain and challenges - remain largely unconquered by local mountaineers.
The five highest peaks in Pakistan are, K2 (8611 meters), the 'Killer Mountain' and the second-highest peak of the world, Nanga Parbat (8125 meters), Gasherbrum I (K5) (8080 meters), Broad Peak (8051 meters) and Gasherbrum II (K4) (8035 meters).
If we talk about K2, it is the only unconquered peak in winter out of the 14 mountains that rises to at least 8,000 meters (26,246 feet). It's a mountain where avalanches are an ever-present risk, temperatures can fall to minus 65 degrees, and winds blow with the power of cyclones. This is why this was the only unclimbed peak until Nepali climbers made the first winter summit of K2 in January 2021.
Risky endeavour
Apart from Samina Baig, the first Pakistani woman to summit Mount Everest, and Mirza Ali Baig, the the first Pakistani man to summit all seven highest peaks in each of the seven continents, there are not many popular names in this sport in Pakistan.
More recently, Pakistani climber Muhammad Ali Sadpara, along with his son, was just a kilometre away from ascending the K2, in the midst of the treacherous winter, when he disappeared.
Both risky and expensive, the sport does not attract many enthusiasts. According to Convener Adventure Group National Tourism Coordination Board and former Secretary of Winter Sports Federation (WSF), Air Commodore (Retd.) Shahid Nadeem, there are only a few climbers supported by the government or armed forces. "The likes of Samina Baig and Mirza Ali Baig were able to complete the challenge as they were supported by the government; otherwise, they too, would be struggling to seek sponsorship, like the other climbers of Pakistan," he said.
Asad Memon is one such climber. Born and raised in Larkana, he learned about extreme climbing as a sport practically by accident. "When I started this sport, I didn't know much about it. But then I researched and got interested in the sport. I talked to a club named Ibex Club in Islamabad to train me, and that is where my interest in the sport began to develop," he said.
Memon took the seven-summit challenge in 2019 and till date, he has successfully summitted the 6961m high Mount Aconcagua in South America and climbed Europe's highest peak, the 5642m high Mount Elbrus in Southern Russia, near the border of Georgia.
More recently, the mountaineer became the first Asian conquer Mount Kiliminjaro, located in Tanzania. This is his third mountain of the 'Seven Summit Challenge,' where he will be climbing the fourth highest peak of the world.
"As this is an expensive sport, one needs sponsors to actually be able to pursue his passion. One of the problems I face is financial support. I don't earn much but am a passionate climber who wants to become the first in Sindh to complete the seven-summit challenge," he added.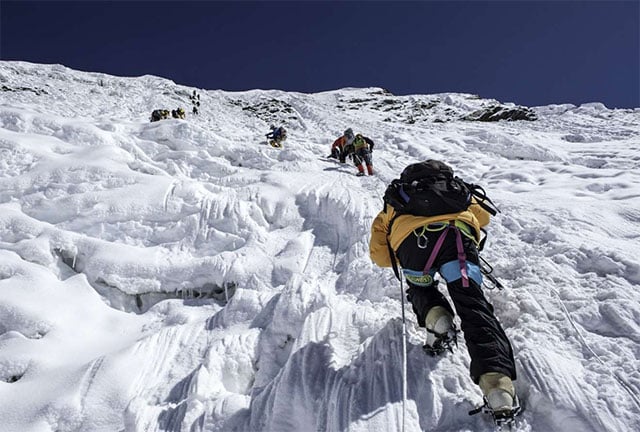 The 43-year-old mountaineer had also complained to teammates about feeling unwell during his descent. PHOTO SOURCE: NUMBER1
Dearth of training
Pakistan has more than 100 low-altitude peaks that are easily accessible to everyone, and they can go there to train at any time of the year. "Although I belong to a hot region, my body supports me well in adjusting according to the climate. I do face trouble sometimes but the training I do throughout the year by climbing different peaks in the northern area helps me to overcome the troubles," said Memon.
He further added that the mental strength is the most important element in this as one has to decide what to do when he is stuck or face any unexpected incident. "My first expedition was the 6050-meter high peak in Hunza. When I was just an hour away from the peak, I was surrounded by strong winds and snow. I couldn't see anything and in that instant I I thought about giving up but then I focused on the mental strength training I did, and I was able to survive the night and summit the peak in the morning," he said.
Talking about the training clubs, he said several clubs in Islamabad give training for this, but there is a need for a proper training school dedicated to mountain climbing. "This requires a deep study and you have to know every inch of the mountain you are going to the summit for that you need professional climbers to come and train you," he said.
Underequipped
The equipment one needs varies depending on the chosen mountain and route. For instance, in a snowy route you might need an avalanche transceiver, whereas in an icy route you might need an ice axe.
Unfortunately, none of the equipment is manufactured in Pakistan or even available locally. A Pakistani mountaineer would have to spend hundreds of thousands of dollars in order to properly equip him/herself for the sport.
"The rope, boots, pulley, climbing kit and other stuff required for climbing all have to be imported in Pakistan. The bottled oxygen cannot be refilled in Pakistan, the climbers who come from other countries bring gas with themselves, which costs a lot and is a risk too," infroms Nadeem. He added that this is one reason why local athletes are hesitant to step into this sport and why local peaks remain largely unconquered by them.
Unclaimed opportunities
Apart from the top five peaks, Pakistan has dozens of peaks that are 7,000 meters and above and more than a 100 6,000 meters and above challenging peaks that remain unclimbed. in contrast, in Europe, the highest peak is Mount Elbrus at 5,642 meters, located in Russia.
Many tourists want to head to Pakistan to take up the challenge but due to fewer resources in Pakistan, they head to Nepal and other countries. The Pakistani government is also not making an effort to turn these opportunities into revenue generation. "Other countries don't have as many peaks as Pakistan, and they are all challenging peaks where the climbers from all around the world want to come. But due to fewer resources, weak rescue operations, no proper pattern for a climber, fewers climbers come to Pakistan and instead, head towards Nepal and other countries," said Nadeem.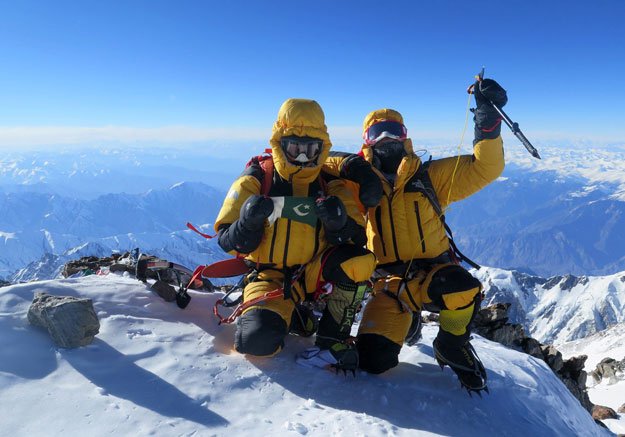 Using Nepal as an example, Nadeem said that the government needs to follow the footsteps of Nepal. "Nepal didn't manufacture the equipment locally but they opened up opportunities for the climbers, facilitated them during their expedition, and now world's top brands of climbing equipment have opened up their manufacturing plant in Nepal. Now the tourists don't have to bring their own equipment but instead, can buy from there," he said.
The top climbers of the world seek tough and challenging peaks to the summit as that enhances their skills and make them famous. "We have seen how the Nepali climber group came and ascended K2 in the winter, which made them the first to do so. But they were backed by their government to complete this," he said.
He added that the Pakistani government needs to follow them to open opportunities for the climbers and lift up the level of facilities they are offering for the climbers. "Once they can do that, a major chunk of the climbers will head to Pakistan from which Pakistan cannot only generate revenue but increase tourism which is the Prime Minister's aim," he said.
Talking about the training schools, he said that several foreign professional climbers want to come to Pakistan to give training to the local people here. "Right now the climber has to bring a high-altitude porter with them as there is no training for the locals. Some international climbers wanted to help but Pakistan's policies don't let them come here," he informed.
"If our local porters are trained for high altitude then the foreign climber will hire them and then local people can earn money," he added.
Institutional void
Alpine Club of Pakistan is the only affiliated body with Pakistan Sports Board (PSB) for mountain climbers but they have been inactive for a while, limiting local climbers' opportunities. "There is no official portal for mountain climbing. If any foreign climber wants to come here or wants information about mountain climbing in Pakistan, there is no information about it or any local websites that can provide detaied and invaluable information about the expeditions. One has to personally know someone here who can take them along," said Nadeem.
The President of APC, Abu Zafar Sajid, said that as Pakistan is a democratic nation, none of the mountain climbers has to take any permission from ACP or any other organisation. "The climbers are free to climb whatever mountain they want to climb. Several climbers are affiliated with us whom we support with their expedition," he said.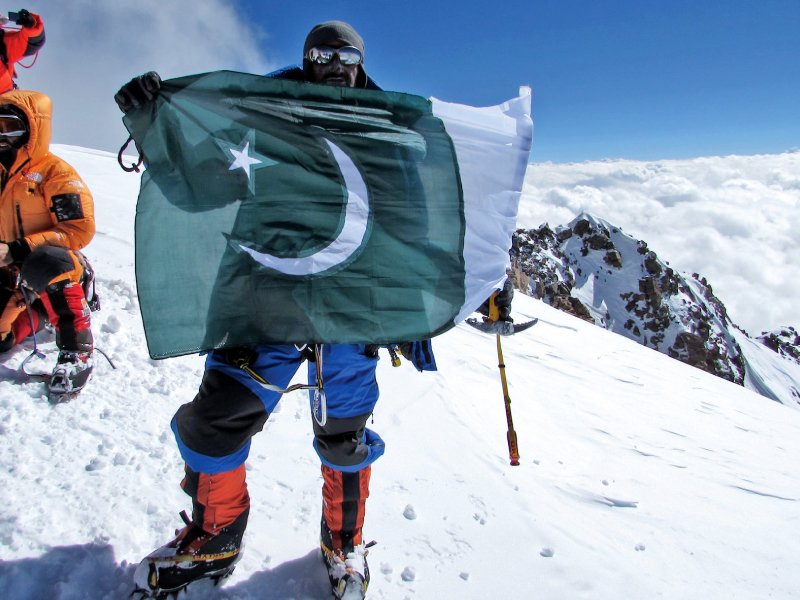 Talking about the training school, he said that ACP holds local tournaments in Margalla Hills and other Islamabad and Murree mountains. "We do hold a competition of school and colleges at Margalla Hills, but there is none at the professional level," he said.
Solution
Pakistan has all that it needs to attract the foreign climbers and tourists. The beauty, the peaks, the challenges but what it doesn't have is a policy or a proper structure.
Speaking about the solutions, Nadeem said that currently the rescue system of Pakistan is not well equipped and there is no pattern. "There are only a few helicopters for the rescue that belong to the forces and due to the SOPs that they have to follow, it makes it too expensive compared to other countries. This has to be resolved and made easy in order to attract climbers to Pakistan.
He added that Nepal should be taken as a model and the government should follow their footsteps to promote mountain climbing and make Pakistan the best destination for climbers.