PUBLISHED February 14, 2021
KARACHI:
Whenever it comes to sports in Pakistan, the first thought that springs to mind is of cricket and then perhaps hockey. Apart from these two, any other game barely gets the limelight that it deserves. One such sad tale is of baseball.
Despite the sheer neglect, this may come as a surprise that Pakistan ranks fifth in Asia when it comes to the Olympic sport of baseball.
Played in 120 countries including Pakistan, baseball is a sport which is the fifth most popular game in Asia and 27th in the whole world. The highest rank that the Pakistan team has achieved is the 21st spot in the year 2012.
Talking about this sport's popularity in Asia, Japan is the top-ranked team globally, followed by Korea in third and Chinese Taipei at the fourth spot. Other than these, neighboring China is at the 22nd spot, and arch-rival India is at the 66th spot in the world, ranking 12th in Asia.
Although India is ranked low in the world and Asia, the promotion of the sports in the country not only gave them a pool of more than 80,000 baseball players but also attracted Major League Baseball (MLB) to broadcast every game of the 2020 and 2021 World Series in the country. They were also able to convince MLB to open their office in India and introduce programs on a grassroots level, including schools.
Unfortunately for Pakistan, which has zero MLB-affiliated players, this sport was never given any importance by the government. Not even a single baseball field has been provided since the game was introduced in the country. Despite all the meager domestic resources, Pakistan is far ahead of India in World Baseball Softball Confederation (WBSC) world rankings.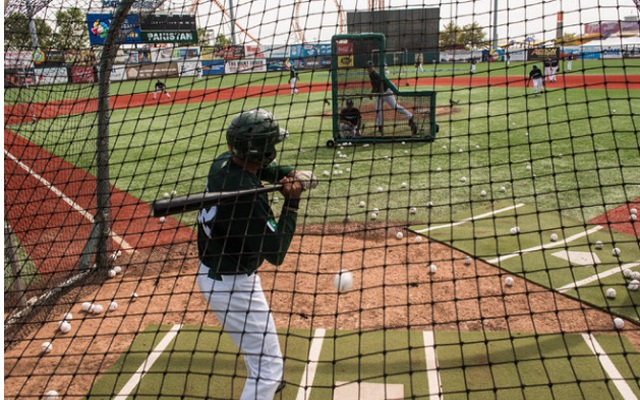 World Baseball Classic 2017. PHOTO: PAKISTAN BASEBALL FEDERATION
The early years
This game was formally introduced in Pakistan in the year 1992 — the same time it also became a part of the Olympics. The founder of Pakistan Federation Baseball (PFB), Syed Khawar Shah, was the man who brought this sport into Pakistan.
Since that day Khawar continued to make all the efforts to make this sport popular in Pakistan with limited funding and resources. After Khawar passed away, his son Syed Fakhar Ali Shah, the team manager, took on the responsibility as the president of the PFB and continued the efforts of his father.
"Baseball is a popular game in Japan, Korea, Chinese Taipei, and North American countries. When IOC announced to include Baseball in the 1992 Olympics, my father Syed Khawar Shah decided to introduce the game in Pakistan, so that one day Pakistani players will be visible in international events to show a soft image of Pakistan in the world through baseball and softball," said Fakhar.
Carrying on the legacy, two younger brothers of Fakhar, Muhammad Shah and Ali Shah, are also representing Pakistan, who have already become popular in the USA (where they train).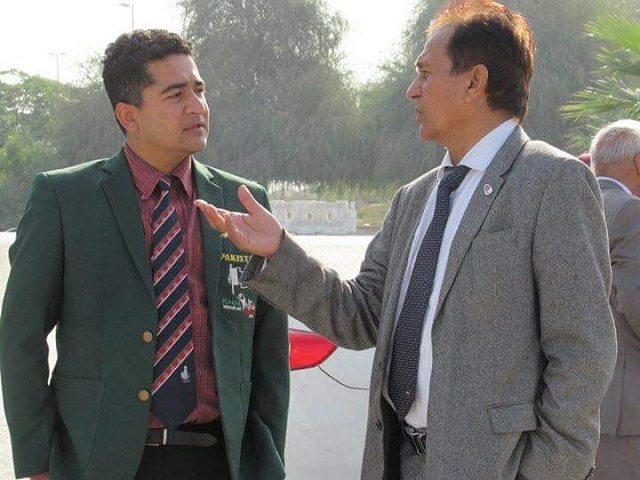 Fakhar and Khawar. PHOTO: PAKISTAN BASEBALL FEDERATION
Cricket country
As baseball is known to be the sister sport of cricket and Pakistan being a talented hub of the game; Khawar had to recruit cricket players to build an initial team and it seems he will have to continue to do so. Being a similar sport, it's about converting cricket players to baseball players — bowlers to pitchers and batters into hitters.
"Pakistan has always been a cricket country. It doesn't have any professional baseball coaches, stadium, or a baseball field," said Fakhar. "Some of the people do follow New York Yankees, Chicago Cubs, and other major league teams, but as far as playing is concerned, there is no interest of the players."
Zubair Nawaz, a player who began his sporting career as a cricketer, later shifted to Baseball and now he is currently getting trained in the USA to get the MiLB affiliation. Like Nawaz, many other hardball and tapeball cricketers have sworn allegiance to baseball now.
Arsalan Butt, famous as "Achii Butt," was a tape ball cricketer who is now one of the best baseball players for the national team.
Hafiz Usman, the fastest pitcher of Pakistan with a speed of 140mph (recorded in 2019 in Sri Lanka), was also a cricketer. "I was always interested in cricket, but one day in 2002, the coach of my cricket academy said that I have a good throwing arm and should try baseball. That turned out to be my calling," said Usman.
"It took me two years to reach the under-age team and I made my first tour to Japan with the U16 team. Since then, I have been playing with the national team," he said, adding that now he doesn't have any interest in cricket as baseball "is a lot more fun than cricket".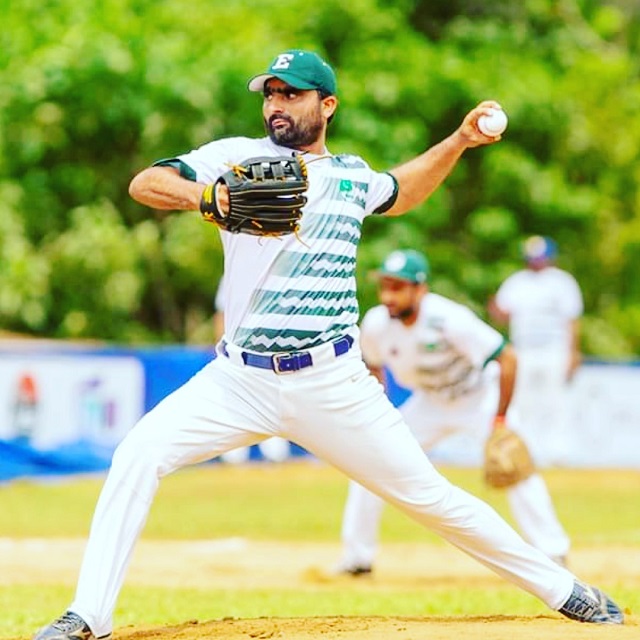 Hafiz Usman. PHOTO: PAKISTAN BASEBALL FEDERATION
Unbeaten path
In a nation where the top-earning athletes are cricketers, no youngster ever thinks about going into any other sport. But if we look around the world, the players playing MLB and different baseball leagues earn far more than cricketers. The lack of awareness among the players and fewer baseball resources in Pakistan doesn't attract players.
Recently in India, MLB brought back the talent search contest known as the Million Dollar Arm. Cricketers and players from other sports participated and also got a contract in Minor League Baseball (MiLB) and MLB.
"MLB and other leagues baseball players earned more money than cricket players," said Fakhar. "Pakistani players have no idea about that. If any cricketer misses a chance to be in the national cricket team and he can throw 90 miles/hr, he can easily earn fame and money through baseball."
He further added that Pakistan could have the fastest pitchers globally, but the lack of interest and awareness don't let them come forward.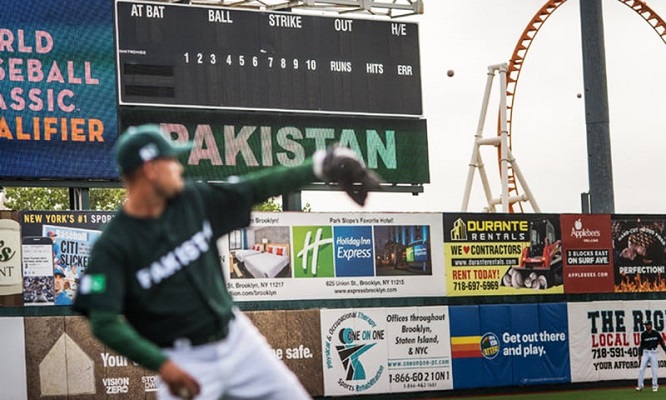 WBC 2017. PHOTO: PAKISTAN BASEBALL FEDERATION
Lack of support
There is no proper baseball field in Pakistan, no resources, and even the equipment (bats, gloves, balls) is hard to acquire. The PFB had to import the USA's equipment and paid heavy custom-duty, hence making this an expensive sport in Pakistan.
The President PFB, Fakhar shared that they have to import the best baseball equipment from abroad to compete with the world's strong teams and for that, they have to pay a massive amount in the form of duty.
Talking about the private sector's support, he said, "Pakistani sports media mostly ignores all Olympic sports, including baseball and only prefers cricket, which is a non-Olympic sport. The reason is that the private sector only supports and sponsors cricket in Pakistan.
"Private sector is the backbone of any sports in the world. But in the world, the private sector is getting incentives from the government and how they support sports in the country through sponsorship, donations, development, and promotion of sports and players. Whereas, in Pakistan, the government doesn't have a proper sports policy," he added.
Some of the players, including Adil Sardar who was a fast pitcher for Pakistan in 2015, had to leave for the USA due to a lack of support. "In 2015, we finished at the 5th spot at Asian Baseball Championship and qualified for World Baseball Classic (WBC) Qualifiers 2016. It was a dream come true for me as Khawar informed us that all players in the Asian Championship have been selected and this will open our chance to get the MLB affiliation," he said.
"But when we returned to Pakistan, I somehow missed the trials that were being taken for the WBC and was not selected. I was the fastest pitcher, but the involvement of government in that tour made me miss out on the event," he said. "That was the day when I left the dream of representing Pakistan in baseball and moved to the USA, where I get to play freely."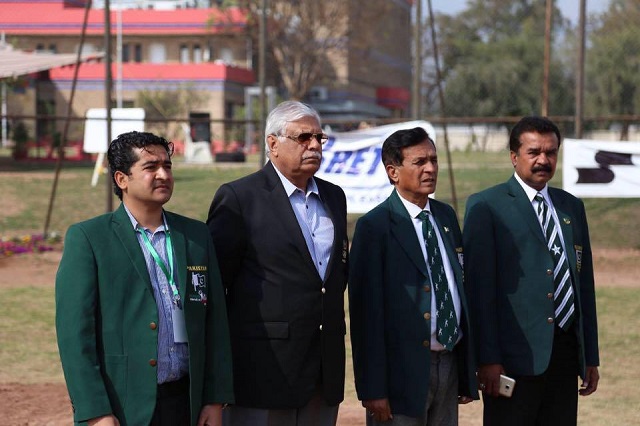 Fakhar Ali Shah (left) Khawar Ali shah (Third from left). PHOTO: PAKISTAN BASEBALL FEDERATION
No baseball fields
Pakistan has around 1,000 young players, 2,000 senior players, and 1,200 female players worldwide, but there isn't a single dedicated baseball field. The team holds its camps and training at the multi-purpose grounds that are used for other sports too.
Hafiz Usman, who has been with the team since 2004, said that one of the reasons of Pakistan baseball team has dropped from 21st rank to 27th is the lack of practice. "If a baseball player is out of practice even for ten days, it takes a toll on the performance. For us, we should train the whole year. In the year 2012, we had a few grounds where we were able to practice for months, but since the sports board has stepped back, we don't have any place to practice," he said.
"The lack of support from the federal sports board and provincial boards is an issue. There is a Jinnah Stadium in Islamabad, where we can practice, but baseball players from any city or the national team players have no excess to that field without permission," he added.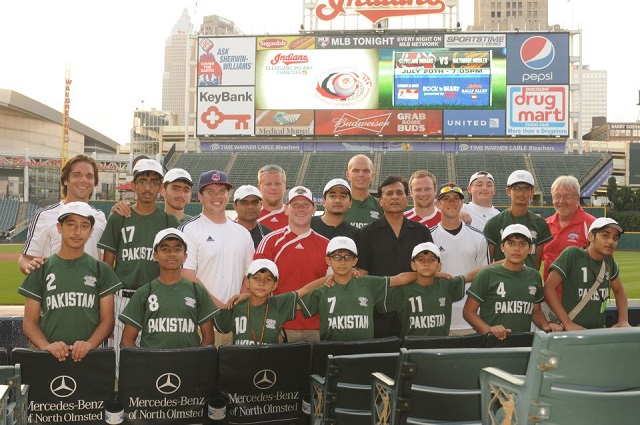 PHOTO: PAKISTAN BASEBALL FEDERATION
The need of the hour
Unlike any other baseball playing nation, Pakistan doesn't have any grassroots structure for the global sport.
Umair Bhatti, the national baseball team captain who has been playing the sport since the age of 12, said that Pakistan needs baseball being played at the grass-root level. "I started playing baseball in 2000. Since then, I know how much I have learned. If I had not been playing since that age, I would not have been where I am today," he said.
"We have to take this sport to schools and colleges. That is from where the talent will come from. We have to train them to make better players for the national team and increase our ranking," he said.
Recently, Fakhar was able to convince the government to include baseball in inter-board and inter-school championships.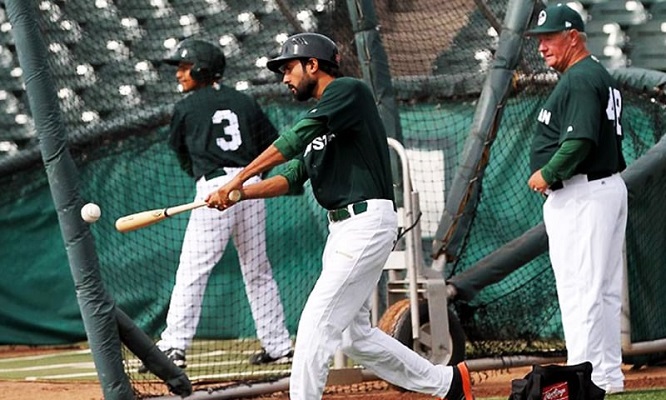 WBC 2017. PHOTO: PAKISTAN BASEBALL FEDERATION
A ray of hope
With the sport being included in schools and colleges championships, Chief Minister Punjab Usman Buzdar took an excellent step to build 137 sports grounds in Punjab, under the supervision of Sports Board Punjab. The PFB had submitted a request to the Minister of Sports Punjab, Rai Taimoor, to grant at least one ground with proper facilities in Lahore.
Although Pakistan doesn't have many baseball players, the work on launching the Pakistan Baseball League has already begun. Fakhar will be going to Iran this month to talk about the bilateral series and establishing the PBL in collaboration.
"They have invited me to come and play matches on the field that has been provided to them by their government, and as we rank much higher than them, they want a match with us to increase their ranking," he said, adding that his ultimate goal is to launch the PBL which will give a massive boost to this sport.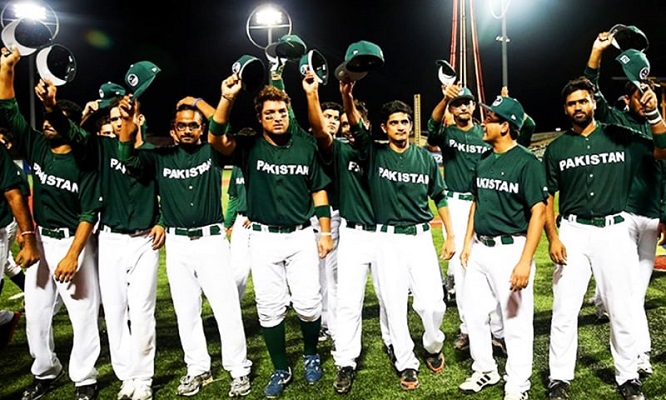 WBC 2017. PHOTO: PAKISTAN BASEBALL FEDERATION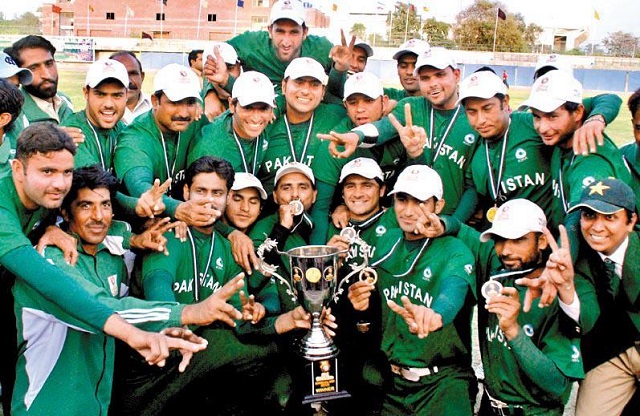 Asain baseball championship. PHOTO: PAKISTAN BASEBALL FEDERATION
Achievements
From 1992 till date, Pakistan's baseball teams have participated and won a number of events. The men's baseball team have won silver medals in West Asian Baseball Cup 2017 and 2019, whereas defeated India to win the gold medal at Dubai Baseball Cup Indo-Pak Baseball Series 2017 in the UAE. The team was due to take part in the World Baseball Classics 2020, but the event was postponed due to Covid-19.
The Pakistani Women Baseball team ranked 17th out of 20 countries in the world. They haven't won any tournament yet, but have participated in major Asian level baseball events.
The Youth baseball team of Pakistan haven't won any tournament as yet, but the Pakistani players were able to win individual awards at 10th U15 Asian Baseball Championship 2019 in China. Syed Muhammad Ali Shah won the best Hitter award and Zeeshan Amin won the Best Home Run and Best Outfielder awards.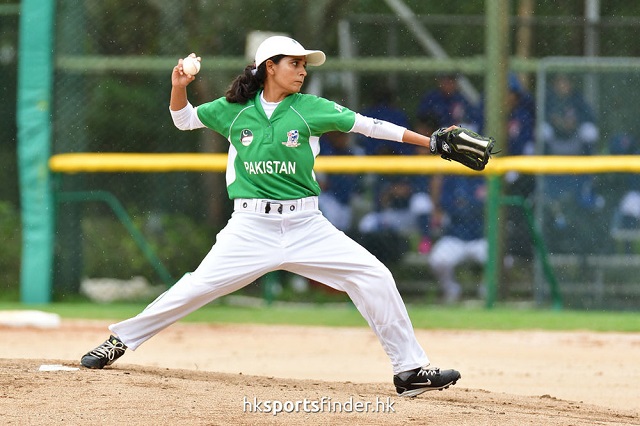 Women baseball Asian cup 2017. PHOTO: PAKISTAN BASEBALL FEDERATION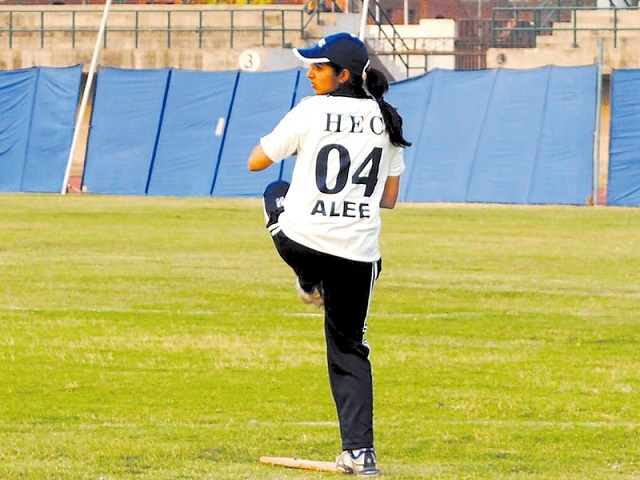 National Women Baseball Championship. PHOTO: PAKISTAN BASEBALL FEDERATION