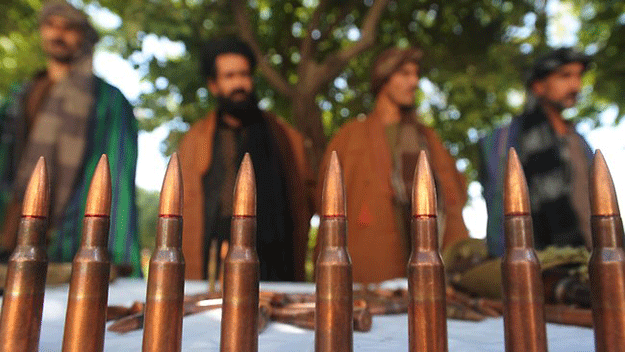 ---
ISLAMABAD: The Afghan Taliban have sent their top negotiator, Syed Tayyeb Agha, to a conference in Norway, beginning today (Tuesday), which will also be attended by senior officials from the Afghan government, Taliban spokesperson Zabihullah Mujahid said.

Mujahid confirmed that the head of the Taliban political office in Qatar, Syed Tayyeb Agha, will lead a three-member Taliban delegation at the Oslo Forum, adding that the Taliban leaders will not hold any talks with the Afghan delegation.

Read: Afghan Taliban seek Iran's support against Da'ish

The conference, which is being organised by the Oslo Forum, is being co-hosted by the Norweigan Foreign Ministry and the Geneva-based Center for Humanitarian Dialogue.

"The Norwegian government had also invited the head of the political office of the Islamic Emirate of Afghanistan to the conference. Hence, we accepted the invitation to use the opportunity and convey the voice of the oppressed nation to the world community, that is an end to invasion and enforcement of the Islamic system in Afghanistan," the Taliban spokesperson said in a statement.

Further, he dismissed Afghan media reports about the Taliban delegation holding face-to-face talks with the officials from the Afghan government on the sidelines of the conference.

Officials from the Afghan government who are attending the forum include Afghan Deputy Foreign Minister Hikmat Khalil Karzai and Afghan Deputy Foreign Minister Hikmat Khalil Karzai among six others.

The Oslo Forum says it is a "unique opportunity for senior conflict mediators, high-level decision makers and other major actors in peace processes to share their experiences, identify challenges and reflect on their own and others' practice in a discreet setting and informal atmosphere."

Read: Afghans hope informal talks lead to peace

This is the second time the Taliban will attend meetings in Norway. Taliban leaders sat face-to-face with Afghan women lawmakers and members of the civil society in Oslo earlier this month.

"The conference has not been organised for this purpose," Mujahid said, adding that nearly 150 delegates from different countries are attending the forum that will discuss issues other than those in Afghanistan.

Although the Taliban are unwilling to hold direct talks with the Afghan government, their participation in the forum with them is also being seen as a significant interaction.
COMMENTS
Comments are moderated and generally will be posted if they are on-topic and not abusive.
For more information, please see our Comments FAQ