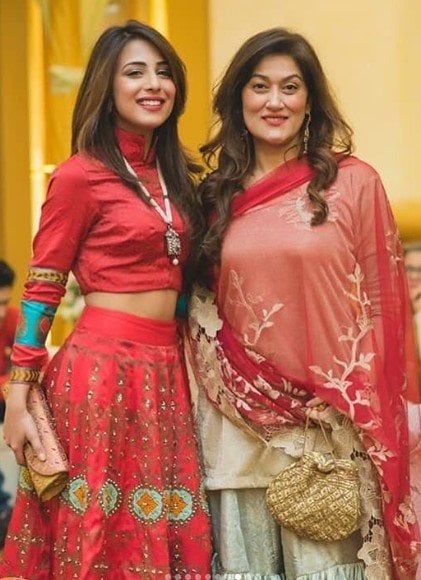 ---
Pakistani actor Ushna Shah has been in the entertainment industry for quite some time now. Over the past decade, she has managed to carve a niche of her own starring in over 20 TV serials including the likes of  Bashar Momin, Bewafa and Alif Allah Aur Insaan.

However, she isn't the only successful actor in her family. Her elder sister is nonother than Isra Ghazal who recently gave a remarkable performance in the TV serial Ruswai, as Salma the mother of Mikaal Zulfiqar's character in the series.




In a recent Instagram post, Ushna wished her sister a happy birthday, sharing a series of pictures of the two together including ones when the Dua star was just a child.

https://www.instagram.com/p/CBhk8pdhp8U/

"Happy Birthday Icha. I love you enough to even post my ugly puberty year," Ushna wrote alongside the caption.




A lot of people were shocked to learn that the two were indeed sisters. " That's your sister????? I had no clue!! Oh my God I loved her in Ruswai!" one user wrote. "I just got to know she is your sister , she is one of the finest actresses of Pakistan, I really like her work," another wrote.




After being bombarded with a barrage of comments from shocked fans, Ushna told them to stop worrying about their relationship and wish her sister a happy birthday. " She is my sister. Much like a mother since she's the eldest of six & I'm the youngest. So stop worrying about our rishta (Relationship)  wish her a happy birthday," Ushna said.




Ushna and Isra are the daughters of veteran radio and TV artist Ismat Tahira. Ismat has worked in several TV dramas in a supporting role during the 80s. Neelay Haath is one of her famous dramas, which was aired in 1989. She also starred in Lollywood films including Hulchal and Zanjeer.

Have something to add to the story? Share in the comments below. 
COMMENTS
Comments are moderated and generally will be posted if they are on-topic and not abusive.
For more information, please see our Comments FAQ