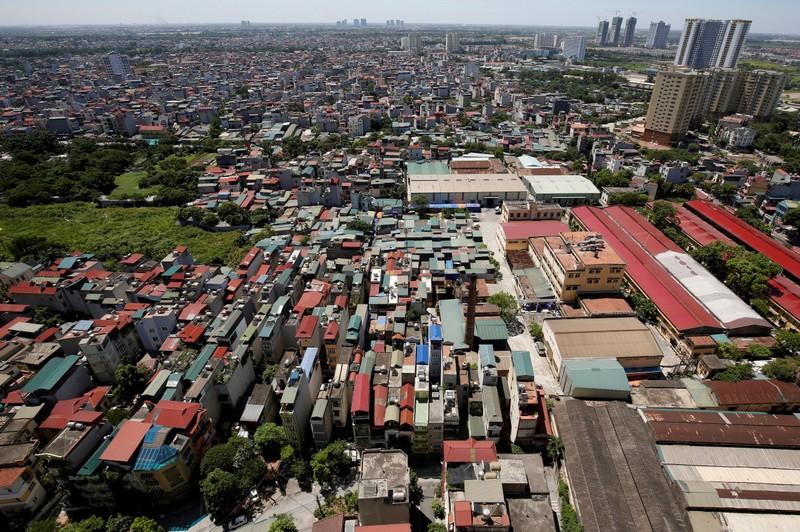 ---
"You can kill 10 of my men for every one I kill of yours. But even at those odds, you will lose and I will win," Ho Chi Minh warns French colonialists, 1946.

The Vietnamese fascinated tens of millions of people through their untiring and novel armed struggle that spread over a century. First against the French occupation and then against US aggression. It instilled anti-imperialist feelings not just in the developing world but also in the West. It was indeed a bloody affair. Hence too loud. Once again, the country has attained marvellous achievements in the social and economic sectors. But hardly anyone knows beyond Vietnam's borders. Before going into these details, let's look into the context.

Roughly seven million tons of bombs were dropped on Vietnam and its neighbouring countries, Laos and Cambodia. This was more than thrice the number of bombs dropped on Europe and Asia in World War II or about nine bombs (1,000 pounds) for every person or 22.5 bombs per square kilometre (sq-km). According to an estimate, during the 11 years (1954-75) of war, three million Vietnamese were killed and one million wounded. The aggressors, the French and Americans lost 92,800 and 58,220 soldiers, respectively.

Vietnam achieved more in less than 50 years despite the unprecedented devastation, compared to us in 72 years in spite of massive foreign funding. Her literacy rate stands at 97%. Ours is just 58%. Vietnam has nearly 75% female labour force participation rate — "one of the highest and most persistent in Asia and the world" — while it has been stubbornly stuck at 24% for us. Sadly, we have dropped from 146 to 152 (out of 189 countries) on the Human Development Index (HDI) in 2018, while Vietnam ranked 118. Life expectancy in Vietnam is 75.3 years, and years of schooling 12.7. Our life expectancy is 67 years while years of schooling is just 8.5 years. Vietnam stood 77 on the Global Gender Gap Index (2018), while Pakistan ranked 148 out of 149 countries.

Let us now consider anecdotal observation. Recently, I, along with my wife, spent seven days in Vietnam, mostly in Hanoi and Ha Long, a sea resort. I went to Hanoi after almost 11 years. I didn't find the aggressive attitude of the bike and cycle rickshaw walas that I had experienced then. I didn't see beggars or prostitutes on the streets. The people appeared to have become calmer and friendlier. The city was clean then, it was definitely cleaner now despite the twofold increase in population. The Hoan Kiem Lake and the Ngoc Son Temple, located in the city's centre and close to the Old Quarter, are a great attraction. Thousands visit the site every day but you won't find a single piece of litter in the lake. That reminded me of the Saiful Muluk Lake, a beauty of nature spoiled by the "pure" people of my country. It made me sad. You would hardly see police in Hanoi yet feel safe in the middle of the night. You won't find a single motorcyclist riding a bike without a helmet and mask. Here, it's a Herculean task for the police to discipline motorcyclists into wearing helmets. Consider this too: all big cities of developing countries, including Islamabad, have slums, but Hanoi does not as per reports by The Guardian. I was indeed jealous and depressed, yet happy to see the Vietnamese follow rules, good behaviour and achieve prosperity.

What went wrong here and what made Vietnam different? Is it the impact of the war? Is it because of a kind of leadership or due to different political systems, or a combination of all of the above? Before addressing these questions it seems necessary to mention that Cambodia and Laos are too doing much better than us. Laos and Cambodia rank 26th and 93rd on the HDI, respectively. So, what are the similarities between them? First, all three countries were destroyed by the US and its allies. Second, they are being ruled by communist parties with almost total control over politics, society, economy and state. Third, the civil society is weak and state capitalism is performing the vanguard role in economic development. Fourth, social protection is the responsibility of the state; and above all, there has been political continuity since 1975.

Renowned economist and Nobel laureate Amartya Sen, in his New York Times op-ed article of June 19, 2013, "Why India Trails China", noted, "The far greater gap between India and China is in the provision of essential public services — a failing that depresses living standards." His comparison with China is likely to find many similarities with Pakistan and Vietnam. Just replace India by Pakistan and China by Vietnam. He argued, "Inequality is high in both countries, but China has done far more than India to raise life expectancy, expand general education and secure healthcare for its people. India has elite schools of varying degrees of excellence for the privileged, but among all Indians seven or older, nearly one in every five males and one in every three females are illiterate. And most schools are of low quality; less than half the children can divide 20 by 5, even after four years of schooling." Isn't it familiar? Mr Sen finds the cause the kind of leadership a country has. "In China, decision making takes place at the top. The country's leaders are skeptical, if not hostile, with regard to the value of multiparty democracy, but they have been strongly committed to eliminating hunger, illiteracy and medical neglect, and that is enormously to their credit." He also observes that "China's present leaders have used the basic approach of accelerating development by expanding human capability with great decisiveness and skill." His observation seems to be true about Vietnam's leadership too. In other words, he didn't find the same qualities in successive Indian governments.

Sadly, the past governments of Pakistan too failed, and failed miserably. Both Pakistan and India have functional democracy, an independent judiciary, free media and huge civil society. But all of them serve the interests of some layer of an elite or middle class. Except lip service, they have no commitment to human development and without human development no country can achieve high growth rate. In short, they are cutting the branch they are sitting on. The current state of democracy can't be defended for long unless its social base is broadened and human development takes place. Just learn from Vietnam. And since, I have come back from Vietnam, I tell every friend to visit this fascinating country. Humans have the tendency to compare. I am sure the more comparisons are done, the more motivation for change will generate.

Published in The Express Tribune, January 12th, 2020.

Like Opinion & Editorial on Facebook, follow @ETOpEd on Twitter to receive all updates on all our daily pieces.
COMMENTS
Comments are moderated and generally will be posted if they are on-topic and not abusive.
For more information, please see our Comments FAQ