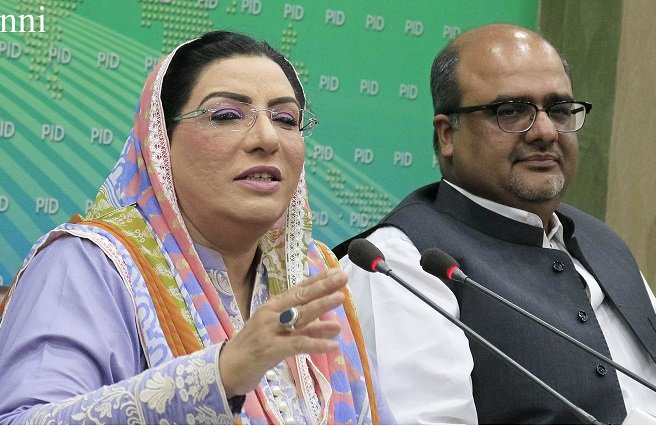 ---
ISLAMABAD: Special Assistant to PM on Information Firdous Ashiq Awan on Friday expressed her surprise over the Election Commission of Pakistan (ECP) issuing a show-cause notice to Prime Minister Imran Khan for visiting Ghotki ahead of the NA-205 by-election in the area.

"Neither did the prime minister address the media, nor announced a development package for the area," she told reporters in Islamabad.

"What code of conduct has the prime minister violated then?"

The special assistant maintained that the Sindh government had announced development projects, hundreds of jobs and other packages in the constituency in violation of the ECP code of conduct and the Pakistan Peoples Party (PPP) candidate there was running his campaign escorted by police guards.

"Why isn't the ECP taking notice of those violations of the code of conduct? This goes on to show that the ECP is still not an independent body," she added.

On June 20, the ECP issued a show-cause notice to the premier after he visited Ghotki to condole over the demise of former federal minister for narcotics control Sardar Ali Muhammad Khan Mahar.

Firdous also maintained that the opposition would not succeed in persuading the coalition partners of the ruling Pakistan Tehreek-e-Insaf (PTI) to vote against the budget for the new fiscal year.

"The PTI's allies have assured the government that they will support it in passing the budget," she added.

The special assistant said the Pakistan Muslim League-Quaid (PML-Q), a coalition partner of the government, was playing a vital role in the approval of budget both in the federal and Punjab assemblies and the prime minister had lauded its efforts.

"The prime minister has also appreciated the PML-Q's role during the recent strike called by lawyers."

Firdous criticised the opposition for playing an "anti-people role" by create hurdles in the passage of the federal budget.

Referring to former president Asif Ali Zardari's speech in the National Assembly, she said the PPP co-chairman was indirectly seeking an NRO from the government. "But the rich and the poor will be treated equally in Naya Pakistan and held accountable for their crimes in the past."

The special assistant reiterated the PTI government's anti-corruption stance. "The premier's vision is clear and nobody shall be spared," she added.

ECP statement

The ECP has refuted the allegations levelled by the prime minister's aide. In statement, the election watchdog said it took action on every complaint received from political parties in accordance with the law.

The ECP said four complaints were filed with it in connection with the NA-205 by-election. It has sought a reply from the SSP Ghotki for providing police guards to a candidate and also taken notice of a transfer in a government department in connection with the by-election.